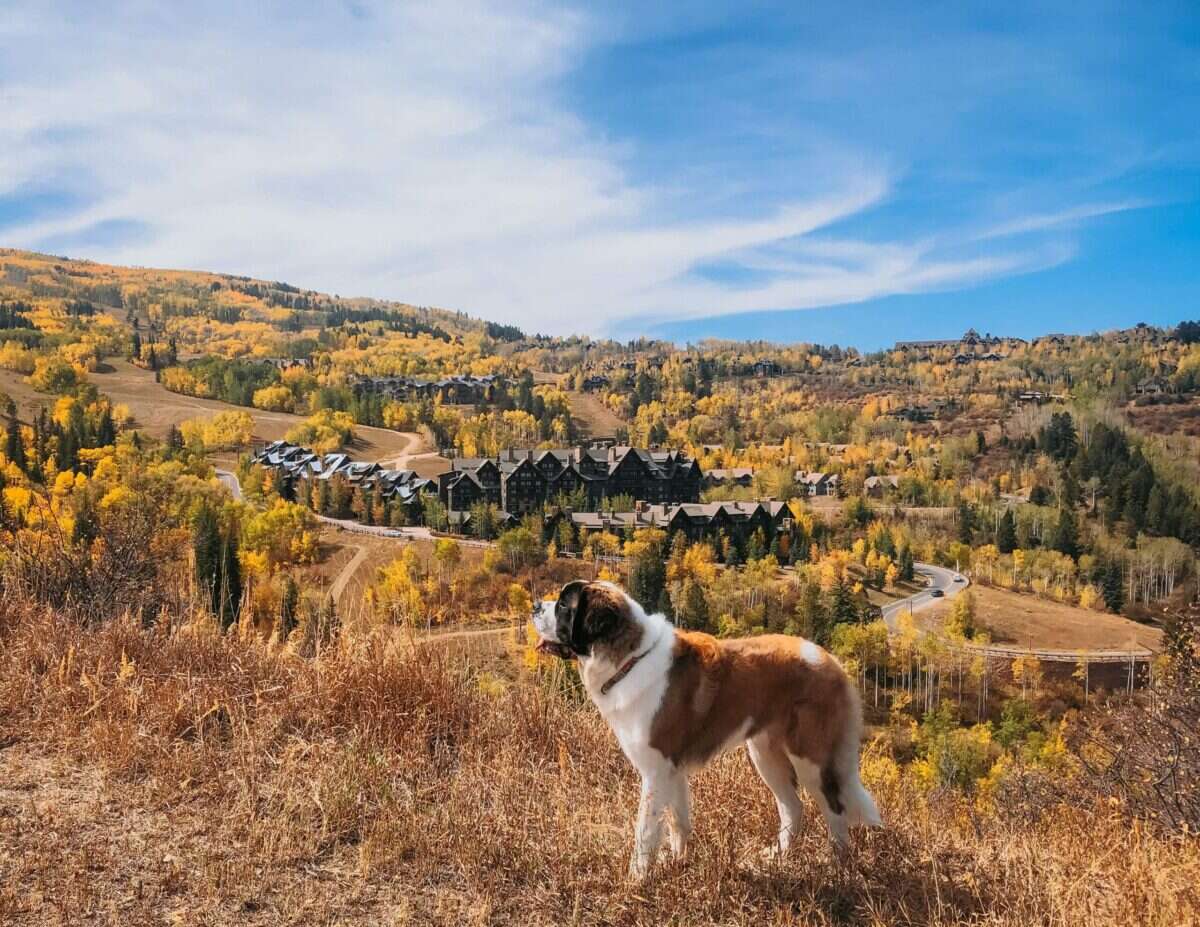 Since the start of the pandemic, many of us have got used to spending more time than ever before with our faithful four-legged friends. So when it comes to planning our next vacation, it's understandable that the idea of leaving behind our beloved pets is a bitter pill to swallow. Thankfully, there's an array of luxury dog friendly hotels that cater to even the most pampered pooches.
First, though, you'll have to figure out how to get there. In recent years there's been a huge surge in pets taking to the skies with private aviation companies allowing canine companions (as well as cats, rabbits and even pigs) to travel alongside their owners in the aircraft cabin.
Some operators are going the extra mile to ensure pets have a safe and comfortable journey. For example, VistaJet's extensive VistaPet program ensures air hostesses are fully trained in pet first-aid while dogs are provided with gourmet meals, healthy treats made from recipes by the late Michelin-star chef Michel Roux and extra soft handmade sleep mats. Not stopping there, the global business aviation company can also arrange a four-week Fear of Flying course to help nervous pups feel at home on a plane.
Once transport is sorted, you can begin deciding where to go. To help, Elite Traveler has rounded up the very best dog friendly luxury hotels. From an idyllic oceanfront retreat in Los Cabos to an 18th-century Georgian manor in the picturesque English countryside, these exclusive abodes guarantee an unforgettable stay for you and your pet.
[See also: Twenty for 20: The Most Iconic Hotels of the 21st Century]
Inn by the Sea
Everyone knows dogs love exploring the beach, so where better to kick off our list of the best pet friendly luxury hotels than Maine? Here, on a mile-long stretch of sandy coast in Cape Elizabeth lies Inn by the Sea. The elegant ocean-side property has been welcoming dogs for over 30 years and is one of the few hotels not to charge a fee when you bring along your four-legged friend.
From the moment you arrive, the staff go above and beyond to make you and your pets feel at home. In your room, you'll find water bowls, beach towels, comfy blankets and a selection of handmade treats. Dogs can dine with their owners in the cozy lounge or al fresco on the seaside deck, sampling dishes from the special dog menu including Meat Roaff (steamed rice with natural ground beef and vegetables) and K9 ice cream (soy milk honey gelato topped with dog biscuits).
If your pooch loves taking a dip, consider staying in October when the pool is closed to people for a week and taken over entirely by the hotel's canine guests. And if you love animals but don't have one yourself, you can spend time with the resident rescue dog – and perhaps even bring one home with you. Over the last five years, Inns by the Sea has worked with the Animal Refuge League to help over 150 dogs find loving homes after temporarily moving to the seaside resort.
Ritz-Carlton Bachelor Gulch
Next up on our list of the best dog friendly luxury hotels is the Ritz-Carlton Bachelor Gulch. Nestled among the pine trees at the Beaver Creek ski resort in Colorado, your furry friend will love exploring the surrounding mountain trails and playing in the snow.
After a long day out on the slopes, returning to your cozy room or suite is a real treat. Reminiscent of a traditional lodge, the abodes feature roaring fireplaces, wooden beamed ceilings and stunning views of the mountain or valley below. You'll need to pay a $30 per night fee to bring your pet, plus a one-time $150 cleaning fee, but your four-legged friend will be well taken care of with a plush dog bed and in-room dining menu.
Perhaps most exciting of all for dog lovers is the chance to meet Bachelor, the hotel's canine ambassador. The adorable Saint Bernard pup can be found curled up by the fire in the winter, or out hiking in the mountains with guests.
The Little Nell
Staying in Colorado, we head to Aspen – home to The Little Nell. Located at the base of Ajax Mountain, the boutique hotel is the town's only ski-in/ski-out resort and has long been a favored hangout spot for celebrities. The property has made significant efforts to minimize its impact on the environment, offering guests electric car charging stations, growing fresh produce in the gardens and encouraging visitors to donate to the Environmental Foundation.
In a thoughtful touch, guests staying with pets are provided with a Puppy Jet Lag Kit on arrival which includes a leash to keep, home-baked dog bones, silver bowls and a comfy bed. There's also a special pet menu available which features a selection of dishes made with the highest quality ingredients from grilled salmon to wagyu beef.
Staying at The Little Nell with your pet will cost you $125 for your first night's stay and $25 a night thereafter. For an extra fee, the friendly valets are on-hand to take your pup for a walk while you hit the slopes or visit the gourmet restaurant for a bite to eat.
The Chatwal
From exploring Central Park to paddling in the lake at the Prospect Park dog beach, there are plenty of ways to keep your four-legged friend entertained when visiting New York. When it comes to finding a luxury hotel for your stay, you'll be hard-pressed to find anywhere as dog friendly as The Chatwal.
Situated in the heart of Manhattan on 44th Street, the iconic property is within walking distance of plenty of green spaces to take your pup for a stroll including Central Park, Bryant Park and Riverside Park.
During your stay at the boutique hotel, your dog will enjoy treats, toys and lots of attention. And for seriously pampered pooches, Chatwal's Pet Wardrobe supervisor is on-hand to curate a personalized pet closet with a Chatwal-red fur jacket, booties, bow tie and pet bandana.
[See also: The 15 Best Restaurants in New York]
Las Ventanas al Paraíso, A Rosewood Resort
Our list of the best dog friendly luxury hotels would not be complete without mentioning Las Ventanas al Paraíso. Overlooking the Sea of Cortez on the coastline of Los Cabos, the stunning beachfront resort is the perfect setting for a relaxing break with your pooch.
The staff go above and beyond to ensure your pet has an unforgettable stay providing gourmet made-to-order dishes, special massages and even 'doga' classes. At the beginning of your stay, you'll be provided with a portable pet cabana so your dog can stay cool at the beach, while dedicated dog butlers are on-hand to cater to your pet's every whim from walks along the seafront to organizing birthday parties.
Mandarin Oriental, Boston
With its thriving cultural scene and array of restaurants, Boston is a popular spot for weekend getaways. But if you're considering leaving your pooch behind, you might want to think again. From kayaking on the Charles River to walking the iconic 2.5-mile Freedom trail, you won't run short of things to do with your furry friend.
When it comes to deciding on where to stay, the Mandarin Oriental is an obvious choice. Stepping into the lobby, you'll be greeted by general manager Philip Knuepfer's friendly golden retrievers, Bonnie and Tara. If you want to make your faithful companion's stay extra special, you can opt for the Pampered Pup program which includes a private shopping consultation and fitting with the Fish & Bone canine concierge and a 'wag bag' full of gifts and treats.
Of course, if you do want to pop out to a gallery or bar, the concierge is on-hand to book a trusted dog sitter and you'll have access to a range of other services including 24-hour veterinarian care from the Back Bay Veterinary Clinic and Angell Animal Medical Center.
Four Seasons Hotel, Hampshire
Finally, if you're visiting the UK, your dog will love the Four Seasons Hotel Hampshire as much as you do. Just an hour and a half drive from London, the restored Georgian manor house is set within 500 acres of beautiful English countryside – ideal for taking long rambling walks and stopping in at the plethora of dog friendly local pubs.
Horse lovers will be delighted to hear the luxury retreat also boasts an equestrian center, home to an adorable pair of Shetland ponies.
[See also: The Best Luxury Wildlife Vacations in the World]