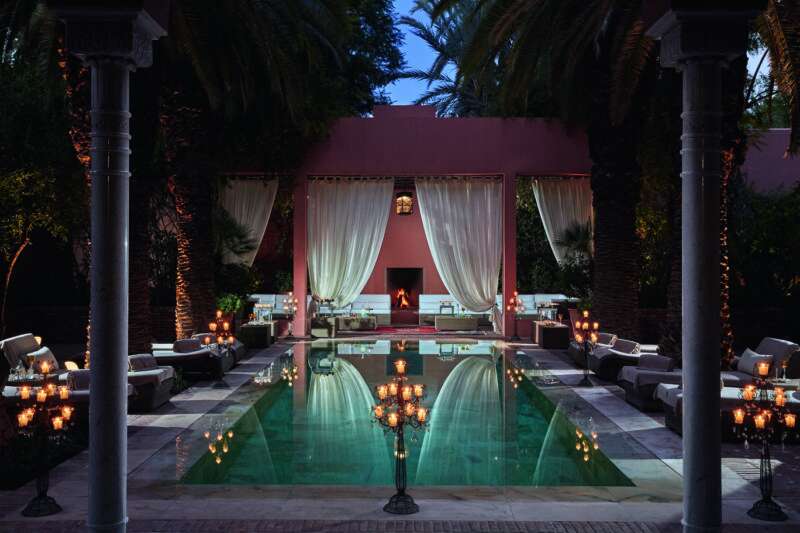 To celebrate the launch of the Elite Traveler Top 100 Suites 2022, we're diving into the detail that makes these accommodations the most luxurious and exclusive on the planet. Every one of the Top 100 Suites meets the ultimate standard in luxury travel, but some have gone the extra mile by including a combination of amenities. From suites offering their own private spas to others with bulletproof glass, we group together the suites that excel in key areas for discerning guests.
[See also: The Numbers Behind this Year's Top 100 Suites]
Wellness

There are many options for those looking to center their stay around health and wellness. Half of the Elite Traveler Top 100 Suites have an in-suite pool, 43% have in-suite wellness facilities, and a third boast a hot tub. More exclusive are the options for those who would like an in-suite gym, which is offered by just 15% of the suites.
In fact, of the Top 100, there are just four suites that offer in-suite wellness facilities, an in-suite pool, a hot tub and a masseuse.
The Silverback Suite of the One&Only Gorilla's Nest, at the edge of Volcanoes National Park in Rwanda, is surrounded by forest, so you can look out at the greenery from your private pool. The Royal Villa, at the Chablé Yucatán retreat in Mexico is a sanctuary committed to sustainability, and you can relax in the private pool or jacuzzi while enjoying your jungle surroundings.
Privacy
We know that for many travelers that to be able to enjoy their stay in absolute peace, privacy is of the utmost importance.
Half of our Top Suites offer private dining and have an in-suite pool. A third have a private entrance away from the rest of the hotel while 13% have a private floor of the hotel. Just two of our Top 100 Suites 2022 have an entirely private beach for guests and just three suites have private dining, private elevator and private pool.
The Grand Riad at the Royal Mansour in Morocco is a three-bedroom spread across almost 20,00 sq ft. With a discrete dedicated entrance, multiple private dining rooms, a private gym, pool, garden and terrace, the Grand Riad is the epitome of exclusive luxury.
The Four Bedroom Villa at Viceroy Los Cabos is one of the most exclusive accommodations and wins the Elite Traveler gold award for privacy. Guests will have a dedicated butler, chauffeur, concierge/guest relations manager, masseuse and private chef, to ensure every need is met.
Business
Around a third of our Top Suites have a conference room or boardroom within the hotel, for travelers looking to conduct business during their stay. Rarer are those that offer in-suite business facilities, found in just 15% of our suites.
There are just seven suites that have both in-suite business facilities, a hotel boardroom and a hotel conference room.
The Hotel de la Ville, is perched atop Rome's famous Spanish steps and its Suite De La Ville is perfect for a stay that combines business with pleasure. Its spacious study and ultra-stylish living room are ideal for meeting visitors, while the deep bathtub and in-suite spa treatments are perfect for the end of a long day. Large outdoor terraces offer panoramic views across the iconic city.
In Toronto, Birch House at the 1 Hotel is the perfect location to access the bustling city, while offering a calm oasis for working or resting in. The separate living room, dining room and kitchen are ideal for entertaining guests, while the hotel boasts a board room, conference room and lecture theatre for meetings of all sizes.