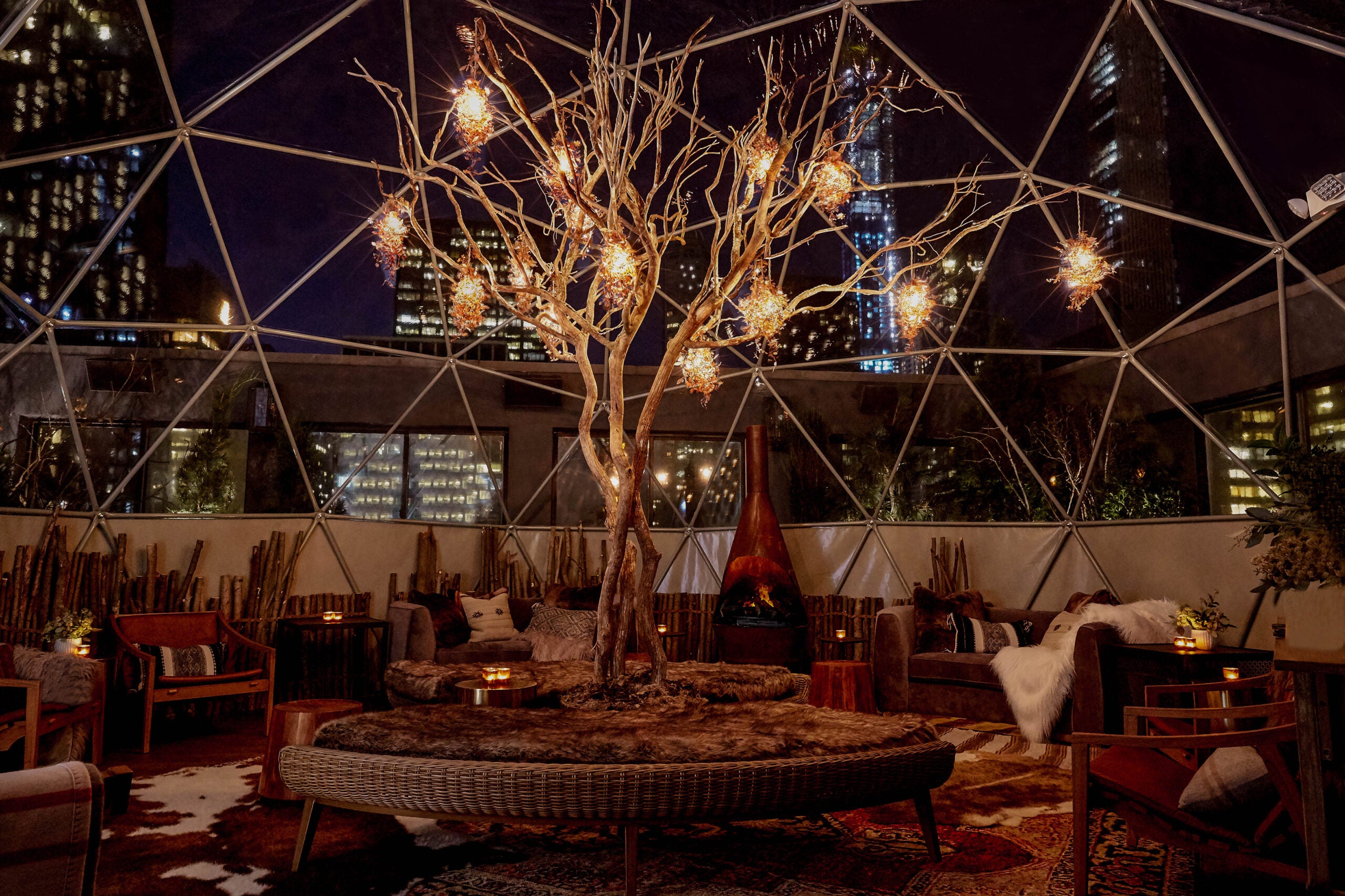 The Peninsula New York has transformed its popular Salon de Ning rooftop bar into a glamourous winter wonderland, dubbing it 'Chalet de Ning' to celebrate the start of the holiday season.
Available October through April 2020, Chalet de Ning is located on the West Terrace of the popular rooftop location and is comprised of two chalet-inspired domes. The domes invite guests to warm up as the temperature drops without missing out on the famous views of New York's twinkling skyline. The domes are furnished with Nordic-inspired lounge chairs, faux-fur throws and plaid blankets while a freestanding chimenea in the center ensures guests stay warm all night long.
Guests will feel as though they have been transported into an Alpine wonderland with Viridis Japanese Maple, winterberry, whitespire birch, spruce and juniper trees dotted around the terrace to create a quintessential apés-ski ambience.
And no aprés-ski would be complete without a cozy cuisine and cocktail menu. The team at Salon de Ning has created a seasonal menu filled with chalet classics such as a luxurious charcuterie plate, spiced French onion dip with sourdough alpine crisp, and gingerbread-spiced chocolate fondue. There are also a number of festive cocktails to choose from.
Chalet de Ning is open to the public Tuesday through Saturday from 5:00pm until 1:00am, but is best experienced in private. The terrace is bookable seven days of the week with the two domes comfortables accommodating 50 people. A private seated dinner experience is also available for up to 30 people.
Guests seeking a more intimate experience can host a semi-private event in the small dome for 10-12 people or take advantage of two smaller igloos available on the East Terrace to enjoy a variety of cocktails or high-end bottle service.
To book, email diningpny@peninsula.com or call +1 212-903-3051