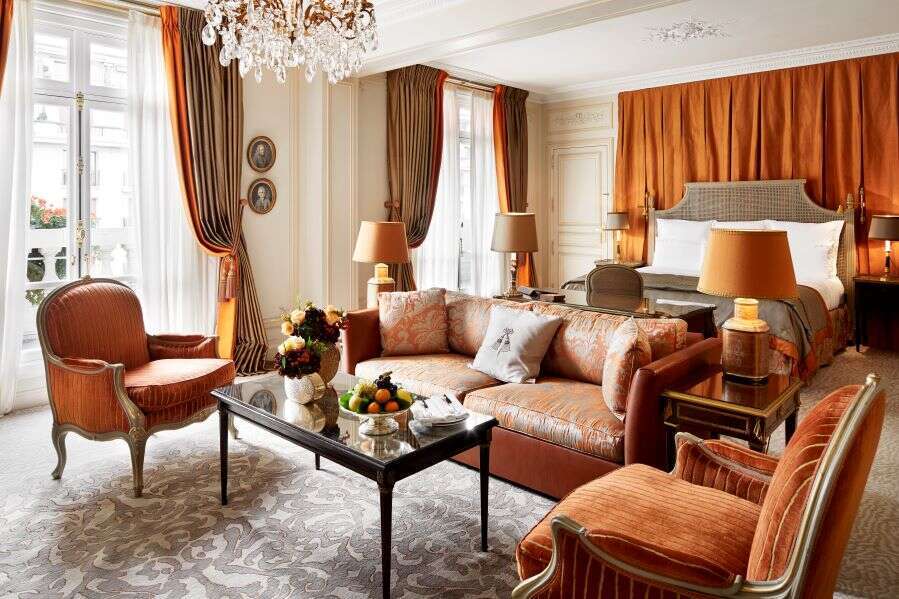 This month, Elite Traveler launches its hotly anticipated database of the world's top suites, featuring the crème de la crème of luxury suites from the world's finest hotels and resorts. Ahead of the launch, we've gone through the 400-strong list to pick out the most luxurious hotel suites when it comes to business travel. The suites in this list offer uncontested levels of luxury and come complete with private entrances, private floors and in-suite business centers. 
Click here to see the full Top Suites database.
Here are our top picks of the world's best hotel suites for business, in no particular order: 
The Royal Suite, Hôtel Plaza Athénée – $25,000 per night
Maharajah's Pavilion, The Raj Palace – $18,000 per night
Grand Reserve Villa, Zadún, a Ritz-Carlton Reserve – $25,000 per night
The One Above Penthouse, One&Only Cape Town – $9,500 per night
Royal Suite, St. Regis Rome – $23,608 per night
Jimmy Buffett Suite, Margaritaville Resort Orlando – $879 per night
The Lake House, The Ritz-Carlton Reynolds, Lake Oconee – $15,000 per night
Royal Villa, Chablé Yucatán – $5,280 per night
The Endeavour, Glenapp Castle – $5,891 per night
Villa Briscoe Suite, La Cantera Resort & Spa – $1,299 per night
Belle Etoile Suite, Le Meurice, Dorchester Collection – $25,000 per night
Laola Residence 1001, Timbers Kauai at Hokuala – $2,195 per night
Presidential Suite, Condado Vanderbilt Hotel – $3,500 per night
JFK Suite, Villa Kennedy, a Rocco Forte Hotel – $8,900 per night
[See also: The World's Top Fine-Dining Hotel Suites]
These are Elite Traveler's most notable hotel suites for business: 
The Royal Suite, Hôtel Plaza Athénée – $25,000 per night
Opulent grandeur and Parisian style come together in one of the French capital's largest and most expensive hotel suites. Designed by renowned interior designer Marie-José Pommereau, The Royal Suite, nestled in the heart of the fashionable Golden Triangle, showcases Louis XV and XVI antiques, original artwork and has uninterrupted views of the Eiffel Tower.
Spanning the entire width of the hotel, the four-bedroom suite has two living rooms, a spacious dining room and kitchen, as well as an office, private entrance with two security lobbies and a robust surveillance system, making it an ideal location for discreet business. The Athénée also offers two quietly-located boardrooms and incredible private dining options. Host clients or enjoy your downtime in the hotel's three-Michelin-star restaurant from celebrated chef Alain Ducasse.
Maharajah's Pavilion, The Raj Palace – $18,000 per night
Covering 16,000 sq ft over four floors and with a private elevator connecting each one, this former maharaja's palace, naturally, is fit for a king. Behind a discreet private entrance lays a truly palatial setting adorned with gold-leaf, ancient ivory and beautiful Rajasthani artwork. 
Located in historic Jaipur, the Maharajah's Pavilion is perfect for business travelers who want to entertain. On the first floor, there is an entrance lounge and lobby, plus a larger lounge with a bar. The second floor overlooks the inner courts of the palace and gardens and has a striking double-height reception room. The third floor has a library, bar and dining area connected to a kitchen. 
After a hard day's work, enjoy panoramic sunsets over India's Pink City from the private terrace on the fourth floor, which comes complete with a private swimming pool, whirlpool, spa, bar and dining area, as well as a separate butler entrance. 
[See also: The Most Discreet and Secure Hotel Suites in the World]
Grand Reserve Villa, Zadún, a Ritz-Carlton Reserve – $25,000 per night
Ritz-Carlton Reserves are famed for offering high luxury in breathtakingly beautiful locations, and the Zadún does not disappoint. The Grand Reserve Villa is the resort's most prized quarters and offers uninterrupted tranquility and privacy for conducting business. 
The property boasts nearly 6,000 sq ft of space, including a private kitchen and five lounges, and comes complete with your own Tosoanis (translated as a granter of wishes), a personal assistant who can arrange any desired amenity or service throughout your stay. In-room dining is catered by private chefs day or night, and the spectacular terrace overlooking the Sea of Cortez is the ideal place to relax or entertain. 
What's more, this oceanfront sanctuary is now accessible by private jet thanks to a partnership between Ritz-Carlton Reserve and luxury travel company Private Jetaway.
Royal Suite, St. Regis Rome – $23,608 per night 
St. Regis Rome's Royal Suite offers a level of grandeur usually witnessed only in royal palaces. Every whim is catered for, with a discreet private entrance, a butler and a piano just a few of the suite's amenities. 
When it comes to business, the 3,228-sq-ft suite boasts an opulent lounge and a 12-person dining room-cum-conference room embellished with gold and marble. St. Regis also offers an array of elegant meeting rooms as well as a glittering champagne bar and multiple fine-dining options.
This prestigious Roman hotel is positioned in one of the capital's most iconic palazzos, making it an ideal base for any VIP business traveler.
Belle Etoile Suite, Le Meurice, Dorchester Collection – $25,000 per night 
Elegantly perched on the top of this historic Parisian hotel is the 6,674-sq-ft duplex Belle Etoile Suite. Occupying the seventh floor, with its own entrance and in the heart of Paris, it offers a magnificent setting for private business. 
No time for seeing the sights? Arguably the finest view in the city awaits you in all its 360-degree glory upon the sprawling rooftop terrace, where you can take in every landmark. Large enough to host a party, it might just be the best private spot to entertain under the Parisian sky. 
Inside, the luxurious four-bedroom suite is flooded with light and decked with a flawless mix of fine French decor and modern design. 
The hotel boasts an array of beautifully ornate meeting rooms and exceptional fine-dining options including, like its sister hotel the Athénée, an exceptional Michelin star offering from the renowned French chef Alaine Ducasse. 
To submit an entry for next year's Top Suites database, complete this online form.