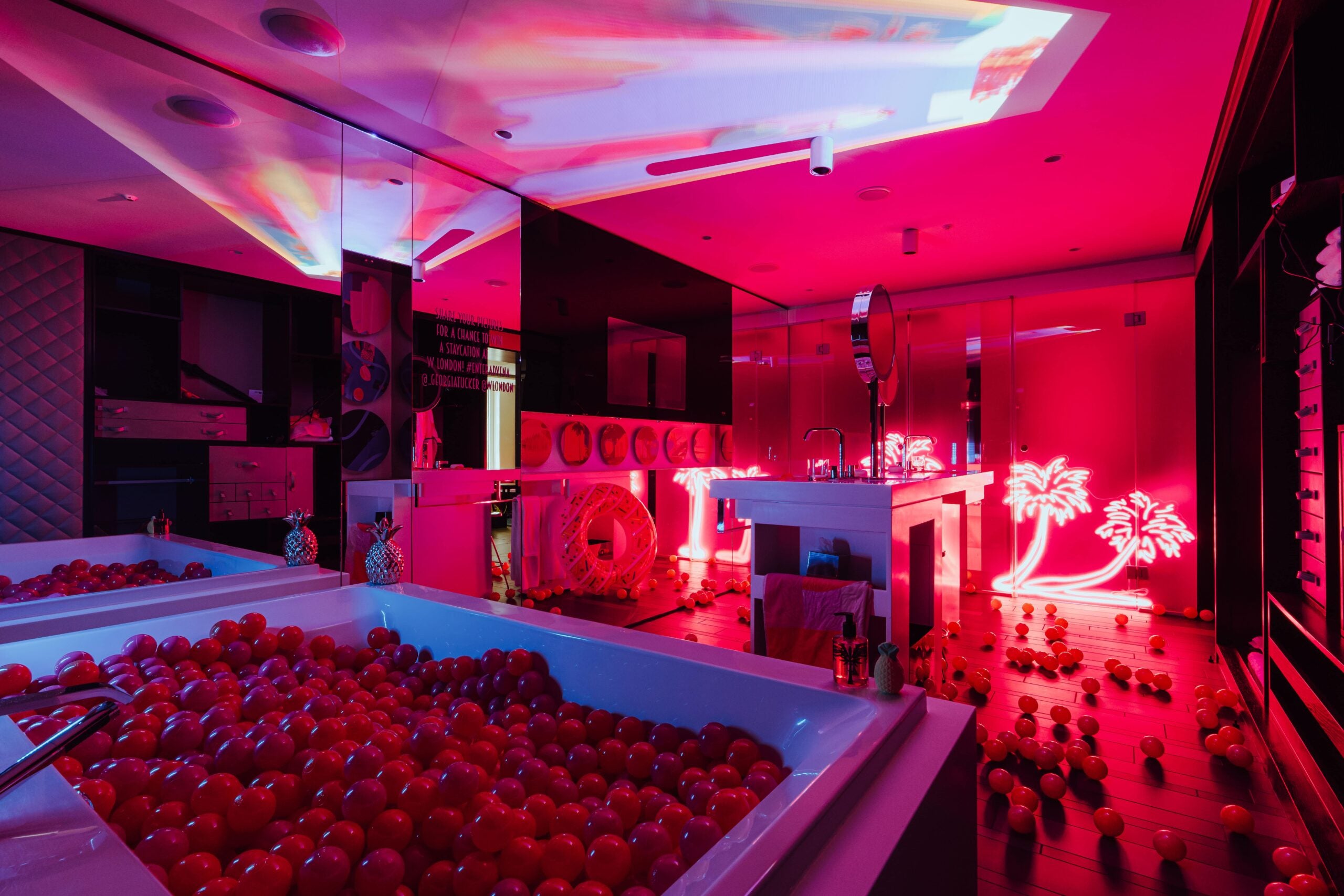 Covid-19 related restrictions are all but gone in the UK, but fear not if international travel is still not yet on your radar – W London has the solution. The ultra-luxe hotel has partnered with artist Georgia Tucker to launch Advena, a virtual reality resort that instantly transports guests to more exotic shores.
The immersive experience will take over one of W London's top suites to create an island vacation within London city center. Advena finds the sweet spot between the physical and the virtual and blends the two seamlessly. Tropical-themed wallpaper lines the walls, the bathtub has been transformed into a ball pit and neon lighting throws pink and blue tinges across the space, but it is the hypnotic projections and sounds viewed through a VR headset that truly bring the installation to life.
And of course, no island vacation is complete without a poolside drink in hand, with guests also invited to try the exclusive Escapist cocktail and Hidden Rock dessert after the virtual getaway, both of which will be served at W London's stylish Perception Bar.
[See also: The Best Luxury Hotels in London]
However, more than just a chance to indulge in escapism, the Advena installation also poses vital questions about the way we travel. Tucker's work is rooted in the artist's own concerns around the climate crisis, with her latest installation exploring the ecological and social impact of tourism, as well as pondering the impact social media plays on how we see new places on our travels.
While the multi-sensory experience might sound overwhelming, this is entirely intentional, with Tucker hoping to invite guests to think more deeply about the excessive nature of travel, and indeed the rest of our lives. "I want people to find a sense of escapism within this space and a sense of playfulness, but I also want it to start a conversation – leading people to question why it is they travel, and the effect Instagram has played on this," said Tucker.
The Advena Island suite at W London will be open to visitors until August 22, 2021, but for the full experience, opt for the Advena Island Escape. This comprehensive overnight package allows guests to experience the virtual getaway from the comfort and privacy of one of the hotel's inviting suites via a VR headset, which will project them straight to a paradisal island landscape.
The overnight Advena Island Escape at W London is available to book until October 17, 2021, from $414 per room. Book via marriott.com. Visit Eventbrite to book Advena VR experience slot.
[See also: Peninsula Beverly Hills Announces Ashley Longshore Residency]