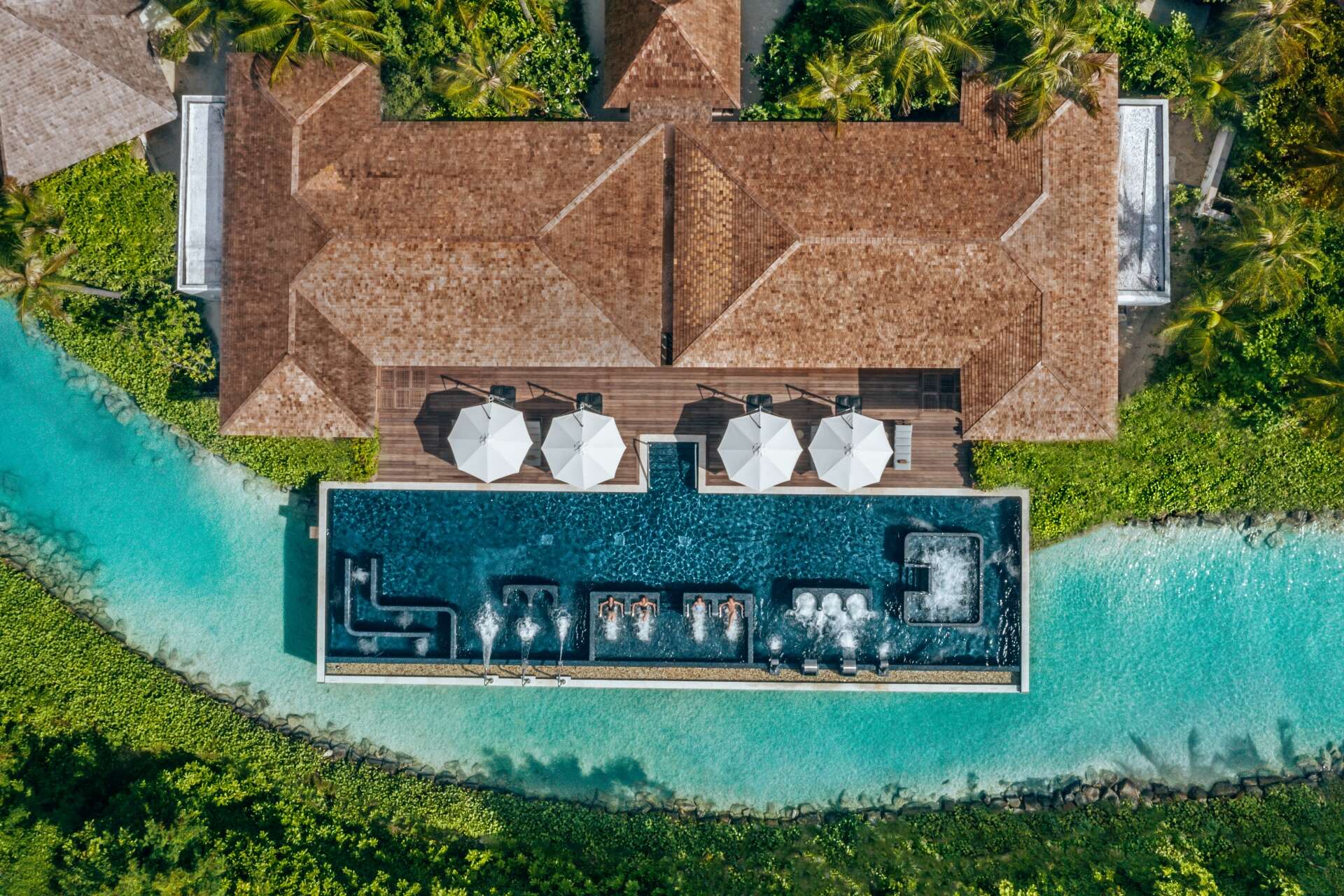 Arguably one of the most exclusive and luxurious resorts in the Maldives, the five-star Waldorf Astoria Maldives Ithaafushi is a haven for rest and relaxation. Despite already being a shining example for the region when it comes to having a world-class wellness offering, the resort has decided to further elevate its position in the Maldives with the debut of a brand-new Aqua Wellness Center.
Announced in June, the new Aqua Wellness Center at the Waldorf Astoria Maldives Ithaafushi is the first of its kind in the Maldives and covers an expansive 7,735 sq ft of wellness space. At the heart of the center is a custom-built hydrotherapy pool, which has been designed to sit on top of the clear Maldivian waters. The new hydrotherapy pool features several zones – including air jets, a massage lounger and a jet bath – with each station focusing on different parts of the body.
Using various levels of intensity and water temperature, the different areas of the hydrotherapy pool have different aims; for example, some areas work on easing muscle tension and increasing blood circulation, while others focus on boosting the immune system and improving sleep quality.
[See also: A Luxury Guide to Island Hopping in the Maldives]
"Now more than ever, travelers are looking for new wellness experiences to rejuvenate the mind, body and spirit," says Etienne Dalancon, general manager at the Waldorf Astoria Maldives Ithaafushi. "We are excited to expand our spa offerings and provide unparalleled wellness journeys for our guests. The Aqua Wellness Center and hydrotherapy pool are harmonious havens of wellbeing and aim to quickly reset travelers' bodies so they can enjoy the Maldives to the fullest."
As well as the hydrotherapy pool, the new Aqua Wellness Center is home to the Maldives' first-ever wellness concierge, where guests can speak to experts about the expanded experiential spa menu. As well as various massage therapies, crystal healing and holistic medicine treatments, there are options for guests to take part in meditation or yoga sessions at the center. After their wellness treatments, guests can also enjoy a specially curated lunch in the center's luscious gardens.
"Through these new amenities, we will not only offer access to world-class facilities and spa therapists but also globally celebrated experts, who are ready to pass on their wealth of knowledge," Dalancon continues. "Furthermore, our new healthy menu designed in collaboration with our poolside restaurant, The Ledge by Dave Pynt, will be a place for our guests to nourish from within and complete their holistic wellness journey."
[See also: Dino Michael on the Future of the Waldorf Astoria New York]