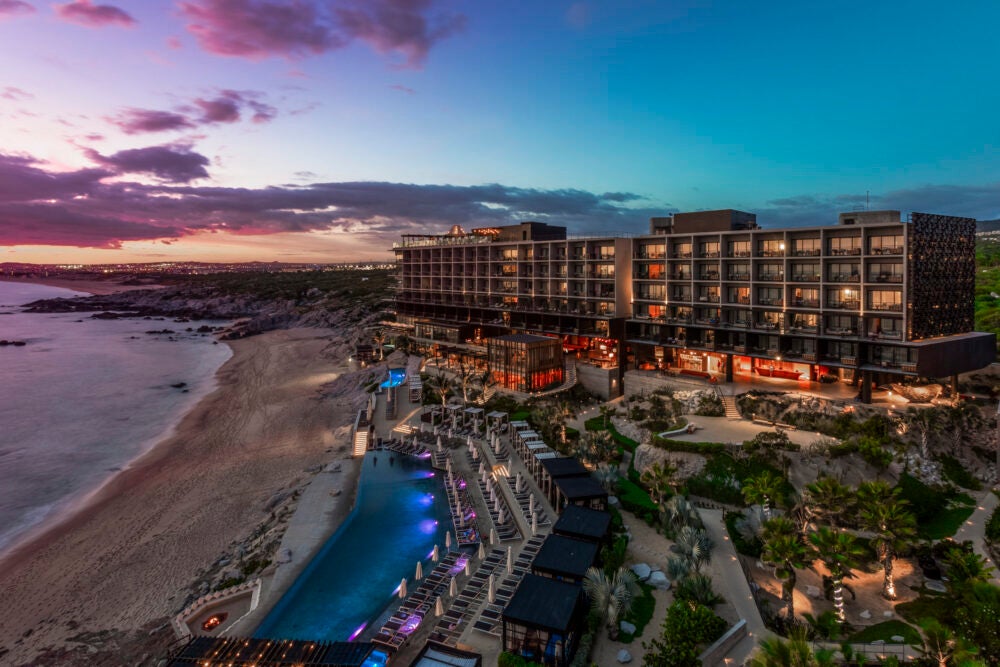 The Cape, a Thompson Hotel, is located in Cabo San Lucas in the state of Baja California Sur, Mexico, situated along one of the most desirable stretches of white sand in Los Cabos: the world-renowned surfers' paradise known as Monuments Beach. It is this secluded shoreline and its picturesque environs that inspired the resort's name: The Cape is the English translation of el cabo, and a reference to the property's unmatched location on one of Los Cabos' (meaning the capes) eponymous seaside points. The luxury hotel features 161 guest rooms, all with unobstructed views of the Sea of Cortez and the destination's famed icon, El Arco. While taking in beautiful views, guests can enjoy two pools; a rooftop lounge and garden with unmatched views of the city and the sea; and a diverse array of chef-driven food and beverage destinations.
Stay
Panoramic Suite
– Size: 818 sq ft
– Nightly rate: From $699
All guest rooms at The Cape feature private terraces, most with hanging daybeds, while the Panoramic Suite and two-story, three-bedroom Penthouse Villas offer private plunge pools. Each Penthouse Villa boasts a spacious private balcony with plush outdoor furnishings, a full outdoor kitchen and barbecue, fire pit and craft cocktail bar. Another crowning feature found in many of the guest rooms is the freestanding, copper-leafed bathtubs, positioned precisely so that you may enjoy a direct line of sight to the exterior balcony and view beyond, while also maintaining privacy. Guests may especially enjoy the custom 750ml hand-etched crystal bottle of Realeza Mexicana 100 percent blue-agave tequila, produced and bottled exclusively for The Cape. Each room additionally comes complete with cotton kimono robes and binoculars for whale watching.
Relax
On the westernmost point of The Cape sits Currents, an intimate, seven-treatment-room spa. It serves as a stunning example of the vision of architect Javier Sanchez and interior designer Marisabel Gómez Vázquez. Softly lit with dark charcoal-gray walls and minimal art, the space removes extraneous stimuli, allowing the sights, sounds and natural decor of the nearby desert-meets-the-sea landscape to set the ambience. Currents offers a steam room, sauna, hot and cold plunge pools, a couples treatment room with rain showers and a private pool, and two ocean-view cabanas for alfresco treatments. The Cape's fitness center houses state-of-the-art equipment and offers fitness classes, yoga and private workout sessions with expert trainers. A panoramic, floor-to-ceiling window stretches across the facility, providing unobstructed views of the Sea
of Cortez.
Signature treatment: The Currents Massage treatment combines an aromatherapy touch for the soul, hot-stone reflexology for the feet and a deep-tissue massage from legs to shoulders using stretching techniques to loosen muscle tension, making it a perfect treatment to let everything go.
Taste
Hailed as a culinary innovator with a deft hand for forward-thinking Mexican cuisine, executive chef Enrique Olvera helms Manta, the 114-seat signature restaurant serving a menu of sophisticated Mexican flavors executed with a technique that celebrates Pacific Rim traditions. Olvera also supported the development of select dishes for the resort's additional dining destinations, including the alfresco rooftop lounge and sunken lobby bar. Seamlessly in line with the overall concept of The Cape, the chef's approach maintains a distinct and tastefully casual Baja sensibility, avoiding pretension in favor of a straightforward yet refined approach. Design highlights at Manta include large hand-carved wooden doors that open into a seductively lit corridor and wine wall; a mix of natural elements throughout such as wood, leather and dark stone; and an exhibition-style kitchen with teppanyaki and robata grills that offer guests an immersive culinary experience.
Enjoy
Celebrated architects Javier Sánchez and Benedikt Fahlbusch, alongside distinguished Mexican interior designer Marisabel Gómez Vázquez, are the creative force behind The Cape, effortlessly blending the upscale urban sensibility synonymous with Thompson Hotels and a vibrant, 1960s Baja-meets-Southern California vibe. The resort's unique geographical positioning and precise architectural build allow for unparalleled views of both the ocean and El Arco from virtually any vantage point in the hotel. This connection to the sea and sand is woven throughout the property's design, as seen in highlights like custom furniture handmade in Mexico and original ceramic pieces from Guadalajara artist José Noé Suro.
Contact
Eduardo Segura, managing director, thecapereservations@thompsonhotels.com, +1 844 778 4322, thompsonhotels.com/the-cape