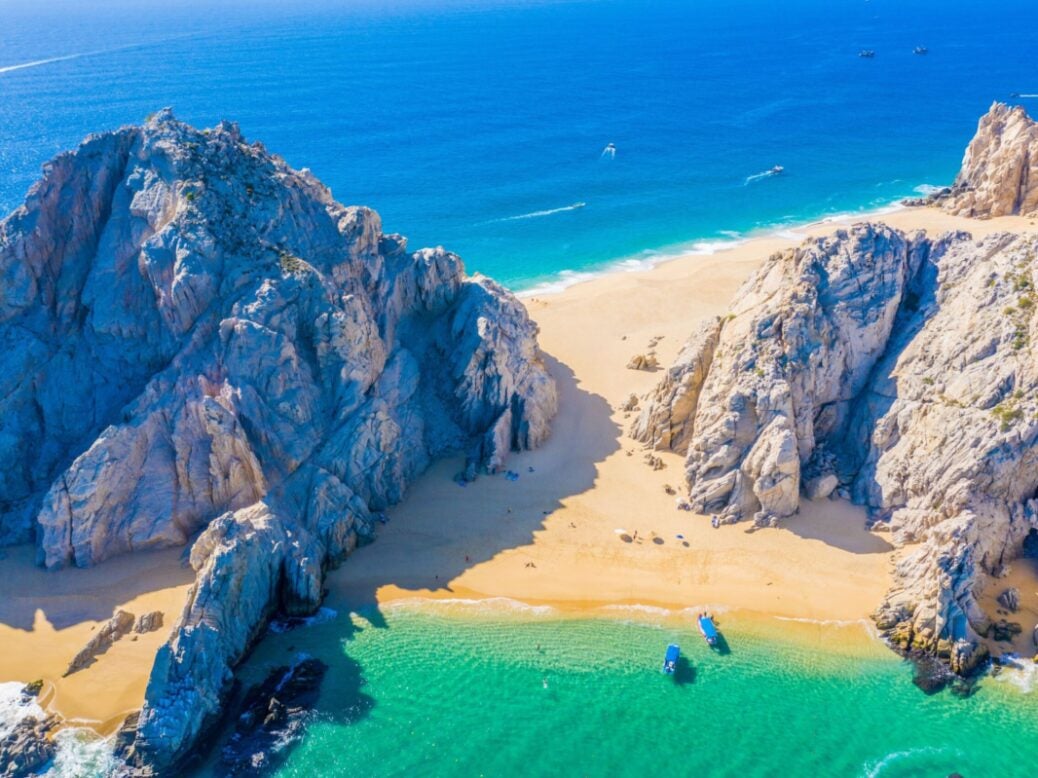 Known for its golden shores and vibrant nightlife, Los Cabos is also home to an array of gourmet restaurants helmed by some of the planet's best chefs.
If you love seafood, you're in for a real treat. Situated on the southern tip of Mexico's Baja California Peninsula, the ocean is front and center on most menus. Restaurants have exceptionally close ties with local fishermen, ensuring the finest fish makes it straight to your plate. Expect everything from classic fish tacos to grilled lobster and fresh ceviche.
And while there are yet to be any Michelin-starred restaurants in Los Cabos at the time of writing, the prestigious guide recently announced it will be coming to Mexico in 2024. We can't wait.
Until then, here's our top pick of the very best restaurants in Los Cabos from romantic terraces to casual farm-to-table eateries.
[See also: The Best Luxury Hotels in Los Cabos]
Los Tamarindos
Located in a 19th century farmhouse, Los Tamarindos operates with a devoted farm-to-table philosophy. The ever-changing menu is dictated by the seasonal crops growing in the fields surrounding the restaurant, with head chef Enrique Silva following recipes that have been passed down through generations.
The restaurant's meat and fish dishes are equally as conscious of seasonality and freshness; the fish is caught daily by local fisherman and hand-selected by Tamarindos chefs, while the chicken comes from its own farm-reared flock of Cornish hens. The drinks menu is also dedicated to celebrated local produce, with the bulk of the wine menu featuring Mexican labels, and as you would expect, an impressive tequila menu is also on offer.
If enjoying a thoughtfully prepared Mexican menu isn't quite enough to sate your appetite, you can enjoy a more hands-on experience with one of Los Tamarindos's cooking classes, held in the restaurant's adjoining kitchen terrace.
Acre Restaurant
Promising a vibrant dining experience in the Sierra de la Laguna mountains, Acre has become a must-visit for culinary connoisseurs visiting Los Cabos. Although the property has now expanded to encompass a treehouse hotel, the restaurant was the resort's first offering, making it the heart and soul of Acre.
Moroccan executive chef Larbi Dahrouch joined the restaurant in 2019, bringing with him a penchant for simple yet elevated flavors. Acre's menu marries local produce (much of which is sourced on the in-house farm) with global influence; expect fresh seafood and nourishing salads alongside Italian pasta and French-inspired duck dishes.
Once dinner is over, turn your attention to Acre's eclectic cocktail menu, which boasts a selection of award-winning concoctions served in a relaxed yet effortlessly chic setting. As with the food offerings, Acre's drinks menu celebrates ingredients sourced within the resort where possible.
[See also: The Most Luxurious Eco-Friendly Hotels Around the World]
Comal
Found at the luxurious Chileno Bay Resort and Residences, Comal restaurant continues the resort's long-standing reputation for excellence and is continuously regarded as one of the best restaurants in Los Cabos.
The name Comal derives from a traditional cast-iron pan that has been used in Mexican cooking for centuries and is typically passed down through generations. Comal's menu stays true to the origins of its name, showcasing Latin American-inspired recipes with a contemporary twist. In addition to the main menu, guests can also revel in the live-action Raw Bar, offering up the freshest selection of local fish.
Comal is also considered one of Los Cabos's most romantic dining spots, but be quick, as the coveted seafront tables with dramatic views across the Sea of Cortez are booked up by loved-up couples far in advance.
Cocina De Autor
Cocina de Autor translates into English as "signature cuisine," which typically involves a menu that reflects a chef's personality. This is exactly the case at Grand Velas's concept restaurant; two-Michelin-starred chef Sidney Schutte's playful tasting menu artfully reflects his time at a wealth of Michelin-starred restaurants around the world, cementing Cocina De Autor's status is the restaurant for creative fine dining in Los Cabos.
Each dish has been designed to celebrate fresh local ingredients in an inventive fashion, with combinations such as chocolate and clam, making for intriguing pairings. The accompanying wine pairing is equally ambitious, offering a selection regarded as one of the most diverse in the region.
The eclectic menu is served in an impressively stylish setting. The restaurant is awash with atmospheric lighting, striking gold details and Mexican artwork, not to mention the captivating ocean views.
loscabos.grandvelas.com/cocina-de-autor
[See also: The Chefs with the Most Michelin Starred Restaurants]
Manta
Taking inspiration from the cuisine of Mexico, Peru, Japan and beyond, the food menu at Manta is remarkably diverse. Expect a host of unusual flavor combinations such as sweetcorn ice cream mochi, all conjured up by head chef Enrique Olvera. The beverage menu continues to transport diners across the world with Japanese sake offered in addition to the expected mezcals and tequila.
As with many of the best restaurants in Los Cabos, seafood takes center stage at Manta, and as is common on the Baja California Peninsula, chef Olvera is committed to championing local produce, be it from land or sea.
Found inside The Cape, A Thompson Hotel as its flagship restaurant, Manta is a haven of simplicity and minimalism; striking black walls are thrown into contrast by tan leather seating, while the floor-to-ceiling windows showcase what is easily one of the best views in the region.
mantarestaurant.com, thompsonhotels.com/manta
See here for Elite Traveler's comprehensive list of the world's finest restaurants.
[See also: Our Holiday Gift Guide for 2023]