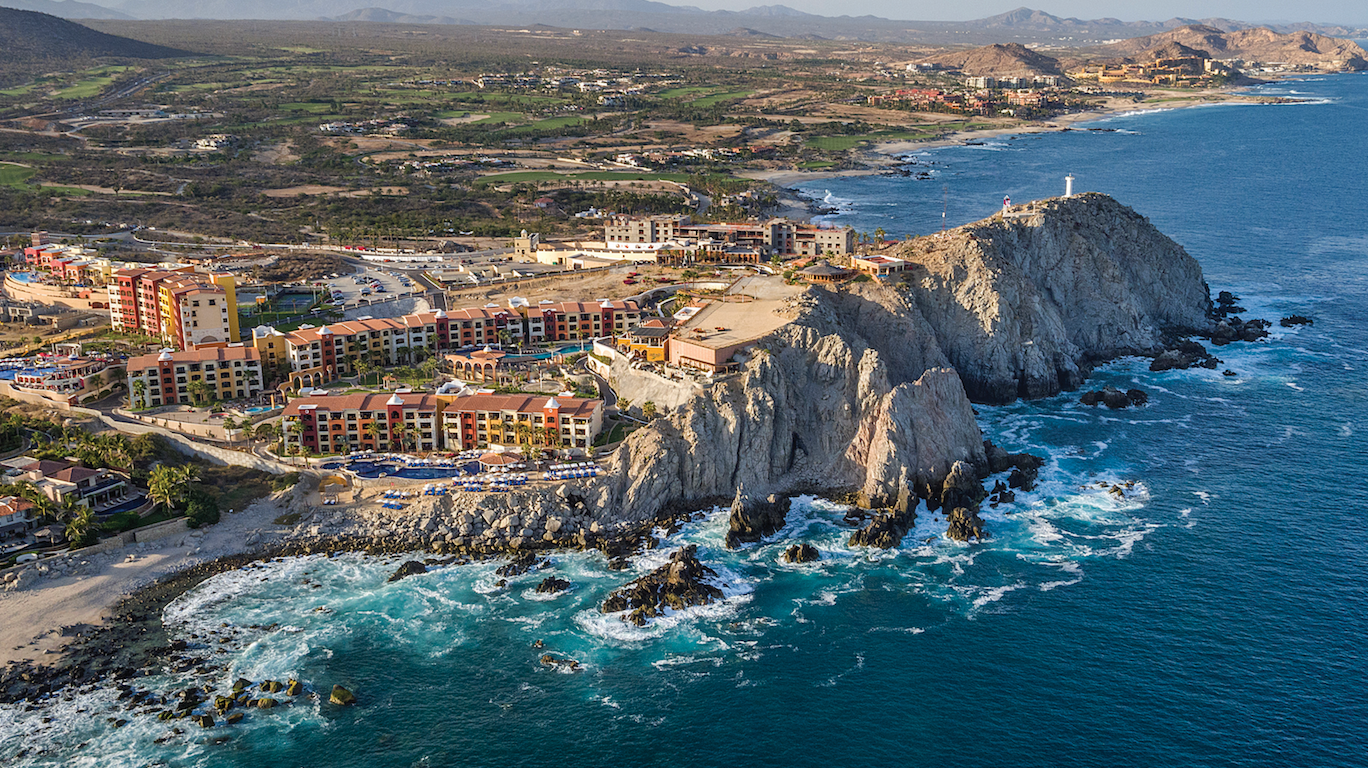 Hacienda Encantada brings you the finest Los Cabos luxury experience, pairing exquisite suites with superior service, traditional Mexican architecture and breathtaking landscapes. This beachfront, cliff-top hacienda-style resort located along Millionaire's Row overlooks the Sea of Cortez and the famous Land's End arch. The words 'luxury' and 'traditional' are often used to describe this one-of-a-kind hideaway. Embracing the beauty of Mexico, Hacienda Encantada Resort & Residences showcases stunning Mexican art and architecture within the natural beauty of Los Cabos.
Stay
Providing the most spectacular ocean views in Cabo, with hacienda-style studios and one-, two-, three- and four-bedroom suites perched high up on a scenic point overlooking the serene blue waters of the Sea of Cortez, Hacienda Encantada is a jewel in paradise. Our accommodations show off the best that traditional Mexican architecture and Mexican artwork have to offer; and if you're looking for a more luxurious and exclusive vacation, The Residences bring both Mexican tradition and modern luxury together. These high-concept multilevel suites range from two-bedroom villas to three- and four-bedroom residences. Guests looking to plan a vacation with luxury amenities and complete privacy should look no further. Take in breathtaking views of the Sea of Cortez from every terrace and balcony. "We want to offer our guests the highest quality of service and unforgettable experiences with the convenience of a thoughtfully appointed, home-like ambience in a luxurious beachfront setting." says Gabriel Ibarra, sales and marketing director of Mexico Grand Hotels. This isn't a typical resort in Cabo; this is more like the second home you've always dreamed of.
Relax
With five treatment rooms, a therapy pool, sauna, steam room, fitness center and juice bar, Milagro Wellness Spa offers natural healing treatments based on ancestral Mexican flowers. The spa's wellness focus and culturally inspired practices create a healing aura well-suited to the property's serene surroundings through an array of specialized treatments like massages, body wraps and facials.
Taste
Among a picturesque cliff-top setting, Mestizo del Mar serves prime seafood specialties and cocktails overlooking the breathtaking Sea of Cortez. The restaurant's organic, less-is-more approach to breakfast, lunch and dinner is led by chef Oscar Rodriguez, whose experience includes renowned resorts around the country. Mestizo del Mar highlights house-made ingredients, diverse techniques and intense flavors in its dedication to local cuisine.
Contact
Carlos Castillo, reservations manager, reservations@mexicograndhotels.com, +1 877 319 5080, haciendaencantada.com / vistaencantadaresort.com