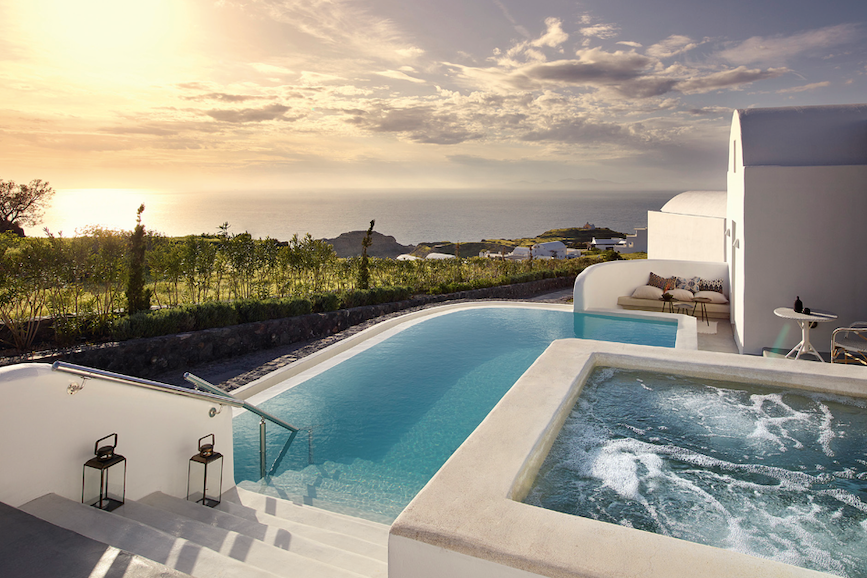 Santo Maris Oia Luxury Suites & Spa is a lavish and serene retreat offering some of the most exclusive sunset views on Santorini. Original, laid-back and private best describes this all-suite-and-villa hotel, where you will feel right at home. Guests can linger on their spacious personal verandas with hot tubs, surrounded by whitewashed domed suites, picturesque alleys and five dazzling pools. The perfect holiday rhythm is easy to come by at the award-winning Wellness Center, which offers a plethora of deeply rejuvenating treatments as well as a wonderfully equipped gym. Named among the best restaurants in Greece by the Greek Cuisine Awards, ALIOS ILIOS restaurant serves delicacies inspired by a creative Greek cuisine concept, while the Pool Bar and the Romantic Bar both serve expertly mixed cocktails.
Stay
Selini Luxury Sunset Villa with Private Pool
– Size 2,150 sq ft interior; 1,615 sq ft exterior
– Nightly rate from $1,730 to $3,030
The luxurious Selini Luxury Sunset Pool Villa with Private Pool is the ultimate option for those who want peace and quiet. Tranquil and serene, it makes guests feel at home as they enjoy the sunset. Selini has its own private pool with a Jacuzzi, two separate bedrooms with king-sized beds and bathrooms, living areas, a fully equipped kitchenette, two additional spacious bathrooms, a private gym with ensuite sauna and a butler's room. The enormous outdoor space can be used for a romantic dinner, family gathering or party, or even a small wedding ceremony and reception overlooking the velvety blue Aegean Sea and stunning sunset.
Ilios Luxury Sunset Villa Private Pool
– Size 2,150-sq-ft interior; 1,615-sq-ft exterior
– Nightly rate from $1,825 to $3,185
The majestic Ilios Luxury Sunset Villa Private Pool is at the northern side of Oia village offering secluded privacy, spacious areas and an exclusive, captivating view of the spellbinding sunsets in Santorini from its outdoor private pool. On the ground floor there is an open-plan area with a living room, dining area and kitchenette with large windows, while a full kitchen can be found in the basement of the villa (with all the necessary appliances). The two master bedrooms come with private bathrooms, a personal veranda and direct exit to the swimming pool. An additional bedroom for a butler or nanny is located in the basement of the villa.
Relax
Wellness Center
One of the largest spas on Santorini is found at Santo Maris; it features an indoor heated pool and a Holistic Wellness Program, which includes training and programs for physical and mental health.
Dine
ALIOS ILIOS
The in-house restaurant, ALIOS ILIOS, which translates to "the sun that rises and falls in the sea," offers high-end, gourmet menus with spectacular views of the famous Oia sunsets. The menu features traditional Greek cuisine with a modern twist.