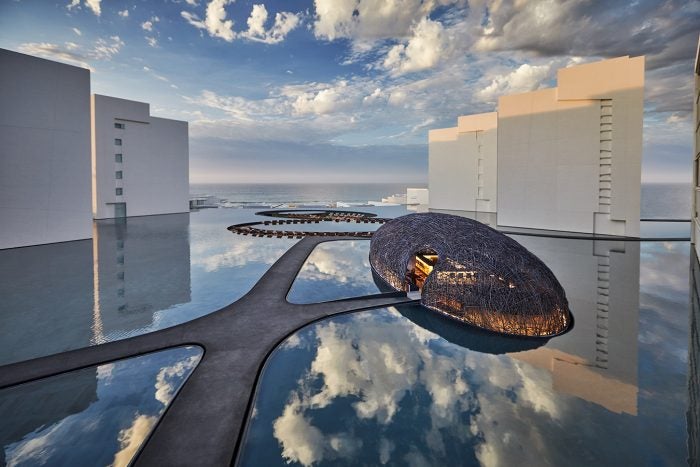 Located on the outer rim of Baja California Sur, San José del Cabo's allure is boundless and is felt everywhere from its majestic coral reefs to its historic colonial streets. In the middle of it all emerges the stunning Viceroy Los Cabos. More than a beachfront resort, it's a canvas of architectural achievement, designed by Miguel Angel Aragonés, that celebrates water as the most precious natural resource. Wraparound water leads from the sea into the heart of the resort, and the artfully designed buildings resemble boxes floating on water.
[See also: Top Suites in the World – Four Bedroom Villa & Nanny Bedroom, Viceroy Los Cabos] 
Stay
Ocean View Premier Suite
– Size 1,300 sq ft – Nightly rate from $1,400
Each space is designed as an artful balance of nature and modernity, with rays of sunlight spilling through: The look is minimal and stylish. Design accents, furniture and interiors harmonize with the architectural simplicity. Suites feature interior living spaces that open onto outdoor terraces shaded by overhanging ceilings and adjustable awnings. Luxurious linens and sweeping azure views are in all of the 192 hotel rooms and 50 residences.
Relax
The Spa at Viceroy Los Cabos
The Spa at Viceroy Los Cabos is committed to wellness, and to get guests in that zen state of mind, The Spa takes you on a trip through Baja California. Skilled massage therapists and aestheticians craft bespoke experiences in addition to the vast menu of services. The 11,000-sq-ft spa has a holistic focus offering vitality pools, a serene grotto, thermal chambers, ice fountain, experience showers and hydro-massage. All of its treatments call upon local techniques and ingredients, such as marine plankton, palo azul herbal tea, marine mud and algae.
Signature treatment: Tranquil Damiana combines the relaxing elements of massage with results-driven wellness techniques to improve sleep and enhance focus. Tranquil Damiana is a sensorial delight. The massage focuses on aromas derived from the damiana flower, otherwise known as a Mexican love potion. During your massage, you will receive autonomous sensory meridian response (ASMR) sleep techniques to help promote sleep and reduce stress through music. The music has sustained rhythms, harmonic intervals and beats that sync with your brain waves to increase relaxation.
Taste
Four innovative culinary destinations feature local and international fare carefully prepared by our culinary team under the supervision of our executive chef Cesar Pita, plus inspired beverage programs. A focus on organic ingredients prevails. Enjoy destination dining at Nido, the nest-like restaurant at the center of the resort. Gaze at the stars overhead at CieloMar, the striking rooftop restaurant and lounge known for locally caught seafood and craft cocktails. Taste forgotten spirits at Otro, our relaxing cocktail bar. Casero, in an indoor-outdoor environment, serves traditional hearty yet healthy Mexican cuisine. Catch some sun at the beachfront bar Nidito, a destination for cocktails and casual fare.
Awards
– Condé Nast Traveler Readers' Choice Award #1 Hotel in Western Mexico 2018 – Condé Nast Traveler Readers' Choice Award #2 Resort in the World 2018 – Time Magazine 'Worlds Greatest Places' 2018 – Luxury Travel Advisor 'Worlds Most Instagrammable Hotel' in The Americas 2019 – Condé Nast Traveler Readers' Choice Award #5 Hotel in Western Mexico 2019
Contact
Martin Kipping, general manager, martin.kipping@viceroyhotelsandresorts.com; Paola Amador, associate director of sales, paola.amador@viceroyhotelsandresorts.com, +52 624 104 9999, viceroyhotelsandresorts.com