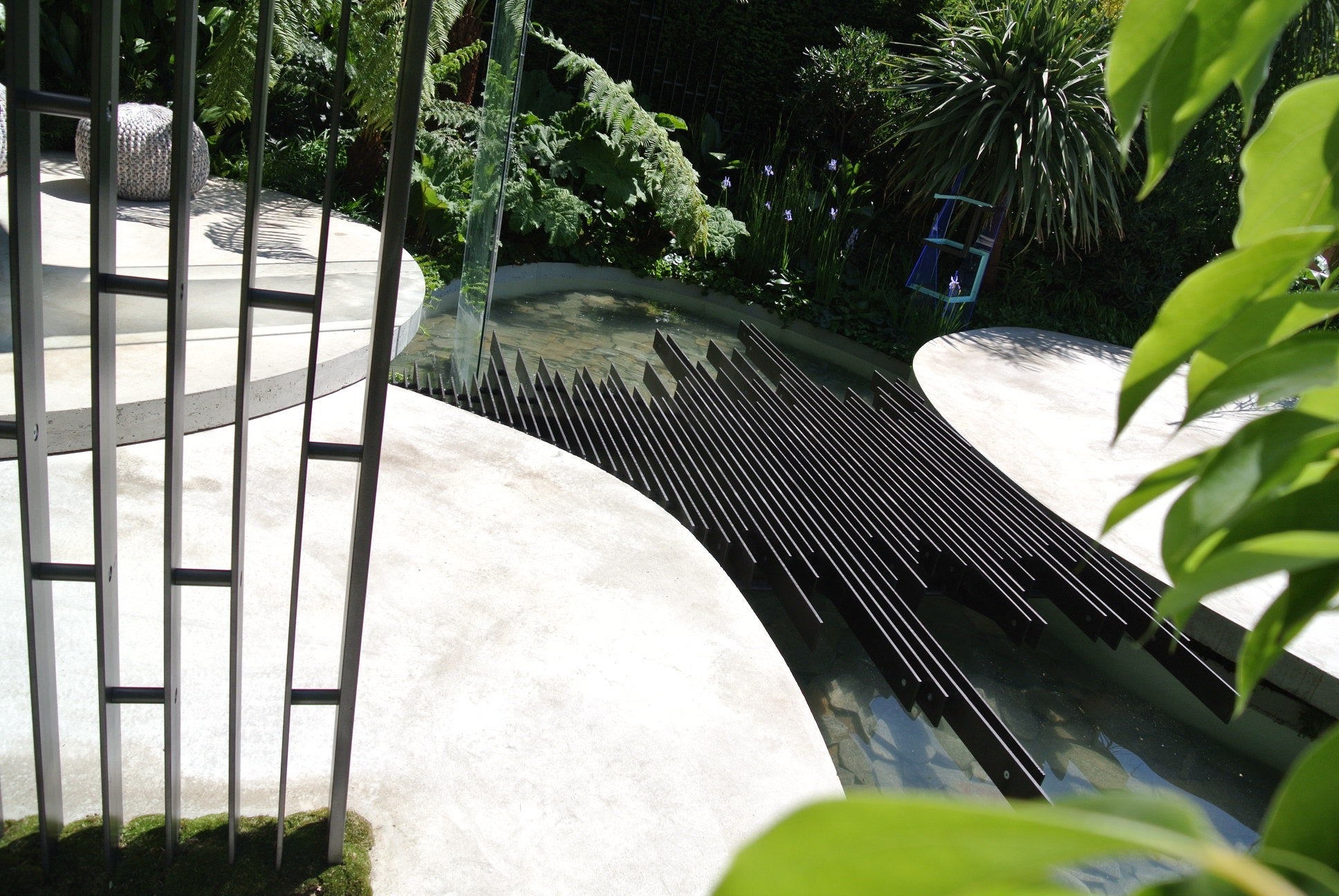 A show garden inspired by Barbara Hepworth, classical music and Cornwall is winning plaudits from judges and celebrities alike at this year's RHS Chelsea Flower Show.
Architects studio Evans Lane working in collaboration with designer Stuart Towner created the Spirit of Cornwall show garden influenced by her love of Cornwall.
The backbone of the garden is formed by a physical manifestation of classical music commissioned by the Hepworth Trust. The piece – written by Leo Geyer to celebrate the 40th anniversary of Hepworth's garden in Cornwall – was rendered into visual "sound clouds" using computer software. Using this rendering, linear metal flat plates were created and used to form a fence, bridge and the garden pavilion itself.
[masterslider id="164″]
"We selected elements as a graphic representation of the music which is a series of vertical lines, each one representing a note in time or the music," explains Timothy Evans, co-founder of Evans Lane. "Each subsequent one is a different note and you create this amazing variety of vertical lines."
Drawing from the "unusual" microclimate in Cornwall, the planting was arranged to engender a feeling of calm and tranquillity. "It's almost monochromatic, with different shades and variations of green," adds Evans "We knew that green worked as a kind of backdrop to the bronze, and these two aspects really complimented each other.
"Hepworth also worked a lot in stone, and the use of concrete lily pads connects things together to all reference their material palettes."
Enclosed by tall hedges, the garden was designed with urban spaces in mind, as well as rural environments, providing a sense of closure from the outside world.  Sustainability and re-use are also primary considerations, with the structures designed for dismounting and re-erection at a garden design college in Kent after the show closes.
Celebrities including David Walliams and Joanna Lumley have stopped to admire the garden at Chelsea, and DJ's Trevor Nelson and Jo Wiley were keen to learn about its musical inspirations. "Explaining to them about the music and how we interpreted it, they really got it with their own relationship with graphic equalizers for instance," he says.
Spirit of Cornwall received a Silver Gilt award from judges at the Chelsea flower show- an impressive result considering it is the first show garden the firm has bought to the event.  It is displayed at the Chelsea Flower show until 26 May.