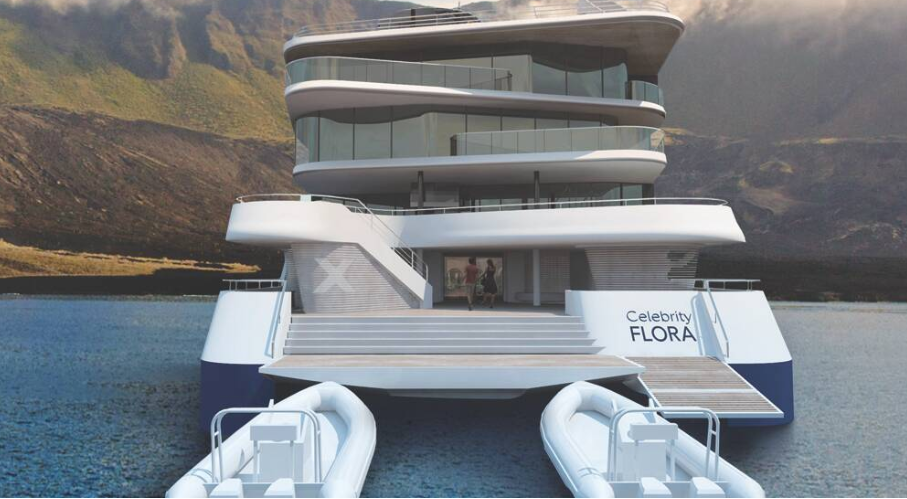 Celebrity Cruises is having quite the year. Earlier this year, Celebrity Edge, the first luxury cruise ship in the new Edge-class cruise ship, and now, the brand is launching its first luxury expedition megayacht, Celebrity Flora.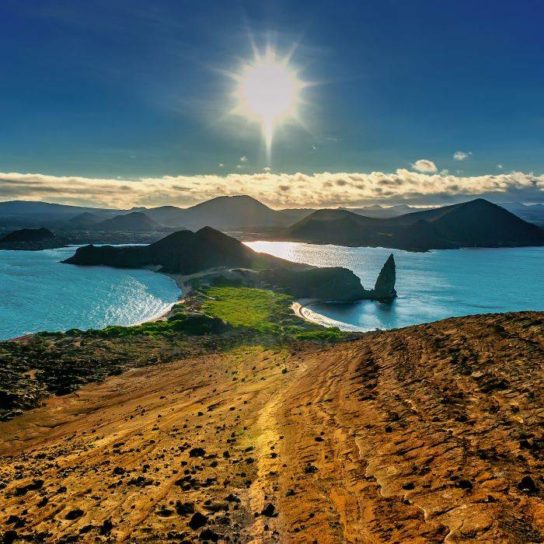 Celebrity Flora is specifically designed to sail to the Galapagos Islands through easy island hopping and the ability to see the islands up close and personal. The groundbreaking ship is an all-suites vessel that hosts just 100 guests; it's akin more to a yachting experience than that of cruising. Not only will guests get a truly intimate feel for the natural surroundings, but the ship also has a sustainable focus. The ship's godmother is Yolanda Kakabadse, the former president of World Wildlife Fund International and environmental advocate.
"Yolanda Kakabadse has been a moral force for sustainability, in Ecuador and around the world, and we are honored to have her inspiration as Celebrity Flora sets sail," said Richard D Fain, chairman and CEO of Royal Caribbean Cruises Ltd, Celebrity Cruise's holding company, at the ship's naming ceremony.
In addition, Celebrity Cruises announced a partnership with EarthEcho International, a nonprofit organization founded by Philippe Couseatu, Jr. The organization encourages young people to get involved in sustainability for a brighter future and a more sustainable future. The program will support endeavors for young people including launching specific sustainability projects in the Galapagos Islands and activities for young passengers onboard Celebrity Flora.
"Our guests have never seen a destination quite like the beautiful Galapagos Islands, and the islands have never seen a ship quite like Celebrity Flora, perfectly blending intimate luxury with sustainability," said Lisa Lutoff-Perlo, president and CEO of Celebrity Cruises. "The ship is designed to showcase this amazing destination, giving our guests incredible memories  —  and underscoring the critical importance of protecting our planet's fragile ecosystems."
The ship is the first in the Galapagos to have cutting-edge oceanographic research equipment to help scientists measure ocean circulation dynamics. It will gather date that helps predict ocean storms.
Guests will get the royal treatment onboard: Each suite has personal attendants to adhere to guests' every needs. In addition to 360-degree viewing decks on the top of the ship (so you can admire the island from all angles), the ship will host the first-ever glamping experience as well as brand-new dining venues, open-air stargazing platform, ecological seminars and yacht tenders for easy access to shore excursions.
Celebrity Flora is the most energy-efficient ship in its class with 15 percent less fuel consumption and fewer air emissions than any ship in its class. Not only that, but it has anchorless technology and zero-speed stabilizers for a smoother ride.
The ship made its inaugural sail at the end of June, and you can book 7 to sixteen-day itineraries with the option to add pre- or post-cruise experiences.
For more information, visit celebritycruises.com/galapagos/ships/celebrity-flora