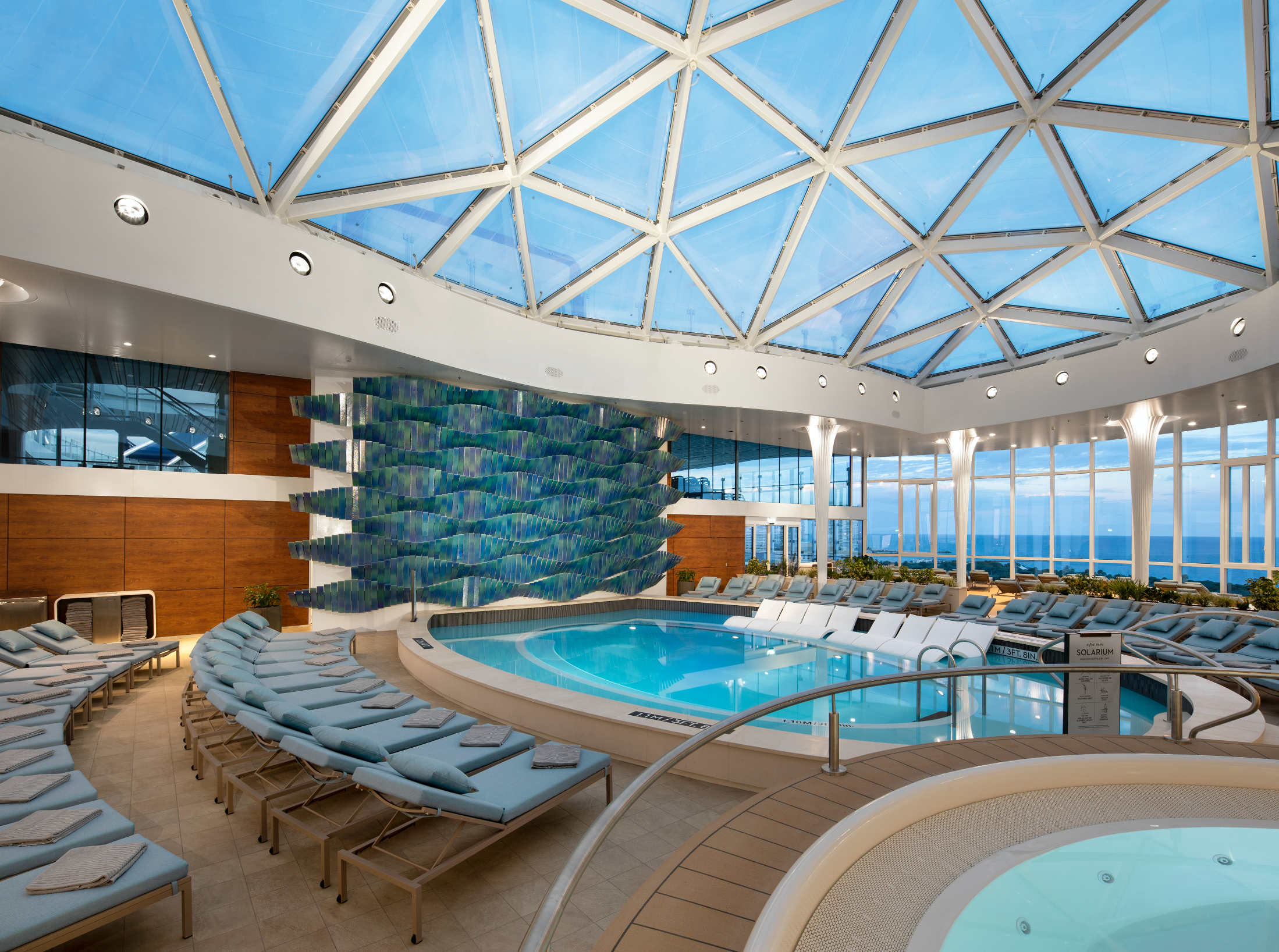 One of the industry's most anticipated luxury cruise ships, Celebrity Cruises' Celebrity Edge ship will sail its maiden European voyage on May 15. The ship will sail 10 days from Southampton, UK and throughout Spain, Portugal, England and Italy and continue these voyages throughout 2019 with additional destinations.
Celebrity Edge is the first of the cruise line's Edge-class cruise ships, and its maiden voyage was on December 9, 2018. The 1,004-ft ship has a 2,918 passenger capacity, and is the first new ship in Celebrity's fleet in five years. The ship prides itself on its modern luxe decor and its technology, which includes facial recognition when boarding the ship to its app (more than 85 percent of Celebrity passengers use the app while onboard) and in-room technology. The amenities and features onboard are fairly remarkable in comparison to other ships of this size: There are 29 restaurants and culinary experiences, theater, club, rooftop garden and bar, world-class art galleries and pieces throughout the ship, state-of-the-art fitness studio with Technogym equipment, Peleton bikes and classes, full-service spa designed by Kelly Hoppen, luxury shops selling fine jewelry and high-end watches, comprehensive kids programming, multiple pools (with an adult-only option called the Solarium) as well as onboard and on-shore programming.
Perhaps one of the coolest features on board the ship is the Magic Carpet, created by architect and engineer Tom Wright. Magic Carpet is a technological and engineering wonder that is a traveling venue that travels up and down all 12 floors off the side of the ship to create a floating effect. Seating up to 20 people, the glass-enclosed space hosts a bar and multiple seating areas designed by interior designer, Kelly Hoppen (who designed the rest of the ship) and throughout the day, has specific locations it travels to. Even if you're afraid of heights, you can't miss a sunset here with a glass of bubbly, which, no matter where you are, seems to flow endlessly throughout the ship.
Uniquely, the ship is 12 percent suites (or 176 rooms) which sell out the fastest. Of these suites, there are 14 top accommodations: two Iconic Suites (a new suite class debuting on Celebrity Edge), two Penthouse Suites, four Royal Suites and six Villas. Members of the suite have private access to The Retreat, also a new concept aboard Edge (and all Edge-class ships moving forward). This private area houses up to 350 guests and has a distinct feel from the rest of the ship in terms of aesthetic and decor. Suite guests will also get exclusive access to Luminae restaurant.
Celebrity Edge's 10-day maiden voyage from Southampton, UK will sail to Bibao, Spain; La Coruna, Spain; Lisbon, Portugal; Gibraltar, England; Palma de Mallorca, Spain; Rome and Civitavecchia, Italy. Other Mediterranean excursions this summer will sail more throughout Spain and Italy, as well as Greece. The ship will sail for the first time to completely new ports of call, including Naupilon, Greece and Santa Margherita, Italy.
In other Celebrity news, the line has announced its next Edge-class ship, Apex, will have its inaugural sail in 2020, also sailing out of Southampton, UK.
For more information, visit celebritycruises.com/edge
Photos: Celebrity Cruises