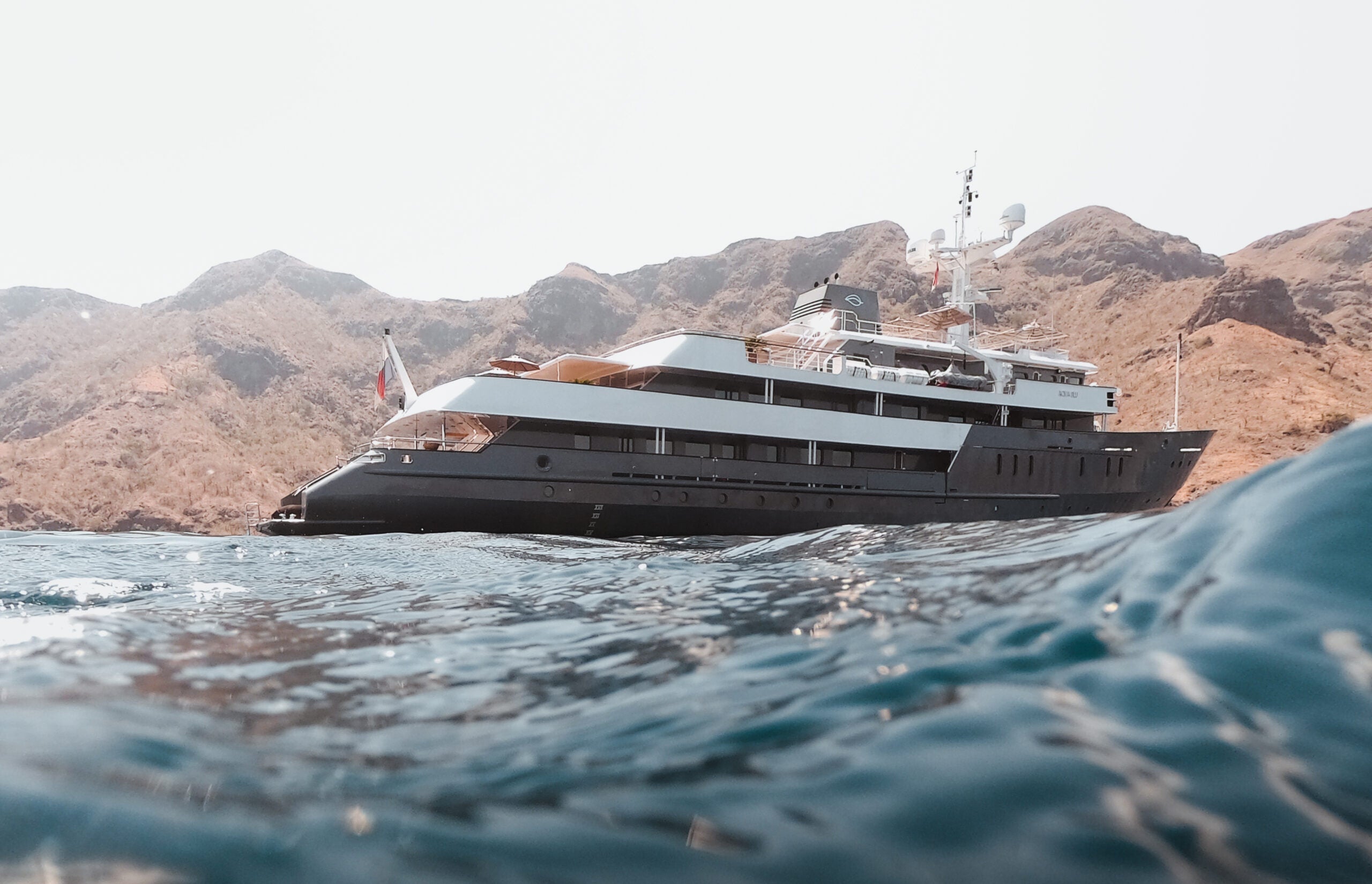 Francesco Galli Zugaro founded Aqua Expeditions 13 years ago with Peru's first luxury river cruise on the Amazon River. The company then expanded its operations globally in 2014 with the launch of the Aqua Mekong on the historic Mekong River, and in 2019 with the launch of the ocean-faring Aqua Blu, which explores the forgotten islands of the East Indonesian archipelago. This year brings plenty of growth and expansion for the company thanks to the unveiling of a brand-new destination, as well as the introduction of Aqua Nera on the Amazon.
How do you think luxury travel will evolve over the next five to 10 years?
For me, luxury travel has always been defined as the ability to indulge in comforts you would never expect in the most remote or unexpected settings. Confident in this belief, I started Aqua Expeditions 13 years ago with Peru's first luxury expedition on the Amazon River, expanding to the Mekong and most recently to the seas of East Indonesia.
In my opinion luxury travel will continue to evolve in the direction of a more personalized approach, in which companies will increasingly be able to tailor the elements of the customer experience and even create one-of-a-kind offerings exclusively for guests based on their own dreams and aspirations. This will involve a great amount of creativity, new product developments, as well as interesting partnerships; benefiting the travel industry as a whole and many innovations will result from this desire to do things differently.
Looking more closely into the luxury cruising industry, the small expeditions market already accounted for one of the fastest-growing sectors before the pandemic. We believe it will only continue to grow in the future, as customers continue to prefer these types of tailor-made experiences, are conscious of its many advantages and engage in a more responsible approach to travel.
The beauty of an Aqua expedition and what has set us apart to this day is our highly personalized service, expert crafted experiences that are off-the-beaten-track, and our unique ability to cater our offering to individual guest preferences.
What do you think travelers will be looking for?
Luxury travelers will be seeking world-class experiences in remote and exotic destinations, that give them a sense of place without sacrificing any of the comforts and luxuries they have come to expect from five-star hotels. I think more than ever, travelers will want to explore the world from different perspectives and will be looking for offerings that provide a diverse array of activities focused on soft adventure, nature, culture, history, and wellness, allowing them to truly connect with the location.
Travelers will be also searching for more meaningful experiences in which they can witness and learn first-hand about the destinations' biodiversity and cultural heritage, as well as understand the ongoing local challenges and even participate when possible in community engagement initiatives.
Privacy, safety, and flexibility will be a priority when traveling, which is why many will gravitate towards a more private and personal experience through exclusive hires, taking over an entire hotel or ship for their own families and friends.
How can Aqua Expeditions fulfill the experience?
Since founding and starting Aqua Expeditions, it has been my mission to create intimate, small ship expeditions in distant parts of the world. Now, more than ever, our company demonstrates the advantages our small explorer vessels offer families and friends traveling to remote parts of the world, far away from crowded areas, with a focus on nature, wildlife, and culture.
Our boutique ship size with a maximum capacity of 30 to 40 passengers and fleet of private launch boats as well as small group excursions allow guests personal access to views and sights that larger ships can't get to. This creates the flexibility to tailor our itineraries and activities to individual interests, even more so on our private hire offering. In fact, over the last few months we have seen an increase in private charter enquiries and bookings as our small vessels are perfectly suited for multi-generation family buyouts, with families looking to reconnect in a remote and intimate setting.
Do you think people will be more conscious of the trips they take now?
Yes, we are reading predictions of people traveling less but ensuring that when they do travel it is enriching and memorable. Rather than taking multiple European trips from the UK for example, travelers will want to take one longer and more exhilarating adventure, such as exploring the Amazon River for the first time in search of exotic wildlife, immersing in the centuries-old cultures and traditions of the Mekong, or discovering the Indonesian Archipelago, its volcanic landscapes and marine biodiversity.
I believe travelers will be also re-evaluating their priorities and engaging in a more responsible approach to travel. They will be looking for companies whose value proposition goes beyond comfort and luxury, but rather provide meaningful, tailor-made experiences that connect guests to the locations, educates them about the ongoing challenges and provides opportunities to experience first-hand how their journey helps support the local economy.
Does the luxury travel industry have a responsibility to protect the environments in which they operate?
From the very beginning, Aqua Expeditions has been committed to making sure we do our part in contributing to the local communities and protecting the pristine areas in which we sail. Running a small operation, hiring a local crew, and working closely with communities, government institutions and suppliers, have enabled us to be more connected to the local needs and ensure we continue to have a positive, long-term impact.
The pandemic has brought awareness to the negative impact of over-tourism and we've seen nature thrive in the absence of humans. It is important that all of us in the industry take this time to step back and re-evaluate our approach to sustainability and how we can contribute to the betterment of the regions where we operate. We need to ensure that we all return more conscious and with a stronger commitment as an industry to help protect these fragile environments.
In the case of Aqua, we have taken this pause in our operations as an opportunity for improvement and have recently hired an environmental consultant to review all aspects of our company's operations – from natural resources management, to waste management, community engagement and our F&B supply chains. The company is continuing its investments in new destinations and vessels, and my desire is to ensure this growth is accompanied by an even stronger impact in these regions, working on community projects that are self-sustainable and engaging with valuable partnerships with some of the world's leading conservation programs.
Do you think there are any positives to come from this time for the travel industry?
The global tourism industry has certainly experienced a huge hit, but I believe this difficult situation has taught us about resilience and we will come out of it stronger than ever. From a consumer point of view, people will be more conscious and smarter about travel. They will travel with meaning, spend more time exploring a destination and will want to feel a deeper connection with the nature and culture of the places they visit. The travel industry will evolve as they cater their offerings to these emerging demands, work closely with local institutions, NGOs, and communities to improve their impact on the regions, and reinvent themselves to succeed in this new travel reality.
Imagine for example, if in the near future, cruise ships would be able to help conservationists and local governments to monitor, detect and track wildlife populations, feeding back information regularly and being actively involved in the conservation of the species. In an industry of passionate, hard-working, and creative professionals, I'm looking forward to the future and the positive changes that will come with it.
Do you think trust and relationships are more important than ever?
Yes. Today, more than ever, our employees, customers and partners need reassurance of our ability to offer them the safest experience possible. It is our duty to anticipate needs and respond to health and safety requirements by adhering to the highest standards and in compliance with the World Health Organization, the International Safety Management (ISM), and the International Maritime Organization (IMO).
The health, safety and wellbeing of our guests, crew and staff has always been our number one priority but in response to this pandemic, we have put increased measures in place to reassure our guests and give them complete confidence to sail with us. A few examples of this include each ship having a dedicated Health and Safety Officer, daily crew health checks, increased cleaning and sanitization of cabins to three times daily, and cleaning and disinfecting of all excursion equipment prior to and after use. More information on our enhanced health and safety measures can be found here.
An important distinction to make is that each of our ships is flagged in the country in which it operates, which means our passengers are always allowed to disembark in any port or anchorage location on an itinerary. This is something that has gained relevance since the onset of the global pandemic and will continue to be of the utmost importance in providing guests confidence for their return at sea.
Throughout the whole process, we have taken into consideration the guest experience, finding the right balance to disrupt as little as possible the overall experience they have come to expect onboard an Aqua Expeditions ship. The boutique nature of our vessels with only 15 to 20 cabins and ample personal and social spaces provide constant physical distancing among passengers and crew, while our ships only visit and navigate into remote destinations, far removed from crowded areas, and our excursions are conducted in small groups of no more than ten guests.
What are you most excited for?
There are so many things I'm looking forward to. I'm excited for the launch of our newest vessel in the Peruvian Amazon, the Aqua Nera, departed on August 31 from the shipyard in Vietnam (where she was built) for an epic journey to Belém in Brazil from where she will then navigate the Amazon upriver to her homeport in Iquitos.
I'm also excited to continue our explorations on the vast Indonesian seas as we had just launched our first ocean explorer yacht Aqua Blu last November, starting with our Raja Ampat itineraries which proved a tremendous success among our first guests. I'm eager for people to experience the incredible adventures that we have prepared on our two other Indonesian voyages in the fabled Spice Islands and Komodo National Park.
But most importantly, I'm excited for getting back to what we love doing – exploring these incredible and remote locations. I miss my Aqua family dearly and can't wait to reunite with each one of our crew and staff.
Patricia Kahn-Saunders, a communications director specializing in luxury, travel, and purpose-driven brands.