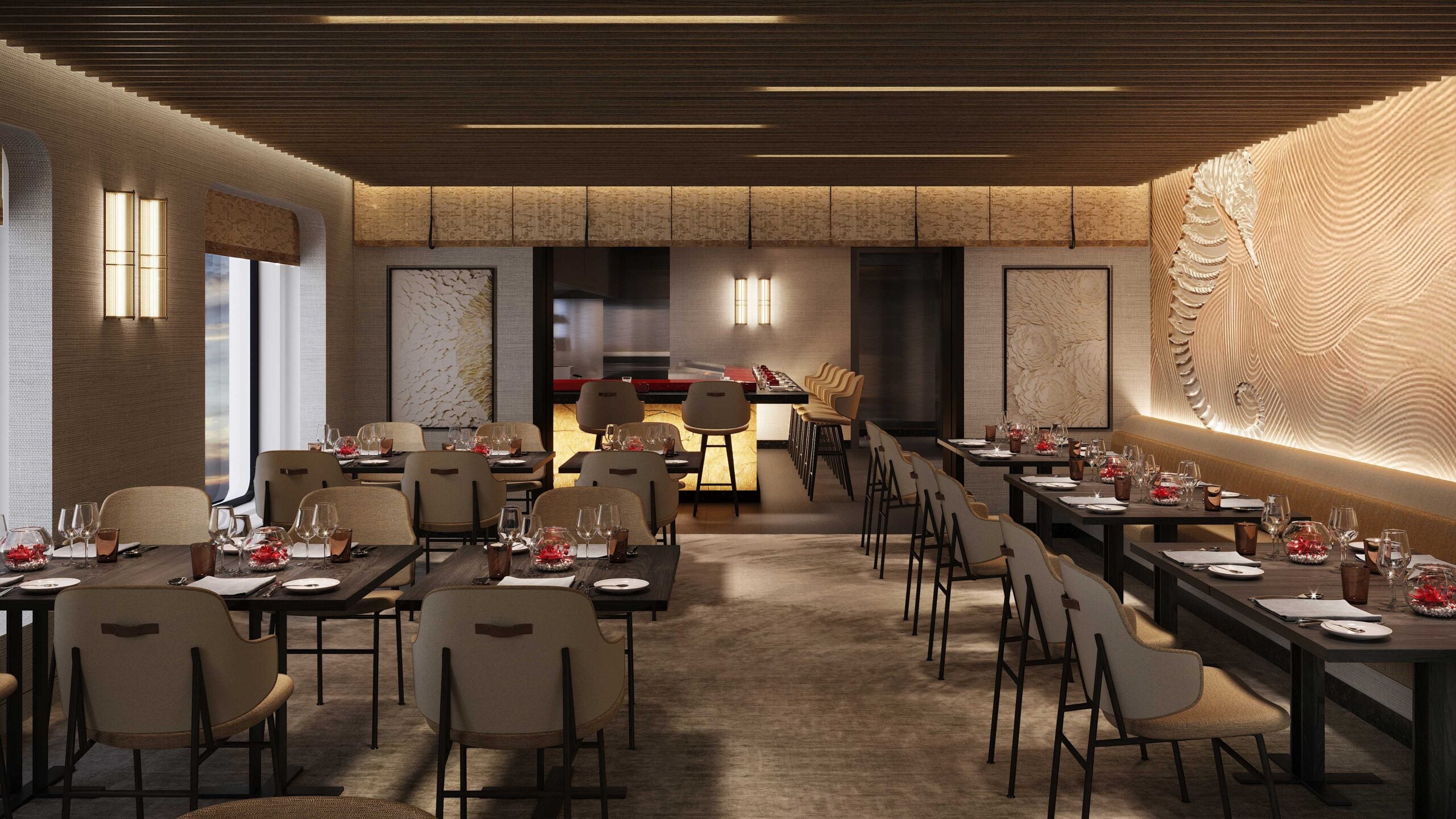 Gone are the days of generic buffets and unimaginative cuisine; today, luxury cruise lines are turning to Michelin-starred restaurants' chefs to create spectacular onboard restaurants and culinary programs for discerning foodies.
Can't seem to snag an elusive reservation at one of your bucket-list Michelin-starred restaurants? Luckily, the world's best chefs are expanding their empires to the high seas; just ask chef Daniel Boulud of two-Michelin-starred restaurant Daniel in New York, who recently partnered with Celebrity Cruises. His new partnership includes introducing dishes exclusively for Luminae (the fine-dining restaurant on select Celebrity ships available exclusively to suite-class guests), and Chef's Table by Daniel Boulud, a five-course dinner with wine pairings hosted in a private dining room.
In addition to offering exclusive dining experiences, cruise lines are taking advantage of their unique itineraries by organizing offshore excursions to visit the best local restaurants; some even host cooking classes and demonstrations that highlight region-specific dishes. "More and more travelers are booking trips and cruises based on culinary aspects," Toni Neumeister, senior vice president of hotel operations at Crystal Cruises, tells Elite Traveler.
Crystal Cruises has been a leader in culinary initiatives since it brought on famed Japanese chef Nobu Matsuhisa, known for Japanese-Peruvian cuisine, in 2003, and the cruise line has subsequently opened up chef Matsuhisa-helmed restaurant, Umi Uma & Sushi Bar, on board three ships. This October, he will join a 16-day voyage called Indonesian Immersive & The Great Barrier Reef on Crystal Endeavor to lead omakase dinners, cooking demos and sake tastings.
Some ships are giving chefs from Michelin-starred restaurants the opportunity to create new concepts from the ground up. Chef Thomas Keller, for instance, partnered with Seabourn Cruises in 2015 and has opened The Grill by Thomas Keller on all five ships in Seabourn's fleet.
The Grill serves distinctive dishes and has ever-changing seasonal menus. Daniel Putzhammer, director of food and beverage operations at Seabourn exclusively tells Elite Traveler that the cruise line enlisted chef Keller for his culinary talent and sophisticated cuisine, calling it a "perfect match" for Seabourn's high-end clientele.
Luxury cruise lines had already mastered sumptuous suites, impressive entertainment, unique offshore excursions and impeccable service. Now, elevated dining completes the luxury cruising experience.