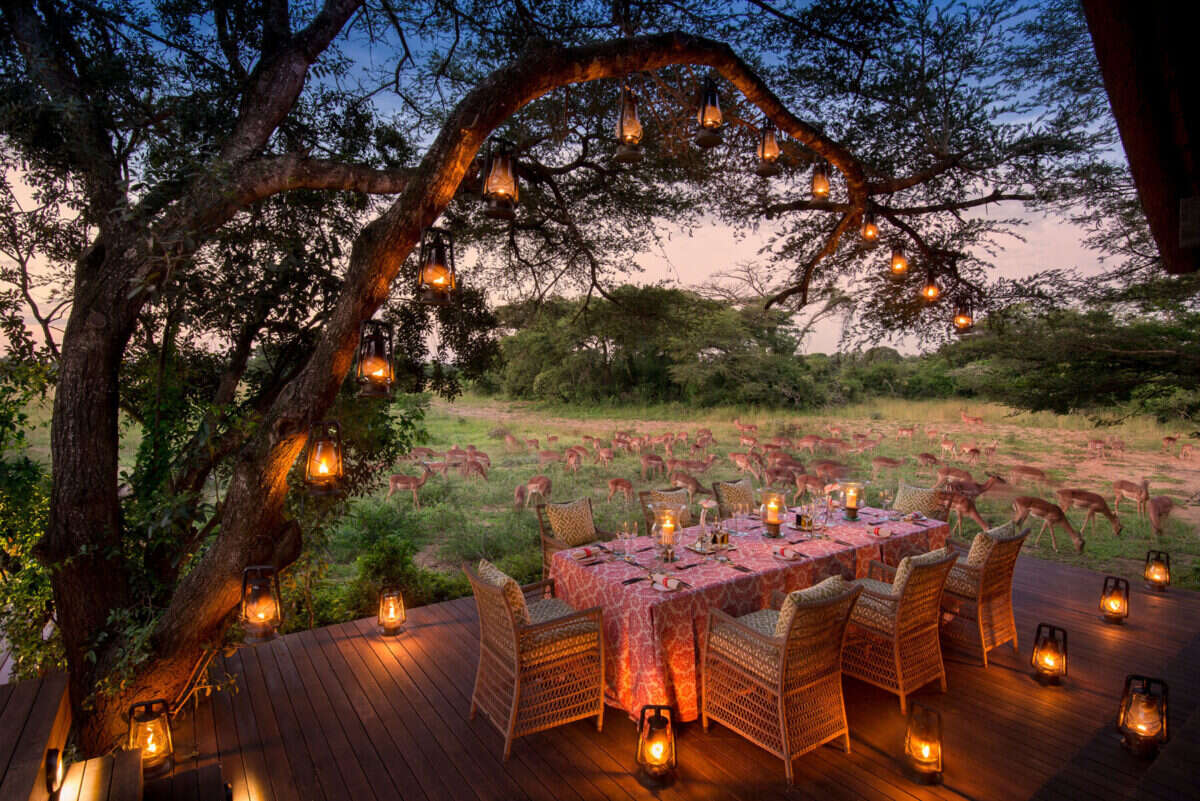 Luxury safaris in Africa are designed to be sustainable. Protecting the wildlife is at the forefront of everything Swaggy Swan Travel does and everything the camps and lodges do operationally on the ground. At the basis of this ethos is a low-impact tourism model that purposely keeps the relative size of camps and lodges low. Often you will be staying in a premium luxury camp in Botswana's Okavango Delta, for example, that only has four tents. By offering such an amazing once-in-a-lifetime experience at such limited availability, the best properties (and guides) are booked well in advance, even during a pandemic, believe it or not.
Now, more than ever, people want to experience the flawless beauty of nature and its incredible wildlife, so naturally, planning a luxury safari to Africa can't be left to the last minute, or else you're guaranteed disappointment.
Each of the luxury camps and lodges throughout sub-Saharan Africa has different styles, characteristics, cuisine and guiding styles. Working with a safari consultant who really gets to know your interests, tastes and goals is of the utmost importance when choosing the best properties and guides that suit you best. For example, do you prefer a contemporary modern design like a Manhattan penthouse featured in Architectural Digest or a traditional Afro-chic-inspired tented chalet reminiscent of Ernest Hemingway and Denys Finch Hatton? Do you want seared ahi tuna in the middle of the Serengeti or would you prefer a traditionally cooked Botswana beef seswa from a family recipe handed down over generations? Would you prefer a guide who is extremely proactive with tracking big cats and predators or would you prefer a laid back educational experience where your guide introduces all aspects of the African bush to you?
[See also: Sponsored – Escape Lockdown Fatigue With Swaggy Swan Travel]
What many don't realize is that a camp can look completely beautiful, however, the guides working at your dream camp might be the exact opposite of what you want to experience on a game drive, walking safari, or boat safari.
The important thing to remember is that there is no right or wrong answer. Our unbiased approach to safari design allows us to create the ultimate bespoke experience planned solely in alignment with your interests. And of course, in order to plan the perfect safari, we need time to get to know you. As you can imagine, your dream safari isn't rushed together overnight – nor should it be.
We always take the time to really get to know our clients, especially new ones. Initial consultations are usually 45-60 minutes, and then we prepare a few options for our clients to consider. Most of the time, we end up booking a combination of the first itineraries we offer our clients. For the most part, this process takes weeks, if not months, before the trip is confirmed. Once you accept a proposal, a few days of correspondence is needed to confirm all of your arrangements on the ground, and we meticulously review every detail to ensure everything is in order.
There are so many details that go into planning the perfect safari, and we pride ourselves on being extremely diligent that everything is in order before you arrive. Booking a safari is entirely different than making a hotel reservation, and things can go wrong – quite quickly, in fact – if any aspect is overlooked. In fact, we pride ourselves on being pedantic when it comes to our reconfirmation process.
Safety
We understand that safety is the most important deciding factor when it comes to planning a safari. Not only can the trip go wrong, but you're traveling to remote locations. Well before the pandemic, we prided ourselves on our commitment to safety. Every single client traveling with us has complimentary Flying Doctors Society coverage. In the event of any emergency, a plane ride to the nearest clinic is just a phone call away.
Hospitals and clinics in the main safari gateway hubs of Johannesburg, Nairobi and Arusha have excellent infrastructure and experienced doctors. Medical equipment is new and state of the art, and there is ample supply of medication. We have been fortunate enough to see an extremely minimal number of evacuations in our career, however, in each case of a client visiting a clinic or hospital, the outcome and experience have always been positive.
Additionally, all camp managers and guides have been trained in basic first aid and CPR. Many are actually Wilderness First Responders (WFR) and undergo retraining and recertification courses during low season to keep their skills polished. In the unlikely event of a minor emergency happening, it can be taken care of immediately on site.
Of course, the pandemic has changed the health and safety procedures in the camps, lodges and hotels where our guests stay. No stone is left unturned when it comes to safety, and some procedural examples of what we see are:
All of your guides undergo routine testing and have tested negative before our arrival
All vehicles have been sanitized before and after each use with a special focus on door handles, window buttons and charging points
All luggage items are sanitized and cleaned before being put in your vehicle
All camp/lodge staff testing negative before your arrival through routine PCR testing and go through a 10-day quarantine period in camp before your arrival
Camp/lodge staff rotation kept at an absolute minimum
Camp/lodge staff have temperatures checked every morning in line with government requirements
Face masks are worn by all staff while performing all duties
Hand sanitizer, disinfectant/alcohol-based wipes, and face masks are available at all camps in ample supply
All rooms are deeply cleaned after each guest checks out We are pleased to offer all camp and lodge-specific health and safety guidelines/procedures upon request
If you want to have a conversation with Justin about booking your next exciting adventure, go to swaggyswan.com or justin@swaggyswan.com.
Click here if you want to book an appointment with Justin now