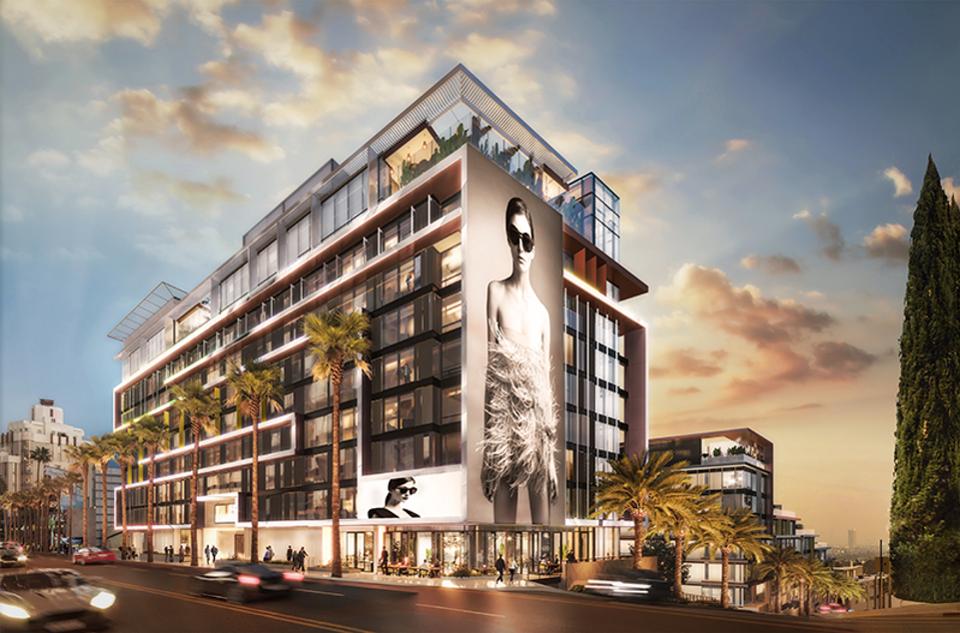 Pendry West Hollywood was due to open its doors for the very first time this summer before the Covid-19 pandemic hit US borders. Its grand opening has been delayed until later this year when it is hoped the travel industry will be back on its feet. In the meantime, the hotel is undergoing work to ensure it is fully conducive to social distancing, including in its highly-anticipated restaurant by Wolfgang Puck and its private membership club.
We speak to Michael Fuerstman, co-founder and creative director at Pendry Hotels & Resorts, and David Hoffman, the general manager at Pendry West Hollywood, about the significant challenges they have faced and overcome in the last four months. The pair discuss why West Hollywood is the perfect location for the new flagship and reveal how they will compete
Why did you choose West Hollywood as the location for your new flagship?
Michael: We absolutely love West Hollywood and think it is the ideal setting for Pendry. The City is home to fashion, music, creative arts, entertainment, dining and nightlife.  It has a pulse, an energy, a forward-thinking ethos, and it is entirely in-sync with our philosophy of New Luxury.  West Hollywood keeps reinventing itself and pushing the bar forward.  Simply put, it's a place our guests and residents want and need to be.  And as a Southern California based hospitality company (and a personal resident of West Hollywood), it feels like home for us.
What has been your biggest achievement with Pendry Hotels to date?
Michael: I'm proud that we've been able to create a brand with a distinct point of view that our guests and our associates believe in.  To open successfully in San Diego and Baltimore, to create a destination that both cities engage with and celebrate, to create hundreds of dynamic new jobs in each city, and to set the stage for growth in some of our favorite destinations in the world… it has been a tremendous achievement for a relatively new brand, and one that takes an enormous team effort.
What, in your eyes, defines a "typical" Pendry Hotels experience?
Each Pendry Hotel is one of one, but what unites them all together is a stylish luxury hotel experience with a distinct point of view and an exceptional team and service culture to make our guests feel amazing.  You can expect to find some of the best bars and restaurants in the city and compelling art and programming as well.
What are the biggest challenges you expect to face in the opening months at the West Hollywood site?
David: Our challenges have certainly shifted over the last several months and will continue to evolve as we learn more about the "new normal" we will be faced with.  Our immediate focus needs to be on domestic travel and drive markets.  Giving our guests a comfort level in reserving rooms, booking spa treatments and experiencing our one-of-a-kind dining outlets will be a priority.  That starts with the larger West Hollywood hotel community being aligned in safety guidelines, adhering to those guidelines and coming together to deliver the same message, "West Hollywood is safe to visit."
How do you think Covid-19 will change travel and travelers after lockdown?
David: The current pandemic is going to change the way individual travelers make decisions on how and where they will travel. Travelers will be researching everything from cleaning procedures to outdoor spaces to protocols in the dining outlets before choosing to visit. We are already seeing an increase in pre-arrival communications at our operating properties as, rightfully so, travelers want details about the property and operating procedures in place.
Training the teams to articulate these aspects of the property will be important in giving our travel advisors and guests a comfort level in choosing us for their next trip.  I also imagine we are going to see a shift in what the focus of social media feedback will be.  Pre-pandemic the focus was mainly around service while post-pandemic travelers will be focused on safety. The key for us will be how to excel in both areas as we always have, just in a different way.
Every hotel in the world is having to adapt its offering due to Covid-19. What are the major changes you have been able to make to the West Hollywood site as a result?
David: I am so grateful that we are in the construction phase during this time as it has allowed us to adjust as needed. Many changes are being identified for the property including how layouts of restaurants, pool decks, and other areas of the hotel are being envisioned. Over the next several months we will be evaluating best practices from our operating hotels and the first step we have taken as a company is Montage International's Peace of Mind Commitment.
This commitment outlines how we are implementing an enhanced prescriptive health and safety protocol program that was designed based on guidance from the Centers for Disease Control and Prevention (CDC) as well as direction from leading experts in their respective fields. An important partnership in this commitment is offering complimentary guest access to ONE MEDICAL and their award-winning combination of cutting edge technology and healthcare providers, allowing seamless virtual care while guests are visiting us and following their departure.
West Hollywood has a large number of luxury hotels. How does Pendry Hotels plan to stand out in a crowded market?
Michael: There are some great hotels in the market, but we are confident that the combination of our location, quality of design, number and variety of venues, and our service culture will be incredibly compelling for guests, residents, and locals.  Pendry West Hollywood features an exceptional location on Sunset with views of the entire City.  We have world-class architecture and design, by award-winning firms Ehrlich Yanai Rhee Cheney and Martin Brudnizki, respectively. The property is absolutely jam-packed with distinct venues, including multiple bars and restaurants helmed by Wolfgang Puck, Spa Pendry and fitness center, screening room, a boutique music venue, a social club with multiple bars and bowling lanes, and killer indoor and outdoor meeting spaces.  And we have a wonderful team dedicated to creating a warm, comfortable stay for our guests.  We look forward to welcoming everyone soon.