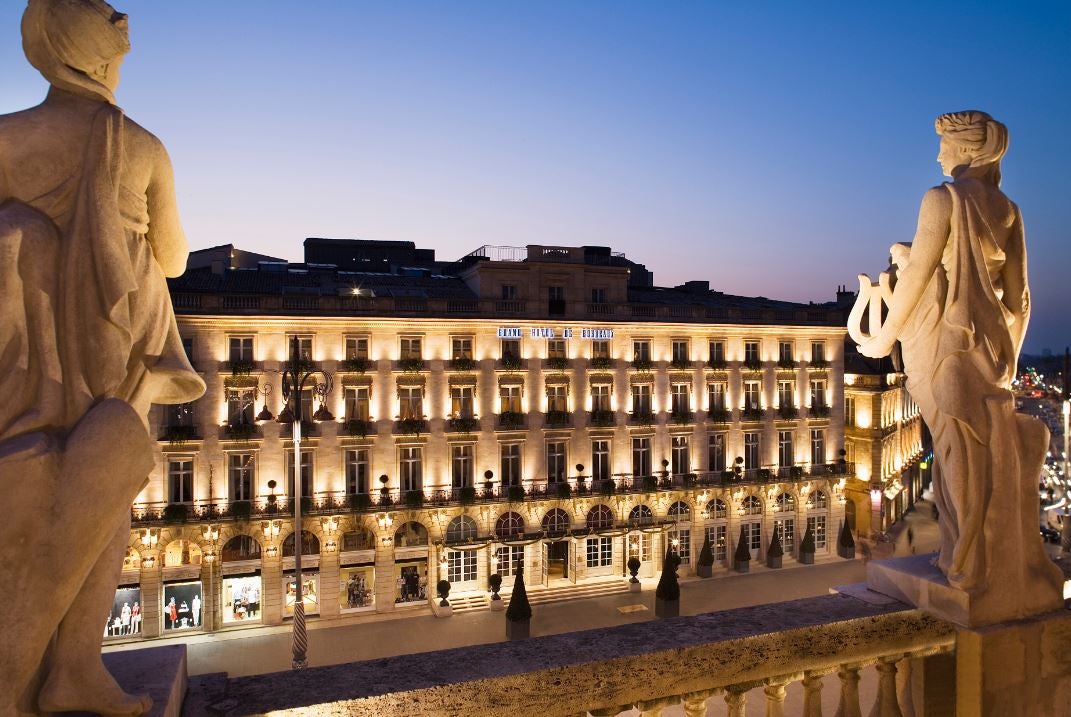 In recent years the City of Bordeaux has been through somewhat of a reappraisal. In 2007 the city was given recognition as a Unesco-listed city as tribute to its world-class 18th-century architecture, but for us it's the city's abundant life that really makes it truly special. Though best known for its divine wine, the food and art here also play a major role in the city's appeal, making Bordeaux the perfect weekend getaway. Here is our version of a blissful weekend away in the little port city.
Go Back in Time
The charming roads of Bordeaux will lead you through its outstanding urban and architectural ensemble. The wonderful city is filled with classical and neoclassical buildings and thanks to its decade long revitalization project, the city now shines.
Ten years ago the city was very different with only those who grew up in Bordeaux residing there. Now, a spring of life has been cast over the city with bustling cafes and local wine bars on every corner. Visitors can check out the city's famous 'Water Mirror' – the world's largest reflecting pool – where slabs of granite and a film of water perfectly reflect the city's beautiful 18th-century façades.

Visit Saint-Emilion
The quaint town of Saint-Emilion is guaranteed to capture your heart as soon as you arrive. Rolling hills are sprinkled with some of the country's best wineries and vineyards. One worth a visit is Chateau Angelus, which has been running for over eight generations. For the third time in the Chateau's history it is being run by a female, Stephanie de Bouard-Rivoal, who has set her mark on the family-owned estate by introducing contemporary methods of wine-making while also maintaining traditional forms. Wander across the granite-paved streets and make your way to the top of the bell tower where you will find picture-book views of the region. Relax in one of the outdoor restaurants and unwind with a glass of wine. Logis de la Cadene hosts the perfect lunch spot with quality wines and an indulgent cheese board.
Michelin-Star Perfection
When it comes to the food in Bordeaux nothing will cease to amaze your taste buds. The city does it all with both local French cafes serving up mussels à la Bordelaise style as well as fine dining restaurants, including the sensational Michelin-starred Le Pressoir d'Argent. The restaurant will take you through a culinary journey presenting a wide variety of carefully made dishes from 'Jerome Galis' green asparagus with black truffle, Ossau Iraty and Noir de Bigorre to Light Meyer lemon meringue with Budda's hand sorbet.

Rest and Relaxation
There's no doubt that when you've set yourself up for a weekend away rest and relaxation are high up on your list, which makes choosing the perfect hotel all the more important. The city is home to many traditional luxurious stays including the InterContinental Bordeaux – Le Grand Hotel where guests are welcomed to spacious and ambient living room areas with stunning views of the city's Opera House, l'Opéra de Bordeaux. It has everything you need to make your visit perfect including a luxury spa and rooftop Jacuzzi providing the best views of Bordeaux. For a quality lunch head down to the hotel's Le Bordeaux Gordon Ramsay Brasserie and enjoy a mixture of French and British classics. In the evening relax at the hotel's bar with one of their house cocktails.

Explore the City's Art Scene
Whether you're into art galleries or street art, Bordeaux is the place to be. Artists and designers are flocking to the city for its rich history in culture and art, and visitors have been taking note too. Director of the Museum of Decorative Arts and Design, Constance Rubini believes that the city's turning point in the world of art and design began when the old city walls were demolished. Since then the city has transformed to a shimmering city of history and culture. For a more immersive experience, head down to the city's new museum, La Cité du Vin.
The Shopping
In Bordeaux you will find an eclectic mix of boutiques including international designers and high-end brands. Walk along the longest pedestrian shopping street in Europe, Route Sainte-Catherine in the city's Golden Triangle and pay a visit to the historical department store, Grands Hommes Mall.
Stephanie de Bouard-Rivoal and Constance Rubini are taking part in the Stories of the InterContinental Life campaign. Find out more by going over to life.intercontinental.com.