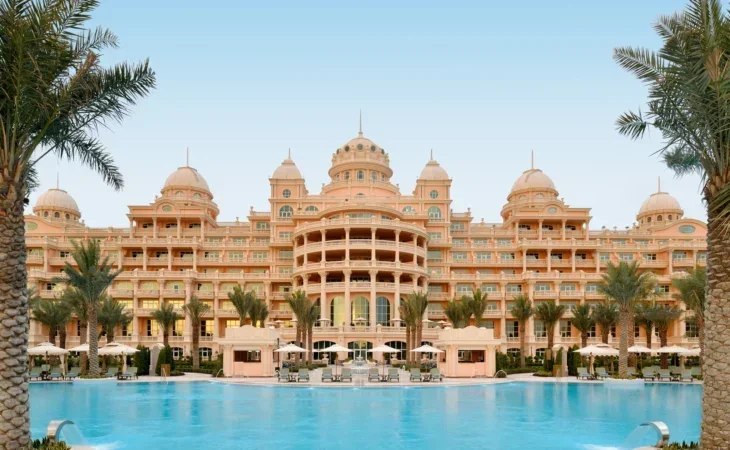 When I first began visiting the UAE in the early 2000s, I ostensibly went to play golf in the winter sunshine. But what really attracted me was the scale of the place, the frenzy of construction and the limitless ambition.
Back then, before the financial crisis put the brakes on the most outlandish desires, Dubai, ruled by the Al Maktoum family, embarked on one of the gaudiest and most extravagant spending sprees in modern history as it raced to become a global megalopolis and communications hub in the desert of the eastern Arabian Peninsula.
[See also: The 13 Best Restaurants in Dubai]
Today, after repeated lockdowns and more than two years of the pandemic, something of the old spirit of adventure has returned (along with the tourists). Before the pandemic, Dubai had begun to lose some of its luster and perhaps some of its attraction for the discerning traveler.
Opulence and ostentatious consumerism can only take you so far, and many visitors want more than sunshine and skyscrapers —hence the recent opening of our latest review, Raffles The Palm Dubai, an attempt to create a hotel experience combining luxury with both elegance and restraint.
[See also: The Most Luxurious Hotels in Dubai]
Stay
Raffles The Palm Dubai, a 389-room, 25-acre beachfront resort on the Palm Jumeirah's West Crescent, was officially opened in October 2021. When you first enter the hotel you feel as if you're entering some kind of neoclassical palace, perhaps in pre-revolutionary France: There are marble pillars, glistening Swarovski crystal chandeliers (more than 6,000 of them throughout the hotel), ornately carved ceilings covered with 24-karat gold leaf and chamber musicians at play.
But the atmosphere is not hushed or haughty. Rather, it is attractively open, and children of all ages are welcome. We visited the hotel with our 12-year-old son in February 2022, during the UK's half-term holiday, and it was busy. Later in our stay a wedding party arrived from India, block-booking 89 rooms, and the hotel reached 100% occupancy for the first time. And yet, the atmosphere remained calm and unhurried, the staff as courteous as ever.
I asked to see one of the one-room suites but, because the hotel was so full, I had to wait until our final morning before I was taken to room 101, no less. Room 101 turned out to be less an Orwellian chamber of doom, more a spacious suite overlooking the swimming pool and gardens. The hotel also has two-room and duplex suites, royal and presidential suites, and eight villas.
Dine
There are plenty of choices, from the ground-floor Le Jardin dining room that serves a great breakfast as well as a daily buffet lunch and dinner, catering to all tastes.
My favorite was the beachside Italian, Piatti, which in a gracious and informal setting serves tasty choices for the whole family, including thin-crust pizzas, seafood specials and delicious pasta dishes. The signature starter of crunchy cold green beans, olives, avocado, cherry tomatoes and warm Mazara prawns is excellent. The wine list is good and unpretentious.
We also enjoyed Matagi, a Japanese- Asian fusion restaurant that is dimly lit, has a bustling open kitchen and serves terrific black cod.
The cocktails are exciting and the staff energetic, and our waiter, a young Ugandan named Frank Mudebi, was especially charming. There is also a cigar bar and jazz lounge for louche late-night entertainment.
Relax
The hotel has a 1,640-ft private beach, and there are organized activities for children, including badminton and crazy golf. The extensive spa has 23 treatment rooms, and the Cinq Mondes menu provides facials, body massages, hammams and detox sessions. It has a 72-ft indoor pool and a first-rate gym — no excuses for not exercising, then.
Aperitivos can be enjoyed at the Raffles Club, with its magnificent sea or Palm views, and afternoon tea at Blüthner Hall lobby lounge, with its custom-made Blüthner Louis XIV grand piano, is not to be missed. The scones are exquisitely baked, as one would expect. This is Raffles, after all.
Explore
The hotel organizes city tours as well as desert expeditions for the more restless tourists. The gold souks are an hour's drive away. Dubai is a city of multi-lane freeways and very few places to walk, but there is a promenade outside Raffles, and you can stroll for miles along it, as we did, while looking out to sea and marveling at the sheer improbability and audacity of what is happening here in this land of plenty, before the oil runs out.
This review of Raffles The Palm Dubai was conducted in February 2022. Rooms from $455 per night. Contact Robin Alex, reservations supervisor, dubai@raffles.com, +971 431 497 77, raffles.com
This article appears in the 06 Jun 2022 issue of the New Statesman, Summer 2022