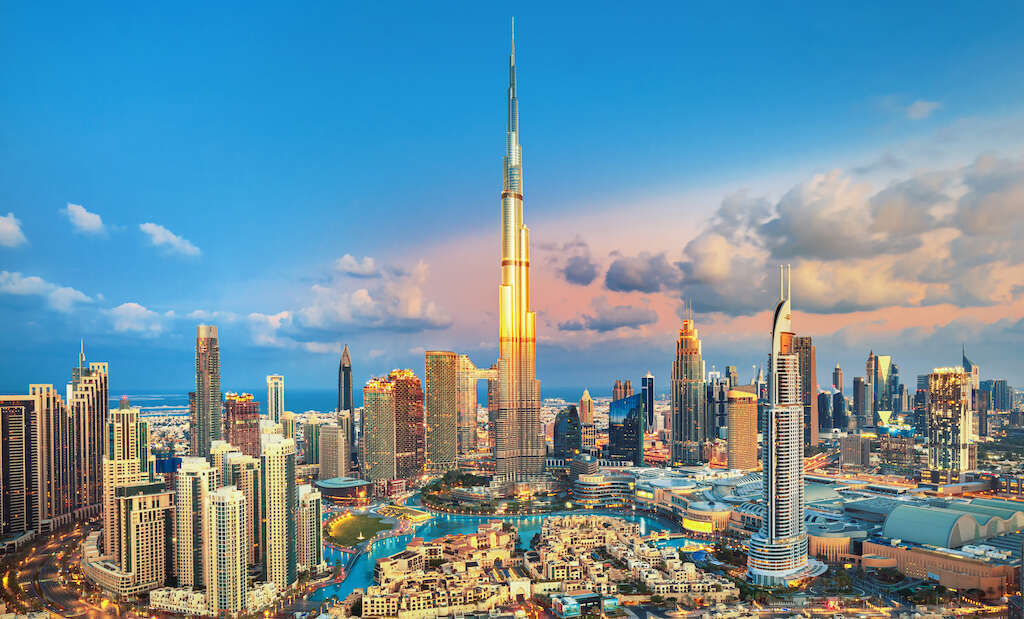 Dubai's fine dining landscape has seen an impressive rise in recent years, with its luxury restaurants responding to the influx of discerning visitors. While many talked of its culinary prowess, the arrival of the first Dubai Michelin guide last year cemented what we already knew: The City of Gold no longer has a restaurant scene to watch. Instead, it can take its title as one of the best in the world.
This year, the Michelin Guide Dubai is back for its second iteration, with its anonymous inspectors sprinkling another load of stars. The city is still yet to boast a three-Michelin-starred restaurant, but Trèsind Studio was deservedly bumped up to join STAY by Yannick Alléno and Il Ristorante – Niko Romito in the exclusive list of two-Michelin-star restaurants in Dubai.
The Michelin Guide Dubai 2023 also awarded three new restaurants one star, while a further 17 were granted Bib Gourmands – a separate award that recognizes excellent gastronomy at more pocket-friendly prices (if such a thing exists in Dubai). Thankfully, no restaurants were stripped of their stars.
However, if you're only visiting for a short time, trying to visit all of the best restaurants in Dubai is a fruitless endeavor. Our guide to the city's best eateries promises a selection that will not only deliver on flavor, but also on atmosphere, service and crowd.
[See also: The Most Anticipated Restaurant Openings of 2023]
Trèsind Studio
After being awarded one Michelin star in the inaugural Dubai guide, Trèsind Studio has been ceremoniously promoted to a two-star rating in the 2023 iteration, with inspectors noting chef Himanshu Saini's "originality, intrigue and precision." The restaurant offers a refined, elegant take on the diverse culinary landscape of India, with its multi-course tasting menu separated into four sections exploring the country's east, south, west and north.
Offering space for just 20 guests with each seat overlooking the open kitchen, Trèsind Studio promises not only one of the most accomplished dining experiences in Dubai, but also one of the most intimate.
Orfali Bros Bistro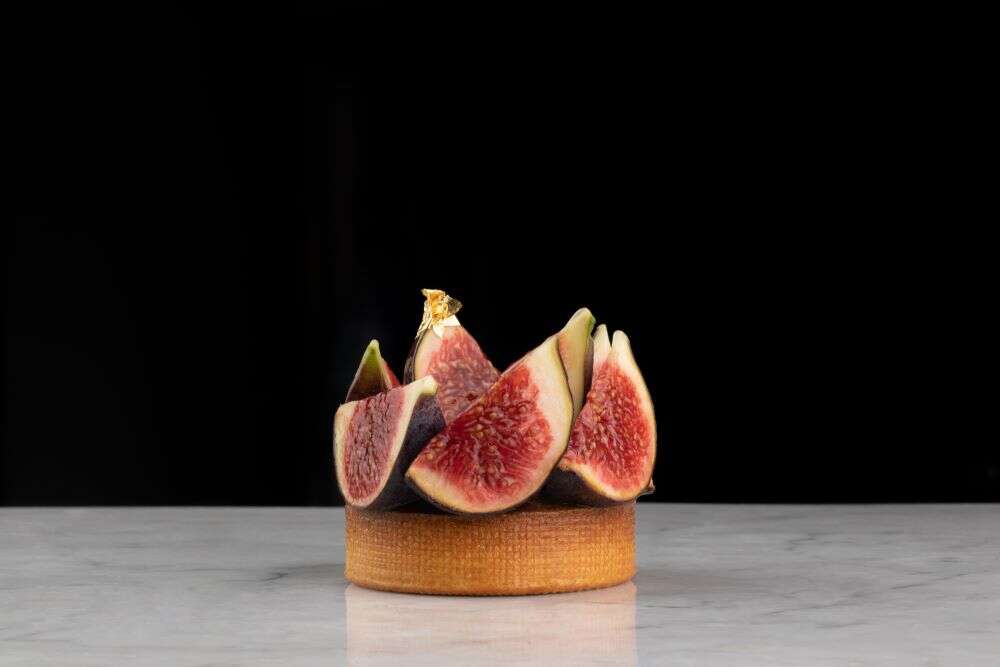 Recently named the number-one restaurant in the Middle East and North Africa by the 50 Best awards panel, Orfali Bros Bistro is a Dubai must-visit. Helmed by three Syrian brothers – Mohammad, Wassim and Omar Orfali – the restaurant is an expression of a love of food. Pinning down the cuisine is impossible – some dishes are Greek, others Asian-inspired and plenty Middle Eastern. What unites them, however, is the passion with which each is made. The charm of the service is another key draw here: Mohammad is known to to descend on the tables, explaining to diners exactly why each dish or flavor combination found its way onto his menu.
[See also: Inside Raffles The Palm Dubai: Restrained Opulence]
STAY by Yannick Alléno
Found in the exclusive island enclave that is One&Only The Palm, STAY by Yannick Alléno is one of just two restaurants in Dubai to hold two Michelin stars. Offering Alléno's signature take on classic French cuisine, a meal at STAY is nothing short of an epicurean adventure, with a series of surprise tasting menus showcasing the finest ingredients. While the restaurant pushes the boundaries of fine dining, the guide particularly emphasized its praise for the chef's 'less is more' approach – a style that is admittedly rare in Dubai.
Nowadays, service is becoming as important as the food itself in creating a show-stopping restaurant, and STAY appears to have got it just right; servers are knowledgable without being pretentious, and helpful without being overbearing. The setting itself is equally as thoughtful, with a high-ceilinged dining room adorned with vibrant artworks setting the tone for a very special culinary experience to come.
Il Ristorante – Niko Romito
The second Dubai restaurant to be awarded two Michelin stars is Il Ristorante by Niko Romito, which sits within the impossibly luxe Bulgari Hotel. The Italian chef has long been famed for his lighter, healthier take on gourmet cuisine, with a style that goes light on fat and carbs, but heavy on flavor.
Heading the kitchen at Romito's Dubai outpost is fellow Italian Giacomo Amicucci, who, according to the Michelin guides' inspectors, "cooks assured, sophisticated modern Italian dishes, which are far more complex than they at first appear." While there is an extensive à la carte offering, if you're in Dubai the chances are you aren't someone who does things in half measures, so go all out with the Degustazione menu.
Hakkasan
The Hakkasan group is no stranger to Michelin stars, with both of its London restaurants holding a star. Now, Hakkasan Dubai has proudly joined the trio. Tapping into the ever-growing trend for club-style restaurants, the space moves to the beat of a gently thumping playlist. This party atmosphere hasn't damped the quality of the food, however, with Hakkasan serving up its distinctive brand of contemporary Chinese cuisine in the form of both an à la carte and a number of signature tasting menus. As well as a few Hakkasan classics, there are dishes unique to the Dubai outpost, including the lychee lobster.
Al Muntaha
Sitting on the 27th floor of the iconic Burj Al Arab, Al Muntaha occupies what is easily one of the most coveted spots in all of Dubai; request a table by the floor-to-ceiling window for some of the best views in the city. Led by chef Saverio Sbaragli, the restaurant is firmly rooted in European cuisine, with classic French flavors and techniques seamlessly blending with a few Mediterranean touches. The result is a menu full of bold dishes that has secured Al Muntaha a coveted Michelin star. There's also an impressive Champagne list for when the occasion calls for celebrating.
Ristorante L'Olivo at Al Mahara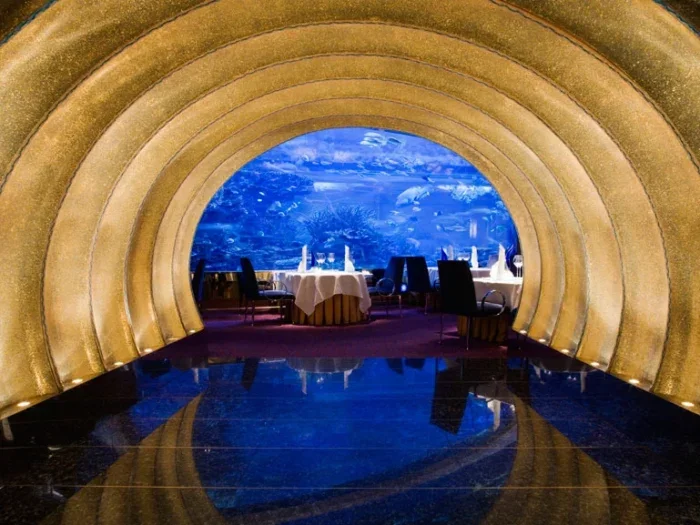 Capri's Michelin-starred Ristorante L'Olivo brings a taste of Italy to the city as one of the best places to eat in Dubai. Having only moved into Burj Al Arab Jumeirah's iconic restaurant space earlier this year, L'Olivo is still a newbie on the competitive Dubai dining scene, but guests are already being delighted by chef Andrea Migliaccio's culinary delights – and of course, the iconic aquarium setting. Drawing inspiration from both its watery surrounds and Capri's long ocean heritage, the menu at Ristorante L'Olivo at Al Mahara is seafood-heavy, with a focus on rich flavors and culinary craftsmanship.
Fi'lia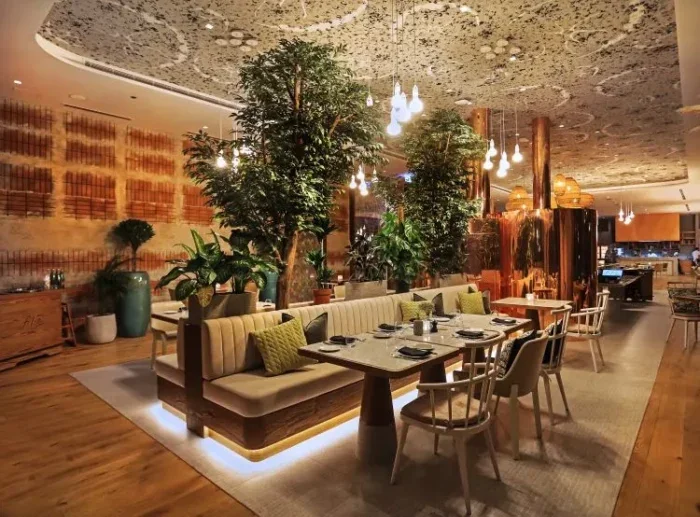 With successful restaurants in the US and the Bahamas, Fi'lia brought its unique brand of Italian cookery to the United Arab Emirates in 2021. Despite being one of the city's newer eateries,it is already gaining a reputation as one of the best restaurants in Dubai's ever-evolving dining scene, and has now been awarded a Michelin Big Gourmand. Fi'lia offers beautiful food and stunning cityscape views from its position on the 70th floor of SLS Dubai, however, what makes it stand out is not its location or its menu but its leadership team, which is entirely female-led.
Helmed by Jordanian-Palestinian chef Sara Aqel, Fi'lia offers an authentic taste of Italian cookery. Based on the age-old concept of recipes being passed on from one generation to the next, the restaurant's name 'Fi'lia' – taken from figlia, the Italian for 'daughter' – was born out of this intergenerational approach. A fitting title for putting a modern spin on traditional and much-loved Italian-Mediterranean dishes.
Eauzone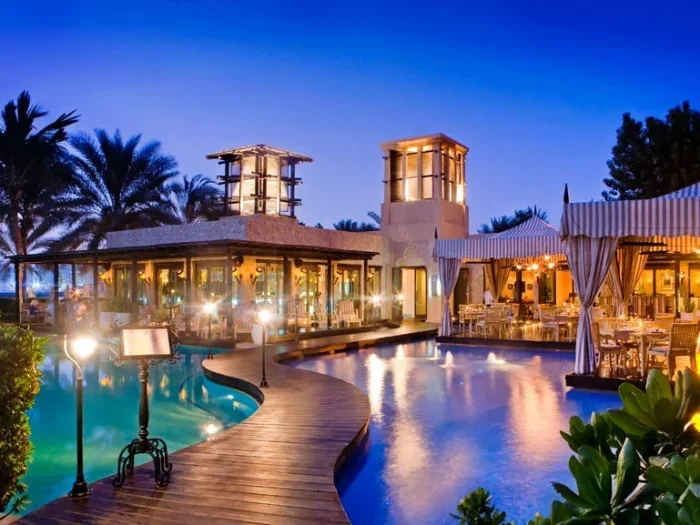 The atmosphere at Eauzone is casual during the day, reflecting the slow pace of the One&Only Royal Mirage and the lazy sea beyond. After sunset, however, this venue smartens up into a sleek, refined restaurant serving modern Asian cuisine. The design is beautifully positioned around the pool, giving the impression that it is floating on the translucent water. A winding walkway over the pool shows the way into the restaurant where there is a stylish bar and a glamorous, striped poolside marquee deck. We recommend a table close to the water for the ultimate Eauzone experience.
[See also: The Best Hotels in Dubai]
Al Hadheerah
The Bab Al Shams Desert Resort & Spa signature restaurant is a 60-minute drive from Dubai airport. The resort is hidden among sand dunes, giving the image of an isolated oasis perfect for a fine-dining experience under the stars at the beautiful Al Hadheerah restaurant. Fourteen live cooking stations provide authentic cuisine from the Middle East while guests enjoy live entertainment. The Emirati Heritage Museum is also located nearby for an extra dose of culture.
Zheng He's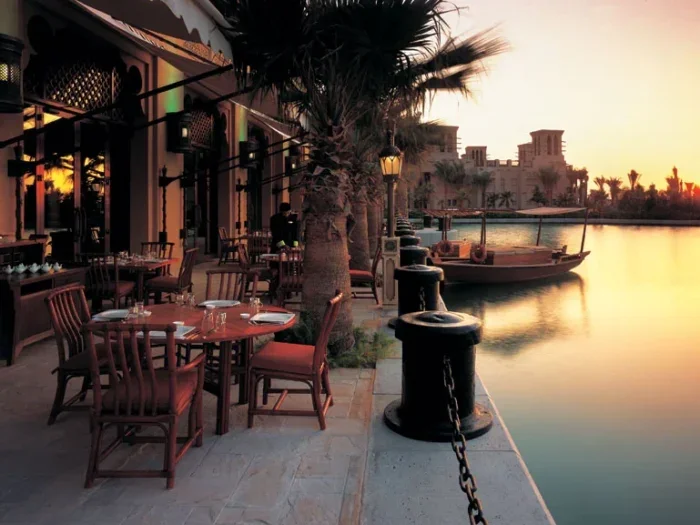 Award-winning chefs at Zheng He's pride themselves on creating dishes that blend modern Western presentation with old Chinese flavors. The setting adds to this fusion — on the 'dockside' of a canal that weaves itself into the Jumeirah Mina A'Salam resort, it has an atmosphere of ancient simplicity while retaining views of the Burj Al Arab and the Gulf beyond. Be sure to try the signature Fortune Beggar Chicken among the exquisite Chinese fare on offer.
Nobu Dubai
Based at the Atlantis Hotel, Nobu is a safe bet on any list of the best restaurants in Dubai. The iconic menu fuses cutting-edge Japanese style with Arabian influences while retaining Nobu classics such as its legendary seared black cod served with sweet miso sauce, and yellowtail topped with thin slices of jalapeño. The menu is complemented by a sushi bar and stylish surroundings, including private areas for more intimate gatherings. Cooking classes are available, allowing guests to learn the secrets behind this world-famous restaurant chain, created by globally renowned chef Nobu Matsuhisa to redefine Japanese cuisine.
[See also: Elite Traveler's Guide to the Best Brunches in Dubai]
Pierchic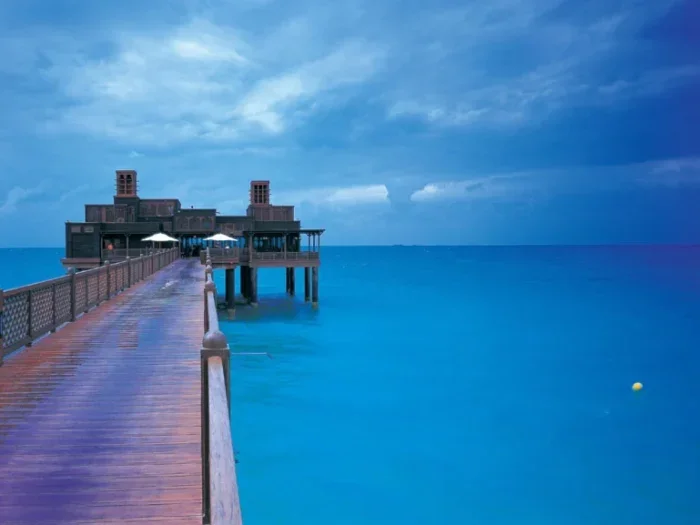 Set on a bedecked pier jutting out into the Arabian Gulf, Pierchic offers some of Dubai's finest seafood. The pier is a romantic outpost, far removed from the noise and bustle of Dubai and offering unspoiled views of the azure Gulf. Enjoy an intimate dinner of modern European seafood dishes alfresco, and take in views of the Arabian Gulf from your over-water dining table. The restaurant is located at the end of a pier at the illustrious Jumeirah Al Qasr hotel, where guests will be transported via a rickshaw. Before a fresh-catch dinner, sip cocktails at the stylish Pierchic Bar.
Rhodes W1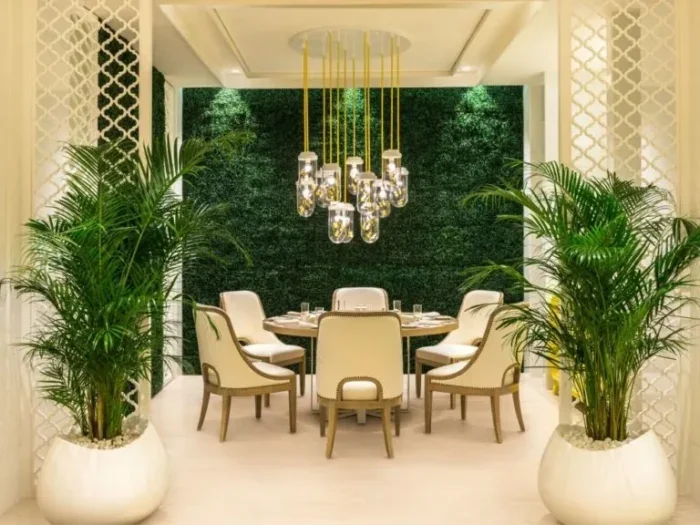 Dubai has made a habit of adopting Michelin–starred chefs in restaurants such as Rhodes W1. The flagship restaurant at the Grosvenor House Hotel was headed by the late British Gary Rhodes, who became a TV sensation in the 1990s with his astonishing fusion of Anglo-French cuisine. Today, it pays homage to his legacy with a team of international chefs. The innovative menu of sharing dishes is exceptional and uses fresh ingredients sourced from Europe, matched by an extensive collection of modern and vintage wines. Be sure to try a Sunday visit too, when the restaurant makes the most of its English heritage with a mouth-watering roast menu. Seating in the terrace garden provides panoramic views over Dubai Marina, with interiors lush with greenery and chic yellow accents with a fresh and energetic appeal.
[See also: The Most Iconic Restaurants of the Elite Traveler Era]