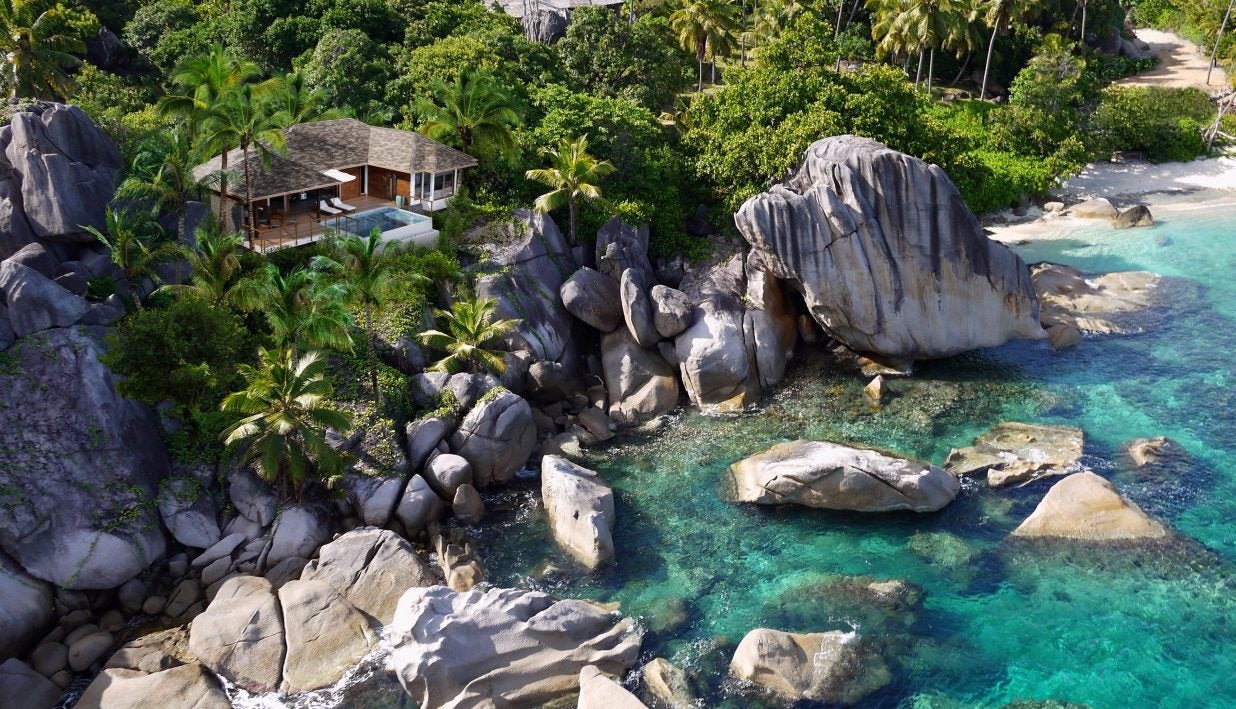 Six Senses Zil Pasyon has introduced a new buyout package that gives guests the opportunity to have exclusive use of one of the most luxurious island resorts in the world. The property is situated on Félicité Island in the Seychelles and is already renowned for its highly-personalized service. With just 30 villas and two residences, guests rarely come across one another even when it is full. The buyout guarantees you will only see 20 of your closest friends and family.
The 652-acre Félicité Island lies 30 miles northeast of the capital and all trips to the resort begin with an exhilarating one-hour motorboat ride from Mahé International Airport. Guests can also opt to take a helicopter ride, which cuts the journey time down to a mere 20 minutes.
Surrounded by dramatic granite boulders, Félicité Island looks impenetrable from certain angles. The ancient border is only broken by a few pristine beaches and the natural wonders combine to create a picture-perfect paradise island. Six Senses Zil Pasyon takes up just one-third of the island's footprint with the rest left to nature, so it is not just a sanctuary for guests but for wildlife as well.
The wildlife and a few members of Six Senses staff will be your only companions during an island buyout. For a one-week stay, you pay €330,000 (approx. $370,000). For that, 20 guests get the pick of the island's villas and residences, bespoke menus for breakfast, lunch and dinner, and full access to the island's wealth of facilities. That includes the amazing Six Senses Spa, which features five double treatment villas that reflect the island's eco-system, colors, textures and themes.
Guests can also undertake a series of activities during their stay, ranging from adventurous snorkel expeditions to a champagne tasting session at sunset. Learn about the extraordinary Seychelles wildlife with a marine education evening or dine with the island's renowned culinary team at the Six Senses chef's table. Or, of course, you can just spend the week relaxing on the beach or at your private pool.
Images: Six Senses