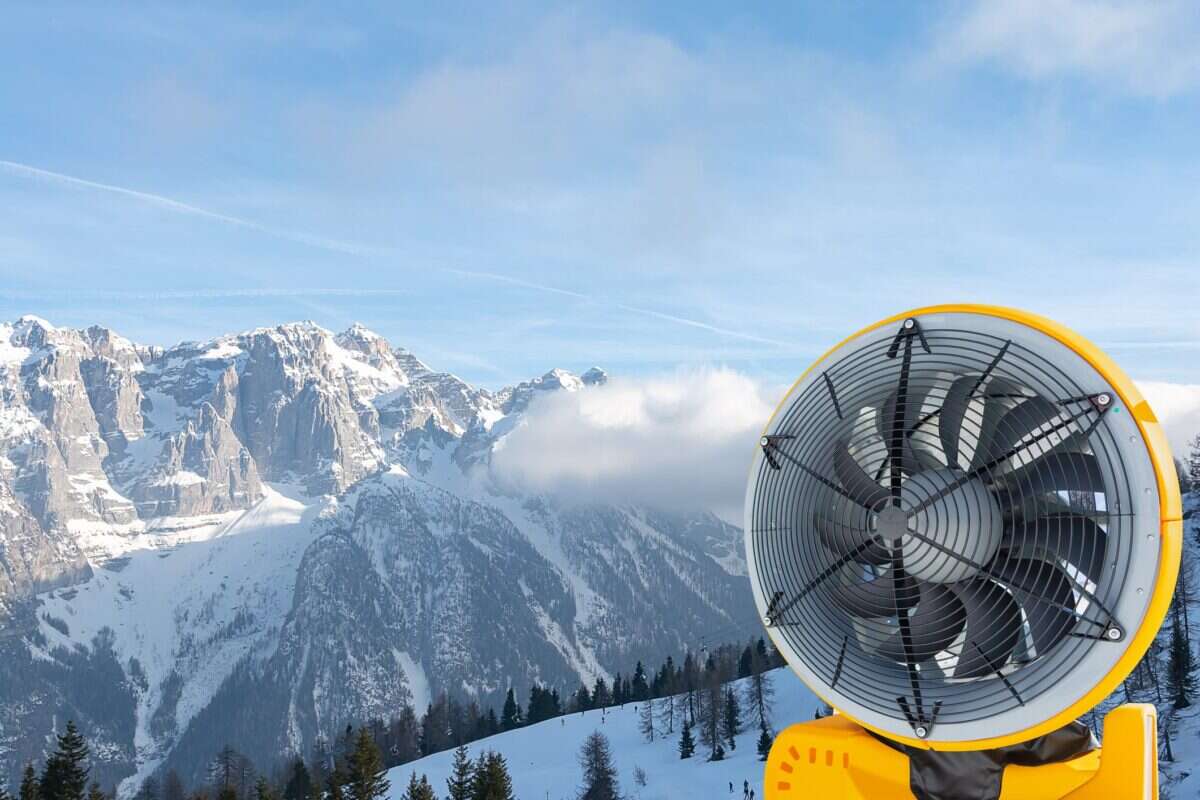 The past year brought challenges the alpine industry could never have predicted but it won't all be smooth skiing from here. Ski resorts are already seeing first-hand the instability caused by climate breakdown, and are having to adapt and become more sustainable to survive.
How is climate breakdown affecting skiing?
Analysis of weather data by the Research Center for Alpine Ecosystems (CREA Mont-Blanc) compared annual average temperatures in Switzerland, to an average between 1961 and 1990. Since 2000, temperatures have routinely reached 1 or even 2 degrees Celsius over the average, breaking temperature records almost every year.
As CREA Mont-Blanc explains, in mountain environments, 0.5°C is the equivalent of 100 meters (328ft) in elevation, so animals and plants would need to move that much higher to stay at the same temperature.
And in fact, global warming is amplified in alpine environments, because as the snow cover melts away, the ground absorbs the sun's rays rather than reflecting them, which only accelerates the warming. The melting of permafrost (permanently frozen ground that maintains mountain stability) can lead to dangerous rockslides that threaten alpine communities.
One of the key ways alpine resorts see climate breakdown first-hand is snow cover. Research in the alpine village of Engelberg, Switzerland, shows that, between 1989 and 2008, the average snow depth at its peak was almost 20cm lower than the average snow depth from 1909 to 1988.

Many resorts stockpile and preserve snow to maintain their cover each winter, or use artificial snow. And many lower altitude resorts are looking to diversify the activities they offer, and encourage summer visitors, or studies show they may not survive at all.
Modeling by the University of Columbia found that between 1971 and 2000, half of the ski resorts in North America had a ski season of over 150 days. But, by 2085, it's possible that not a single ski resort will have a 150+-day season, and a third will have no ski season at all. Even under the intermediate-case scenario, the model predicts that by 2085, only 8% of resorts will have a 150-day season, and 14% will have lost their season entirely.
"We are not preparing for more or less snowfall; we are preparing for more change," says Kate Wilson, senior director of sustainability at Vail Resorts. "That said, we are seeing a higher variability in conditions, especially in the early season. In an industry historically ruled by weather, we've adapted our business to provide guests with an exceptional experience no matter the winter we're having."
Are ski resorts bad for the environment?
And ski resorts aren't just witnessing this problem, many are part of the problem itself. Like much of the hospitality industry, ski resorts often have a large carbon footprint, burning tonnes of energy to heat and light their resorts and provide for their guests.
Visitors often fly to resorts, rather than taking the more environmentally-friendly train and often hire a car to travel between resorts. Significant deforestation is often required to create the huge slopes, particularly at North American resorts.
And in an effort to replace the diminishing snow levels, many resorts use snow cannons to maintain the slopes. Analysis by the Statista research department estimated that by 2018, almost 90% of the ski slope area in Italy used artificial snow production, and 70% in Austria.

Calculations by CIPRA (International Commission for the Protection of the Alps) estimated that the amount of energy needed to cover the Alpine arc with snow would be around 600 Gigawatt-hours, which is equivalent to the annual electricity consumption of 130,000 families.
The cannons often use polluting additives that can affect local plants and wildlife, and the snow produced has a different water concentration to natural snow, which can freeze the soil and kill any plants below.
Even resorts that use chemical-free cannons and renewable energy still use vast amounts of water. As Justin Francis, CEO of Responsible Travel, told National Geographic in 2018, each square foot of snow uses up to 600 liters of water, and a third of ski resorts in the French Alps are struggling with shortages of drinking water.
Sustainable ski resorts
Many ski resorts are working to do their part not only to become more sustainable, but to fight climate breakdown overall and help preserve the natural environment.
Accreditations such as Flocon Vert, by the Association of Mountain Riders, reward alpine destinations that meet 20 criteria around environmental sustainability, accessibility and support of the economy and cultural heritage. Flocon Vert recipients include Megève and the Chamonix Mont-Blanc Valley
This year in the US, four of the largest companies in the North American ski resort industry united to create the Climate Collaborative Charter, a commitment to sustainability in their own resorts, and to advocate for effective public policy.
"If you're not setting goals so big you're not initially sure how you'll reach them, they're not big enough to solve climate change," says Wilson of Vail Resorts.
At Vail, they have invested in a large-scale wind farm and solar project, with the aim of reaching 100% renewable energy.
Data from their sustainability report projects that they could reduce Vail Resorts' electrical emissions by almost 85% in the financial years 2021 and 2022, and then by a further 10 percentage points in FY 2023.
"People are looking to support values-driven companies and organizations, including those that are dedicated to preserving the incredible outdoor spaces where they recreate," says Wilson. "When guests visit mountain resorts, we want to make sure they feel good about visiting."