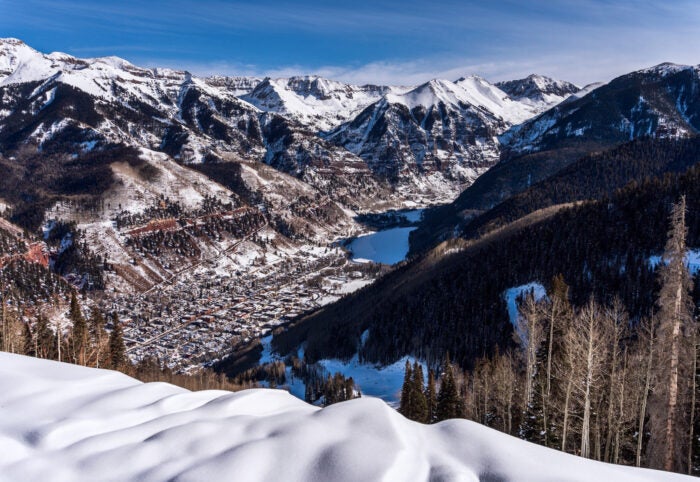 Tucked away in the Colorado rocky mountains, Telluride is a picturesque ski resort town that has a wonderful "undiscovered" quality. The scenery is jaw-droppingly beautiful and, while the promise of excellent skiing will certainly lure you in, there are many other things to do and see beyond the slopes: a vibrant arts district, password-only bars and mountainside dining. When you are carving powder, do it wearing custom skis and hi-tech goggles.
Après-ski
A must-visit is the Historic Bar, found within the New Sheridan Hotel. You'll find visitors and locals perched at the mahogany bar. The decor harks back to 1895 when the bar was rebuilt following a fire in the main building; check out the brass chandeliers and original filigree light fixtures. There Bar is an intimate spot for Asian-style bites and quirky cocktails—choose from the 'bougie classics' or the jam drinks, made from a jam (red pepper jelly, Maine blueberry) and your preferred spirit. The Tunnel is a speakeasy-style joint that you enter through a trapdoor after supplying a password. Throw on an Eli All-Gender hoodie from CashmereRed while you barhop. The store, located in the Mountain Village, specializes in high-quality cashmere: the hoodie is knitted to order in the US using only underbelly hair from Kashmir goats.
[See also: The Best Luxury Ski Chalets and Resorts Around the World]
High dining
High dining Situated 11,220 ft above sea level, the views at Bon Vivant are spectacular. This open-air, on-mountain eatery serves comforting French cuisine. Come for the all-French wine list; stay for the atmosphere. Allred's Restaurant serves contemporary American cuisine and can only be accessed by gondola. It has the San Juan Mountains as a backdrop and looks over the town below; book the private dining room with a roaring fireplace for a special evening.
Alpine style
After a career designing custom golf clubs, Peter Wagner rallied a team of 'engineers, ski bums, woodworkers and designers' to provide the same custom options to skiers, and so Wagner Skis was born. Head to Mountain Village, where the magic happens, and pick up your own pair of custom skis—the options are seemingly endless, and you can use your own artwork to decorate the skis to your liking. Cordova's Telluride ski suit is fashioned from a shell material that is both insulating and waterproof and has a detachable jacket with cuffed sleeves. The subtle ecru shade cuts a striking silhouette on the slopes, but freshen it up for après-ski with Bobbi Brown's seductive crushed lip color in Telluride.
On and off piste
Telluride has over 2,000 acres of skiable terrain and 148 trails, and is suitable for skiers of all abilities (there are no lifts exclusively for advanced terrain, as there is an easier trail down for every single lift, so beginners can still soak up the fantastic views). For something high octane, Telluride Helitrax can create a tailored itinerary for heliskiing or snowboarding on untracked terrain in the San Juan Mountains. Arc'teryx's Macai jacket is down-insulated yet breathable. It has a removable hood that comfortably fits over ski and snowboard helmets, and was designed to rotate with head movements.
If you're heliskiing, you need goggles that can keep up: Enter Abom. The HEET goggles use a patented technology that has an electronically heated, transparent thin-film layer between two poly-carbonate lenses, making foggy lenses a thing of the past. Plus, they're extremely hard-wearing; some products meet the US Army's standards for ballistic protection.
Beyond the slopes
The main street's architecture reflects Telluride's history as a mining town, and there are a number of independent boutiques and art galleries. The aptly named Between The Covers has been operating since 1974, and the bookseller is 'fiercely independent.' You'll find titles from local authors on the double-height shelves as well as over 10,000 books — grab a cappuccino from the store's cozy cafe, High Alpine Coffee, while you peruse. Be sure to visit the Telluride Arts District, which is both a location and a nonprofit organization that supports local artists and hosts events. Here, you'll find Gallery 81435, an exhibition space displaying creations from the region's most accomplished artists.