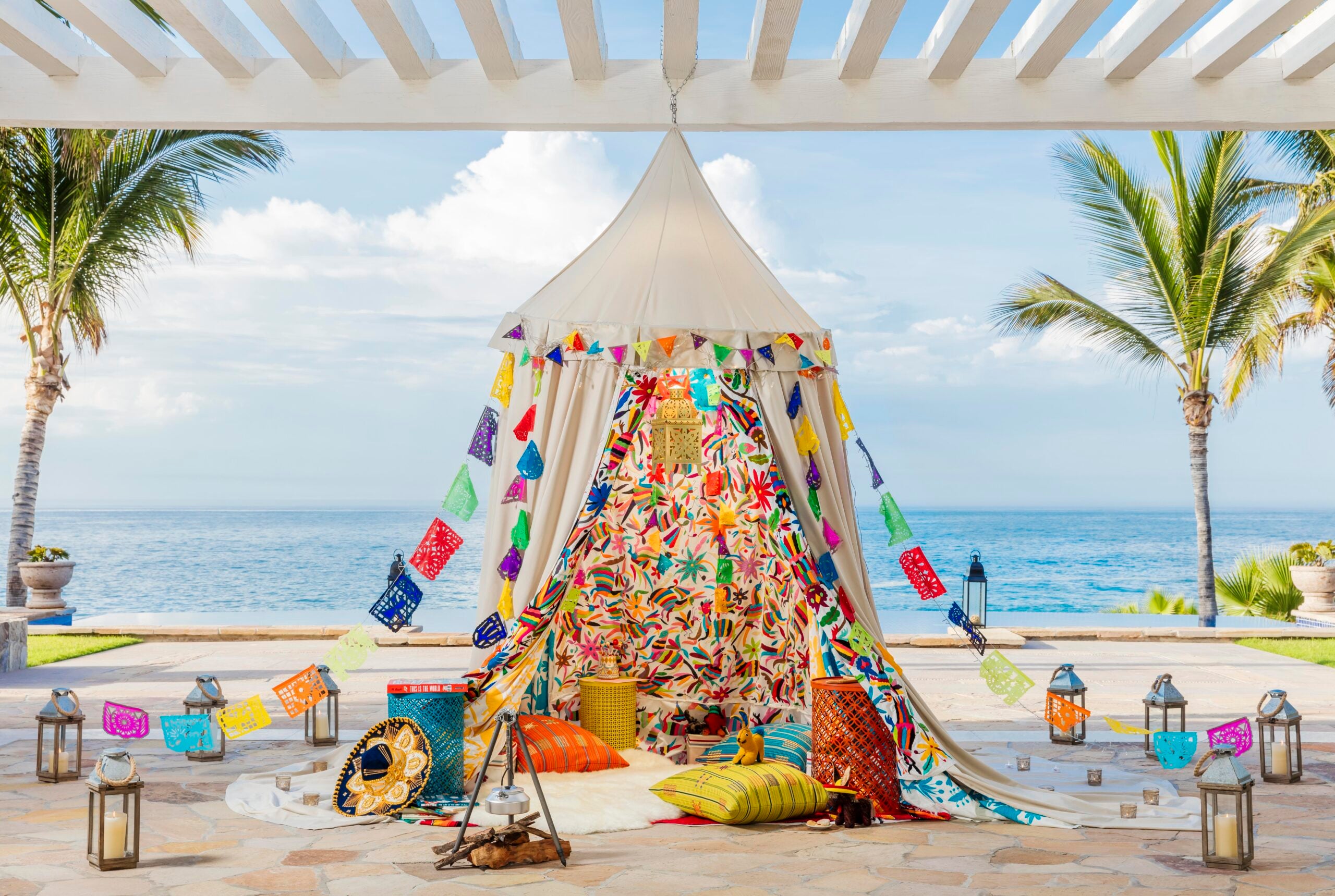 With the kids out of school and endless time to travel as a family, these six luxury hotels offer some of the most comprehensive kid's programming out here. Whether you want to relax during the day while your kids are hard at work learning how to cook or meeting new friends, or you want to partake in the fun all together, Elite Traveler has the best programs for the kiddos this summer and beyond.
One&Only Palmilla
Los Cabos, Mexico
Designed for kids ages 4 to 11, KidsOnly at One&Only Palmilla in Los Cabos is thoroughly thought out with special itineraries designed by the hour Sunday to Sunday. For parents who seek a family vacation but also need some alone time (may we suggest unwinding in the world-class spa?), the program features 9am to 7pm days where your kids will partake in everything from tennis to pin-wheel and ceramic painting to moon sand-making classics and making friendship bracelets or playing videos games. Cooking classes, sushi-making classes, lego time, movies, painting and tie dying (the list goes on) are also available. Whether you're in town for the weekend or a full week, your children will be plenty occupied. Babysitting services are also top notch here.
Anantara Layan Phuket Resort
Phuket, Thailand
Anantara Layan Phuket Resort's Junior Hotelier program is perfect to keep the kids busy learning how to make gourmet dishes while you can enjoy a gourmet dish on your own – with a glass of wine, of course. Designed for kids between 8 and 12, they will learn the ropes of a five-star-resort hotelier by getting VIP tours of the Residence Villa; learn to make towel art monkeys and elephants with housekeeping staff; cook a Pad Thai and assist in pastry making with a hotel chef; learn to make mocktails with a mixologist; take a yoga class or Muay Thai class; and graduate from the course. When they're done, each new grad will get a certificate showcasing their new skills.
Peninsula Beverly Hills
Beverly Hills, California
Your kids can channel their inner Troop Beverly Hills by participating in Camp Peninsula Program at Peninsula Beverly Hills. The best part? You never have to step foot on a camp site. Transform your suite's living space into a makeshift camp with a small teepee, a faux fire (s'mores included) and a small stuff animal of the Peninsula's mascot, Peter Bear. Also included in this package is a scavenger hunt throughout the hotel and camp-themed games. Parents will love the perk of a BMW included in the package – take the whole family to explore Los Angeles in style.
Jumby Bay
Antigua, West Indies, Caribbean
Jumby Bay Island, an Oetker Collection property, is perfect for young kids, teens and adults alike. For the littlest ones ages 3 to 11, Camp Jumby hosts programs like Little Chefs, Wildlife and Ocean Adventures, Discover Science and Pirates of the Caribbean activities. Children of all ages can also help save the turtles through the Hawksbill Turtle Program. From June to November, you can see a turtle nesting and release hatchings into the sea. For kids 12 and up who want to try out their first spa treatment, book a pedicure, massage, manicure, teen facial or even hair wraps. Jumby Bay even has programming for kids 12 to 17 with mocktail classes, paddle boarding, water skiing, volleyball, stargazing on the beach and tennis lessons. Large families can book one of the private residences for up to 18 guests. The resort also offers family experiences with sailboat and snorkeling experiences and custom kid's programs.
Fairmont Scottsdale Princess
Scottsdale, Arizona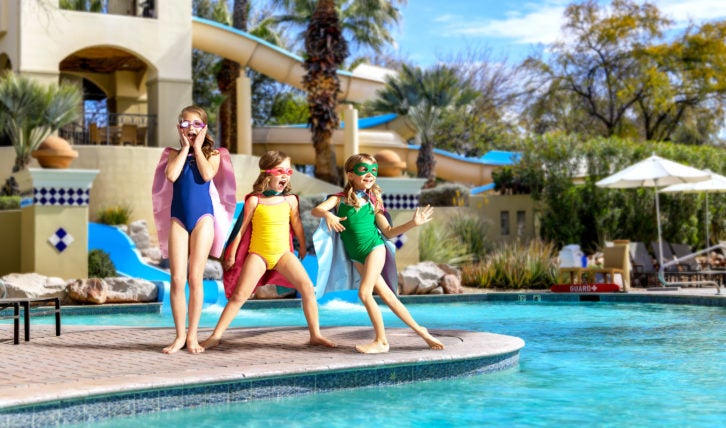 Boys and girls can unleash their inner superheroes with Fairmont Scottsdale Princess hotel's Superhero Summer program, which runs until Labor Day Weekend. The program welcomes kids of all ages to enjoy superhero-themed activities from wearing their own cape and mask (they will receive it upon check-in); training like a superhero via the Superhero Training Academy (each kid will even receive a diploma saying they've graduated from superhero school); and learning to zip line through the resort's lagoon. Photo ops will be available, as will dogs, who wear their own capes. Kids can also learn to become a mermaid at Mermaid University; enjoy fireworks every night; celebrate superheros through giving back to local charities; playing on waterslides and in one of the resort's five pools and enjoying the sand beach. A super (sorry) weekend awaits.
Ocean House
Watch Hill, Rhode Island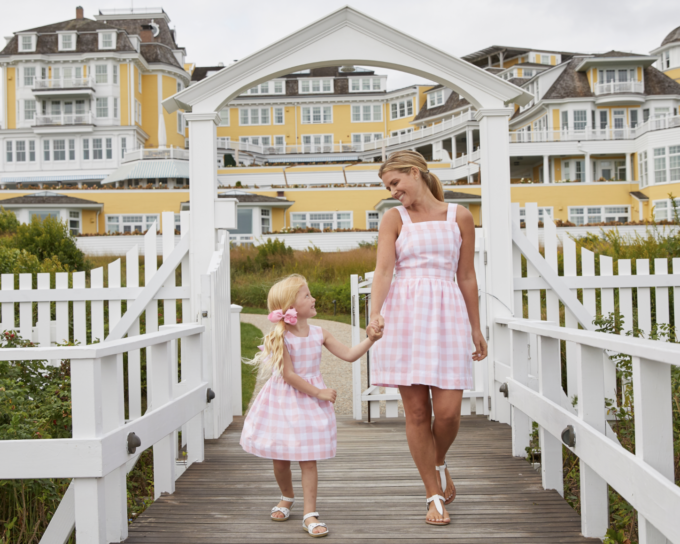 At Ocean House in Watch Hill, Rhode Island, kids are an integral part of the hotel's unique experience, and the resort helps to create memories for the entire family. The programs are so detailed – there is a hotel-wide scavenger hunt where you will find paintings of animals and objects (if you look in the corner of one of the elevators you will see a cute cartoon mouse that's part of the hunt), and a basket of books sits on each floor's elevator landing table for a sweet bedtime story. Upon arrival, kids will also be able to choose a brand-new toy as a memento of their stay. During the summer, your kids can partake in the Sand Castles program with other children at the resort for a fun socializing event led by YMCA counselors. Kids can also sail, learn croquet or take a cooking lesson.