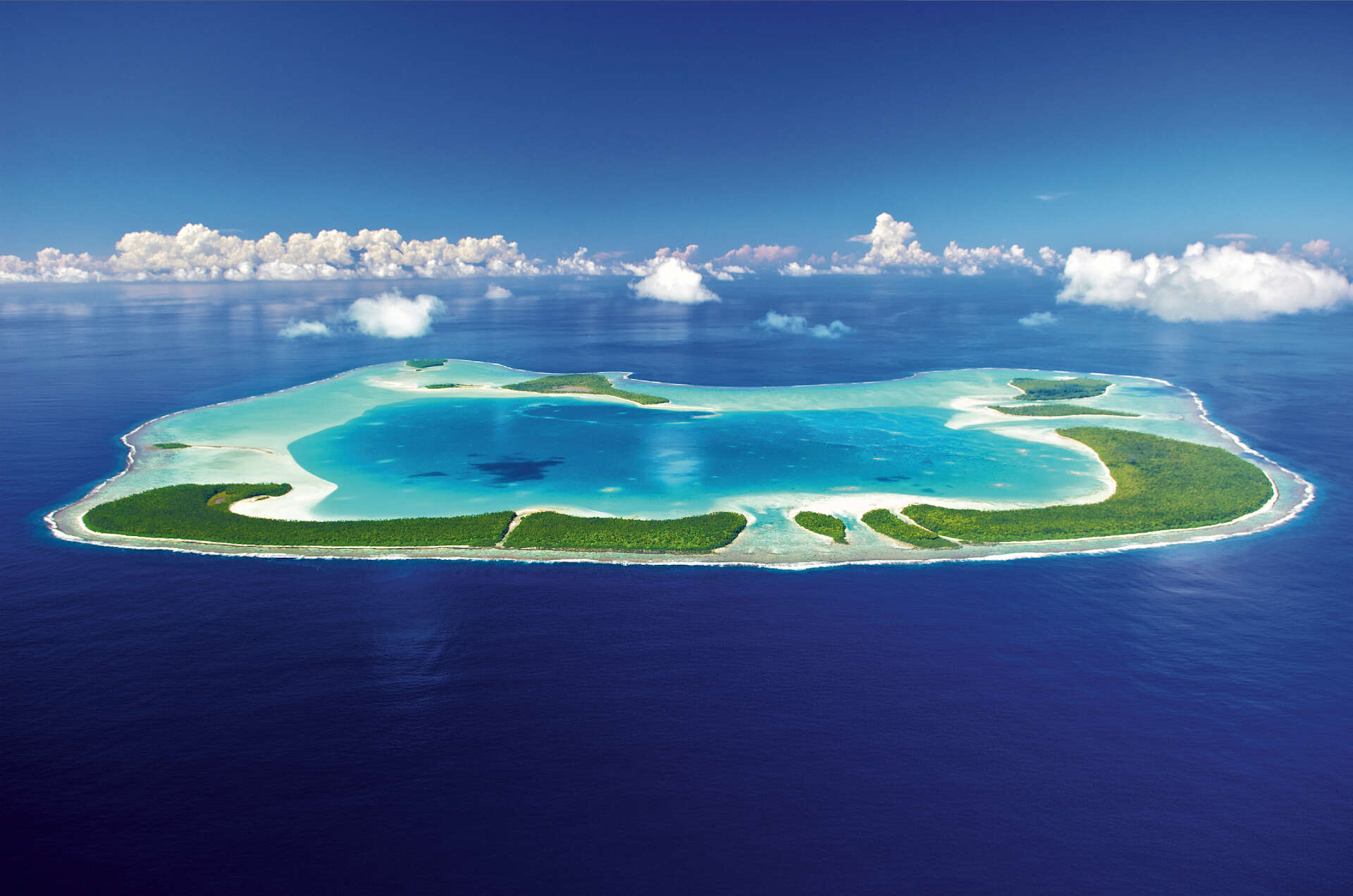 Perhaps best known for being situated on Marlon Brando's famous island, The Brando resort is a luxurious, 35 villa hotel within the heart of French Polynesia. Previously, it's been a getaway destination for the likes of Leonardo DiCaprio and former president Barack Obama; offering laid back luxury amongst natural splendor, it can only be reached by a 15-minute plane journey from Papeete, using the resort's private plane.
"The only people on the island are the people that belong there – it's a great place if you want to get away and be discreet," explains Richard Bailey, CEO and chairman of Pacific Beachcomber (the company that runs the Brando). Idyllic and exclusive, The Brando is the epitome of "hedonistic luxury," says Bailey, with "everything that you could want [from] a resort, [including] sumptuous accommodations and a spa."
This isn't the only reason The Brando should be on any privacy-seeking traveler's radar, however. The resort's mission includes being as environmentally sustainable and sensitive as possible. "We are carbon-neutral," Bailey says. "[The Brando's] goal was always to break the old mold of more luxury equals less environment. We tried to imagine a paradigm where more luxury and more environment are both possible at the same time."
[See also: A Luxury Guide to a Long Weekend in French Polynesia]
The Brando is situated on an atoll (a ring of islands with a deep lagoon in the center) known as Tetiaroa. There are 12 islets, or 'motus' in Tahitian, that make up the Tetiaroa atoll; the resort is located on one of these 12, but the company has the entitlement to one other Motu.
"The rest of the atoll is a private sanctuary," Bailey explains. "There won't be any construction or improvements on [any of the other islands]. Our guests have the entire atoll at their disposal for leisure activities – we offer kayaking, paddle boarding… We have excursions that we run on our own boats – we can drop our guests off on a private beach for the day where they won't see another human being."
"There are lots of indigenous species of plants and animals [on the atoll], from sea turtles and coconut crabs to lagoon sharks and fish," he continues. "There's lots of snorkeling on our fantastic coral gardens. It's an extremely diverse place – it's really very well preserved."
Even before being owned by Brando, Tetiaroa had a colorful history; it was the exclusive retreat for Tahitian kings for over 1,000 years. "If you read the logbooks of Captain Cook or some of the early explorers, they talk about Tetiaroa as being a place where the king would go and retreat with his entourage," Bailey explains. "It's also the place that some of Captain Blythe's mutineers fled to, to try and hide. There's a very powerful, historical story behind the island, it's not just a Brando story – in fact, Brando didn't really want it to be about him."
With such a vibrant history, it's clear to see why Tetiaroa holds such an important place in the hearts and minds of the Tahitian people. "This is not just some island," says Bailey. "By virtue of which, Marlon's stewardship of the island was very important. He carried that responsibility with a great deal of care, and we've tried to carry that on as well."
[See also: The Most Luxurious Eco-Friendly Hotel]
But how did Bailey and Brando come to work together on such a unique resort? Bailey says it all started with a phone call: "I met Marlon in 1999. He had heard about an American that was in the hotel business in Tahiti and married to a local girl, and he had this fantastic island that everyone knew about but he wasn't sure what to do," he says.
"[Brando's] health was starting to fail and I think he was concerned for the prosperity and the future of his island. We started talking about what would be appropriate for preserving his island, and settled on the idea of a resort that would be a base from which proper preservation could operate."
Bailey and Brando decided to make the resort a showcase for the best responsible technology available in terms of energy, water and waste management, and materials. "Our idea was that tourism supports the preservation of the environment and the preserved environment makes a more compelling visitor experience for our guests. There's a symbiotic relationship," Bailey says. "Marlon believed that this was the future of tourism and that we should try to go in that direction – and we have."
One example of this is that The Brando is the first resort in the world to have Platinum LEED (Leadership in Energy and Environmental Design) Certification. Platinum certification is the highest level accreditation offered by the scheme; it means that every structure on the island has to comply with the LEED Certification checklist.
"We're quite proud of that," says Bailey. "Having the LEED Certification gives us third party validation [for our efforts]. Not all of our guests may care about sustainability – we don't require them to – but just by coming to the resort they are contributing to reducing impacts on the environment."
The Brando is also "the first resort group in the world to use deep seawater for air conditioning," he continues. The resort uses a pipe that travels off the reef and to the bottom of the ocean as its only source of cooling. "It was Marlon's idea – he introduced us to the concept. If you can get that cooling from the ocean, you've reduced your energy requirement by two-thirds," Bailey explains. "The rest of it is accomplished by solar and in our case, coconut oil, which is a biofuel. That's how we achieved carbon neutrality."
As a result of the company's efforts to protect and preserve Tetiaroa, The Brando enjoys "a good reputation in Tahiti," Bailey says. "We try to do projects that that [the Tahitian people] can be proud of." In fact, the first thing that was built on the atoll was a scientific observatory with a small dormitory for scientists, so they could come and study. This created a baseline before construction of the resort began so that The Brando would know what its impacts on the island would be.
The resort has also established a non-profit called Tetiaroa Society Foundation, which puts on a range of activities to celebrate and preserve the culture of the Tahitian people. It also, Bailey says, puts together "school programs and field trips to the island for Tahitian kids, so they can experience the flora and fauna, learn about what sustainability is and what it means to be carbon neutral. A lot of these things are generational changes, it takes time – but [through] education and conservation we're trying to move the cursor a little bit."
But The Brando's education schemes don't end with its school programs. The resort offers back-of-house tours to any guests that are interested in learning about the various self-sustaining processes, from gathering energy to disposing of waste. "You may not arrive thinking you care about that, but our guests are curious people," Bailey says. "They're well educated, life-long learners – so they end up wanting to know about these things."
So does Bailey believe that guests leave The Brando having more respect for the environment and wanting to be more sustainable? "Absolutely," he says with certainty. "In sea turtle hatching season, for example, it's very likely that in front of your villa there will be a turtle nest emerging, making their way down into the lagoon. If you're there and you see that – and maybe you have your family with you when you experience it – it's transformational. There are so many of these moments [at The Brando]. You're not the same once you've seen these things."