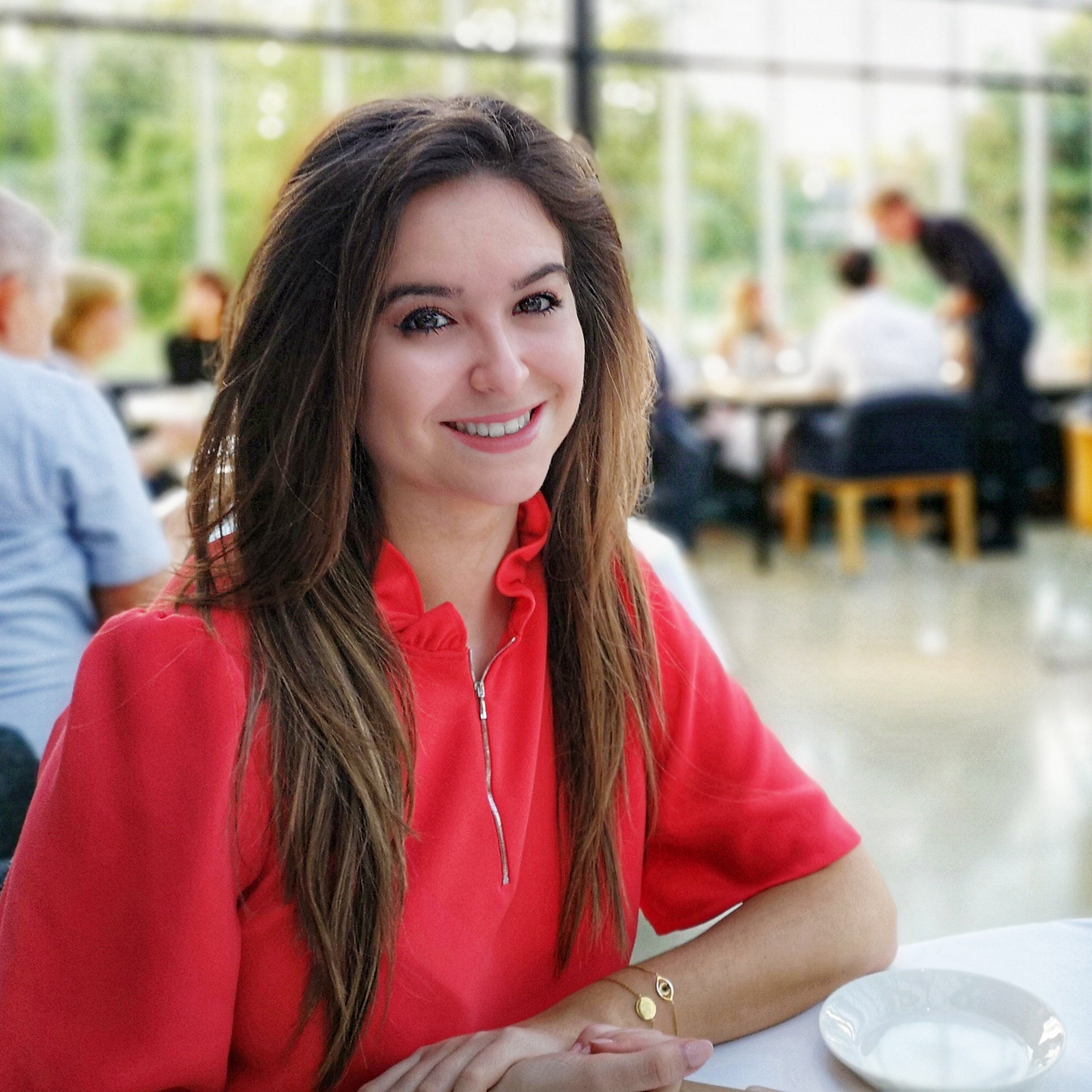 Journalist, editor and podcaster Holly Rubenstein has been covering red carpets and reporting from around the world for over a decade.
She began her career as an entertainment correspondent for Reuters news agency and the BBC, interviewing A-listers from George Clooney and Tom Hanks, to Sir David Attenborough and Ed Sheeran, and covering key cultural events such as the BAFTAs and the BRIT Awards.
The natural next step was to combine these two specialisms – entertainment and travel – which soon led to the creation of The Travel Diaries podcast, a weekly interview podcast where she interviews a celebrity guest about the destinations that have shaped their lives and their adventures around the world.
On her first season, Holly is joined by Sir Richard Branson, Sir Ranulph Fiennes, Raymond Blanc and more, as she explores the eight key chapters of their life's travel diaries, from the first place they fell in love with and their all-time favourite destination, to their hidden gem and the place at the top of their wish list. One thing's for sure – it's wanderlust, guaranteed.
London
To pick a favourite city is almost impossible. Miami and Barcelona both came close, but I have to go with my home town of London, where I have lived for the last 12 years. While London's energy is something that drives me, it is my travels around the world that inspired me to start The Travel Diaries podcast.
Whether its because of social media, cheaper flights or the greater importance placed on experiences rather than material possessions, I started to find that more and more conversation steered towards talk of travel.
As a podcast aficionado, I looked to see if there were podcasts out there in which well known names were being interviewed about travel, and I found nothing. This was exciting – a gap in the overcrowded podcast market. I set about designing a logo, landing a deal with the podcast platform Acast, and interviewing my first guest in the lobby of a new hotel in San Francisco – who happened to be Richard Branson.
Your favorite hotel
Living in London, I spend less time in hotels here than elsewhere. If I'm going to check in somewhere, it's normally for a night away from the city's hustle and bustle.
Just outside of London, in the Surrey hills, is one of my hidden gem recommendations – a beautiful country house hotel called Beaverbrook. It's steeped in history, given it's a spot where Winston Churchill and Elizabeth Taylor used to stay, but the hotel in this guise is a fairly new addition to the British hotel scene.
Since visiting, I've been recommending it to everyone I meet. I'm a sucker for stylish interiors, and Beaverbrook was overseen by Susie Atkinson (she's the guru behind Soho House's interiors, too).
Each room has such an individual sense of style and character, and a sense of humor too. Even if you're not staying, the Japanese restaurant is worth the trip alone. My fiancé and I loved it so much first time around that we're actually going to spend our wedding night here.
Back in central London, my go-to is usually one of the Firmdale Hotel Collection – the Ham Yard Hotel, Covent Garden Hotel and my favorite, the Charlotte Street Hotel. I'll often pop into their library or restaurant for a cup of tea and a read of the papers between meetings in town. You forget you're right in the thick of the city.
On my hit list is Kettner's Townhouse, one of my favorite spots for dinner and now with equally gorgeous-looking bedrooms; and for a night of utter luxury, Belmond Cadogan Hotel in Chelsea is being saved for a very special treat.
Favorite restaurant
Either you know Mercato Metropolitano, or you don't (largely because Elephant and Castle isn't an obvious foodie hangout). But if it's not on your radar, plan your next social get together here. It's a sprawling indoor/outdoor food market, serving every cuisine under the sun, with a buzzing atmosphere. My friends and I have gorged on Venezuelan arepas, crispy tacos, and fresh homemade pasta, all in one night.
For a special occasion, I have two current favorites. Petersham Nurseries has always been a romantic go-to, just across from Richmond Park. Surrounded by twinkling fairy lights and an abundance of fresh flowers, the food here is sublime. I'll never forget a Syrian-inspired poussin that they served whole, on a bed of lentils and Middle Eastern vegetables. I'm so thrilled there's now a more accessible central outpost with its second opening in Covent Garden. The setting is equally pretty, and I can never resist popping into its next door shop to stock up on gifts that I can't actually afford to buy!
My other go-to is Duddells in London Bridge. Their Peking Duck is the best in London, sliced theatrically at the table, and their truffle and scallop fried rice is the most delicious accompaniment.
Cultural Gems
Having lived on the South Bank for many years, no cultural hive of activity comes more highly recommended. In one afternoon, you can enjoy a free outdoor jazz concert on the terrace of the Royal Festival Hall, glass of Pimms in hand, overlooking the moving tableaux of the River Thames; stroll through the South Bank Centre street food market, sampling delectable dishes from across the world; take in some of the capital's finest artistic offerings at the Hayward Gallery; wander through the Leake Street Arches, a graffiti tunnel that celebrates London's street art scene; and finish the evening with a show at the National Theatre or Old Vic. For culture vultures, it's all here.
Your travel essentials
I can't travel anywhere without my pale rose Horizn H5 suitcase. It's been around the world and back with me. It has a portable charger built into it, so when I've forgotten my adapter or am in transit without a power plug, it's been a lifesaver. And it has this game-changing compression pad inside, which means I can squeeze in even more clothes than I need – the dream.
I also can't travel without Avene thermal water spray. When I travel I inevitably get hot and flustered, and a spritz of this cools me down, calms me down, and stops any makeup from running.
You can listen to Season One of The Travel Diaries on Apple Podcasts, Spotify and on Android apps. New episodes are released every Tuesday.