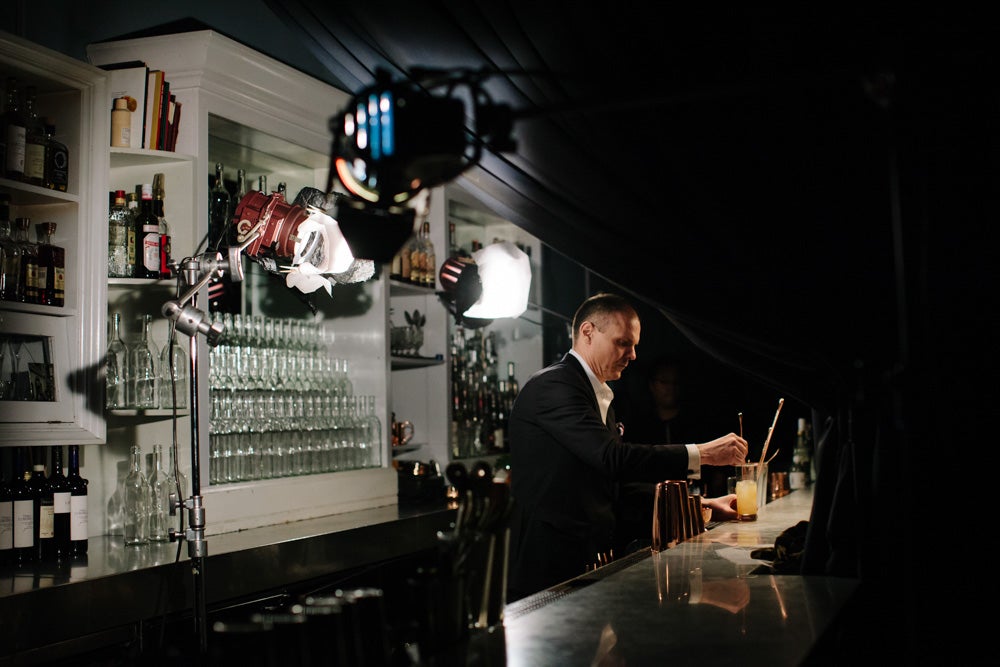 Indonesian Nu Fashioned at InterContinental Hotels & Resorts
2 oz Woodford Reserve Distiller's Select bourbon
3 bar spoons crème de cacao
3 dashes Angostura bitters
To create this cocktail of the week, add Woodford Reserve, crème de cacao and Angostura bitters to an ice-filled mixing glass and stir well. Strain into an ice-filled rocks glass. Perfume with orange zest and an orange twist.
The discerning world traveler has an affinity for the exotic, but jet setting across the globe can also make us wish for something familiar. That's the inspiration behind InterContinental Hotels & Resorts new Worldly Classics cocktail program, created in partnership with renowned mixologist Angus Winchester. With hotels in more than 60 countries, InterContinental tapped Winchester to design a cocktail program around universal favorites with elements of iconic destinations from the brand's portfolio.
"What we wanted to do was take a global classic cocktail, but give it a local twist," said Winchester in introducing the program at InterContinental New York Times Square this week. "The idea is taking a great-tasting cocktail and giving it just a little twist, so that if you were familiar with this cocktail, you would still enjoy it and you could see what was being done by it; whereas if you weren't, it would be an interesting introduction to it. We've taken the drink, elevated it and tied it into some of the properties."
Honoring the global reach of InterContinental, the new program encompasses 11 cocktails created by Winchester. From a Brazilian Smash to a Hong Kong Mule, each cocktail combines a timeless concept with a refreshed recipe that gives a sense of place. Winchester himself is a frequent traveler — averaging 250,000 miles per year — and described how the new program plays into "small moments of comfort," such as those found ordering a classic cocktail, that are important to today's affluent guest.
"A great bartender is the equivalent of a sommelier, understanding about the products they're standing in front of, production methods, flavors, terroir, vintage and the shape of the still that created them," he added. "But unlike a sommelier, we don't just open it and pour it into a glass. We turn into chefs. We're working with flavor combinations and new techniques. More importantly, consistency. To be able to turn those wonderful bottles on the back bar into an incredible drink the same, time after time, no matter where you are."
Our cocktail pick from the new lineup is inspired by a country you might not expect: Indonesia. The InterContinental Bali Resort served as Winchester's muse for the Indonesian Nu Fashioned, a take on the beloved old fashioned, rather than a tropical cocktail typically associated with the region. Winchester substitutes crème de cacao for sugar in a nod to Bali's indigenous plant, and ties the drink together with an ice cube baring the InterContinental logo.
"The word cocktail is not actually the overall term to talk about any mixed drink," he explained. "The cocktail was a very specific type of drink. It was first mentioned in 1806 and was defined a week later as a mixture of spirit, bitters, sugar, ice and water. It was very specific, and if you look at cocktails now, there is really only one that is still true to that definition, and that is the old fashioned."
For more information, please visit ihg.com.