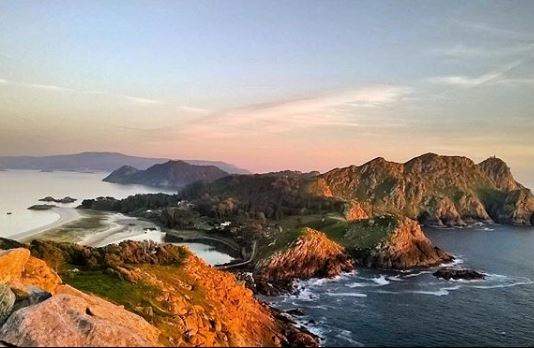 With its long Mediterranean coast, shores facing onto the Atlantic Ocean and pockets of idyllic islands, Spain is bursting with outstanding beaches. From San Sebastian in Basque Country to the southerly Canary Islands, here's where to find six of the best.
Rodas Beach, Las Cies Islands
This small archipelago lies off the coast of Pontevedra, Galicia, and is included in the protected Atlantic Islands of Galicia National Park. Within its three islands—Monte Agudo, O Faro and San Martiño—two (Monte Agudo and O Faro) are connected by the long strip of sand, Rodas beach. Around 200 ft wide and made up of fine white sand, it's justifiably considered one of the country's best beaches.
Image: Instagram @livio.mistretta
La Concha, San Sebastian

San Sebastian may be celebrated most for its rich culinary scene, with two of the world's greatest restaurants (Mugaritz and Arzak) located here, but the coastal city has just as much scenic appeal. Expect long stretches of golden sand backed by a city scattered with Belle Epoque architecture. Of the city's three beaches, La Concha is the best known, arching in a crescent alongside the city center, with people gathering on the promenade.
Image: Instagram @sansebastiantourism
Playa de las Catedrales, Galicia

With a name that translates to Beach of the Cathedrals, it doesn't take much to imagine the kind of grandeur you can expect here. Extraordinary rock formations, sea caves, and soaring arches reaching up to 90 ft in height, rise from this long secluded stretch of sand, only appearing when tide is low and disappearing once tide is high.
Image: Instagram @turismodegalicia
Bolonia, Cadiz
This coastal village and pristine beach to the west of Tarifa in southern Spain is a quieter alternative to its more famous neighbor, but many consider the peaceful spot to be among Spain's best coastal retreats. Giant sand dunes, including one that's been declared an Andalusian natural monument, provide shelter from the Atlantic wind and the whole area is a part of the Estrecho Natural Park.
Image: Instagram @napsyy
Formentera
The smallest of Spain's Balearic islands, Formentera has established a reputation as the tranquil alternative to sister island Ibiza. The laid-back island is fringed with white sand beaches, lapped by the crystal clear water of the Mediterranean Sea and backed by sand dunes and pine trees. The island's beaches are famously pristine and while popular spots like Playa de Ses Illetes are busy in summer, you're more likely to find them deserted out of season.
Image: Instagram @visitformentera
Sotavento, Fuerteventura
Due to their position to the north of Africa in the Atlantic Ocean, the Canary Islands offer year-round warmth and surprising geography, with rugged coastlines of cliffs and sheltered coves. Fuerteventura is the second largest island here and one that's loved for its white-sand beaches and water sports. Sotavento beach runs down Fuerteventura's south-east coast, stretching across five kilometers with dunes providing shelter from the wind.
Image: Instagram @islascanariasoficial