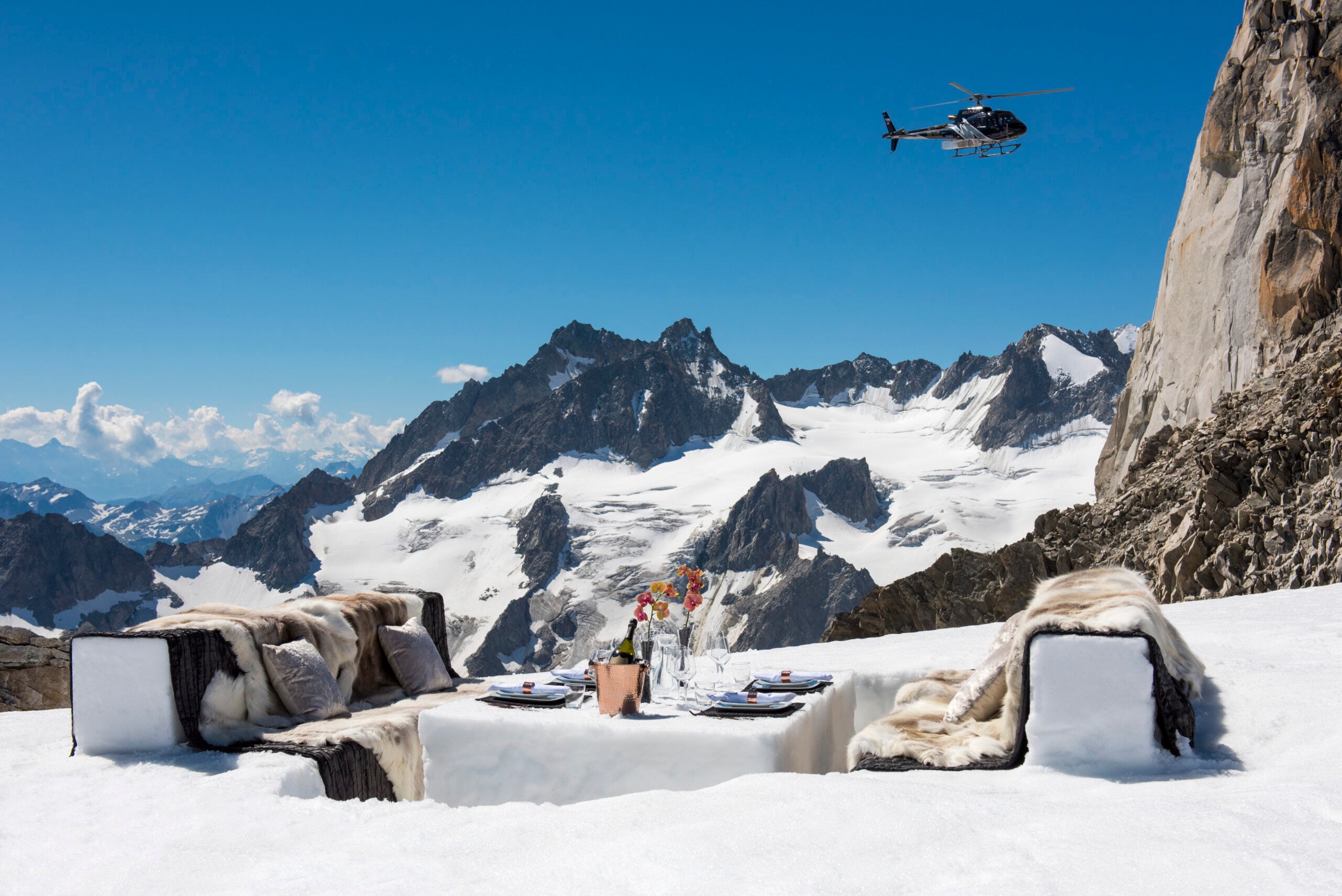 From the seriously epic—think heli-glacier picnics and skiing with a polar explorer—to the appealingly lavish, we've selected the most exclusive Alpine escapes for the winter months.
Embark on a Heli-Glacier Picnic
SWITZERLAND
[masterslider id="73″]
Ski Verbier Exclusive is primarily known for its palatial chalets, which all have a team of concierge, chefs and drivers on hand to attend to your every beck and call. Whether visiting in summer or during the winter months, much of the appeal lies in having the chance to explore the surrounding landscape; with guides specializing in a variety of outdoor pursuits, from skiing and snowboarding to hiking and horseback riding, there are a number of ways to get to know your surroundings. Now, Ski Verbier Exclusive is elevating the experience guests have here by hosting once-in-a-lifetime heli-glacier picnics. After flying over the spectacular scenery of the Swiss Alps, the helicopter lands on a glacier, which sits at an altitude of around 11,155 ft, and it's here that you'll be treated to a unique gastronomic experience with a hand-carved snow table served by butlers in tailcoats.
Images © Kando Events
Ski with Polar Explorer Tom Avery
SWITZERLAND

[masterslider id="74″]
In addition to launching the heli-glacier picnic experience, Ski Verbier Exclusive is giving guests staying in its luxury chalets the opportunity to take to the slopes with record-breaking polar explorer and CEO of Ski Verbier Exclusive, Tom Avery. As one of the UK's most intrepid explorers, Tom has led expeditions to all seven continents, is one of only nine people to have completed the Polar Trilogy and holds the Guinness World Records for the fastest journey to the North Pole and fastest crossing to Greenland. He is also the youngest Briton to have reached both Poles and has documented his journeys by authoring a number of books. Drawing on his knowledge of Verbier and its surroundings, Tom takes guests out onto the slopes while giving insight into his adventures, before returning to the chalet for a fascinating evening presentation.
Bed & Helicopter, Four Seasons Hotel Megève
FRANCE

[masterslider id="75″]
The first Four Seasons mountain resort to have been opened in Europe and home to the two Michelin star restaurant Le 1920, Four Seasons Hotel Megève is undeniably appealing, but a stay here is made even more memorable by signing up for the Bed & Helicopter experience, which the hotel launched this season. Each day, the Four Seasons Ski Concierge find the best snow to fly you to around Val d'Isère, Courchevel, Méribel and Val Thorens on the Mont Blanc ski safari or Chamonix, Flaine and Courmayeur on the Alpine ski safari. During a seven-night stay, guests on the Bed & Helicopter package are entitled to three helicopter trips, a five-night stay incorporates two trips and a three-night stay includes one helicopter flight. Alternatively, you can convert one or some of the helicopter excursions into other activities such as dog-sled rides, snowmobile rides and showshoe walks followed by lunch in a mountain refuge.
New Alpine Wellness at Aman Le Mélézin
FRANCE

[masterslider id="76″]
Marking its 25th anniversary season, the luxurious ski-in ski-out resort Aman le Mélézin in Courchevel 1850 has elevated the experience guests have by launching a new spa, along with a restaurant that reflects the hotel group's new Nama culinary concept – the menu here places the focus on finely crafted Japanese cuisine. Bringing two summer seasons of work to a close, the newly completed spa provides guests with a wellness sanctuary to retreat to after a day on the slopes. Five treatment rooms, a Capri-stone hamman, a wooden sauna and a lap pool flanked by Jacuzzis are all featured within the two-story space, along with fitness facilities such as a yoga studio. The spa treatments here focus on providing nourishing heat and moisture, making them the ideal remedy following exposure to the elements.
Penthouse Splendor at Rosa Alpina Dolomites
ITALY

[masterslider id="77″]
This luxurious hotel in San Cassiano, Alta Badia, has long provided skiers with an elegant place to stay in the Dolomites, drawing guests in with its three Michelin starred cuisine, inviting spa and palatial suites. But now the hotel has the addition of a new penthouse too, integrating three en-suite bedrooms, a living room with dining area, bar and kitchen into the space, as well as incorporating amenities such as a fireplace, hammam showers and a Finnish sauna. The penthouse's interiors then feature furnishings by prestigious brands such as Minotti, Fritz Hansen and Tom Dixon, while combining mountain charm with Italian elegance and providing privileged views over San Cassiano and the surrounding mountains. Mountain guides can be arranged for a host of extraordinary experiences, such as heli-skiing, snowshoeing and ice climbing. All ski services are provided by the concierge.
Combine Two Resorts with Haute Montagne
EUROPE

[masterslider id="78″]
In time for the season, one of the Alps' most prominent luxury chalet operators Haute Montagne launched its new twin-resort itineraries, enabling guests to stay at two Haute Montagne chalets in separate ski resorts within Switzerland and Italy. Helicopter transportation is provided between resorts and private guided skiing is offered in each place. An in-chalet dinner by a two-Michelin-star chef and sunrise ski touring are then some of the exclusive experiences that can be incorporated into the stay. Haute Montagne's new lodge, Chalet 1936 in Verbier, and the recently opened 7 Heavens Chalet Elbrus in Zermatt are two of the possible locations. Haute Montagne has also just made its entrance to Meribel with the launch of Chalet Alpaca, which comes with space for up to 14 guests, a heated outdoor pool and even an indoor climbing wall.
Bramble Ski's New Luxury Lodge
FRANCE

[masterslider id="79″]
Bramble Ski's handpicked portfolio of luxury Alpine chalets has just been expanded to include its first property in Meribel, Chalet Valentine. Sleeping up to 14 guests, this property includes a spacious living area, cinema room, ski room and a terrace featuring an outdoor fire pit, as well as a private spa and wellness area complete with a hammam, treatment room, outdoor hot tub, barrel sauna and plunge pool. In addition to the professional chef, chauffeur and housekeeping the chalet is staffed by, concierge are on hand to ensure lift passes are ready on arrival and to arrange in-chalet ski-boot fitting, along with any other request guests might have.
Ice Cricket at Badrutt's Palace
SWITZERLAND

[masterslider id="80″]
The Grand Dame of St. Moritz, Badrutt's Palace sits at the heart of this Swiss mountain town with spectacular views in each direction. While staying in one of the palatial suites here, guests can spend each day skiing and hiking before returning to relax at Palace Wellness Spa, which has just launched a 'gentlemenu' in response to the growing demand for male-centric spa treatments, and to dine and imbibe at the hotel's restaurants and bars. The hotel is also home to King's Club, the oldest nightclub in Switzerland. Coincide a stay with February 8th and 9th to catch the 29th edition of the St. Moritz Ice Cricket Tournament. Professional cricket players from across the world fly in to compete for the trophy on St Moritz's frozen lake. As a sponsor of the tournament, Badrutt's Palace has its own team comprising cricketing legends such as Lasith Malinga, Virender Sehwag and Michael Hussey.
The Opulence of Chalet Zermatt Peak
SWITZERLAND
[masterslider id="84″]
Positioned on a mountainside amid Zermatt's dramatic peaks, overlooking the village and iconic Matterhorn, Chalet Zermatt Peak has a privileged setting and commands spectacular views through its floor-to-ceiling windows. Undoubtedly one of the Swiss Alps' most impressive places to stay, the five-suite chalet stands out for its striking open-plan interiors and appealing design accents including bespoke furnishings and unique artworks. Excelling in its culinary offering, menus are created by Michelin starred chef Alfonso Crescenzo and tailored to each guest's taste. With wellness in mind the chalet then partnered with spa experts ESPA to provide results-focused facials and aromatic massages – spa facilities include a sauna, hammam and Jacuzzi. As well as Michelin starred cuisine and an ESPA spa, guests are treated to champagne on arrival, two massages per day, and complimentary use of Zai skis and Ugg walking boots, with optional extras such as helicopter transfers to add on.
New Luxury at Ultima Gstaad
SWITZERLAND
[masterslider id="81″]
One of the Swiss Alps most recent openings, this boutique hotel combines the service and facilities of a luxury hotel with the feeling you get from being in a private chalet. The hotel's three wooden lodges combine traditional Alpine architecture with contemporary design and decadent interiors. And just like the service you'd expect to receive in an exclusive chalet, the hotel provides all guests with their own butler and concierge service. Stay in the presidential suite for use of your own lounge and reception area, a fully-equipped kitchen, two bedrooms and two balconies. But by venturing out, you'll also find the inviting Italian restaurant Duchessa and sprawling La Prairie Spa, which features a swimming pool, indoor and outdoor Jacuzzi, sauna and hammam. From here, you can get to know the surroundings through Ultima experiences such as cross-country skiing and snowshoeing with a private guide.