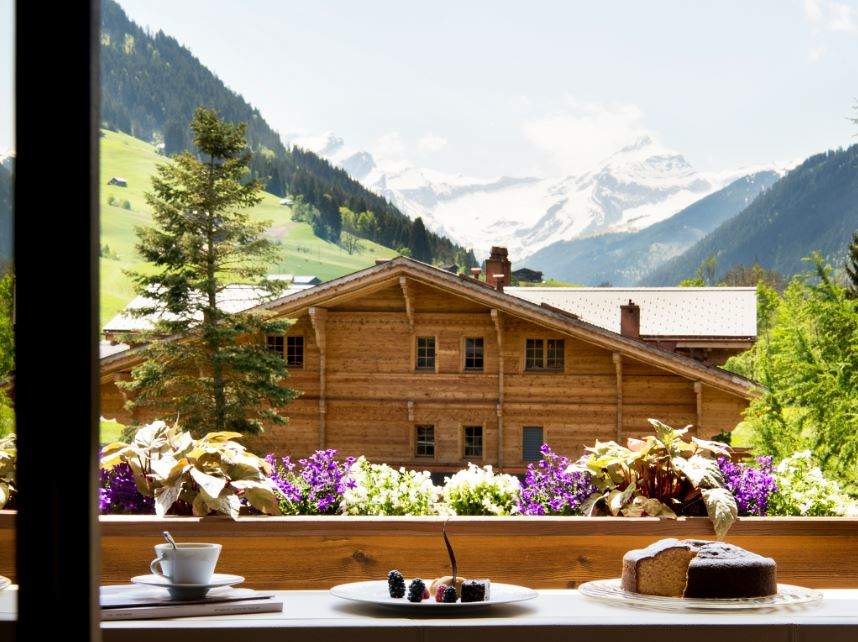 Stretching across Europe, with its highest peak Mont Blanc reaching up to 15,776 ft, this extensive mountain range encompasses the distinct landscapes, architecture, culture and cuisine of each country it ambles into, not to mention each mountain town's festivals and events. Palatial hotels, cozy villas and lavish lodges are dotted throughout these mountains, enticing people throughout the summer months with curated retreats spanning wellness, gastronomy and outdoor pursuits. Here are some of our favorites.
Wellness and Sporting Events at Ultima Gstaad
SWITZERLAND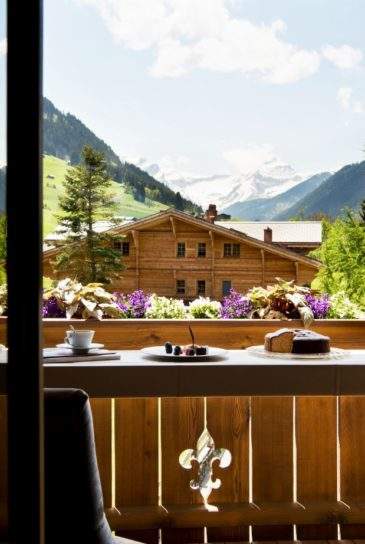 This summer, after reopening for the season on June 29th, the five-star boutique hotel Ultima Gstaad will be hosting a series of brand new summer packages, including three wellness and detox programs. If you only have a weekend, the Two-Day Booster is ideal, combining a stay in one of the hotel's signature suites with spa treatments at Ultima Spa by La Prairie and radio frequency treatment, along with advice from a personal trainer and nutritionist. The full detox program then runs over four nights, encompassing two detox treatments, one Cryolipolysis treatment and a non-invasive body contouring treatment, as well as daily fitness and yoga instruction. The most extensive program though is the Ultima Retreat. On this program you'll spend seven nights in a signature suite while benefiting from two spa treatments, a personalized menu, a full week of Cryolipolysis and the choice between a DNA check-up and detox supplements. Coincide your stay with one of Gstaad's summer sporting events, such as the Swiss Open Gstaad tennis tournament from 21st to 29th July, and the Hublot Polo Gold Cup from the 16th to 19th August.
Art and Tibetan Healing at Alpina Gstaad
SWITZERLAND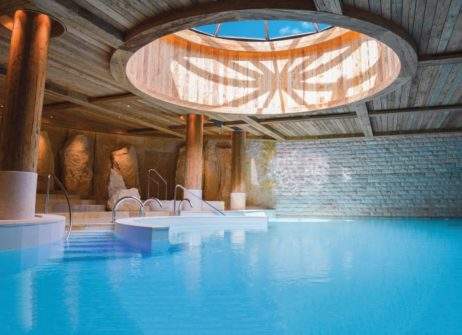 Another of the Bernese Alps' most luxurious retreats, Alpina Gstaad fuses the typical Swiss chalet style with contemporary design and first-rate amenities. Among the hotel's highlights is its wellness offering, benefiting both body and mind with its wellness sanctuary, the Six Senses Spa, and with its focus on the arts. Reflecting each of these attributes, the lodge is offering summer spa programs ranging from de-stressing with art to Tibetan healing. The de-stress with art program, a four-night stay, includes painting lessons with French artist Monique Bornstein and a private tour of the hotel's contemporary art collection, as well as yoga, tai-chi, meditation, massages, Kundalini back treatments and Biorhythms. The Tibetan healing program is then focused on the interdependence of body and mind with nature, and the five elements of earth, fire, water, air and space. The four-night retreat includes Tibetan yoga and breathing, a session with Tibetan singing bowls, Hor Me therapy and Ku Nye Tibetan massage.
The First Summer Season for Four Seasons Hotel Megève
FRANCE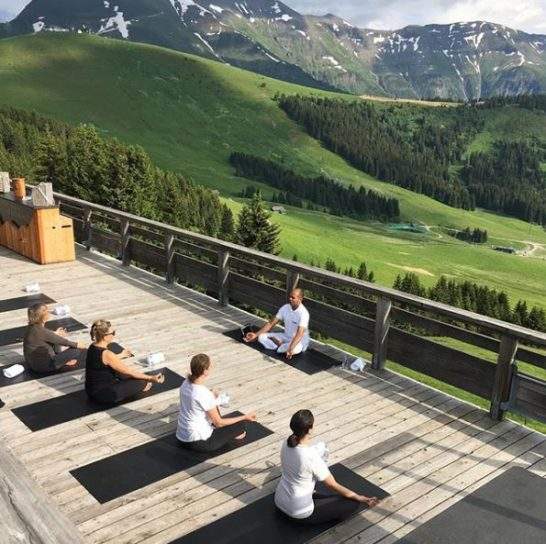 From June 14th to September 30th, Four Seasons Hotel Megève, which only opened last December, will be hosting guests for its first summer season, showing off the modern Alpine chalet and its mountainous surroundings at this sun-soaked time. Hot-air ballooning, canyoning, mountaineering and golf are counted among the hotel's summer outdoor pursuits, not to forget the nature walks, more vigorous hikes and cycling. Then back at the hotel you can then cool down in the indoor-outdoor pool, which comes with massage jets and underwater music, retreat to the extensive spa (it's the biggest in the region) and dine on Michelin-starred cuisine at Le 1920, which has its own outdoor terrace.  Among the events taking place in Megève this summer are two focused on music: the 25th Megève Jazz Contest, which runs from the 13th to 15th July, and Megève Blues Festival, an event on the 3rd and 4th August.
Image: Instagram @fsmegeve
Wellness for Body and Mind at Hotel Rosa Alpina
ITALY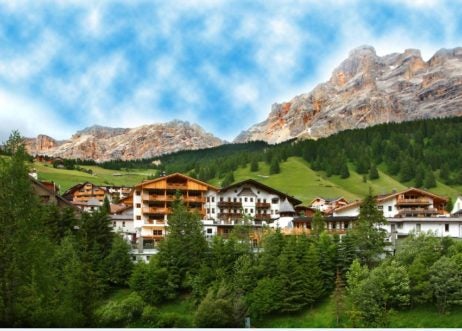 Three-Michelin-starred cuisine and a privileged setting in San Cassiano, Alta Badia, make Rosa Alpina a draw at any time of the year. But this summer, the hotel is going beyond expectations with its extensive wellness offering. Complementing its luxury spa complete with indoor pool, Finnish sauna and steam bath the resort is hosting a series of wellness retreats. From August 19th to September 29th you'll be able to join week-long wellness and fitness retreats curated in collaboration with The Ranch Malibu—expect the intensive programs to include a full fitness schedule and plant-based nutritional plan, with yoga and hiking among its activities—and the hotel will welcome Dr Suraj Dubey from July 2nd to September 30th for body and mind balance retreats drawing on his holistic and spiritual approach to wellbeing. The program aims to enable you to reduce stress and anxiety, stay in the present and live life more fully through yoga, breathing exercises, massage and meditation.
Mountain Sports and Music at The Lodge Verbier
SWITZERLAND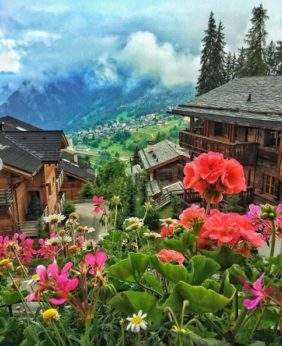 There are plenty of reasons to come to Verbier in the summer months; the town is quieter than it is in winter, the surrounding slopes provide an idyllic playground for hiking, mountain biking, paragliding and horseback riding, and the town plays host to several events. The biggest event here in summer is Verbier Festival, which brings world-class classical and jazz musicians to the Swiss Alpine town. This year the festival runs from 19th July to 5th August, marking the festival's 25th anniversary. Catch some of the performances while staying at Richard Branson's Alpine retreat, The Lodge Verbier. In summer, you can choose to hire the entire nine-bedroom lodge exclusively or book individual rooms. Here you can relax in the indoor pool, Jacuzzis and steam room, and dine out on the scenic terrace. Hire a private guide to head out into the mountains for exploration on foot, on horseback, by bicycle and even through the air. Outdoor yoga sessions can also be arranged.
Image: Instagram @beautifulhotels
A Transformative Retreat at Lanserhof  Lans
AUSTRIA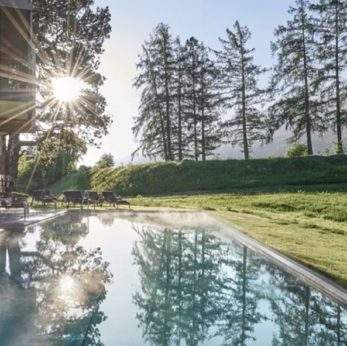 One of Europe's, if not the world's, leading medical spas, Lanserhof Lans provides a holistic approach to naturopathy and modern medicine in the breath-taking surroundings of Tyrol. The resorts aims to give guests a healthier life with renewed energy by tailoring programs around natural healing, detox, nutritional therapy, burnout therapy, fasting and energy healing. Whatever your needs, the doctors and specialists are on hand to give you the results you're looking for. And all of this comes with the fresh air and panoramic views of the Austrian mountains. To complement these programs, suites are spacious, light-filled and decorated in soothing neutral tones with stylish modern furnishings. Stay in the spacious penthouse to soak up the views provided by its floor-to-ceiling windows. After a few days here, you're sure to leave feeling refreshed, rebalanced and reenergized.
Image: Instagram @lanserhof