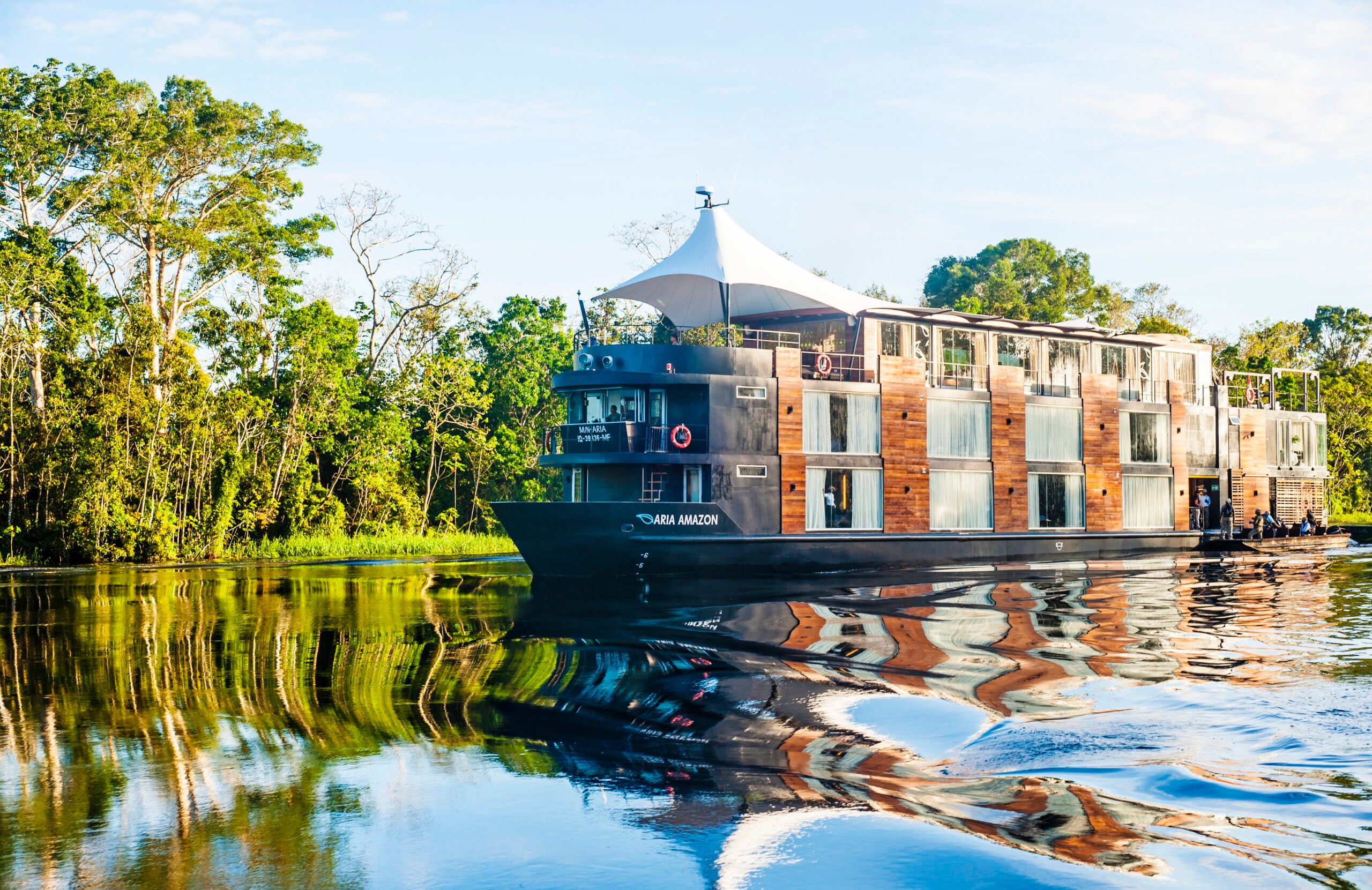 By Olivia Cuccaro
You don't have to be one of history's great explorers to vacation like one. Adventurers around the world know Jacques Cousteau as the famous French oceanographer responsible for co-developing the Aqua-lung and championing marine conservation. Credited with innovating modern diving and leading underwater expeditions, Cousteau's legacy has been passed on to his son, Jean-Michel Cousteau, who is lending his expertise to luxury cruises from Aqua Expeditions.
Jean-Michel first traveled the Amazon 35 years ago with his world-renowned explorer father. Now, he's boarding the Aria Amazon ship to guide a small group on a special departure. The seven-day itinerary begins at Iquitos International Airport where the group will meet before a meal of Amazonian cuisine by Executive Chef Pedro Miguel Schiaffino of Malabar restaurant in Peru. The next day, you'll set sail from the Amazon River to the Yarapa River, spotting tropical birds and other wildlife, then stargazing on the black waters of Nauta Caño. On the third day, explore a "lost river" along the Marañon River, take a jungle walk across suspended bridges and kayak in the Yanayacu-Pucate River, home to pink river dolphins. Day four includes a short botanical walk to meet a shaman and discover spiritual healing before a stop in Nauta. Then it's on to the black waters of the Yanallpa River, where you'll disembark to walk deep into the Amazonian rain forest with your expert guide. Cruise along the El Dorado River at dusk, then have an early breakfast picnic accompanied by a jungle symphony along the Pacaya River. The last full day starts with your choice of jungle walking, canoeing, kayaking or swimming in the Yarapa or Clavero River, then a visit to a remote village before dinner. The trip comes to a close with a visit to the Bellavista Nanay morning market along the Nanay River for local snacks and a final stop at the Manatee Rescue Center.
For a shorter adventure, Aria Amazon is also offering four- and three-night itineraries with Jean-Michel. Throughout the voyage, Jean-Michel will host talks, Q&A sessions and screenings of some of his award-winning films.
Aria Amazon features 16 Design Suites located on the first and second deck. Each 250 sq ft suite includes king-size bed, en suite bathroom with rain shower, individual air conditioning, polished timber flooring and floor-to-ceiling windows for stunning, up-close views of the Amazon River. The cruise boat also includes an air-conditioned indoor lounge for enjoying cocktails or attending educational discussions. An outdoor lounge has an expansive deck for sunbathing during the day, stargazing at night and relaxing in the Jacuzzi. Guests will also receive access to the dining room, workout facilities and observation deck.
Jean-Michel and Aqua Expeditions will also set sail on the Aqua Mekong excursion through Vietnam and Cambodia. Spend up to seven days exploring the Prek Toal Core Bird Reserve, attending a Buddhist blessing ceremony, visiting remote villages, taking in historical sights and being immersed in local culture. Guests will stay in 320 sq ft suites aboard the ship, which feature king-size bed, balcony with daybed, table for two, bathroom with dual sinks and walk-in rainforest shower. For larger parties – or for the ultimate ship space – suites can be interconnected to make up a 640 sq ft accommodation.
Rates start at $4,350 per person for three nights, $5,600 per person for four nights and $11,150 per person for seven nights, all based on double occupancy. Each departure is available for individual travelers or as a buyout for full charters. For more information, please visit aquaexpeditions.com.