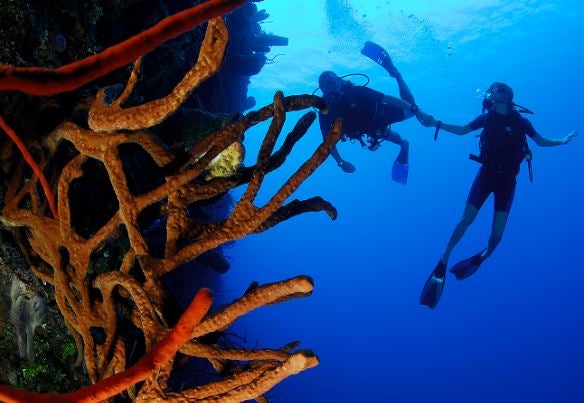 By Sunshine Flint
This story originally appeared in the March/April 2017 issue of Elite Traveler.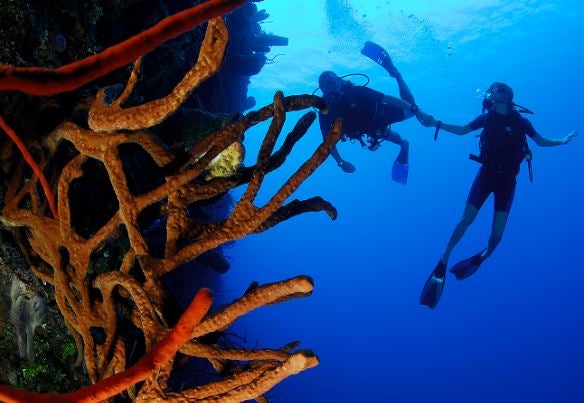 Grand Cayman, the largest of the three Cayman Islands, is a banker's paradise (roughly 80 percent of all hedge funds are registered here), but it's also a natural one. The island's protected marine areas, coral reefs and national parks make it a haven for endangered species – from the blue iguana, to the Grand Cayman parrot – and heaven for snorkelers, scuba divers and hikers, who flock to the pristine waters and forest trails. For foodies, it's one of the Caribbean's culinary hot spots with a farm-to-table movement, international chefs and fusion cuisine.
The west side of the island buzzes with restaurants, museums and galleries, nightlife and shopping – from the capital George Town, to Camana Bay, a New Urbanist town just a few miles away on the North Sound (and home to the island's only movie theater). Most of the island's top resorts are found along Seven Mile Beach – with its golden sands and aquamarine waves, it's one of the Caribbean's loveliest beaches. The quieter eastern districts have a number of top diving and snorkeling spots.
TOP SUITES
Seven South, The Ritz-Carlton, Grand Cayman
Elegant and spacious, this 8,000 sq ft three-bedroom suite includes generous wraparound terraces and panoramic views of Seven Mile Beach and the ocean from nearly every spot, including the round bathtub. The cinema room has a projector screen, and the dining room seats 12, while private check-in and elevator ensure the most discreet arrival possible.
From $15,000 per night. Contact Audrey Sanchez, reservations manager, audrey.sanchez@ritzcarlton.com, +1 345 943 9000, ritzcarlton.com/grandcayman
Presidential Suite, Kimpton Seafire Resort + Spa
This chic suite takes up the entire top floor of the resort (which is the tallest on the island) and offers guests sweeping views across Seven Mile Beach through its floor-to-ceiling windows. The Sputnik-inspired chandelier over the glass dining table and the waterfall sconces in the master bedroom add a note of mid-century grace, while the outdoor kitchen and accordion style patio doors facilitate alfresco dining and entertaining.
From $10,000 per night. Contact Melissa Brooke, melissa.brooke@seafireresortandspa.com, +1 345 746 0000, seafireresortandspa.com
Governor's Suite, Westin Grand Cayman
This pleasant plantation-style suite on the third floor is all about the outdoors, with a stunning 1,500 sq ft veranda that offers total privacy, enclosed by swaying palms and green trees. The widest section of Seven Mile Beach is just beyond, with the waves nearly close enough to touch.
From $1,479 per night. Contact Reservations Team, wstngc@westin-cayman.com, +1 345 945 3800, westingrandcayman.com

TOP RESTAURANTS
Catch
This West Bay eatery has ample outdoor seating overlooking a marina. Diners tuck into ceviche, wahoo tartare and fried crispy trigger fish.
Di Kit-Chin
Grab a seat at a picnic table and enjoy this no-frills Jamaican spot's insanely good jerk turkey and pork, chicken sausage and goat curry. Everything's homemade, including the hot sauce.
+1 345 929 8571
The Brasserie
In downtown George Town, locavore chef Dean Max's kitchen garden and greenhouse supply him with everything from tarragon to breadfruit. Two fishing boats bring him the freshest catch of the day.
Blue by Eric Ripert
This is a fabulous opportunity to savor riffs on local wahoo, lobster, conch and cobia from the master of seafood. Choose from six- or seven-course tasting menus and raw or lightly cooked options.
WORTH THE TRIP
Mango Restaurant
It's just a 30-minute hop to sister island Cayman Brac and a meal at Mango Restaurant at Le Soleil d'Or, a boutique resort where Caribbean abundance meets a Mediterranean vibe. The 20-acre organic farm provides more than 300 fruits and vegetables that find their way into cocktails, jellies and even spa treatments, plus fresh eggs from the flock of 200 chickens.
TAKE THREE/// Marine Areas
DIVE SITE: Bloody Bay Wall
With 350 dive sites across the Cayman Islands, scuba divers are spoiled for choice, but Bloody Bay Wall (in a protected marine park off Little Cayman) is considered one the best drop-offs in the Caribbean. It descends more than 2,000 ft into the abyss, and the cliff face is covered with healthy coral and brightly colored tube and basket sponges. Divers will see a multitude of fish, including eagle rays, green Moray eels, grouper, jack fish, blennies and coneys. Living the Dream Divers provides private charters and full valet service, which includes pickup from your hotel and storing your gear.
SNORKEL SITE: North Sounds Barrier Reef
Grand Cayman's barrier reef stretches all the way across the island's North Sound lagoon, and snorkelers can fan their flippers over dory fish, blue tangs, parrot fish, the occasional sea turtle and boulder brain coral (there are 36 coral species found across the islands) in just a few feet of water. Book a full-day private yacht with Cayman Luxury Charters, and they will have lunch catered on board by a top restaurant.
SEALIFE SITE: Stingray City
You don't need to know how to snorkel or scuba dive to have one of the Cayman Islands' most memorable adventures. On a sandbar in waist-high, crystal-clear water, the world's friendliest stingrays glide around visitors who tickle and touch them, drawn by the tour captains' treats. It's best to pair a stop at Stingray City with a snorkeling or scuba trip. Book Captain Marvin's luxury 35ft cruiser Island Time for a full-day adventure.
BEST BEACH BETS
Best Beach for Being Social: Rum Point Beach
For fun in the sun, sail or drive over to the island's north side and soak up the convivial atmosphere under this beach's shady casuarina pines. It's a low-key spot for swimming and snorkeling, or you can choose a table on the sand at the casual Wreck Bar for frozen drinks and island beats.
Rum Point Drive, Rum Point
Best Beach for Nature: Starfish Point
Even with all the sea life teeming around the Cayman Islands, this tranquil beach stands out for its namesake inhabitants, who come to feed in the shallow, clear waters. Sunbathe on the sugar-soft sand, or swim or snorkel over the orange-red sea creatures. But remember just to look and not touch, since picking them up can damage their soft tissues, and sunscreen is toxic to them.
Water Cay Road, Rum Point
Best Beach for Kids: Smith Barcadere (aka Smith Cove)
This small pocket of sand between ironstone outcroppings south of George Town has gentle, azure waters and abundant fish – perfect for small people learning how to snorkel. Sling a hammock or unpack a boxed picnic lunch under the shade trees after a swim. Note: It can get crowded on the weekends.
South Church Street, George Town
True Cayman Flavors from Two Local Concierges
Calico Jack's Sip a cold Caybrew at this beach bar, and stay for one of their famous full-moon parties.
W Bay Road, Seven Mile Beach
Camana Bay Farmers & Artisans Market Stalls selling regional foods and produce line the central boulevard here. Try the famous hot-pepper jelly made with scotch bonnet peppers.
The Paseo, Camana Bay

Fish market in George Town Buy freshly caught snapper, wahoo or yellowfin tuna off the beach, and the chefs at a local eatery like Rackam's Waterfront Bar & Grill will cook it for a small fee.
North Church Street, George Town

Heidi Agar is the concierge at Kimpton Seafire and Collin Phillips is the concierge at The Ritz-Carlton.