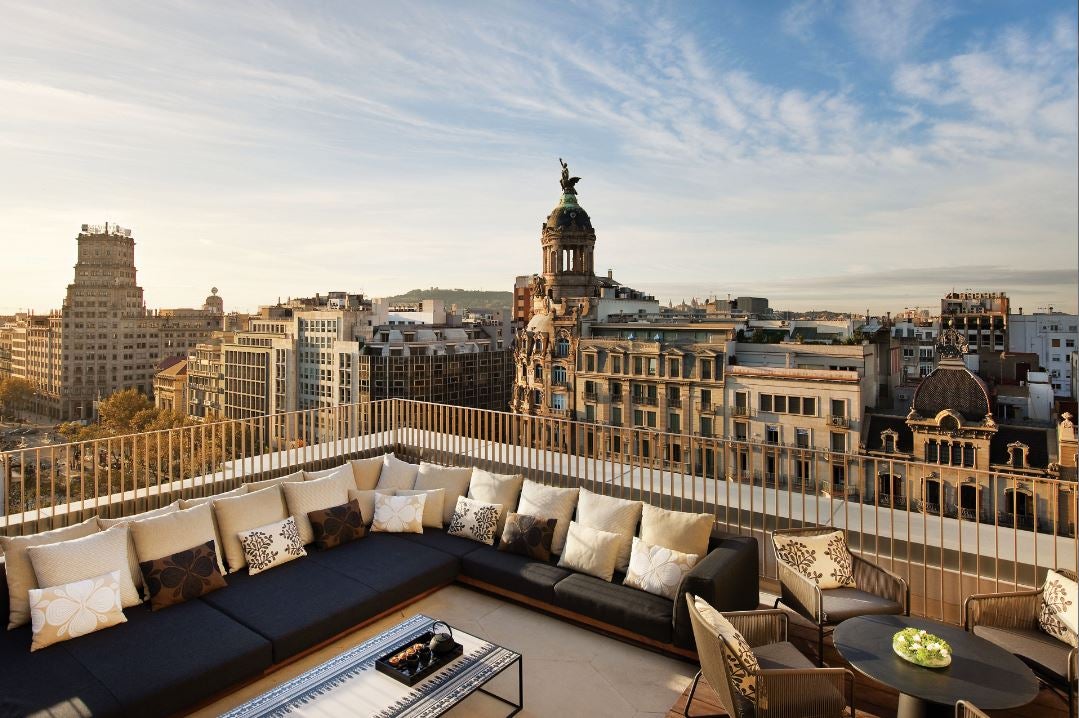 By Peter Clover
This story originally appeared in the May/June 2017 issue of Elite Traveler.
Mention Barcelona and the colors start whirring. Chic, outré design hotels, palm-feathered boulevards, shady squares, glinting cafe chairs, haute couture and the faded beauty of Barceloneta. Sensational restaurants, trendy bars and a cumin-colored beach. No wonder the fashionistas descend here in droves. Barcelona works its way through your veins like a sunkissed wave, warming you to the pace of its Latin passion. It's an arty, real-feel cosmopolitan city, best savored in precious moments rather than tight tourist schedules. All you need to chill in true Catalan style is an appetite for exquisite food, an appreciation of quirky things, a great set of shades and the ability to wander aimlessly while looking cool and absolutely fabulous.
Cool Catalonia
Don't just visit the city. Feel it. Breathe it. Get down with the mood at El Paraigua (elparaigua.com). Set in the Barri Gótic with a slick vintage exterior, it's not just a music bar. The real attraction is the cocktail club rocking downstairs in the vaulted wine cellar. Weekend jazz bands set the place jumping with regular concerts in this acoustically note perfect setting.
The Sutton Club (thesuttonclub.com) is the hottest uber-chic VIP hangout for the alpha elite, stylishly groomed party goers of Barcelona. Fashionably fabulous.
Palau de la Música Catalana (palaumusica.cat) is one of the finest concert halls in the world, a breathtaking Unesco World Heritage Site showcasing classical solo performances, staged operas and symphony orchestras. Enjoy a truly exquisite VIP experience, an evening's entertainment that is sheer class.
Undoubtedly, the best views across Barcelona come from Mirablau (mirablaubcn.com), Mount Tibidabo. Sip cocktails and watch the sun rise or set over the romantic city skyline and the Med.
In the mood for a bit of retail therapy? Passeig de Gràcia is Barcelona's most famous designer street for luxury shopping. Check out all the big brand names — Prada, Stella McCartney, Valentino and Louis Vuitton, plus Barcelona's oldest design house, Santa Eulalia.
Take Three/// Restaurants
ABAC
Two-Michelin star sophistication shining brightly at one of Barcelona's finest—intimate, luxurious, elegant. Decor is whimsically white with a caprice of neutral tones. Try two exquisite tasting menus with a wine list showcasing almost 1,000 labels.
+34 933 196 600, abacbarcelona.com
CINC SENTITS
Michelin-star, premier dining experience celebrating a unique haute take on Catalan cuisine. Chic and luxuriously sleek with unique minimalist surroundings. Famed for its scrupulously sourced ingredients. Inspirational, inventive, trending the latest tasting menu concept.
+34 933 239 490, cincsentits.com
DISFRUTAR

Three former head chefs from el Bulli are setting the Barcelona food scene ablaze with their new restaurant, Disfrutar. An unforgettable, avant-garde journey of gastronomic delights. Sublime tasting menus. Fun and totally innovative. Decor is iconically stylized, glitzy and fresh. Pure culinary art.
+34 933 486 896, en.disfrutarbarcelona.com
Where to Stay
The Penthouse Suite
Mandarin oriental
The Penthouse Suite at Mandarin Oriental is possibly the most luxurious in Barcelona, occupying the entire top floor of this iconic hotel. Enjoy breathtaking terrace views across Passeig de Gracia and the vibrant city beyond. It's the ultimate in opulence, exquisite decor favoring ash greys and mink to create a palette that breathes seriously sensuous style. A lavish suite so close to the gods you can almost taste the nectar.
$15,000 per night. Contact André Devillers, hotel manager, mobcn-reservations@mohg.com, +34 931 518 888, mandarinoriental.com/barcelona
The Extreme Wow Suite
W Barcelona

This striking, sail-shaped five-star by the sands rises from the beachfront of Barceloneta. Earmark an evening for sunset cocktails at the hotspot rooftop bar, Eclipse on the 26th floor. The Extreme Wow Suite offers panoramic views of the brilliant blue Med from the contemporarily decorated three-bedroom suite. Personally designed by Ricardo Bofill, the suite has an expansive terrace with a private Jacuzzi.
$12,000 per night. Contact Gabriel RufÍ Domingo, concierge, whateverwhenever.wbarcelona@whotels.com, +34 932 952 800,w-barcelona.com
Arts Suite
Hotel Arts Barcelona

Hotel Arts Barcelona is an impressive landmark of steel and blue glass, reflecting perfect harmony with the sea. The Arts Suite claims an entire seafront vista across the 30th floor. Impressive picture windows are the main attraction, boasting vertiginous views of the Med, Olympic Port and marina. Minimalist decor of calming creams and delectable taupes completes the clean, elegant space that gleams with luxurious charm.
Club level from $9,550 per night. Contact Brunella Zinato, hotel manager, artsreservations@ritzcarlton.com, +34 932 211 000, hotelartsbarcelona.com
The Penthouse Suite Royal
Majestic Hotel and Spa

The Penthouse Suite Royal at Majestic Hotel and Spa reflects sheer class, delivering its own unique style of five-star luxury. It's one of the largest suites in Barcelona. Elegant upscale decor gives a nod to the opulent orient, with a stylish black and red lacquered bathroom. Exquisite beds, silky cotton sheets and luxurious details await, plus a terrace with views over Gaudi's golden city. A chaffeur driven car and butler are at your service.
From $3,110 per night. Contact Dmitry Prosyanik, guest relations manager, reservas@hotelmajestic.es, +34 934 967 703, hotelmajestic.es
The only book to read while in Barcelona…

The Shadow of the Wind by Carlos Ruiz Zafón
Not a sunny, culture-rich city break destination read, admittedly. Zafón's gothic novel is a darkly atmospheric portrait of Barcelona set in the aftermath of the Spanish civil war. A time of Franco's dictatorship, shadows and secrets, it follows the obsession of a young man and his quest to discover the author of a forbidden book. Murder, ghostly intrigue and star-crossed lovers bind a compelling plot that leaves you breathless.