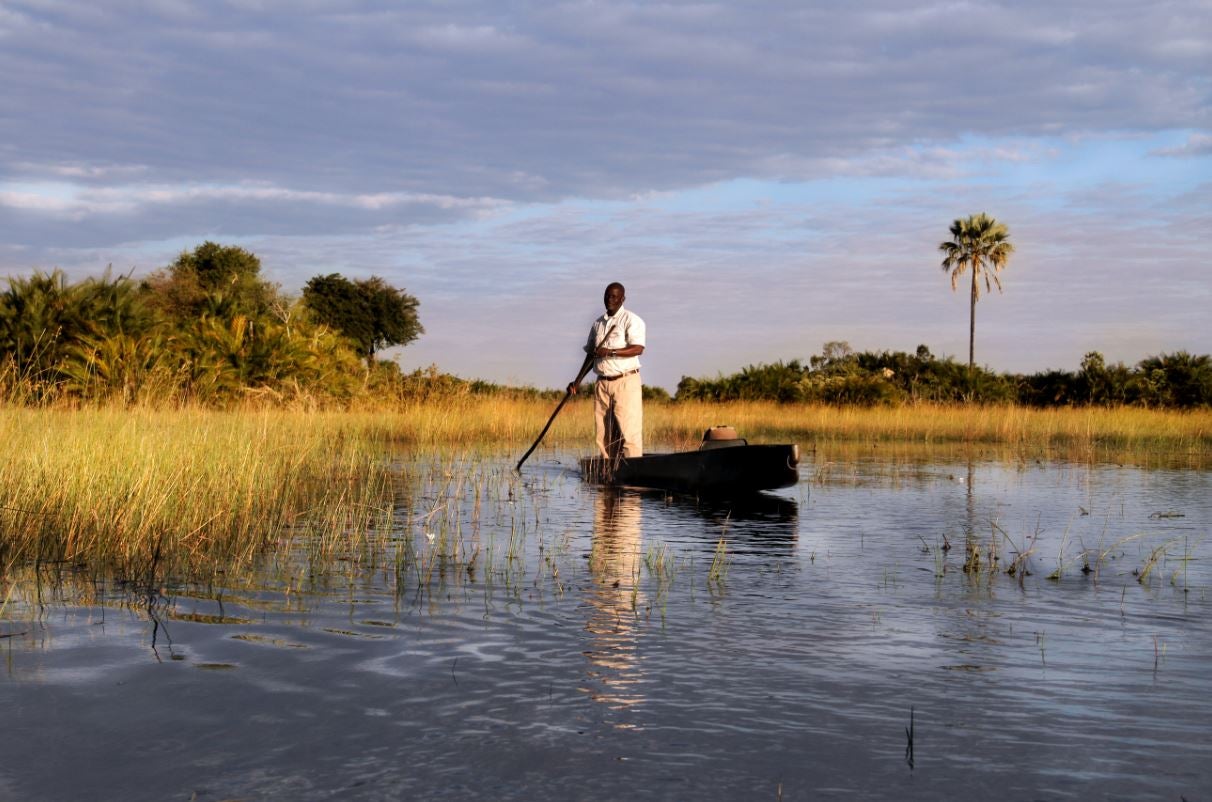 In Botswana it's easy to feel a connection to the land, from flying over the plains with the shadow of your plane on its surface to watching the lowering sun cast a golden light across long yellow grass at dusk, and falling asleep each night to the sound of insects chirping, frogs croaking and a distant lion roaring. This is a country that takes your breath away. While much of Botswana is taken up by the Kalahari, the Okavango Delta lies amid this immense desert, with water flowing in from central Africa to create an environment like no other. This extraordinary setting is home to a great diversity of wildlife that has adapted to this unique landscape, making it one of the richest and most varied habitats in all of Africa, placing the delta and its surrounding land among the world's most outstanding nature destinations.
Wilderness Safaris
Wilderness Safaris now has camps across southern and east Africa, but it was in Botswana's Okavango Delta that the safari specialist's journey began back in 1983, arguably making this land its true home. What set Wilderness apart from the very beginning was its firm belief in making a meaningful contribution to the wildlife and local people. The company has since gone from strength to strength, proving its commitment to conservation and community initiatives while providing guests with an unforgettable experience. We recommend visiting in Botswana's winter months as the water recedes leaving lush grass for antelope to graze on, or in the summer months when herds of animals cross the waterways, water birds thrive and predators follow their prey.
Take Three/ // Ways to Explore
ON LAND

Game Drives Each day at sunrise and again in the afternoon following high tea, you can set out on game drives in open-top Land Rovers, which are durable enough to navigate the most rugged of terrain and drive through surprisingly deep stretches of water with relative ease. Benefiting from years of well-earned experience and unrivaled knowledge of the remarkable surroundings, the guides track both predators and prey, from leopards, lions and wild dogs to the birdlife and miniature reed frogs.
Nature Walks In the drier season (December to March) nature walks provide you with a closer, ground-level insight into the surroundings, with more time to appreciate the smaller sights including the animal tracks and extraordinarily colorful birdlife.
OVER WATER
Mokoro Excursions This region's long, narrow dug-out canoes were first made by the native BaYei people in around 1750, and are still used to this day to navigate the floodplains. As each mokoro silently glides across the shallow water, birds hover and flit between trees and lilies bloom amid the long grass and reeds, while the crystal clear water mirrors every detail of the land and sky.
River Safari The delta's plains are intersected by rivers and meandering channels that run between lagoons, making boat trips possible year-round. Pass elephants as they wade through the rivers, watch as hippos wallow at the water's edge and see impala and waterbucks grazing nearby, with fish eagles perched at the top of the riverbanks' trees.
BY AIR
Helicopter The journey between camps is usually by light aircraft, giving you a birds-eye view of this unique environment. But for an even more memorable experience, you can take a scenic helicopter flight; as it flies lower over the land, wildlife visibility and photo opportunities are heightened.
Hot Air Balloon If you're visiting between April and September, Wilderness can arrange hot air balloon flights. Wildlife can be seen crossing the floodplains as well as the grasslands.
Where to Stay
JAO CAMP
In the Okavango Delta, Jao Camp features just nine spacious suites—number nine is the sumptuous honeymoon suite—with terraces facing onto the water. Raised boardwalks connect each of these to the main lounge and dining area featuring a bar, two plunge pools and a boma for dining under the stars. The camp's wine cellar is stocked with South African wines, and Jao is one of the few camps to have its own spa, which offers a range of treatments using Africana products. Shaded by a canopy of trees, the camp lies within an area of islands fringed with riverine forest. Here, boat trips and mokoro excursions are a distinct part of the experience, while game drives are at their best a short boat ride away on Hunda Island, where you can watch a pride of lions sleepily letting time slip away before they hunt.
VUMBURA PLAINS
Contemporary in its architectural and interior design, Vumbura Plains stands out for its indisputable style; warm wood and other natural materials are used in an open-sided space comprising a raised living and dining area complete with circular fire deck, indoor lounge and bar. Raised wooden walkways connect each of the villas, which all face onto the floodplains, with vast amounts of space within the interior and out on the private deck, which has a sala and plunge pool. The land here changes from soft white Kalahari sand, sun-baked grassland and silver tree stumps that have been worn down by the elephants, to verdant woodland, floodplains and waterholes. In this environment, monkeys clamber up trees, elephants root around for leaves and kudu graze peacefully while lions prowl the plains.
DUMATAU
Located within the private Linyanti Wildlife Reserve bordering Chobe National Park, DumaTau (which means 'roar of the lion') is thought to have some of the best game viewing in northern Botswana; the reserve is famed for its abundance of elephants, but it's also a known hunting ground for lions and wild dogs. Despite being more land-based than the camps in the delta, DumaTau sits close to the source of the Savuti Channel on Osprey Lagoon, offering both land and water safaris. Raised off the ground and made from wood and canvas with classic safari-style decor, the camp has an open-air fire deck for aperitifs beneath the stars as hippos wallow in the water below. You can follow the Savuti Channel, from plains of basil and sage and through woodland to water where parades of elephants can be seen crossing.
When to go
From December to March, Botswana is at the height of its green season when the temperature is high, plant-life flourishes and many species give birth. On the floodplains, the water recedes and more of the land can be explored on foot or by Jeep. In April the annual inundation begins, transforming the landscape into an expanse of floodplains. From June to October, the delta is at its height and Botswana becomes unlike any other landscape on Earth.