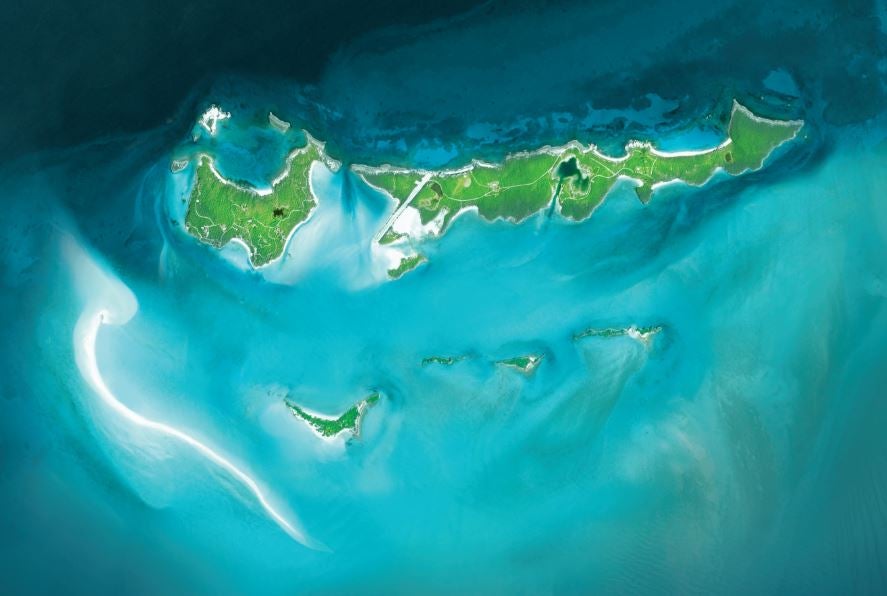 By Lola Thélin
This story originally appeared in the May/June 2017 issue of Elite Traveler.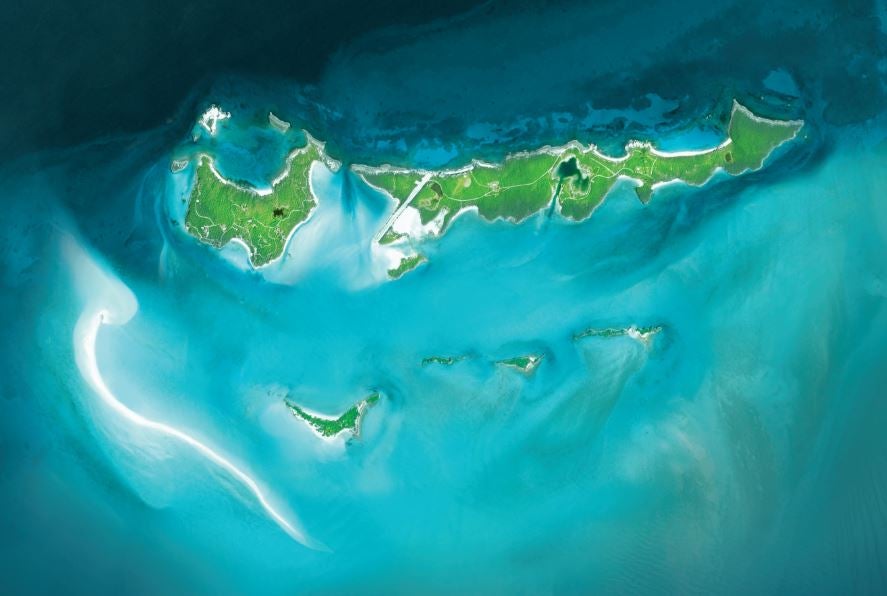 The Bahamas is experiencing a resurgence, reminiscent to its heyday in the 1960s when it accidentally became a hotspot due to the 1961 US embargo on Cuba, which meant affluent tourists shifted their planes and plans toward these islands. Today, it is a first-choice destination. After all, there is gem-quality, clean water and an archipelago of more than 100,000 square miles, or about 700 islands. There may very well be a spot for every personality. These islands have come a long way since Christopher Columbus bumped into them in 1492, and thinking they are simply a stopover for cruise ships is a faux pas. From swimming alongside Exuma's swimming pigs, exploring the blue holes of Andros and posing on Eleuthera's pink-sand beaches, the Bahamas is a blend of Bahamian and cosmopolitan experiences with miles of beaches to lounge on and transparent water to indulge in.
ISLAND FEVER
Musha Cay
Situated in the southern Bahamas, Musha Cay and the Islands of Copperfield Bay is the brainchild of illusionist David Copperfield, and is made up of an additional 10 uninhabited neighboring islands. The tropical retreat can host up to 24 guests, or as few as two, in its five luxury homes, each with its own private beach. The Highview home sits on the highest hill, commanding a 360-degree view of the islands, while directly on the beach is the charming Beach House, an open-air one-bedroom with a thatched roof.
Kamalame Cay
Separated from the Andros mainland is the Kamalame Cay, a 96-acre idyllic oasis and home to a private, family-owned island. This lifestyle is the real antithesis of stuffy resorts. Imagine miles of deserted coast and mesmerizing water. The beach cottages, bungalows or villas are scattered across the island, some hidden behind coconut palm groves and flowering jungles and others directly oceanfront. On the island, guests will find tennis courts, a freshwater pool, the only overwater spa in the Bahamas and highly personalized services.
TOP RESTAURANTS
Located on a three-mile stretch of sand known as Harbour Island, The Landing is an essential stop. Anchored by a chic hotel with the same name, the restaurant serves food made of amazing local ingredients, melding French, Italian, Greek and Asian. Try the ABC (avocado, beet and stone crab), the stone crab stack with wontons and the lobster risotto cake.
Believe it or not, Italian food is a must when in Nassau. The charming Café Matisse is located in a 100-year-old home in the heart of colonial part of the island. There's a new menu every six months, so playing favorites is tricky. From the turmeric and ginger sauce-based hogfish to the lobster tail served with Campari-scented sauce, there are no wrong decisions except skipping dessert, which range from a mango mousse, guava semifreddo or a citrus-scented cake.
Graycliff is a Nassau institution: Not only does the 18th century colonial mansion house a fine dining restaurant, it's also home to a hotel and offers cigar rolling lessons and tastings from its own chocolate factory. Dine in the elegant Old World parlor on Graycliff's signature cuisine, from Kobe beef, Nassau grouper and Bahamian bouillabaisse. Sneak a peek at its distinguished wine cellar, housing one of the largest private collections in the world, with more than 250,000 wines.
On a small outpost north of Nassau is Paradise Island and the One&Only Ocean Club. Apart from the private beach and Versailles-inspired gardens, it is home to Dune, world renowned chef Jean-Georges Vongerichten's restaurant. The restaurant and its open-air marble bar offer dramatic views and French, Asian, Bahamian delicacies such as yellowfin tuna tartar with avocado and spicy radish ginger marinade and crispy cracked conch with celeriac rémoulade.
oneandonlyresorts.com/one-and-only-ocean-clubbahamas
HOME FROM HOME
THE COVE
Oceanfront three-bedroom villa

The Cove sits on the shores of Eleuthera and blends island luxury with modern comfort. The secluded oceanfront villa captures the beauty of this tropical paradise, featuring Donna Karan-inspired furnishings, indoor and outdoor travertine showers and floor-to-ceiling sliding glass doors that open onto a private deck, overlooking turquoise waters and spectacular sunsets. Just steps from a private beach, this retreat has every imaginable amenity, but the private butler can help with any other needs.
From $3,579 per night. Contact David Flack, general manager, info@thecoveeleuthera.com, +1 242 335 5141, thecoveeleuthera.com
ALBANY
Orchid Apartment v penthouse


On the island of New Providence, Albany is a utopia. The Orchid Apartment V penthouse is ocean living in the truest sense, commanding views of the ocean and the yacht marina. Designed by Finchatton, the six-bedroom penthouse boasts the finest interiors—Crema Botticino marble, a hardwood/stone terrace, up-to-the-minute technology—and access to Albany amenities including golf course, restaurants, watersports and equestrian activities.
$20,000 per night. Contact Jason Callender, managing director, hotel@albanybahamas.com, +1 242 676 6010, albanybahamas.com
THE COVE ATLANTIS
Penthouse suite

In the heart of Paradise Island is The Cove Atlantis penthouse suite, occupying both the 14th and 15th floors. Its dramatic foyer with a domed ceiling and Murano glass chandelier is only the beginning. There's a 360-degree view of the ocean and harbor accessible via an electronic draping. The master bathroom features an oversize shower and infinity bathtub. The entire suite showcases vaulted ceilings and dramatic lighting, enhancing the sense of space.
$15,000 per night. Howard C Karawan, president, +1 954 809 2100, atlantisbahamas.com
TOP BOUTIQUE HOTELS
Pink Sands

Sometimes island life calls for a quaint ocean cottage or perhaps a gorgeous seaside estate. Either way, Pink Sands has them both, surrounded by pink sands and sublime serenity. Located on Harbour Island, each of the 25 guest rooms is stocked with modern amenities. Established in 1951, Pink Sands effortlessly blends romance and seclusion into a tropical background.
Grand Isle Resort & Spa


The Exuma is made up of 365 cays, and on Great Exuma lies the stunning Grand Isle Resort & Spa. Its 78 oceanfront villas are elaborate and vary from one-bedroom, garden-view villas to four-bedroom penthouses, all appointed with modern conveniences, and most importantly, all come with a golf cart. Guests have access to a Greg Norman championship golf course, the SeaStar Spa, watersports and the
opportunity to swim with Exuma's most famous local residents, the swimming pigs.
The Island House

First came the Mahogany House restaurant in 2010; then came the 30-room The Island House in 2015. Located in western Nassau, the hotel sets the dramatic stage with its lobby's striking Bahamian art installations and high ceilings. Its apartments command views of both the ocean and the southern expanse of the island while its cottages sit poolside. Its most distinctive amenities are the 48-seat luxurious cinema, its wellness offerings including a movement studio and squash courts and three unique dining options.