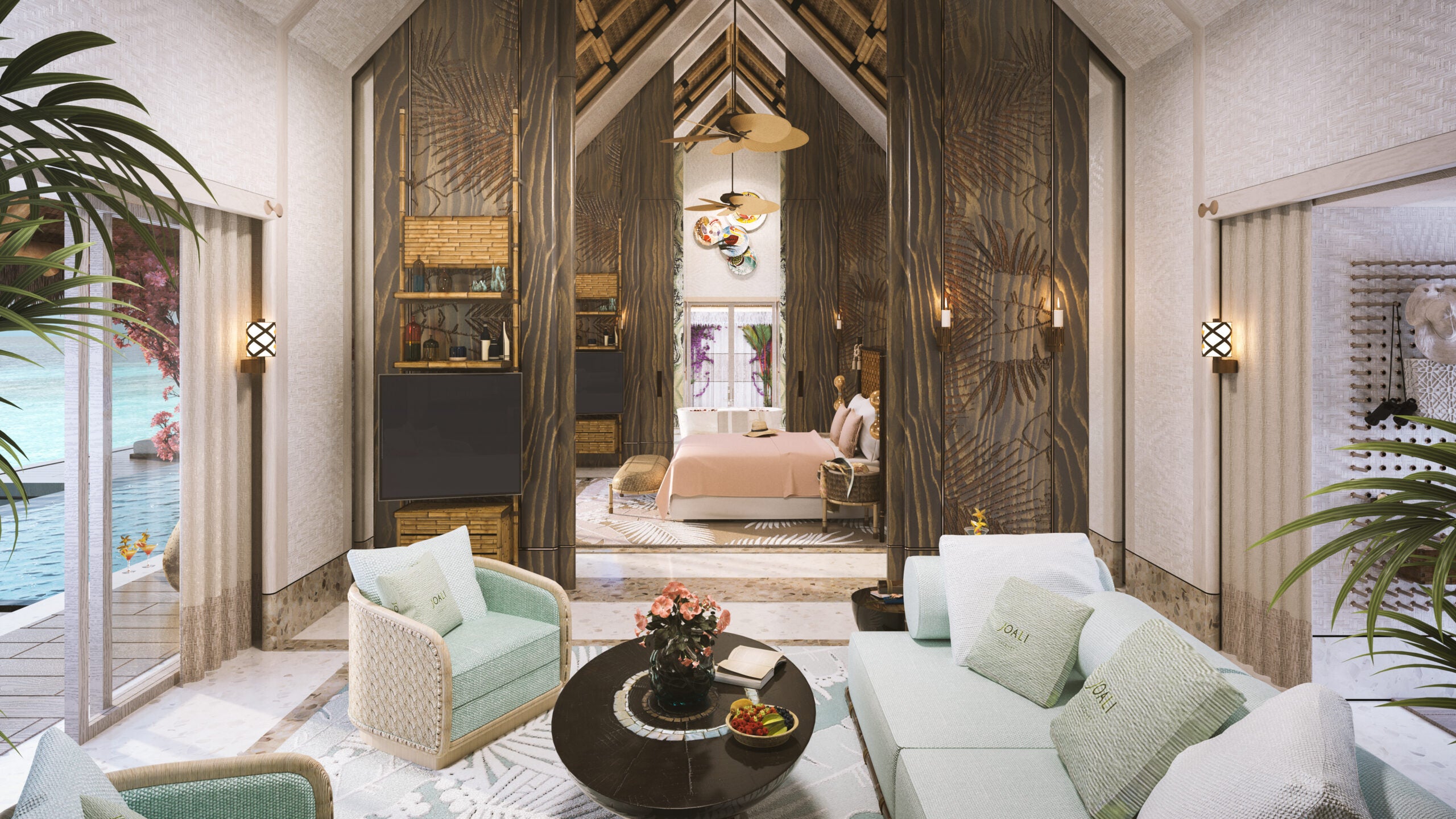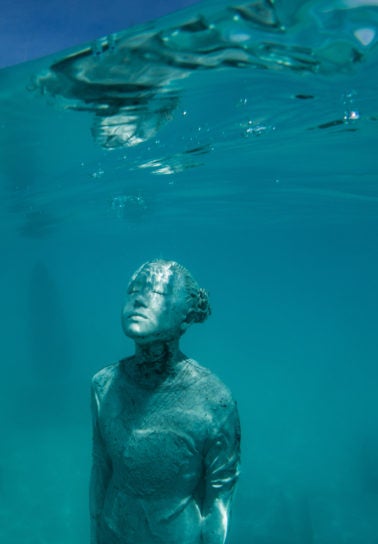 One of this year's biggest arrivals on the luxury hotel scene was undoubtedly Fairmont Maldives Sirru Fen Fushi. Although it's known first and foremost for its idyllic Maldivian setting, and high levels of design, cuisine and personalized service, the feature that set this new arrival apart was the fact it placed itself on the global art map, integrating an underwater sculpture museum into the island experience with an art studio adding to the creative energy. And this isn't the only Maldives resort taking an art-focused approach. Two openings on the horizon, Joali Maldives and LUX* North Male Atoll, will also cater to guests' creativity with on-island art studios and resident artists, as well as imaginative architectural and interior design. We take a closer look at the experience you'll soon be able to have while staying on each private island.
Fairmont Maldives Sirru Fen Fushi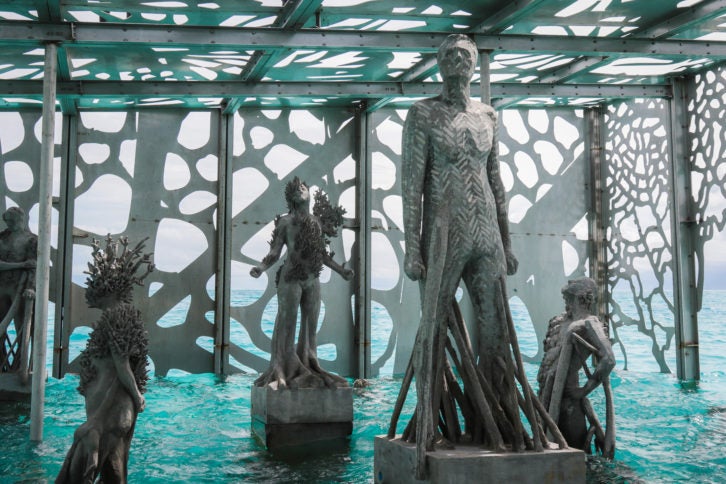 A little behind the resort's April opening, Fairmont Maldives recently announced the completion of its underwater sculpture museum by celebrated artist Jason deCaires Taylor, the Coralarium. The first coral regeneration installation in the Maldives, this semi-submerged tidal art gallery brings new life to the tranquil lagoon of the idyllic island resort, creating a place for coral and marine-life to thrive and making it as much about conservation as it is about art. An underwater pathway leads you from the beachfront 200-meter infinity pool, across the lagoon to where the Coralarium has been positioned on the seabed, reaching up above the water's surface. Here you can snorkel and swim between the sculptures and marine-life, take part in the propagation of the coral and join small group tours with the marine biologist. Hybrid organic forms make up the underwater sculpture gallery with abstract human-like figures entwined in ivy, standing on the roots of banyan trees. The surrounding ocean life completes these forms and as the museum settles into its pristine environment, its connection to the sea can only be enhanced.
Joali Maldives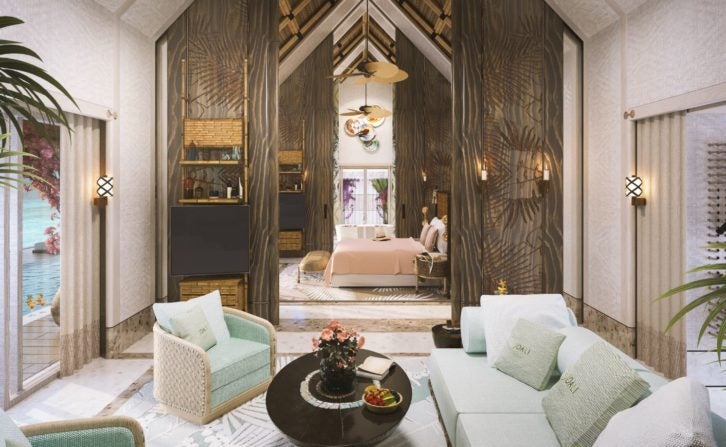 Another Maldivian resort that's breaking the mould is the soon-to-open island retreat Joali. Set to open in October 2018, the ultra-chic private island promises to combine sustainable glamour with an unconventional form of luxury that celebrates craftsmanship and artistry. This translates to architecture and design by Autoban and Studio Glitt Tokyo, inventive fusion cuisine (including liquid nitrogen ice cream), and the integration of artwork by artists such as Misha Khan, as well as the inclusion of an Art Studio and Gallery. A series of internationally renowned artists are set to exhibit their art here. All created in celebration of this island's natural beauty and designed to complement the breathtaking surroundings, the resort's unique offering enhances a stay in this archipelago, with all the lavish touches you'd expect from a resort of this kind – laze by the infinity pool, charter a yacht and retreat to the Joali Spa by Espa.
LUX* North Male Atoll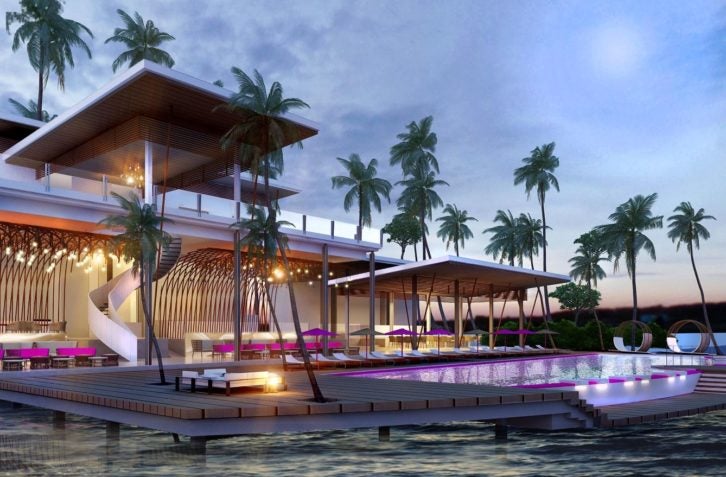 LUX* resorts are known for straying away from tradition, standing out for their contemporary architecture, stylish interiors, and the sense of fun that runs through the culinary offering, experiences and design accents. LUX* North Male Atoll will begin welcoming guests in at the beginning of 2019, revealing a luxury retreat in which this archetypal innovation can be seen through the integration of chic over-sized penthouse residences; design by the Singapore-based group Miaja exhibiting the inspiration that's taken from superyachts and South Beach-style; and a range of unique facilities including Big Green Egg ceramic barbecues, an ocean-view rooftop bar, big-screen cinema, yoga plinth and starlit Jacuzzi. The island will have a wealth of water sports facilities, from kayaks and jet skis to speedboats and dhonis (you'll want to get out onto the water here), but it will also have an art studio for moments your creativity comes to the fore – Maldivian artists will be on hand to help you express your imagination through mediums such as painting and photography.