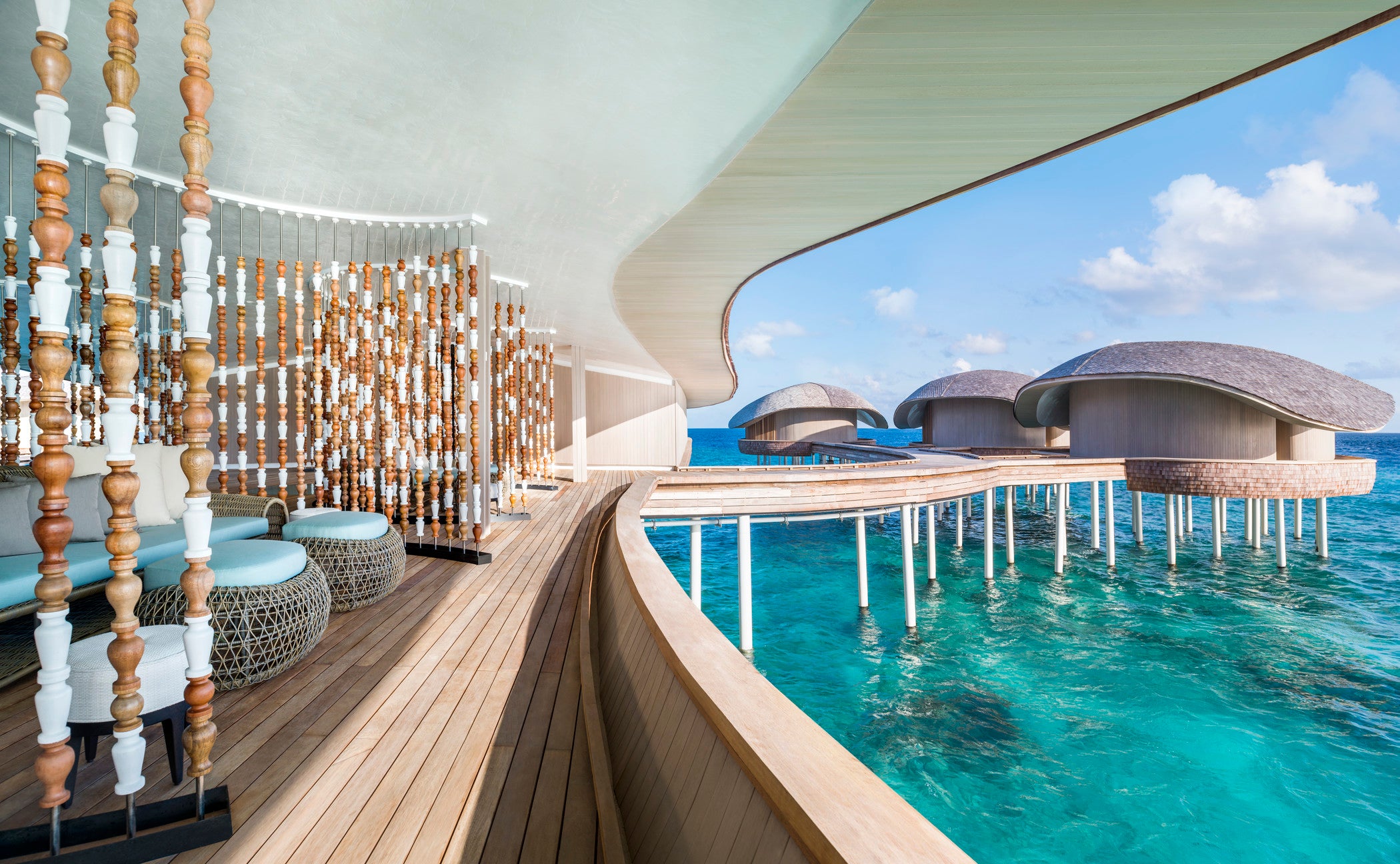 Just last year, the St. Regis portfolio of luxury hotels and resorts expanded with the addition of a new oasis: St. Regis Maldives Vommuli Resort. Set over the blue-green waters of the Indian Ocean, the idyllic property is home to a 19,913-sq-ft wellness sanctuary. With the calm ocean breeze blowing through sliding-glass doors and views of the stunning sea setting abounding, Iridium Spa is paradise found.
Elegant treatment rooms and six couple's suites are outfitted in palatial furnishings that complement white oak interiors. Iridium Spa also features two Ayurvedic suites with private steam rooms, en-suite showers and bathrooms for a private experience. The spa comprises additional steam rooms, saunas and cold-drench showers as well as the expansive Blue Hole Pool, the largest hydrotherapy pool in the Maldives.
Begin your journey to tranquility in the Iridium Room (meaning 'of the rainbows') where you'll sip tea while observing the vibrant marine life swimming beneath a glass floor. An Ayurvedic specialist and acupuncturist are on hand to help you choose personalized treatments from a comprehensive spa menu spanning Balinese and Thai massages, body treatments, skin care, nail services and treatments designed specifically for men. Book the indulgent, three-and-a-half hour Caviar Journey which uses caviar proteins for their anti-aging benefits. The treatment closes with a glass of champagne and a lavender bath to soothe you while you take in the ocean vistas. Afterwards, an array of yoga and wellness classes are available should you desire some activity after reaching peak relaxation in the tub.
The St. Regis Maldives Vommuli Resort offers guests exclusively villa accommodations, both on-island as well as overwater. There's no question of where to rest your head when vacationing at this opulent St. Regis property — the John Jacob Astor Estate was named to the Elite Traveler list of Top Suites Maldives as well as Top 100 Suites in the World.
The St. Regis Maldives Vommuli Resort is located at Vommuli Island, Dhaalu Atoll, Vommuli, Maldives. For more information, please visit stregismaldives.com.