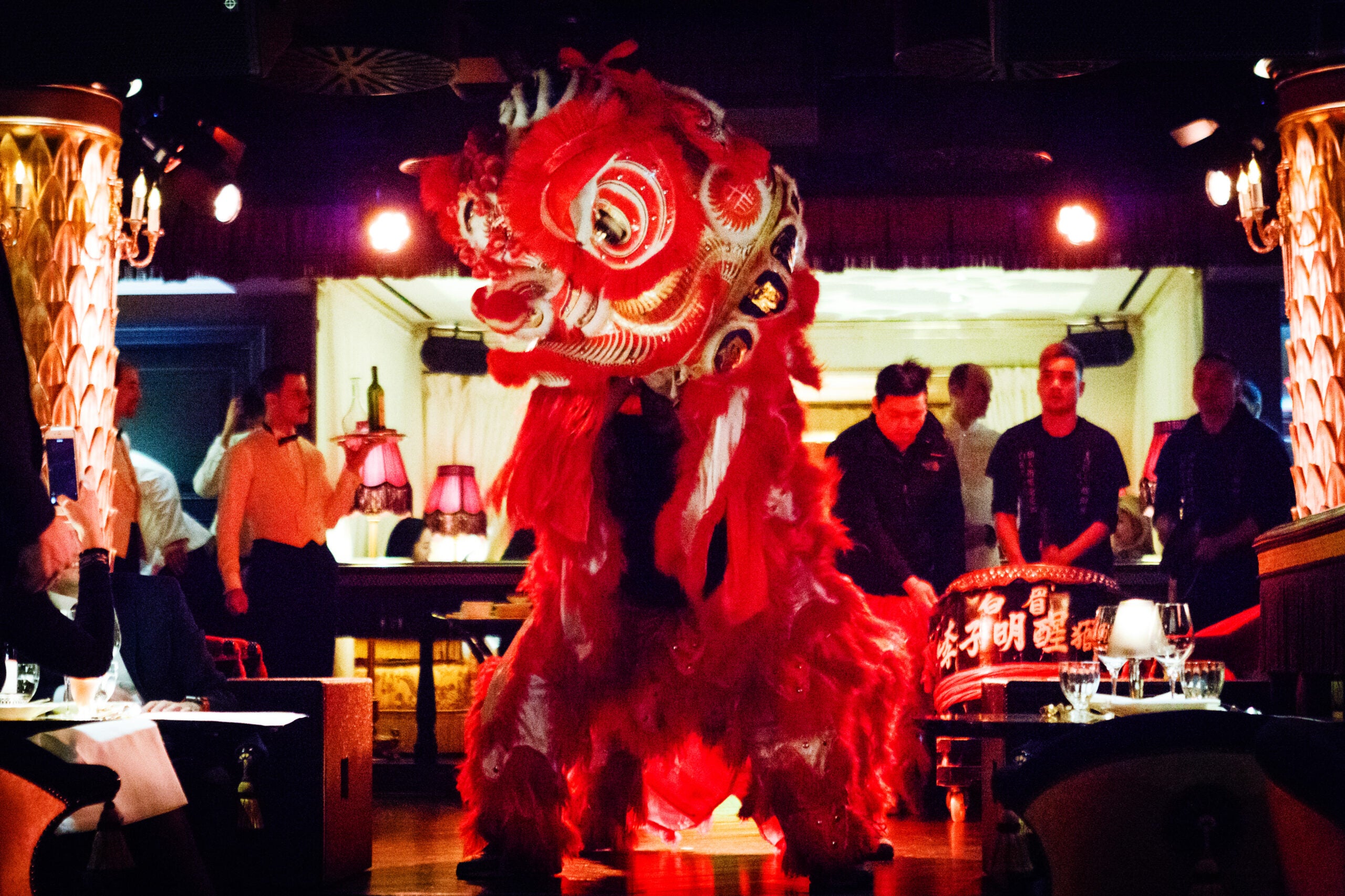 As you see in the Year of the Dog this February, get the Lunar New Year off to an auspicious start by indulging in the finest contemporary Chinese cuisine some of our favorite cities have to offer. For Cantonese cuisine with a view of Hong Kong's fireworks, celebratory fare in Singapore and Chinese fine dining in New York and London, this is where to eat for Chinese New Year.
LONDON
Hakkasan
Hakkasan is now a thriving global collection of contemporary Chinese restaurants, but Hakkasan at Hanway Place is the venue it all stemmed from, with its distinct Christian Liaigre designed interiors of wooden screens, latticing and black and gold panels. The award-winning Michelin-starred cuisine is worth booking a table for at any time, but Chinese New Year proves to be even more enticing. The specially curated menu begins with small eats such as crispy scallop in sweet plum sauce before going on to main dishes like wok-fry native lobster in superior stock with edamame and caviar. Finish with the Ginger Fortune dessert combining ginger caramel, roasted macadamia and lemongrass, which could be paired with the Happy Daisy cocktail fusing Tanqeray No. 10 gin with Chartreuse yellow, lemon and spiced mandarin jam. Hakkasan in Mayfair will be offering this celebratory menu too.
Park Chinois
In the 1930s Shanghai inspired restaurant Park Chinois, Chinese New Year will be celebrated with the launch of a traditional Chinese New Year menu, along with specially created Year of the Dog cocktails and fortune gifts for diners. Entertainment will include performances of the iconic lion dance and the traditional Chinese 'face change' dance. The Lunar New Year menu was created by chef Lee to encompass classic Chinese dishes with a modern twist. Try the Australian abalone and wind-dried oysters with sea moss and baby pak choi or the roast suckling pig with rice bao, before finishing with a dessert such as red bean and osmanthus layer pudding. This is also the first year that the restaurant will be offering the celebratory dish Lo Hei, a meal that marks Chinese New Year with plenty of revelry.
Yauatcha
This February, the Michelin-starred dim sum teahouse Yauatcha is celebrating Chinese New Year by commissioning two leading London artists to create innovative Chinese art installations, as well as by offering a special menu of contemporary Cantonese dim sum. Each of the artists—paper sculptor Lydia Kasumi Shireff and installation artist Jamie Julien Brown—is creating their interpretation of the Chinese lantern. The menu will then feature dishes inspired by the annual celebration, integrating ingredients that are traditionally believed to bring good fortune. Two dim sum dishes, salted egg yolk custard sesame ball and Chilean sea bass roll, will be followed by heartier plates including braised pork shank with lotus seed and mushroom, and desserts such as the Haoyun Lantern petit gateau, which takes inspiration from the featured artwork. A number of limited-edition macarons will also be available in flavors including vanilla orchid and raspberry Szechuan.
HONG KONG
Hutong
Embracing the Lo Hei tradition, Hutong in Hong Kong is giving this Chinese New Year culinary specialty a decadent twist. Here the menu incorporates lobster into the platter of fresh fish, vegetables, spices and sauce that are mixed and tossed into the air with chopsticks by all of the diners – according to legend, the higher you toss the food while crying out 'lo hei', the more luck you'll have come your way in the year ahead. Opt for a traditional Lo Hei with Hamachi and salmon or go for the lobster version. One of Hutong's greatest draws at Chinese New Year is the fact the restaurant is ideally positioned for Hong Kong's annual fireworks extravaganza, which takes places over Victoria Harbour. From the 16th to 19th a brunch with free-flow Veuve Clicquot champagne and a Fai Chun calligraphy workshop will also be hosted here.
Man Wah
The Mandarin Oriental Hong Kong's Michelin-starred Cantonese restaurant Man Wah is ringing in the Lunar New Year with a special menu and the chance to dine with a privileged view of Victoria Harbour's fireworks display. Amid the restaurant's ornate décor and beneath its hanging lanterns, diners are treated to a gastronomic menu of auspicious dishes, ranging from pan-fried honey glazed oyster, roasted suckling pig and chilled abalone with shredded squash and seaweed, to stir-fried lobster with asparagus, preserved black bean and chilli. The meal comes to as close with Chinese petit fours.
SINGAPORE
Imperial Treasure Fine Chinese Cuisine
The Marina Bay Sands outlet of the Imperial Treasure collection gives diners a fine dining experience in a contemporary setting of its textured wood and glass interiors with a view over the casino floor of Marina Bay Sands and private dining rooms overlooking the waterfront and Esplanade. To mark Chinese New Year, the restaurant is offering a series of special set menus. Go for a meal with whole roasted Peking duck and braised six head fresh abalone, a lighter version with dishes such as Fatt Choy salmon Yu Sheng and braised sea cucumber with mushroom, dried oysters and black moss, or an especially decadent version with Alaskan king crab two ways and double boiled bird's nest with almond cream. A vegetarian version is also available.
Image © Instagram @imperialtreasuresg
Summer Palace
Tucked into the Regent Singapore hotel, Summer Palace is considered one of the city-state's stand-out Chinese fine dining restaurants, which has resulted in it being awarded a Michelin star. From February 5th to March 2nd, 2018, the restaurant will be offering diners a series of exclusive Fortune Menus. Each of these nine menus crafted by executive chef Liu Ching Hai will feature six courses of traditional dishes with contemporary influence. Tuck into Chinese specialties like truffle Peking duck, braised Superior Bird's Nest and braised three-head abalone in Supreme oyster sauce or the more international Australian rib-eye with black pepper sauce and asparagus and the chef's stewed Boston lobster tail with Inaniwa udon and spring onions.
NEW YORK
Hakkasan
Designed by French architect Gilles & Bossier, the theater district-based Hakkasan New York continues the oriental-inspired contemporary aesthetic that's seen throughout the celebrated restaurant group. Of the modern Cantonese dishes on offer here, a number are unique to this very venue having been created with its New York diners in mind. The Chinese New Year menu then draws on traditions of the Lunar New Year by incorporating ingredients that have particular significance at this time into dishes such as baked Chilean sea bass with kumquat glaze and a cocktail incorporating spiced mandarin.
Image © Instagram @hakkasanny
Shun Lee Palace
Having been open since 1971, Shun Lee Palace is widely considered one of the city's best upscale Chinese restaurants. Traditional Chinese cuisine is what the restaurant is recognized most for and this authenticity—with some international influence, of course—can be seen in the Chinese New Year menu, which includes prosperity Szechuan dumplings (dumplings are thought to bring wealth in the New Year), Chilean sea bass on rice wine velvet crabmeat (fish is said to increase prosperity), and stir-fried lobster with ginger and scallions on a bed of Szechuan noodles (noodles are a symbol of happiness and longevity at this time). The menu will be available from February 15th through February 24th.
Image © Instagram @shunleenyc
Mr Chow
This legendary Chinese restaurant, which celebrates its 50th year this Valentine's Day, is marking Chinese New Year with an authentic Semi Prix Fixe featuring exclusive dishes by the restaurant's celebrated chefs Hor and Deng. Served in the family style, signature dishes will include glazed prawns with walnuts, chicken satay and Little Dragon soup dumplings. These are then paired with seasonal cocktails and champagne by the beverage director Michael Loomis. Later this year, the restaurateur Michael Chow will be launching his first-ever legacy book in celebration of the restaurant's 50th anniversary, featuring photos, quotes and stories from Michael and famous friends including Andy Warhol, Helmut Newton and Julian Schnabel.