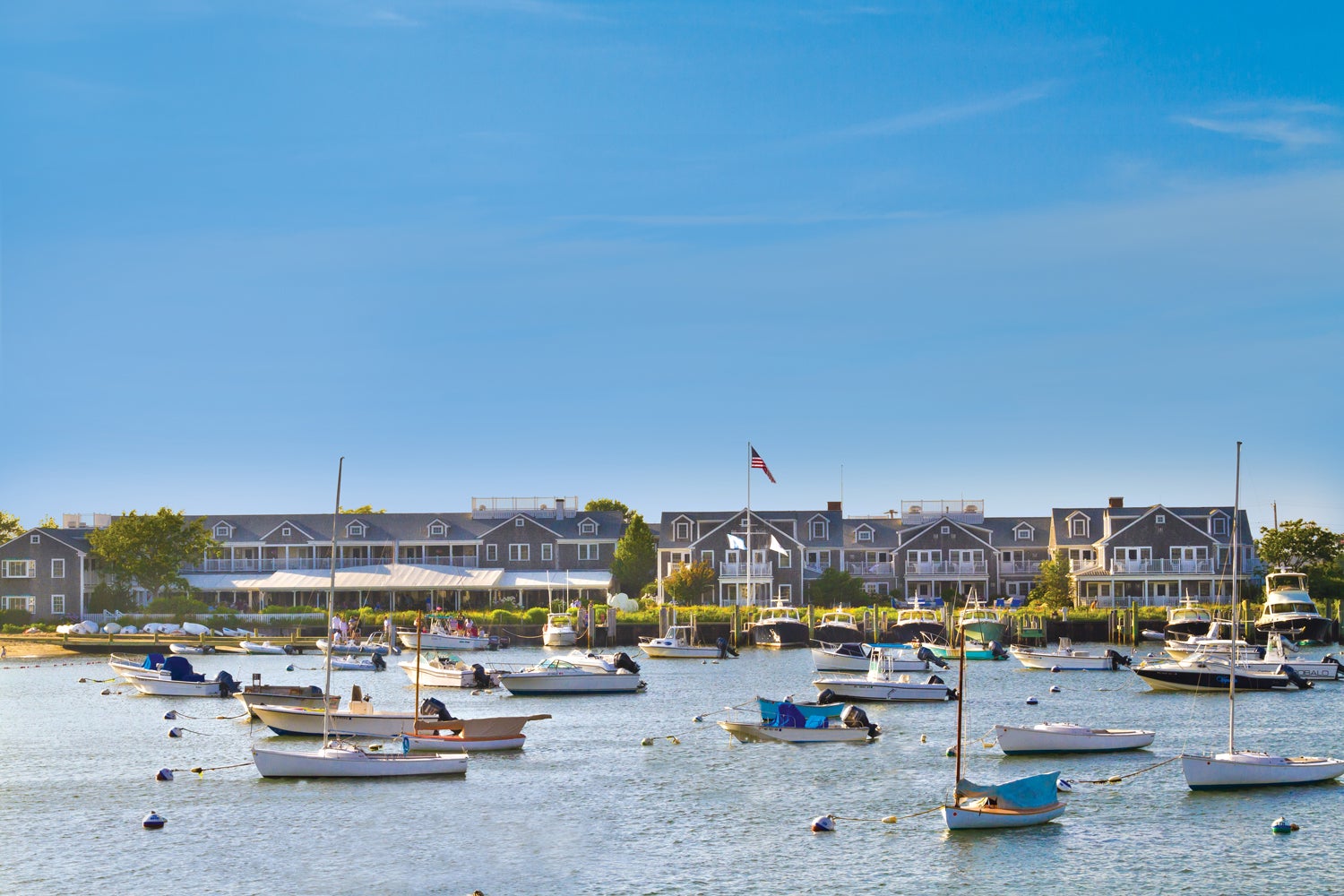 Shingle-style buildings, manicured lawns and endless stretches of dune-backed beaches make up much of Nantucket's aesthetic. This small island is located just over two hours from Cape Cod, Massachusetts by ferry (or less than an hour by flight) and has been an East Coast getaway for Boston Brahmin for decades. It's the ultimate, quiet summer retreat with a strong maritime presence (on any given day you will see everything from dinghys to superyachts bobbing in the water). You just need one perfect weekend to explore the many wharfs, luxury hotels and fabulous restaurants that the destination has to offer, but we can guarantee that you'll want to return to this tranquil haven again and again. Read on for Elite Traveler's guide to a long weekend in Nantucket.
Where to stay
White Elephant Village
Founded in the 1920s, White Elephant Village retains its old-world charm yet still appeals to the sophisticated, modern traveler. The waterfront resort has plenty of accommodations to choose from, from a standard hotel to an inn to garden cottages and residences. Its location just 10 minutes from downtown and from the iconic Brant Point Lighthouse makes it the ideal location for exploring the city. This summer, Mandarin Oriental, Boston is partnering with the resort, offering guests a unique package getaway that pairs the city and beach hotspots of New England. First, stay at the Mandarin Oriental in Boston for a few nights before transferring to the White Elephant for the remainder of your trip. Enjoy sailing experiences, tickets to local museums and multi-course dinners at each property. whiteelephantnantucket.com
The Wauwinet
This luxury inn by the sea recently unveiled a complete renovation in mid-April just in time for peak summer season. Situated right on the waterfront between the Atlantic Ocean and Nantucket Bay, the 32-suite resort is an idyllic place to rest your head. Each has a distinct New England-cottage feel with white-washed walls, a neutral color palette and pops of pastel blues to reflect the color of the sea. The property has a colonial-type vibe with American flag artwork and mahogany-wood furniture in most rooms. The real charm is found within the common areas: Wood-burning fireplaces and expansive terraces overlooking the bay to watch the sunset are the perfect places to reset. Dining here is also not to be missed — Topper's is a AAA Five-Diamond restaurant offering New England staples, such as Nantucket's own Retsyo oysters, lobster rolls and crab claws. wauwinet.com  
Harborview Nantucket
This sprawling estate looks more like an enormous country home than it does a hotel. From the outside, its shingle-style design makes it blend in with the classic Nantucket look, but inside, the rooms are more modern than other hotels on the island with updated contemporary kitchens, elegant furniture and impressive tech additions. There are 11 cottages in total, from one to four bedrooms, most starting at around 1,400 sq ft. Of course, you can also book the hotel as exclusive use. Balconies with harbor views, fireplaces and significant kitchens and living areas make you feel like you're renting a beach home for the weekend only with access to incredible dining and watersports just feet away from your door. Grab a rum punch and enjoy the sunset from the beachside Adirondack chairs. harborviewnantucket.com
Where to eat
There are no shortage of options when you're in Nantucket: The seafood is caught fresh daily (if not hours before you order) and dining is upscale yet approachable. For an elegant meal (and great people watching), head to four-year-old waterfront hotspot Cru. It serves, you guessed it, phenomenal seafood with a raw bar that is to die for. It's not uncommon for megayacht guests to hop off and have dinner here. If you want something less seafood-focused, Ventuno serves yummy Italian food before transforming into a late-night haunt. Steak-lovers will also love it.
Because not every night is made for dressing up (and let's face it, sometimes you just want to wear flip flops to dinner), Sayle's Seafood, Straight Wharf Fish Store and Breeze Restaurant (the latter is located at Nantucket Hotel) are all great lunch or casual dinner options for lobster rolls, clam chowder and fresh, seasonal meals. Millie's Café is another local option — come here for Baja-style tacos for takeout or to eat on the patio. Rustic spot The Nautilus is a guaranteed good meal — come here for dinner and stay for the creative cocktails on the menu.
For a morning smoothie or an afternoon sweet treat, The Juice Bar is hard to miss. Most summer days, this iconic Nantucket spot has a line that wraps around the block. For those who seek an early-morning coffee fix, Handlebar Café is one of the most popular places to pick up a pastry and a cup of joe.
Nightlife here is more upbeat than the neighboring Cape Cod, and the most popular jaunts include the Bar at Galley Beach. Come here for a cocktail around sunset and watch the day fade to night. The bar gets rowdy once the sun goes down. Bar and concert Venue Chicken Box, known as 'The Box' to old-timers, is a dive bar that locals frequent but also acts as a tourist attraction. Stop in for a drink here, even if it's just a locally brewed ale.
What to do
Museums & Activities
With its vast history, Nantucket is also home to several museums, including the Whaling Museum, Egan Maritime's Nantucket Shipwreck and Lifesaving Museum, the Nantucket Lightship Basket Museum and the Nantucket Historical Association where you can see a plentitude of historic homes built by societal families in the early 20th century. Despite attracting political royalty, celebrities and socialites, Nantucket exudes small-town charm at every corner. If it's something a little more hometown you're after, you can, of course, partake in local events like the Nantucket Book Festival (June 13-16) featuring 29 presenting authors and poets, many local, who are award-winning and renowned in their own right. Of course, the Brant Point Lighthouse is one of the most iconic attractions in Nantucket.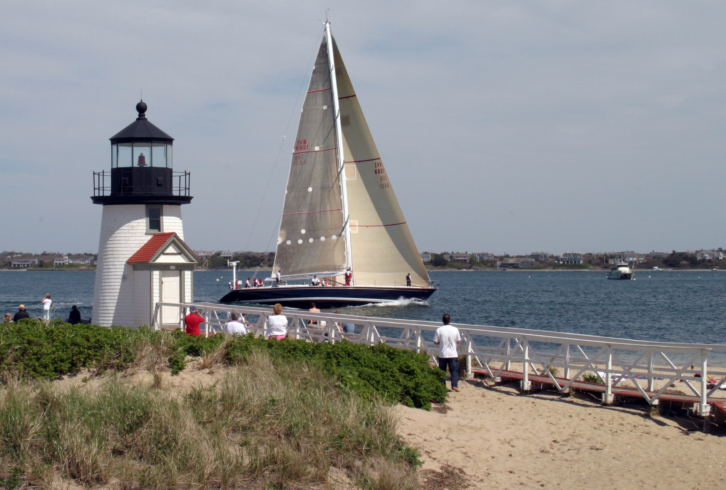 Yachting
Then there are places like the Nantucket Yacht Club where members enjoy seasonal activities like partaking in or watching regattas, dining on the balcony or attending galas. Tennis in Nantucket is extremely popular — pick up a racquet and play at The Westmoor Club, another member's club, built by Alice Vanderbilt in 1917. From sports to the wellness center to yachting and aquatics (and even guest rooms) there's something for everyone here, and most definitely worth joining if you spend summers here.
With its strong maritime presence, boating — be it on a sailboat or yacht — is part of Nantucket's DNA. Charter a boat for the day through Boat Bookings or IYC. Take a private, crewed catamaran or yacht out for the day while you dive, snorkel or partake in watersports.
Shopping
This summer, goop MRKT is moving in for a three-month residence throughout Nantucket's peak season. The New England-style market will feature some of Gwyneth Paltrow's favorite health, beauty, wellness, home, fashion and speciality products following a 'general store' type theme. Shop from the company's G Label and natural beauty must-haves.
You won't find malls with designer stores (or even free-standing international designer boutiques) — instead, the island is filled with locally made products and artisanal home goods and decor items to take home as a memento of your trip. Nantucket Looms sells handmade throws and home entertaining items, like cute plates and other tableware. For a local fashion item, Peter Beaton is where all the yachting aficionados grab local clothing, hats and accessories for a day out on the water.