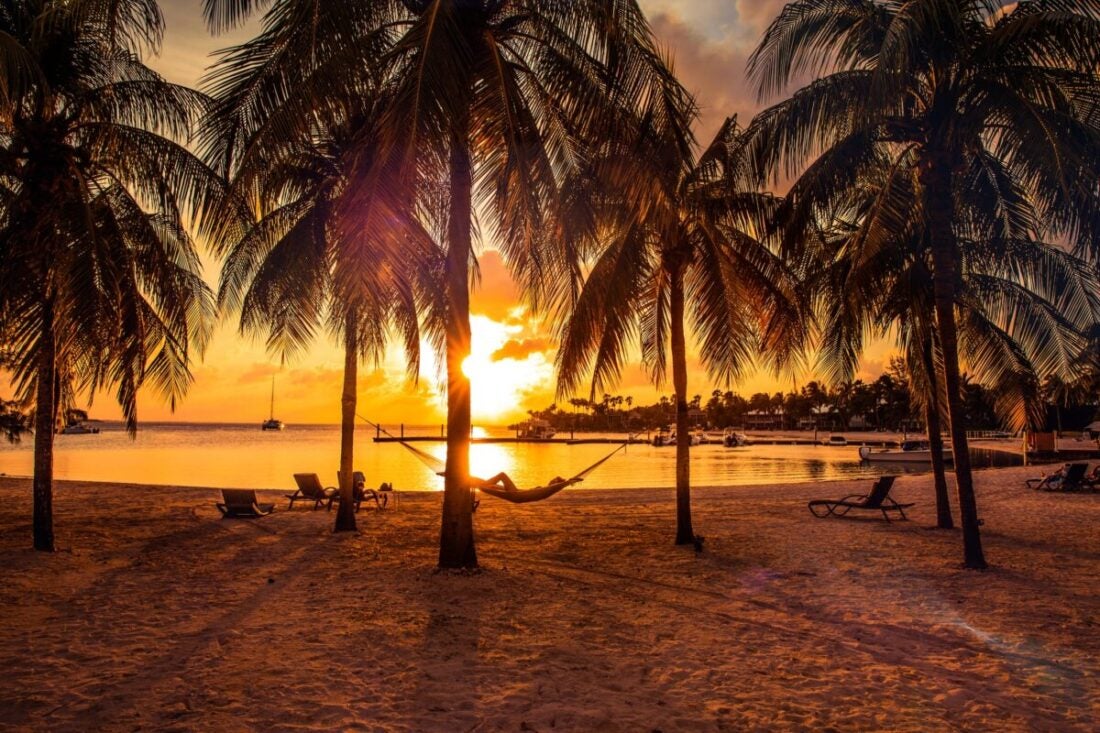 "The Cayman Islands aren't like the rest of the Caribbean,'' quipped my friend the day before I first visited the three-isle archipelago, a luxury paradise ringed by coral reefs, located just south of Cuba. I pondered his words and the classic images I'd seen of the renowned diving mecca. Its beaches — with Wedgewood Blue Willow hues (think: cobalt seas and bone-white sand) — proffered rum drinks, water sports aplenty and pampering hotels, and seemed decidedly Caribbean to me.
So, what could make this difference? Why these islands, and not others? Moments after I arrived, I knew. It's something that locals call Caymankind. Intangible, yet utterly real, the word refers to a welcoming attitude akin to Hawaii's 'Aloha' spirit. Infusing all aspects of the Cayman experience, Caymankind embodies the islands' feel-good ambience as a whole, including its hospitable attitude toward visitors, its stunning nature and its variety of amusements, from restaurants to hotels.
Cosmopolitan and sophisticated in a barefoot-chic kind of way, the Cayman Islands, also known as a global financial capital, incorporate a multitude of worldwide cultures. Its transplanted citizens bring the best of their heritages to mix with Caymanian traditions, which contributes to the pronounced melting-pot vibe. From pristine beaches like the bucket-listed Seven Mile Beach, to Stingray City (the destination's top rated marine life encounter) to deep dive sites, the ever-temperate Cayman Islands offer visitors Caymankind hospitality at every turn.
[See also: A Luxury Guide to a Long Weekend in French Polynesia]
The islands
Grand Cayman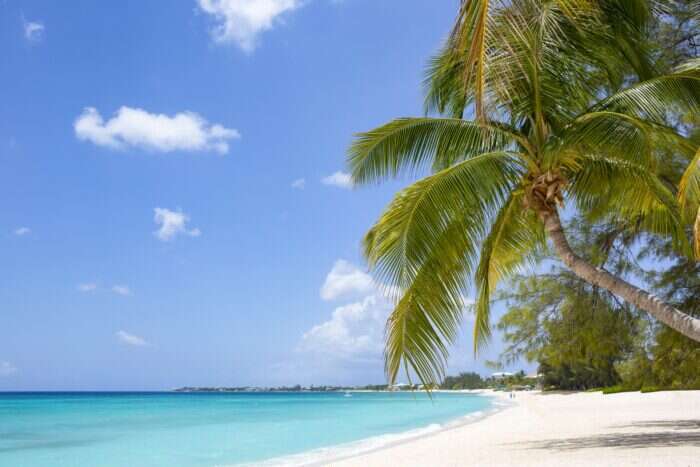 Seven Mile Beach, Grand Cayman's most popular tourist spot / ©Getty ImagesThe most oft-visited island of the archipelago, Grand Cayman, is its largest. The west side holds the award-winning Seven Mile Beach, where most of the buzzy hotels and condominium complexes lie. On the North Shore, quieter beaches beckon, though visitors throng to the area's shallow waters off the North Sound to cavort with friendly stingrays in their watery wilderness home. Even less visited, the East End features mom-and-pop eateries, stellar snorkeling, dive sites and blowholes. The island's only real town, George Town, sports an urbane blend of old and new architecture, encompassing a range that includes stately banks and artisanal shops. With parks and amusements, Grand Cayman will please families, as well as honeymooners and outdoor enthusiasts, with its variety of moods.
Cayman Brac
The territory's less traveled island, Cayman Brac, draws avid divers for its astonishing reef and more than 50 dive sites — particularly Wilderness Wall and Peter's Cave, plus a number of shipwrecks. Reachable via a short flight on Cayman Airways, it also boasts herons, wild green parrots (at National Trust Parrot Reserve) and fruit bats among a stunning 170 caves. Explore this 12-mile-long island, accentuated by its bluff, a meandering limestone cliff that's beloved by hikers.
[See also: The Most Luxurious California Staycation Destinations]
Little Cayman
Perhaps the dreamiest island of the bunch, Little Cayman personifies postcard perfection. Its sugary sand and uncrowded beaches beg for romantic picnics. Birdwatch at Booby Pond Nature Reserve, dive at Randy's Gazebo (a sponge haven), swim naked at pink-sand-profuse Point of Sand (because you likely can get away with it), and fish from a pier at Tarpon Lake. Dive deep at Bloody Bay Marine Park, which offers a wealth of massive underwater walls covered in coral.
Owen Island
We said three islands comprise The Cayman Islands but, in truth, one more diminutive islet deserves mention. This tiny spot, just a few paddles away from Little Cayman, will deeply connect you to nature. Grab a kayak or sailboat and traverse the crystalline sea to arrive for a day of digital detox and all-body bliss.
Caribbean cuisine
Cayman cuisine has its own Caribbean flair, accented by the contributions of its worldwide denizens. Sip a famous Mudslide cocktail, invented on Grand Cayman in the 1980s; slurp chewy conch stew; and nibble some coconut shrimp to get in the Caymankind mood. Connected to the islands' best local growers, The Brasserie is a gastronomic icon in George Town that has served up farm-to-plate meals for more than a decade. Savor just-caught seafood, grilled over hardwood coals for a smoky edge, and swoon over indulgent Caribbean lobster, a local favorite.
Employing its very own fisherman, Morgans' Seafood Restaurant is a stylish waterfront eatery that sits in the newly redeveloped Cayman Islands Yacht Club. It features sweeping views of Governor's Creek. Expect fresh-caught specialties, including Tuna Sashimi and Wahoo Ceviche. Italy meets Peru in the Cayman Islands at Agua Restaurant. This innovative fusion restaurant on Camana Bay in George Town serves Cayman-style ceviche made with tropical plantains. Italian-inspired Sicilian Mahi steals the show.
Where to stay
The crème de la crème of accommodations can be found on Grand Cayman. Most are on Seven Mile Beach, so you can expect soothing beach views and indoor/outdoor living.
The Presidential Suite, The Westin Grand Cayman Seven Mile Beach Resort & Spa
Recently refurbished, The Westin indisputably occupies one of the best sections on one of the world's premier beaches. There are six on-site dining options, notably woto, a city-chic restaurant that specializes in chef-delivered sushi, ceviche and poke. The Hibiscus Spa fulfills the hotel's profound focus on wellness, with 13 treatment rooms and an oceanfront spa cabana. To luxuriate, book the Presidential Suite, which floats above Seven Mile Beach on the resort's third floor. Its 1,500-sq-ft balcony, replete with outdoor grill, screams barbecue fun, while the suite's two bedrooms and two bathrooms, kitted out with the brand's signature Heavenly® Bed, promise deep sleep at night.
From $2,700 per night. Contact Etienne Lessard, director of rooms, +1 345 945 3800, marriott.com
Seafire Presidential Suite, Kimpton Seafire Resort + Spa
Design-centric and sustainable with a world-class spa and three restaurants, this opulent hotel on Seven Mile Beach provides on-demand cracked coconuts, among other assets. Check into its 4,700-sq-ft Presidential Suite, on the resort's 10th floor above Seven Mile Beach. Wraparound balconies and floor-to-ceiling windows bring the outdoors in, while custom-made leather furnishings from Spain and Italy anchor the interior's open spaces. With two en-suite bathrooms, the suite has a master room awash in white onyx, defined by a floating tub that overlooks the myriad blues of the sea.
From $9,500 per night. Contact Virgil Napier, director of sales and marketing, virgil.napier@seafireresortandspa.com, +1 949 609 9077, seafireresortandspa.com
Caribbean Club
Steal away to your luxury lair on the water — this residential complex offers just 37 glamorous villa-style accommodations, and they're smack-dab in the very best part of Seven Mile Beach. Bring your children and tuck into one of the club's three-bedroom beachfront villas. These 2,700-sq-ft luxe lodgings feature wraparound balconies that look invitingly toward the sea. The kitchens are supremely well-stocked symphonies of granite, and they come with chef-level amenities, plus convivial, circular kitchen islands. The villas' decadent bathrooms are as enticing as a refreshing dip in the ocean, while the large common areas and furnished balconies encourage social communion.
From $6,000 per night. Contact Danielle Wolfe, general manager, reservations@caribclub.com, +1 345 623 4500, caribclub.com
Seven South, The Ritz-Carlton
Though the immense Ritz-Carlton, Grand Cayman stretches across 144 acres on Seven Mile Beach, it lacks that gangly feel of so many colossal hotels. Instead, the resort skews toward the intimate, thanks to its affable staff, attention to detail and clever interior design. Those who love a party, nevertheless, will favor this hotel's energy and multiplicity of options. In keeping with that larger-than-life theme, the hotel's 8,000-sq-ft Seven South Suite takes the honors as the biggest hotel suite in the Caribbean. This stunning suite boasts three bedrooms, Bose sound systems, a fully equipped wet bar, lounge, fire pit and private outdoor shower — not to mention a full kitchen, featuring Gaggenau appliances.
From $12,500 to $25,000 per night. Contact Leandro Rattazzi, director of sales and marketing, leandro.rattazzi@ritzcarlton.com, +1 345 943 9000, ritzcarlton.com
Grand Adventures
Rum Point
On the North Shore of Grand Cayman, this tranquil beach (a snorkeling favorite) draws those looking for a quieter scene. Bring a book to read in the swaying beach hammocks and a picnic to nibble on beneath the shady casuarina trees. About 45 minutes by car from Seven Mile Beach, Rum Point can also be accessed by local ferries.
Queen Elizabeth II Botanic Park 
This melange of green gardens, trails, a lake and a classic teahouse with jaw-dropping vistas underscores the Cayman's British influence, while providing an off-beach option for flower lovers and kids that need room to roam.
Diving
Fringed by reefs, the islands have a multitude of top dive sites situated just minutes from shore. Expect grottos, steep drops, tunnels, caverns, translucent water, coral galore and intriguing wrecks. Some to try include Kittiwake Shipwreck & Artificial Reef, a US Navy Submarine Rescue Vessel found off the tip of Seven Mile Beach (look for eagle rays); Bloody Bay Marine Park, off Little Cayman, where Bloody Bay Wall cascades for a mind-boggling mile or more; MV Captain Keith Tibbetts, a Russian frigate submerged off Cayman Brac; and Devils' Grotto, an extravaganza of underwater crevices, swim-throughs and hideaways, abundant with fish (look for barracudas and parrotfish).
Snorkeling
Each island brims with options. Outfitters aplenty lead first-class adventures, some stopping at multiple spots. Book with Crazy Crab for their bespoke, private catamaran tours. Choose Smith Cove or Spotts Beach to snorkel right from the beach.
Stingray City
Not a true city, but a collection of shallow sandbars offshore, where numerous wild Atlantic stingrays flap around happily, willing to play with visiting humans — this is a not-to-be-missed adventure. Tours led by registered professionals abound, with visitors arriving by jet ski or glass bottom boat, with diving gear or from snorkeling expeditions. Try George's Watersports Early Morning Tour to beat the crowds and see the sunrise.
The Turtle Centre
Second only to the Stingray City experience in popularity, this educational and recreation complex on Grand Cayman not only informs guests about endangered turtles, but promotes swimming with them in gentle, human-reptile interplay.
Yachting and flying
Islands are meant to be seen from the sea. Board one of Cayman Yacht Charters' sleek ships for a sunset cruise or weeklong jaunt around the territory; customizable itineraries are their specialty. Or, get a bird's-eye view of the islands with Cayman Islands Helicopters' bespoke copter capers. Imagine seeing Stingray City from the clouds! yachtscayman.com; caymanislandshelicopters.com
Mastic Trail
Take a break from the sun on Grand Cayman's favorite walk. Wild orchids, hermit crabs, frogs and lizards may accompany you along this undulating 3.7-mile pathway, which twists through a haunting subtropical forest.
[See also: A Luxury Guide to a Long Weekend in Antigua]
This article appears in the 29 Nov 2021 issue of the New Statesman, Winter 2021/22