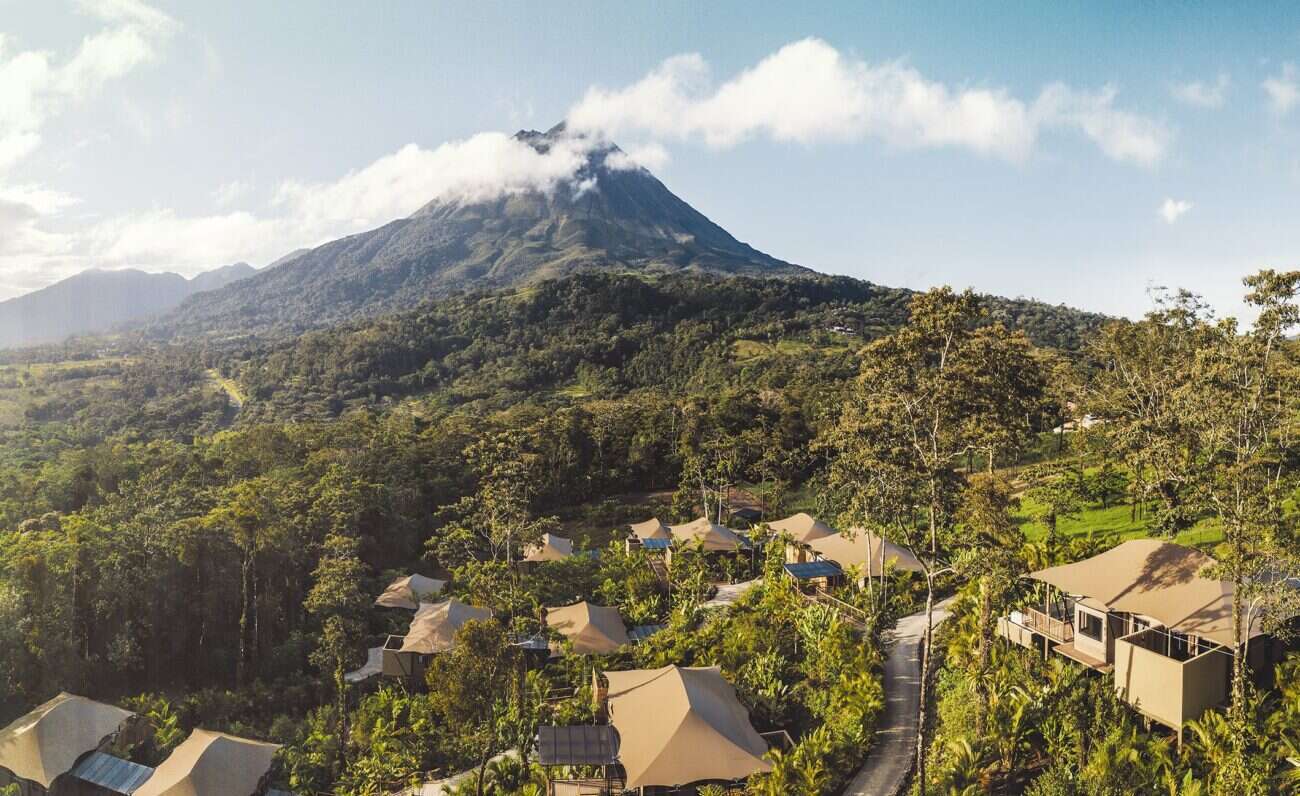 When we began researching for this compilation, we thought: piece of cake. The best luxury hotels in the world with the most impressive eco-credentials — how hard could it be? Hard is perhaps the wrong word. There is such a vast, wonderful ocean of LEED-certified resorts with pioneering seawater cooling systems, inventive waste reduction programs, solar-powered, ice-powered, wind-powered…all wrapped up in cushy luxury.
It is a situation that might not have been the case 20-odd years ago; sustainability and environmental issues were not at the forefront as they are now — although in some instances, this was on certain hoteliers' minds even when it was not the 'in' thing to do. There is an innate desire to protect beautiful places, to leave little to no footprint on the pristine environment and those who inhabit it. Many hotels employ a 'leave no trace' mentality, which seeps into every part of the resort.
[See also: Responsible Luxury Tour Operators of the 21st Century]
Soneva Fushi, Maldives
Anyone who has visited this heavenly archipelago — one of the most paradisiacal places on Earth — understands why it is so important to protect it. The luxury hotel market in this spot is competitive with a bounty of exceptional hotels to choose from, but Soneva Fushi is a laidback utopia with a serious commitment to environmental and societal initiatives. It has its own recycling center, solar power plant and its very own Soneva Art & Glass Studio, where recycled bottles are used to create glass masterpieces.
Located in Baa Atoll, a Unesco Biosphere Reserve, the "original desert island hideaway" is surrounded by lush jungle with one- to nine-bedroom thatched villas, some of which are right in the ocean (but never on top of the coral reefs) with a waterslide leading from villa to warm, sparkling sea. There's a marvelous Six Senses spa with a lengthy list of treatments, including Ayurvedic options. Sustainability and community initiatives are woven into the experience, and guests (especially little ones) are encouraged to participate.
The 'Fishing is a Family Matter' experience is led by Soneva's Maldivian fisherman, Rocket. He has been supplying fish to Soneva since the resort was under construction and is an expert in how to fish sustainably. Rocket will take you and yours out to find your own catch of the day, which will then be prepared for dinner using Rocket's wife's marinade recipe. When the stars come out, head to the resort's observatory. It has a state-of-the-art telescope offering 3D imagery of the celestial night sky. (SC)
Contact Abhishek Sharma, general manager, reservations-americas@soneva.com, +1 855 766 0025, soneva.com
Jade Mountain, St Lucia
While environmental issues and sustainability are at the forefront of hospitality these days, this was not the case several decades ago. That makes Nick Troubetzkoy's vision all the more impressive: The ambitious architect first stepped foot on the Caribbean island in the '70s when he purchased Jade Mountain's sister resort, Anse Chastanent. Letting the dramatic scenery dictate the resort's spectacular design, Troubetzkoy's revolutionary ideas championed sustainability and, while Jade Mountain was originally planned as an extension to Anse, the blown-budget project is now a multi-award-winning destination in its own right (and the more upscale of the two).
Jade Mountain lies within a 600-acre tropical garden, overlooking the glittering Caribbean Sea and with unbeatable views of the mountains Piti Piton and Gros Piton (it's the only resort on the island that has views of both). The resort, like its sister, is an architectural marvel that works in harmony with nature. It was the first Caribbean hotel to earn LEED gold status. There is minimal air-conditioning; instead, the open-plan, open-wall suites are designed to utilize natural air flow — which also allows for the most jaw-dropping views of the surroundings.
Come nightfall, you might notice the warm glow of the all-yellow lighting. This is to ensure that there is no interference with wild animal behavior, and is approved for use in places where turtles hatch, so as to not disorient the hatchlings. (SC)
Contact Andreas Naegele, general manager, jademountain@ansechastanet.com, +1 800 223 1108, jademountain.com
Carlton Hotel St Moritz, Switzerland
Surrounded by undulating snow-carpeted mountains, overlooking the cerulean waters of Lake St Moritz, the Carlton Hotel is in a coveted spot in the ultra-glam resort town. It was first built in 1913 and, while it has undergone a multimillion-dollar renovation, it still maintains that fanciful, Swiss fairy-tale magic. It is part of the Tschuggen Hotel Group, and the group's hotels around the world have been climate-neutral since 2019, and any unavoidable emissions are offset by financing climate protection projects in Switzerland and Rwanda.
Guests are also encouraged to get involved, too, with the 'Cause We Care' initiative: You can offset your own emissions that have been generated by your journey. As après-ski is perhaps one of the best parts of skiing, you'll likely visit one of Carlton Hotel's impeccable bars. Cozy up next to a roaring fire at the grand Carlton Bar, or wrap up and enjoy afternoon tea on the sun terrace.
The views of the Alps and the lake are sublime, and if you visit during the Snow Polo (usually in January), you'll have top views of the action on the frozen lake. Da Vittorio has two Michelin stars and 18 GaultMillau points — expect "high-class yet hearty, extremely Italian gourmet cuisine" care of chef-brothers Enrico and Roberto Cerea. Kitchen waste is provided to producers of biogas fuel and food is sustainably sourced, using mostly local Swiss producers and suppliers. (SC)
Contact Michael and Stephanie Lehnort, general managers, info@carlton-stmoritz.ch, +41 818 367 000, carlton-stmoritz.ch
Le Manoir aux Quat'Saisons, A Belmond Hotel, England
Long before epicureans bandied about phrases like farm to fork, celebrated Michelin-star chef Raymond Blanc OBE was hauling a bounty of seasonal organic produce from his garden and putting it on plates at the legendary Le Manoir aux Quat'Saisons, A Belmond Hotel in Oxfordshire. The charming hotel, created by the chef as a temple to gastronomy and as a homage to his garden's yield, has an eponymous restaurant, which earned two Michelin stars during its first year — an honor miraculously sustained for three decades.
Today, the two-acre, on-property farm produces more than 90 types of vegetables, 20 edible species of mushrooms, and apples and pears. As an advocate for sustainable cooking and farming, Blanc continues to model how living off the land stylishly is possible. As a guest, learn to garden or take the new vegan masterclasses, which focus on sustainability, zero-waste, and fresh, seasonal produce. (BH)
Contact Lisa Paphothakang, reservations manager, manoir.mqs@belmond.com, +44 1844 278 881, belmond.com
Thanda Island, Tanzania
The tiny private Thanda Island, located 16 miles off the coast of Tanzania in the gin-clear Indian Ocean, proves out poet Lao Tzu's words: "The journey of a thousand miles begins with one step." Seen as a paragon of conservation by the Tanzanian government and other entities, the Leading Hotel of the World member continues to rewild its own 20-acre expanse, as well as the surrounding sea life.
Powered by solar energy, with water purified by a desalination plant, Thanda employs a full-time marine biologist to oversee its "coral nursery," where coral grows before being rewilded into the sea. Interested guests can learn about marine conservation by joining private diving sessions, where even the rash vests have been made from recycled plastic bottles. Don't miss the Whale Shark Citizen Science Program, which asks guests to help collect data on the immense creatures when sighted on snorkeling or diving outings. An all-inclusive stay at Thanda includes meals, drinks, activities, sunset cruises, helicopter transfer, spa treatments and more. (BH)
Contact Antigone Meda, island manager, antigone@thandaisland.com, +27 (0) 32 586 0149, thandaisland.com
GoldenEye, Jamaica
Once a donkey racetrack, later novelist Ian Fleming's estate, GoldenEye served as a tropical living room for legions of upper crusters, literary luminaries and sophisticates before becoming a bonafide hotel. Maintaining the retreat's unique, original configuration as a coterie of cottages and standalone suites, which dot gardens and sandy plots, current owner Chris Blackwell has also been paramount in the efforts to support and restore Jamaica's coral reef and marine life health.
His Oracabessa Foundation successfully helped bring about an increase of fish presence by 1,800%, with the template currently being adopted by fish sanctuaries across Jamaica.  At GoldenEye, Oracabessa Foundation opened a new dive shop on neighboring James Bond Beach. Scuba certification and coral planting opportunities in the underwater coral nursery are offered, with profits going back into the Foundation. (BH)
Contact Suzanne Lawton, group reservations manager, suzanne.lawton@islandoutpost.com, +1 876 298 6512, goldeneye.com
Guana Island, BVI
Scientists know this place is special. Each year they flock to Guana Island to study the diversity of botany, entomology, marine biology, ornithology, and herpetology. With room for only 32 guests, this 850-acre private island resort has a four-decade history with conservation and sustainable tourism, thanks to its pioneering owners, the Jarecki family. Slowly developing the resort to keep it untrammeled, with 90% of the island left undisturbed, the Jareckis have loyally committed to wildlife conservation and sustainable tourism before their time.
An organic orchard feeds guests, keeps imported food off the island and helps achieve a goal of using 40% of the harvest on menus, while the Guana Island science program has successfully reintroduced once indigenous creatures, such as the Caribbean roseate flamingo and the stout rock iguana. As for the guests? They take repose on the 850-acre isle's hiking trails, seven beaches and private sanctuaries. (BH)
Contact Jason Goldberg, reservations director, jg@guanamail.com, guana.com
Kimpton Seafire Resort + Spa, Cayman Islands
It's a bit of a misnomer. The storied Seven Mile Beach on Grand Cayman's west shore, a crescent of coral sand that frames impossibly blue water, measures only 5.5 miles. That doesn't stop it from being one of the most exquisite bits of resort-studded seashore on earth. On it, with LEED Silver certification (the first and only on Cayman) beguiling Seafire brings a welcome trendy chicness to the Cayman scene, as well as a serious approach to sustainable tourism.
With a mission to be "Stewards of the Environment," the resort goes beyond the ubiquitous call for beach clean up to incorporate such elements as Deep Water Cooling Technology, a Solar array for energy capture, a reduction and recycling program, and its latest initiative to eliminate single-use plastic water bottles across the resort. In addition, LED lighting in all guest rooms, rooftop solar panels, and turtle friendly lighting (which allows turtles to journey ashore undaunted) makes a difference. Eco tours for guests include night kayaking through bioluminescent waters and swimming with the stingrays. (BH)
Contact Virgil Napier, director of sales and marketing, virgil.napier@seafireresortandspa.com, +1 345 746 4031, seafireresortandspa.com
Jean-Michel Cousteau Resort, Fiji
Just the name Cousteau summons visions of ecology, maintaining unspoiled nature, curiosity for the world and a vocation to share a great love for marine life (and all animals) with others. This eco-nest in halcyon Fiji vows to "take as little from the environment as possible and to give back as much" as they can. Carrying on the legacy of his father, Jacques (the great 20th-century researcher and adventurer) son Jean-Michel, also an environmentalist in the family tradition, opened the retreat in 1995.
A groundbreaker in green tourism, the shoreside resort showcases marine conservation, always keeping an in-house marine biologist on board. Vaunting a reef protection program and giant clam breeding project, Cousteau Resort's latest eco-passion is the Sustainable Reefs program, which reaches out to educate Pacific region communities about the importance of healthy reefs. Guests will stay in low impact Fijian-style buildings, eat produce from the organic garden and snorkel or dive with Johnny, the marine biologist. (BH)
Contact Bart Simpson, general manager, bart@fijiresort.com, fijiresort.com
Auberge du Soleil, Napa Valley, California
Home to hundreds of hillside vineyards large and small, collectible wine vintages, gastronomic legends and unique hotels, Napa County, just north of San Francisco, still has an unpretentious ambiance. "We're just farmers," you'll hear wine growers saying, as they have for decades, long before wine swillers came to taste and enjoy the region's burgeoning resort amenities.
Keeping it real and infinitely eco-friendly, albeit lush and coddling, Auberge du Soleil, with just 50 guest rooms and views to swoon over, began as a restaurant meant to evoke Provence. Today, it not only offers guests VIP connections to vintners and fine dining, but provides eco-initiatives sure to please green conscious travelers.
From in-house filtered water to biodegradable cleaning products used throughout the hotel to power from renewable resources, Auberge also conserves energy with LED lighting, dimmer switches and CFL bulbs and takes advantage of an integrated water management initiative. Those Rivolta Carmignani linens in the spa, which meet Oek-Tex manufacturing standards and uphold the Blulino trademark, are just icing on the cake. (BH)
Contact Bradley Reynolds, general manager, bradley.reynolds@aubergeresorts.com, aubergeresorts.com
Grootbos Private Nature Reserve, South Africa
Conservationist and entrepreneur Michael Lutzeyer went on a camping trip in South Africa's Western Cape in 1991. A 'Farm for Sale' sign caught his eye, and the spectacular views overlooking Walker Bay caught his heart. Now, Grootbos Private Nature Reserve is a multi-award-winning private nature reserve with conservation and community values at its core. And it's still run by the Lutzeyer family. Grootbos, meaning 'big forest' in Afrikaans, sits on flourishing hills of fynbos (a belt of natural shrubland only found in the Western and Eastern Cape) and 795 species of fynbos biome can be found at the reserve; six new species were found here, four of which are not found anywhere else on the planet. And thanks to Grootbos' conservation efforts, a number of endangered species are thriving.
The reserve cherishes the local flora and fauna and naturally ensures that the eco-lodges and gorgeous villas pay homage: Think thatched roofs, natural materials and floor-to-ceiling windows. Forest Lodge has 16 suites in charming cottages among the milkwood trees with decks overlooking the bay. Garden Lodge is better suited for families, as some of the suites have multiple bedrooms, plus there's a game room. The private villas are exclusive-use and each has its own infinity pool, braai (a kind of barbecue grill), the services of a dedicated private guide, a butler and a chef.
[See also: The Most Luxurious Eco-Friendly Hotels]
The region is home to the marine 'big five,' so the activities on offer are shaped around the majestic creatures of the deep: Get up close and personal with shark cage diving while a dedicated marine biologist teaches you about the behaviors of the apex predator, or board a purpose-built, eco-friendly vessel for a marine safari, also led by a marine biologist. For on-land adventures, head out on a 4×4 botanical tour to explore the "tiny, exquisite worlds" through the resort's 6,000-plus acres. Guests of the private villas also have access to exclusive experiences, from private sunset picnics on the beach to private wine tours. (SC)
Contact Sean Ingles, general manager, bookings@grootbos.co.za, +27 283 848 053, grootbos.com
The Next Generation
Conrad New York Downtown, New York
A pinnacle of glitz and glam urbanity, this uber-contemporary hotel, studded with museum-quality art, reflects the future not only from an aesthetic perspective, but also from a sustainable one. Eco-seeking guests will be pleased to know that this all-suite hotel, which borders the Hudson River also can trumpet its shiny LEED Gold status for new construction and renovation in five categories.
Other key initiatives include Rocean water filtration systems in all suites, a green roof that operates as a garden, LED lighting, automated flush-o-meters, and motion-censored lighting to save electricity. Proud members of Rethink Food Program in New York City, a program that picks up and redistributes unused food, the hotel also participates in the Clean the World Recycle Program, which recycles all plastic bottles and soap from all bathroom amenities. (BH)
Contact Marlene Poynder, general manager, marlene.poynder@conradhotels.com, conradnewyork.com
Nayara Tented Camp, Costa Rica
Most visitors cite nature as the number one reason for choosing Costa Rica. Facing one of Latin America's highest rates of deforestation, however, the country's wilderness was in trouble. Recently, the government has worked assiduously to turn the trend around, rebuilding green space. In step with that philosophy, Nayara Resorts hired a reforestation expert to assist in reconstructing the rainforests throughout Costa Rica and around their various eco-minded properties. The effort began with the planting of 40,000 indigenous trees.
Exemplary, their newest property, Nayara Tented Camp, which spills down a hillside in Arenal Volcano National Park, occupies terrain completely deforested by farmers fifty years ago. Today, a leafy glamping haven with a small footprint, the retreat embodies Costa Rica's nationwide slogan Pura Vida (pure living). Don't miss the spectacular Sloth Sanctuary, home to 15 adorable sloths and their favorite food — native Cecropia trees, the sloth's main food source. Guests can partake of guided eco-adventures that range from bird watching to night-time frog spotting. (BH)
Contact Carlos Rojas, concierge, vipdesk@nayararesorts.com, +1 888 332 2961, nayaratentedcamp.com
andBeyond Sossusvlei Desert Lodge, Namibia
Since its inception 30 years ago andBeyond has championed a sustainable Africa throughout its portfolio. Case in point, Sossusvlei Desert Lodge, situated in the Namib Desert, where state of the art sustainability initiatives (at a cost of more than half a million dollars) resulted in eco-aware attributes, such as an on-site water bottling plant. In 2019, the company hired Fox Browne Creative, a long-time design partner, to rejigger the lodge to create self-sustaining suites with panoramic windows and retractable skylights.
Acting as its own solar power plant, the lodge now produces enough energy to power electricity, air conditioning, water treatment and recycling systems. In addition, the lodge's water system recycles more than 26,417 gallons of grey water a month. Interiors, evoking the environs, feature Namibian artisans (custom basket-ware, wool wall hangings ostrich leather and rugs by Karukulia weavers who local company known for its Namibian wool) and local minerals, such as agate and quartz. (BH)
Contact Este Swanepoel, andBeyond global concierge, concierge@andbeyond.com, +1 619 598 1199, andbeyond.com
Fregate Island, Seychelles
Birdwatchers, grab your binoculars. Fregate Island, in unsullied Seychelles, looms not just as a lavish haven, but also as a stalwart conservation sanctuary, fully entrenched in sustainability. Home to hundreds of thousands of birds, totaling more than 100 species, the island also boasts more than 3,000 free-roaming Giant Aldabra Tortoises. Adept conservation staff take on many tasks, none the least is the caring for the endangered Hawksbill turtles and safeguarding their nests.
With one of the largest hydroponics systems in Seychelles, Fregate also obtains 80% of the food it serves from the island. Seven beaches and only 16 villas ensure Robinson Crusoe-level privacy and unparalleled opportunities to delve deeply into nature's healing vibes. Guests can walk with the resident conservationist to explore the island's ecosystem and participate in ongoing conservation projects, such as assisting turtle hatchlings and cultivating sea coral. (BH)
Contact Hilton Grant Hastings, managing director, h.hastings@fregate.com, +248 4 397 100, fregate.com
Casa di Langa, Italy
Get back to nature among vineyards, rolling hills, spiky Italian pines and hidden truffles in Italy's breathtaking Piedmont region at Casa di Langa, a sustainable luxury hotel that opened June 2021. A member of the Preferred Hotels & Resorts and LVX Collection, a threshold to Unesco World Heritage site Le Langhe, the hotel's green philosophy complements its prime location.
Inspired by traditional architecture and erected with local materials, Casa di Langa melds organically into a surrounding hazelnut orchard, vineyards and vegetable garden. Besides offering guests opulent digs, the retreat boldly commits to operating on 100% sustainable energy, utilizing a mix of solar power, geothermal heating and cooling, and certified renewable energy.
In addition, the hotel recycles 100% of its water into grey water, used for irrigating both the vineyards and the grounds. On the surrounding terrain, 40 beehives contribute to natural pollination (and provide honey) and native trees have been planted. (BH)
Contact Eva Codina Candelich, general manager, eva.codina@casadilanga.com, +39 351 541 1110, casadilanga.com
Hotel X Toronto, Canada
Remote resorts tend to get all the acclaim when it comes to eco-mindedness, however, many urban retreats not only set sustainable standards, but show the world that city hotels can be both luxurious and green. Case in point, Library Hotel Collection's cutting-edge Hotel X, the only hotel on the historic Exhibition Place grounds in buzzy Toronto's fashionable lakeside entertainment district.
Soaring 30 stories, it features remarkable options such as a 90,000-sq-ft fitness center and two splendorous presidential suites. Nevertheless, eco components such as on-site renewable energy systems, staunch recycling programs, composting, local food sourcing and rainwater collection systems prove Hotel X's staunch dedication to the environment. Gardens with perennial grasses and native trees, compose the hotel's six acres of lands, which were once sheathed in asphalt, and green rooftops crown the buildings. (BH)
Contact Steven Hantziantoniou, lead concierge, concierge@hotelxtoronto.com, hotelxtoronto.com
Svart Hotel, Norway
Set to open in 2022, Svart Hotel in Norway will be the world's first energy-positive hotel — it will produce more energy than it uses. Found in Norway's Arctic Circle, at the base of the awe-inspiring Svartisen glacier, the hotel's spheric design means that most of its guest rooms will have spectacular views of the surrounding fjord and, if you're lucky, the Northern Lights. Designed by award-winning architects Snøhetta, the solar-powered circular hotel appears to float above the ice blue waters ('Svart' means 'black in Norwegian; a tribute to the deep ice found in the Svartisen glacier) and sits atop the water on stilts made of natural, locally sourced wood.
The structure leaves little footprint on its epic surroundings and truly blends into the environment. The Svart Spa Health and Wellness Clinic will be an indoor/outdoor spa built over two floors with three zones, with each zone following a theme. Choose from 'active,' 'wet' or 'quiet' for your own wellness journey. The treatments blend traditional Nordic remedies with modern innovation, and products used in the spa are sourced from local communities using local herbs and marine sources.
Depending on when you visit, there's a number of activities to pursue, too. In summer, when the days seem to be never-ending, you can sail through the atmospheric fjords, go deep-sea fishing or witness the midnight sun as it reflects over the shimmering glacier lake. Hikers of all abilities can trek through the lush green Svartisen mountains. Come winter, you can brave a spot of ice water swimming (a Nordic tradition) or go ice-climbing on the Svartisen. The team behind the hotel has ambitious plans to be completely self-sustained within five years of opening, and be entirely off-grid and with zero waste. (SC)
Contact post@svart.no, svart.no
DumaTau Camp, Botswana
Along the banks of the flowing Linyanti River, within the private (and gigantic) Linyanti Wilderness Reserve, is where you'll find the recently renovated DumaTau Camp and the brand-new Little DumaTau. The two camps have 12 luxury tented suites between them and follow the company's inspiring philosophy of helping to preserve biodiversity, conserve wildlife and uplift local communities.
Many of Wilderness' properties leave little to no footprint on the land, and DumaTau is no different — it runs on 100% solar energy; wastewater is treated in an Above Ground Sewage Plant so that water is clean before entering the natural environment; reverse osmosis filtration is done on-site so guests have high-quality drinking water (therefore reducing the use of bottled water); and only approved eco-friendly detergents are used.
[See also: Exclusive African Safari Camps Championing Sustainability]
At DumaTau, there are seven guest suites and one family suite; each one has a private plunge pool, indoor/outdoor showers and sumptuous lounge. Each suite has endless views over the Osprey Lagoon, where the region's various residents can be seen: Elephants are often found along the waterways and lagoons; and leopard, giraffe, lion, mongoose, owlet and wild dogs are also frequently spotted.
Wilderness has a number of conservation projects in place to help protect and conserve the wildlife, working with local authorities and supporting research. Naturally, there's a bunch of safaris on offer: the classic 4×4 game drive, a barge ride along the Linyanti, a helicopter ride over the plains, or an after-dark safari to seek the less-seen nocturnal creatures. (SC)
Contact enquiry@wilderness.co.za, wilderness-safaris.com
Banyan Tree Tamouda Bay, Morocco
Trust the King of Morocco, Purportedly, he loves to stay in northern Morocco at this veritable castle away from home. Fringed by jagged mountains and accented by cobalt seas, this exotically Andalusian-meets-Moorish intoned portion of lively Morocco has a quieter, more meditative feel, thanks to its plethora of majestic natural attractions and historic sites.
Honouring its terroir, all-suite Banyan Tree Tamouda Bay, a white kingdom of Moorish arches, botanical designs and eye-popping, decorative tile work has received various  industry-recognized awards for its environmental practices and commitment to social responsibility, including being EarthCheck-certified for its sustainable tourism practices. Hosted tree planting events and recycling workshops exemplify their efforts. Particularly resolute in its protection of both land and sea creatures, BT Tamouda Bay has trained staff to return even lost ducklings to their mothers, not to mention endangered sea turtles to the sea. (BH)
Contact Hicham Najdi, general manager, hicham.najdi@banyantree.com, banyantree.com