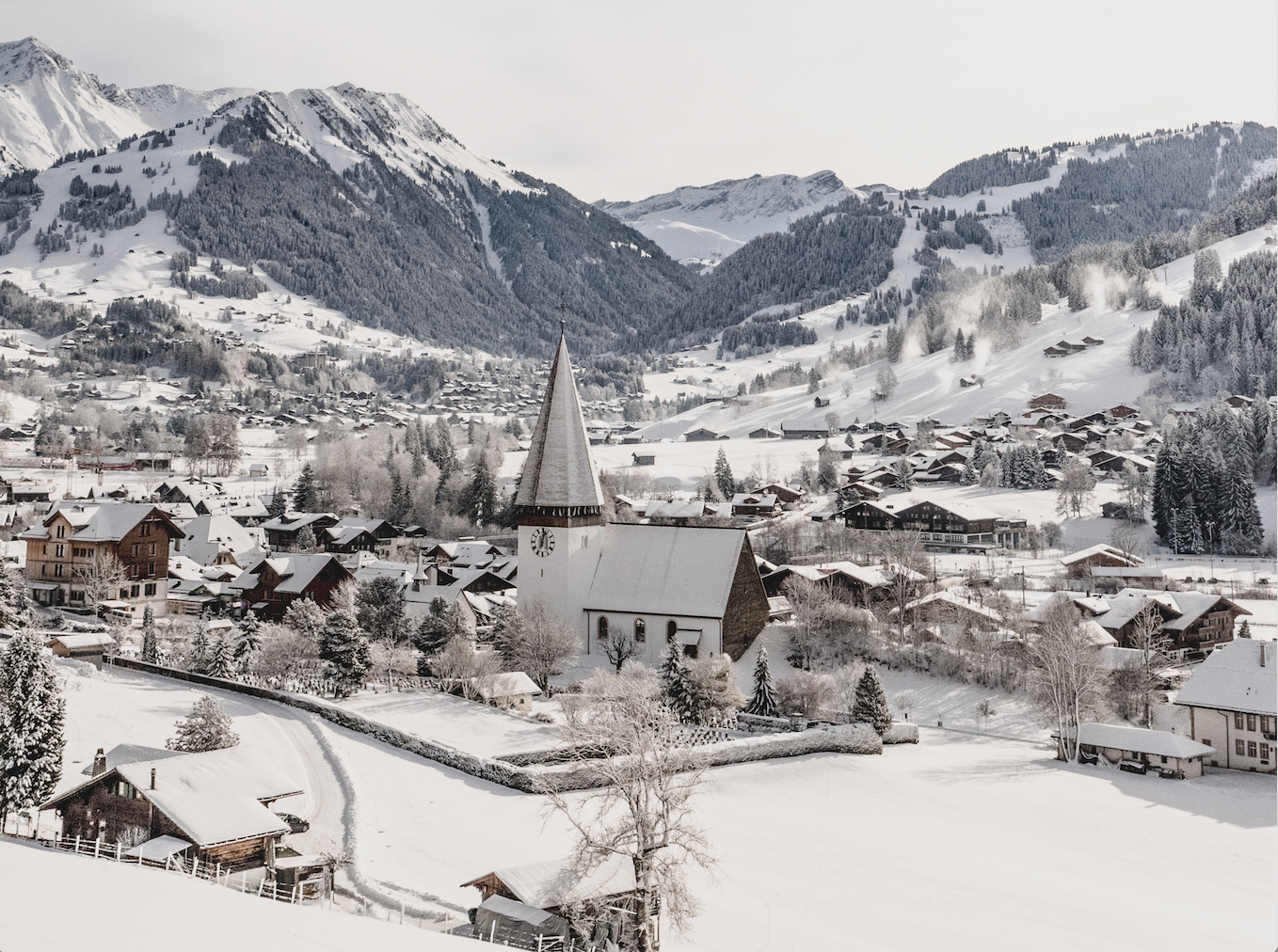 Crowns abound in Gstaad, a swanky Swiss mountain town located between Zurich and Geneva. You'll see them atop fat, bell-bedecked cows who descend the mountains in autumn, their heads decorated with coronas of wildflowers.
Led by local farmers, the adorned bovines parade down the cobbled streets in traditional celebrations that trumpet the change of seasons. But keep an eye out: During the rest of the year, you're just as likely to notice a glittering tiara atop the head of a fellow visitor.
Long a playground for royalty, Gstaad is two things at once: an idyllic Swiss Alpine village that stays true to its centuries-old ways and a ritzy gathering ground for the see-and-be-seen global elite.
With 17th-century chalets, old-world bakeries and cheese shops operated by the cheesemakers themselves sitting near ultra-luxe, five-star hotels, Michelin-starred restaurants and decadent nightclubs, Gstaad draws visitors as much for its quintessential Swissness as for its high-intensity social scene. Off the slopes and the party circuit, this bijou hideaway hosts polo matches, hot-air balloon and classical music festivals, and has year-round outdoor attractions.
Where to Stay
Suite Le Grand Bellevue, Le Grand Bellvue
The re-envisioned Le Grand Bellevue stays stately while evoking a decidedly whimsical yet modern vibe. Colorful and design-centric, the hotel, located directly on the village's famous pedestrian promenade, brings a smile with unexpected flourishes — such as bird-print wallpaper; antique furniture layered with bright upholstery; hanging birdcage chairs with leather pillows; and a towering, incongruous, tweed-covered camel who never fails to get a second glance. Proving that Swiss-style and service don't have to be aloof, Le Grand Bellevue has a private cinema; a Michelin-starred restaurant, Leonard's, which puts bistro favorites up against more uppity gastronomic delights; and a subterranean spa with so many offerings that one can stay all day and not be finished. Stay in Suite Le Grand Bellevue, a discreetly elegant, bi-level expanse with two bedrooms, two bathrooms, a freestanding Jacuzzi tub and floor-to-ceiling windows.
From $9,700. Contact Daniel Koetser, managing director, info@bellevue-gstaad.ch, +41 33 748 00 00, bellevue-gstaad.ch
Panorama Suite, The Alpina Gstaad
Alpina Gstaad deftly reinterprets the chalet with its hilltop fantasy. The place for travelers who like rustic Swissness, but want it respun, Alpina references Swiss culture with touches such as a glass sculpture that recalls icicles, hand-painted antiques and photos of the majestic landscape. But, Alpina isn't afraid to have a split personality. Its Michelin-starred restaurant, Sommet, adds modern flair to classic Swiss cuisine. Field-to-fork surprises might include upscale renditions of a steamed bun filled with pulled pork, or a crème brûlée with bacon vinaigrette. Alpina also has a kid's club called Treehouse and a sprawling, tension-melting Six Senses Spa. Enjoy the top hideaway, the Panorama Suite. Crowned with its own spa floor (including a treatment room, Jacuzzi, fitness room, sauna and steam room), the 4,300-sq-ft suite has three bedrooms, a dining area and 360-degree views of Gstaad and its environs.
From $10,630 per night. Contact Ewout Lionarons, front office and reservations manager, elionarons@thealpinagstaad.ch, +41 33 888 9874, thealpinagstaad.ch
Presidential Suite, Ultima Gstaad
A chauffeured Maybach, designer uniforms, a glass grand piano (it's one of only two in the world, with the other owned by Alicia Keys), marble galore, contemporary art and custom upholstery by Louis Vuitton (among other designers) combine to set a grandiose mood at Ultima Gstaad, a statement-making boutique hotel. Located near the ski slopes and a quick 10-minute walk from the town's center, Ultima comprises three large Swiss chalet structures that hold 11 roomy suites, each overlooking Gstaad or Diablerets massif. Six larger residences are also available for big groups. Unique to Gstaad's lodging scene, Ultima not only vaunts a classic spa by La Prairie, but also offers guests a medical-style aesthetic clinic, which features services from Botox to detox. The 1,722-sq-ft Presidential Suite feels like home and has a fully equipped kitchen. Balconies extend from every room, bringing the mountain-scape indoors. Guests have access to a personal elevator that opens directly into the suite for private entry and exit.
From $8,100 per night. Contact Simon Le Cossec, general manager, info@ultimagstaad.com, +41 33 748 05 50, ultimagstaad.com
My Gstaad Chalet, Park Gstaad
Park Gstaad proves that coziness and elegance go together with aplomb. This historic hotel, set on the elevated section of a green garden just five minutes from downtown, soothes the soul. Enveloped in a leafy outdoor space that seems a world away, the hotel provides a den of tranquility, indoors and out. With pine-cladding, shiny black granite, wooden balconies topped with flower boxes, myriad pops of grey-hued Swiss boiled wool and old-school leather elements to provide a sense of place, the entire hotel makes you want to curl up with a book and a glass of sherry. In truth, Park Gstaad highly promotes its well-being focus, elements of which
can be found in the menus and room snacks, at the saltwater pool, in the Asian-themed spa or at the well-equipped ski shop. Choose My Gstaad Chalet, the largest penthouse suite in the Swiss Alps. Its sleek interior sports four bedrooms, each with commodious, black marble baths.
From $14,510 per night. Contact Romane Cusin, guest relation manager, grm@parkgstaad.ch, +41 33 748 98 00, parkgstaad.ch
Where to Eat
La Bagatelle
Oenophiles with a penchant for hard-to-find Swiss wines get their fix at this congenial temple of gastronomy, known for its award-winning wine cellar. At Hotel Le Grand Chalet, under the direction of chef Stève Willié, the restaurant specializes in French-style regional specialties such as local venison and lamb. Popular year-round on sunny days, an expansive terrace can hold 60 diners, while interior options include the newly opened conservatory and the original dining room. Zither background music and heart-stopping views seal the deal. grandchalet.ch
Chesery
Gstaad's hottest reservation since Prince Sadruddin Aga Khan transformed a cheesery into a swish inn in 1962, this icon delivers exceptionally delicious cuisine in a warm and relaxing environment. Tucked into a chalet, the elegant eatery defined farm-to-table long before the trend went worldwide. Fish dishes, such as bass in salt crust and seafood pot au feu, remain favorites. Drop in early for an aperitif in the diminutive, atmospheric bar. Lucky diners often have the chance to converse with the chef. chesery.ch
La Vue Restaurant
Built to showcase the mountain views that surround it, Huus Gstaad's La Vue has windows that frame the ski trails, which undulate from the doors of the slope-sited, design-centric hotel. Huus means house, an apt name since this hotel and its restaurants embody the concept of a welcoming and cozy, albeit elegant, home. At La Vue, the menu draws from the region, highlighting dishes, such as its famous lamb cooked with herbs from the on-site garden. Also notable for its other dining concepts, Huus serves a 200-item breakfast buffet in a top-floor nook — with the option to order breakfast à la carte all day, plus has a fondue eatery, a tapas spot, as well as a special restaurant just for children, Huus Kids. huusgstaad.com
Fondue Fun
You can't leave Gstaad without indulging in fondue. Join locals in an epicurean pastime that makes friends out of strangers as you dip your toasted bits of bread into a hot pot of melted, pungent mountain cheese. Abundant with rules for doing it just right (you mustn't let your bread fall from your long fork and get lost in the cheese — that's considered bad luck — and do not drink carbonated beverages while fondue-ing), this casual way to dine holds a sacred place in the annals of Swiss culture.
Tasting best in a rough-hewn mountain hut during cold weather, fondue satisfies for lunch or dinner. While nearly every five-star hotel has its own fondue cabin — such as Le Grand Bellevue's Le Petit Chalet, The Gstaad Palace's La Fromagerie, or Park Gstaad's Chalet Waldhus — one of the most entertaining fondue feasts can be cooked by you in a giant, mountain-side cauldron during a hiking break. Purchase a fondue rucksack, pre-packed with fondue supplies from any cheese shop downtown.
Then, head to the villages of Schlittmoos or Wispile to begin a trek through panoramic scenery. Stop to cook your own fondue at various path-side, oversized fondue pots along the way for a picnic you will never forget. Back in town, consider homey Saagi Stübli, a quaint restaurant that transports you back in time.
What to Do
Flying High
Gstaad's microclimate ensures ideal conditions for hot-air ballooning expeditions. That's why 2020 will be the 42nd time the region has hosted the International Hot Air Balloon Festival, an event that runs from January 25 to February 2. A spectacle that sends 70 colorful balloons up to the heavens daily in Château d'Oex, it's considered one of the top venues of its kind in the world. Sign up for your own customized flight over the Bernese Alps with Balloon Gstaad.
Capers with Copters
It's one thing to hike or ski Gstaad's mountains, but hovering above them reveals a whole new perspective. Combine fitness and meditation with a private helicopter adventure organized by Le Grand Bellevue. Choose either the new Heli Hike or Heli Qi-yoga, that fly you over the Alps for either a heart-thumping hike or a relaxing Qi-yoga session on the summit. Alternatively, Gstaad Palace offers a ride that doesn't require boots or snow equipment: having lunch at the Matterhorn.
S-Turn Training
It's said that more than half of those wearing ski clothes in winter in Gstaad don't actually know how to ski. Don't be a pretender. Learn from the best during a private lesson with Alpinzentrum. Gstaad's ski region, also known as Saanenland, stretches across miles of ski-scape, encompassing several villages with various peaks and runs for every level of skier or snowboarder. Alpinzentrum's guides know the best way to get you down the mountain year-round.
Get Festive
Gstaad itself is a destination, but for those who need another reason to rationalize a visit, come for a festival. There is the Snow Bike Festival in January (an exciting few days of cyclists pedaling up and down the pistes); the Ride on Music festival in March, which brings international artists for slope-sited performances; or the Hublot Polo Gold Cup each August. Gstaad's party schedule ensures you will never be bored.
Walk in the Clouds
Get thee to the Glacier 3000, a year-round excursion with riveting views across Switzerland. Take the Peak Walk, a trek across a suspension bridge that links two mountains. On this peak-to-peak challenge, you'll view 24 peaks in the distance, including the Matterhorn and the Jungfrau. Fitness buffs will enjoy dogsled rides, via ferratas, hiking, Nordic walking or skiing, while gastronomes will want to book Botta, with its panoramic windows, for an unforgettable meal.