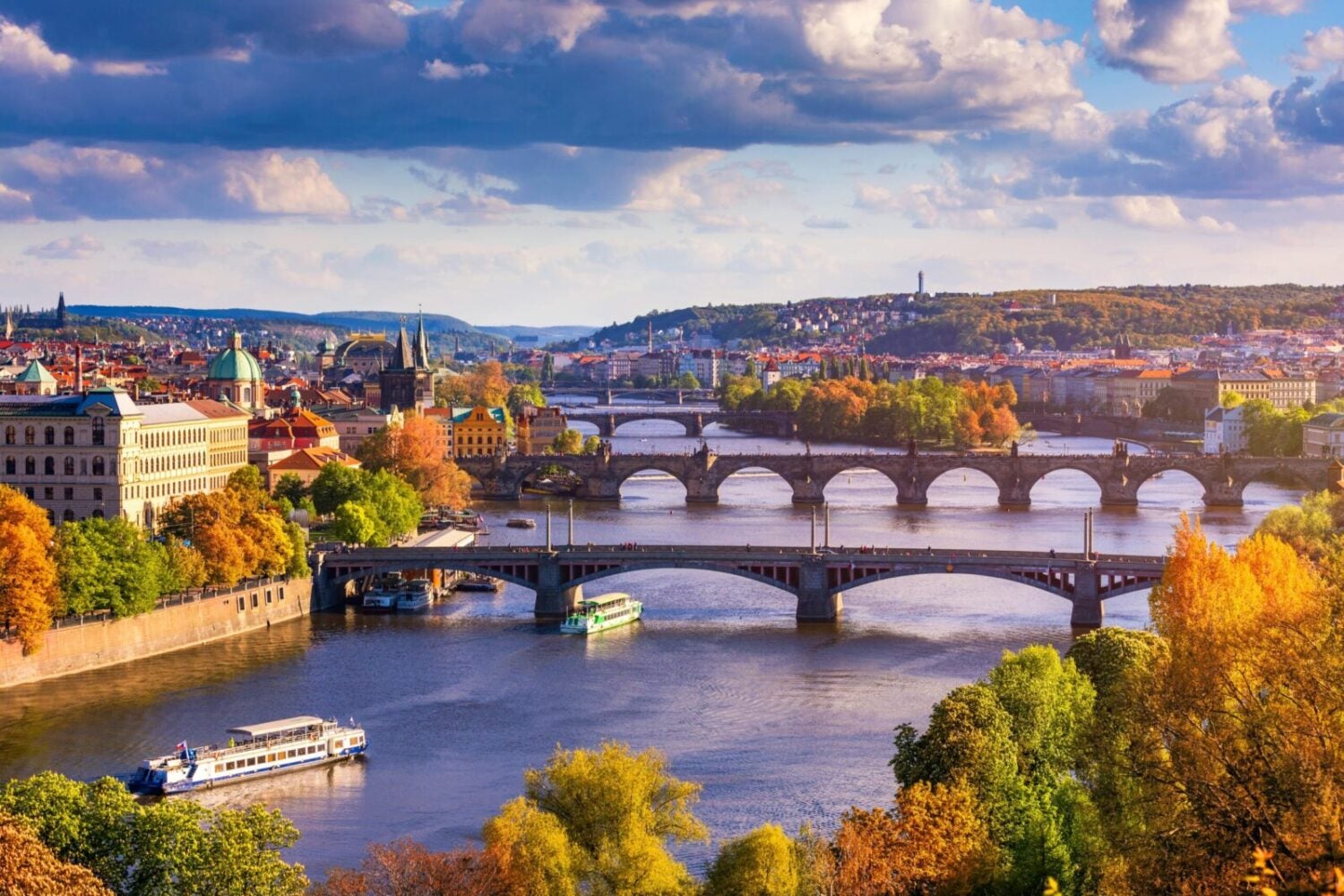 With Michelin-starred restaurants, luxury hotels and excellent shopping, there's something in this guide to Prague for everyone. It's no wonder it is so often cited as one of Europe's most magical cities. Such is the historical magnitude of the Czech Republic's perfectly preserved capital that it's been dubbed "The City of 100 Spires." Prague exudes exquisite heritage, whether it's in its Romanesque chapels, Gothic cathedrals, Baroque palaces or Art Nouveau buildings. Monuments from practically every period of history exist harmoniously on its cobblestone streets and around every corner. Its fairy tale charm has inspired Disney movies and captivates visitors with its romance from the moment they arrive.
Prague's manageable size makes it the perfect destination for a long weekend break, and with warm summers and crisp, snowy winters, it's truly a year-round destination. The main sights straddle the Old Town and Lesser Town, divided by the picturesque Vltava River, dotted each day with steamers, paddle boats and swans. Over 30 pretty bridges connect either side, with Charles Bridge being the most popular and a must-see.
Visitors and locals alike ponder the beauty of the city in one of its many decadent and ornate cafes. Along with a thriving coffee culture, Prague's beer is regarded as some of the best in Europe – your visit isn't complete without trying a pint of Pilsner. Step off a side street into a church or chapel and you'll hear classical music concerts taking place at any time of the day. And at night, it's the city's vibrant jazz scene that really comes to life.
[See also: The 11 Best Restaurants in Prague]
Where to stay
Four Seasons Prague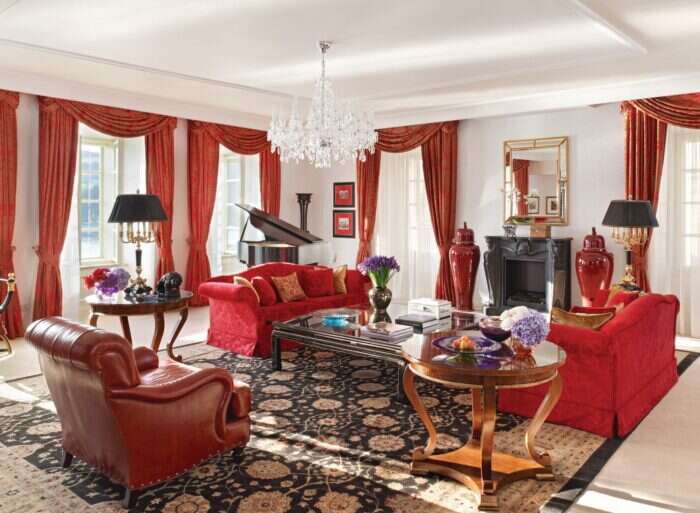 In the heart of the vibrant Old Town, just a three-minute walk from the Old Town Square, Four Seasons Prague is a peaceful retreat at the water's edge, with postcard views of Prague's finest sights: the river, Charles Bridge and Prague Castle. Experience centuries of Czech history across the four equally impressive historic buildings: Baroque, Neo-Classical, Renaissance and modern. There's a popular Italian restaurant with an alfresco dining terrace and an AVA spa with hydrotherapy pool. Its 19 unique suites are among the largest in the city, with the Charles Bridge Presidential Suite and the Prague Castle Presidential Suite both extending over 1,674 sq ft; both are sumptuously decorated and feature breathtaking views of all the major landmarks.
Charles Bridge Presidential Suite from $4,090 per night. Contact Martin Dell, general manager, +420 221 427 777, fourseasons.com
Mandarin Oriental Prague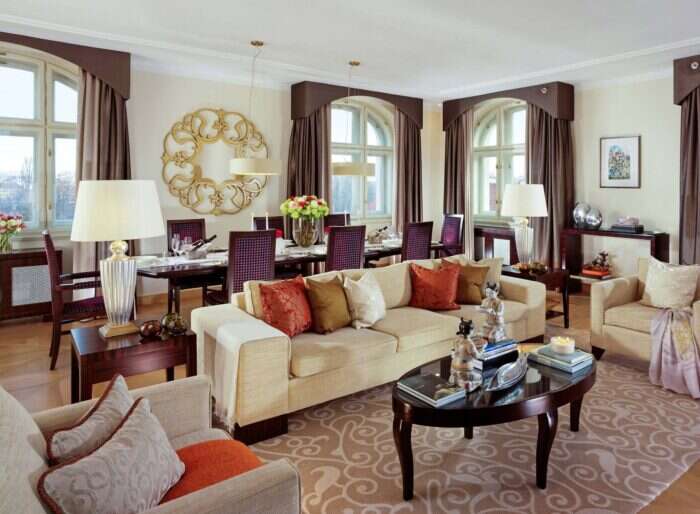 Housed in a former Dominican monastery, with roots dating back to the 14th century, Mandarin Oriental Prague sits near the banks of the river in the Lesser Town on one of the city's prettiest streets, with views of Prague Castle. The hotel's buildings comprise six centuries' worth of architecture, with rooms spreading across Baroque, Renaissance and Spa wings. During its reconstruction, over 250,000 historical objects were found, and many are displayed throughout the hotel. It's home to one of the best spas in the Czech Republic – the world's only spa in a Renaissance chapel, connected to the hotel by an underground passage. Top suites include the Moser Crystal Suite, with exquisite crystal accessories and decorations, a light-filled living room, tall Baroque windows and arched ceilings; and the Presidential Suite, located in a private tower across two floors, with a terrace offering magnificent panoramic city views.
Moser Crystal Suite from $1,160 per night. Contact Flavia Daudan-Caponi, general manager,
moprg-reservations@mohg.com, +420 233 088 888, mandarinoriental.com
Augustine, a Luxury Collection Hotel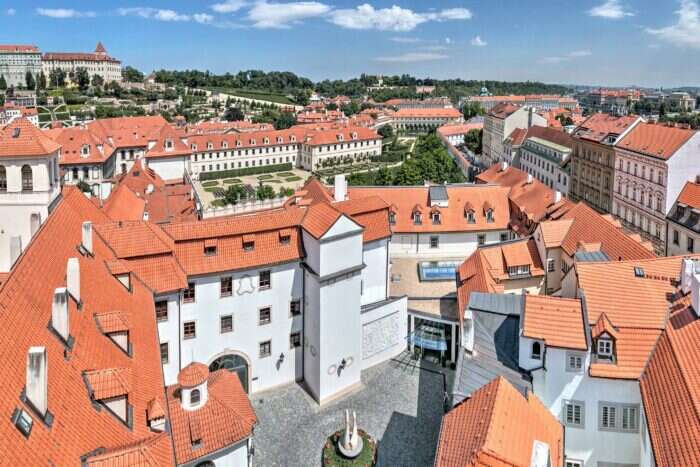 An oasis in the heart of Lesser Town (the most exclusive part of the city), Augustine is a lavishly renovated monastery. It captures the essence of the cultural capital across seven historical buildings, with its interiors and color scheme reflecting the Augustine Order, alongside Czech Cubism furnishings that were first popular in the 1920s and 1930s. The hotel still serves St. Thomas Beer, brewed according to the original recipe of Augustine monks from 1352, and there is still an area on the grounds that is retained by practicing monks who live there. The Presidential Suite is the largest and most luxurious, with its own dining room, library and office as well as views of the Sundial Garden, a hidden gem in Lesser Town. The Tower Suite is the most popular choice with celebrities. Housed in the former astronomical tower of the monastery across three floors connected by a spiral staircase, it offers unforgettable views and feels as though you're almost touching the stars.
The Tower Suite from $2,450 per night. Contact Mario Egger, general manager, augustine@luxurycollection.com, +420 266 112 233, marriott.com
[See also: A Luxury Guide to a Long Weekend in Edinburgh]
What to see
Dating back over 1,000 years, Prague Castle is both a Unesco World Heritage Site and the largest ancient castle in the world. It's a great place to uncover Prague's history, as its grounds are home to palaces, religious buildings – and the home of the Czech president. The best spot to capture the regal beauty of its hilltop position is from the banks of the Vltava River, with its swan-filled waters in the foreground.
Church of Our Lady Before Týn is a Gothic structure with striking twin towers that can be seen from all over Prague; it is rumored to have inspired Walt Disney's design for the castle in Sleeping Beauty. It's worth visiting by day, or by night when it is lit up with a warming amber glow. Its organ is the oldest in Prague and is frequently played in the church's many classical music concerts.
Often heralded as one of the most beautiful sights in Europe, and another Unesco World Heritage Site, the Old Town Square showcases the city's perfectly preserved dramatic medieval architecture alongside ice-cream-colored townhouses and cafe terraces that buzz with people-watchers and coffee drinkers. Climb the tower of the square's Old Town Hall with its fairy tale turrets to reach an observation deck that offers spectacular views of the square below.
Dating back to the 15th century, the Astronomical Clock (Orloj) is the oldest such clock still working in the world. Mounted on the side of the Old Town Hall, the clock has an astronomical dial and a calendar with medallions. On the hour, it springs to life with a mechanized show of 12 rotating apostles and an hourglass-wielding figure of death. Arrive at least 15 minutes before the hour to get a good viewing spot, as crowds quickly form.
A distinctive landmark in the Lesser Town alongside the Castle, The Church of St. Nicholas is one of Europe's finest examples of High Baroque architecture and design. On its dome, Johann Kracker's impressive Apotheosis of St. Nicholas is Europe's largest fresco. Concerts are held in the church year-round on the historic organ dating to the 18th century, which was once played by Mozart.
Traversing the Jewish Quarter and connecting the Old Town Square with Čechův Bridge, Parizska Street is Prague's most prestigious shopping destination – Parizska taking its name from Paris because of its chic Parisian boulevard feel. It's lined with stately townhouses, and you'll find a wide range of luxury boutiques and most of the top fashion houses, from Prada to Burberry, as well as seriously smart cafes, restaurants and bars.
At Christmas, its trees are strung with white fairy lights and the shops are all lavishly decorated. And if all the shopping becomes too exhausting, hop in one of the many horse-drawn carriages that trot along the area's charming cobbled streets.
Winter Wonderland
Few cities can match Prague's beauty during the winter months, when flurries of snow and twinkling festive lights inspire a whole new level of romance. Its Christmas markets are regarded as some of Europe's best. Running from the end of November through early January in the Old Town Square and Wenceslas Square, each market features rows of colorful wooden huts playing Christmas songs, selling handmade decorations, souvenirs and festive fare like spicy gingerbread and warming cups of svařák, a Czech mulled wine. There are miniature ice rinks and nativity scenes, and each square is presided over by a twinkling Christmas tree cut from Czech forests. For some seasonal culture, don't miss a production of The Nutcracker ballet at the splendid National Theatre; the city's many churches also frequently play host to atmospheric Christmas concerts.
Where to eat
Alcron
For an intimate and memorable meal, step back into the 1930s at Alcron Hotel's signature restaurant. A semicircular room with just 24 seats, it's dominated by a wraparound Jazz Age Art Deco mural offset by the romantic glow of a 1930s fireplace. The food, in contrast, is hyper-modern and refined. Expect decadent dishes like foie gras with papaya, gooseberry and macadamia nuts, and pumpkin soup with kumquat, chili and parmesan on the chef's six-course tasting menu, as well as an excellent selection of Czech wines.
This is one of two Michelin-starred restaurants in Prague, with a food philosophy of small, thought-provoking meals that arouse the senses. Dining here is an opportunity for foodies to experience Czech food, with recipes loosely based on a famous Czech cookbook from the late 19th century. Memorable dishes like pork cheek with celery root and kale and beef tenderloin, lard and beetroot showcase the seasonal produce sourced from the restaurant's trusted farmers, foragers and hunters, and the cellar celebrates small European growers with a well-curated selection of Czech wines. It's tucked away in a historic building at the end of a narrow lane, and the atmosphere is warm but elegant, with an open kitchen that lets you see the chefs in action.
Field
Prague's second Michelin-starred restaurant, Field, is a farm-to-fork destination that emphasizes food in its natural form, with clean-cut flavors and innovative presentation. Menu standouts include sturgeon, fennel, shallot and dill; and pork, pea, beetroot and speck. A highlight for non-drinkers is the sophisticated pairing of non-alcoholic drinks that can be offered with your meal. Situated in the Old Town near the Jewish Quarter, the vibe is hip and contemporary. Be prepared to book in advance, as it's quite popular. Fun fact: Field's executive chef is the main judge on MasterChef Czech Republic.
Cafe Savoy
Founded in 1893, Cafe Savoy is the premier breakfast destination in Prague. Located on the west bank of the river near Kampa Park, it's one of Prague's grand cafes, housed in a spectacular Art Nouveau building with a 23-foot Neo-Renaissance ceiling with glistening chandeliers that add to its feeling of grandeur. With impeccable service and excellent food (breakfast is served well into the afternoon), it's worth joining the often long queue for a table. Alongside a variety of traditional Czech cakes and pastries baked in-house, the signature Savoy breakfast is a highlight, featuring French toast with apples and maple syrup, alongside eggs, yogurt and fruit.