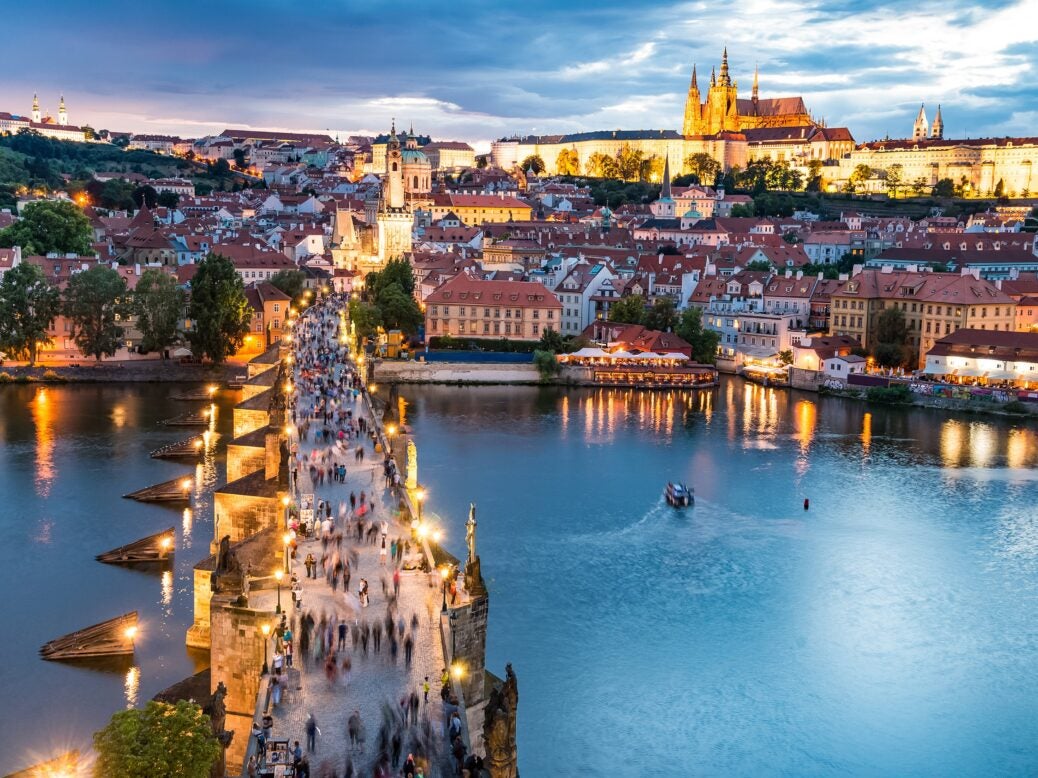 In recent years, the Czech capital has become a must-see for those visiting Europe, with many travelers drawn by its rich culture, beautiful architecture and vibrant nightlife. However, far from being just a party city, Prague is also home to some fantastic dining destinations, with many of its best restaurants offering a unique and highly stylized insight into local cuisine.
But, while the city of a hundred spires has a proud history of serving its nation's cuisine, including favorites such as beef and pork dumplings and the classic smažený sýr (fried cheese), its best restaurants are also beacons of international influence, with the likes of Scandinavian, Italian and French cuisine all finding their places in Prague's food scene.
Elite Traveler recommends some of the best restaurants in Prague for an elevated insight into where to eat in the Czech capital.
[See also: The 9 Best Restaurants in Cape Town]
La Finestra in Cucina
Since chef Riccardo Lucque's second restaurant, La Finestra, opened in 2009 it has taken Prague by storm. The restaurant has an open kitchen where Executive Chef Tomáš Juřík shows off his expertise in creating some of the best Italian dishes in town. Their summer menu includes dishes such as their gnocchi with beef ragout and fava beans, or the saffron risotto with roasted marrowbone.
Guests have the option to book La Finestra's exclusive and private room, located in its extensive wine cellar.
CottoCrudo
In the Four Seasons Prague, CottoCrudo's kitchen delivers the most refined Italian dishes as one of the best places to eat in Prague. Modern Italian fare, including fresh seafood and homemade pasta, is served in a stylish urban setting. Executive chef Marco Veneruso puts a modern twist on his Italian background for a taste of "Little Italy in Prague." During warmer summer days the restaurant will open its doors and invite guests outside to enjoy lunch or dinner on the picturesque riverside terrace. Make sure not to miss their signature cavatelli pasta, complete with cacio e pepe calamari and an artichoke and lentil sauce.
Field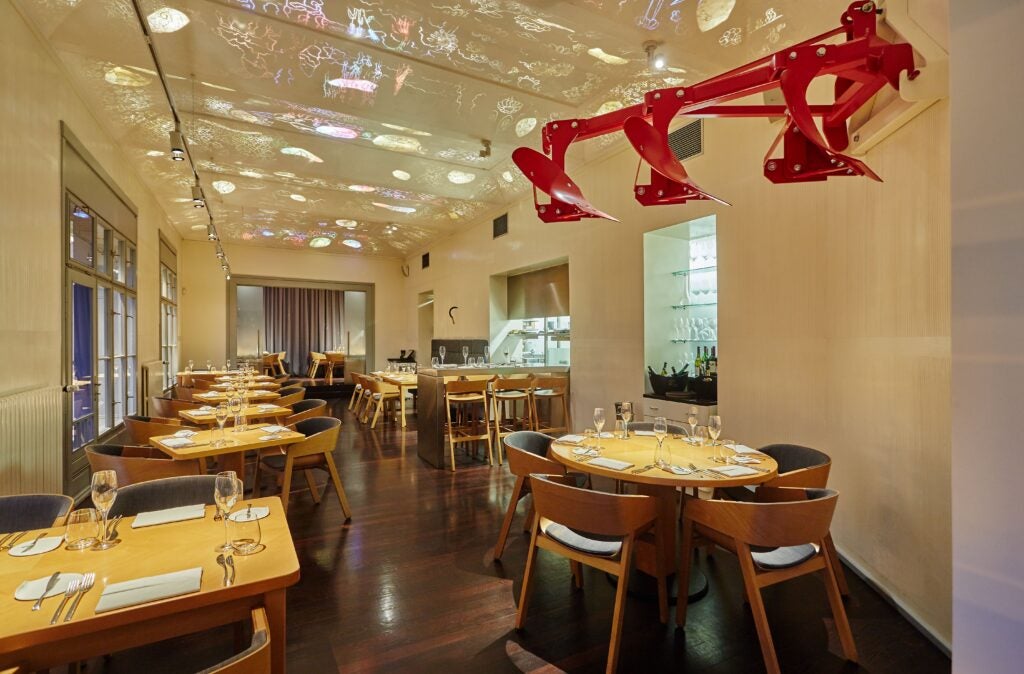 At Field restaurant, executive chef Radek Kašpárek focuses on food in its natural form with well-balanced Scandinavian cooking. This one-Michelin-starred restaurant emphasizes the raw origins of ingredients, serving modern cuisine that is as simplistic as it is delicious. The restaurant features a degustation menu as well as two lunch menus, with the first including chanterelle with brown butter, followed by sturgeon with asparagus, pea and black currant.
There is also a separate vegetarian menu available.
Salabka
Located in the outskirts of the city in a quaint winery, Salabka is surrounded by vineyards that have been cultivated on the hillside since the thirteenth century. After training at Michelin-starred restaurants in London, head chef Petr Kunc has his own imaginative take on modern cooking, and makes sure that high quality wild game and freshwater fish from the local area are menu staples. The main course is a potato risotto with seasonal forest mushrooms and curd cheese espuma, and a roe deer loin with beetroot, parsnip puree and blackberry juice.
Their most popular tables are on the first floor, with wide windows overlooking the surrounding vineyards.
La Degustation Bohême Bourgeoise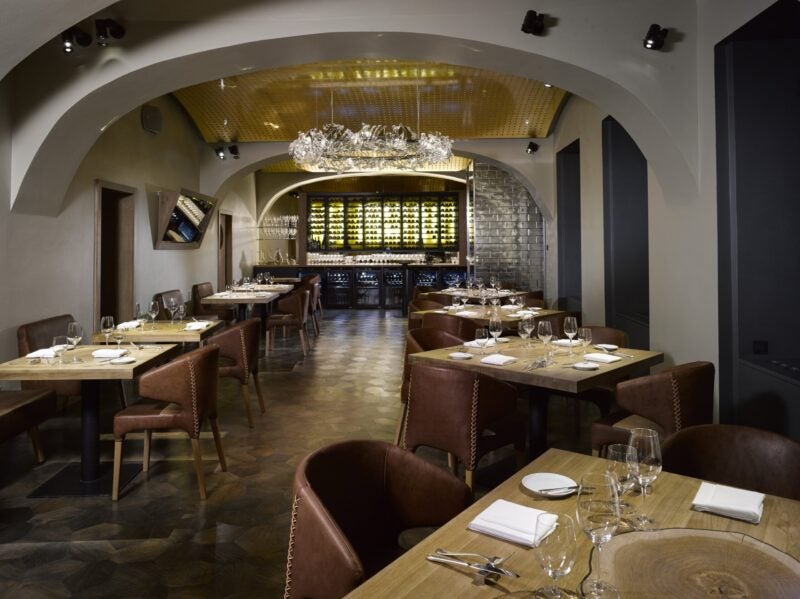 As one of two Prague restaurants currently holding a Michelin star, La Degustation's philosophy is "small, thought-provoking meals that arouse the senses." The seasonal menu, crafted with local Czech produce, is served as six or eleven courses. Their degustation menu features zucchini with cilantro and rhubarb, as well as beef fillet mignon with truffle and mushrooms.
Their wine cellar is stocked with wine from small, independent European producers. House sommeliers experiment to find the optimum pairing for each seasonal dish, with many non-alcoholic drinks created from local fruits, vegetables and herbs also available.
Aromi
Another Italian experience from Riccardo Lucque, Aromi centers on seafood, sourcing ingredients and products from small suppliers in Italy. Riccardo introduces the best of Italian cuisine to the Prague dining scene, serving dishes like spaghetti with lobster, grilled octopus, and pumpkin gnocchi with Pecorino and black truffle.
An outdoor garden welcomes guests during the warmer months, where you can enjoy a glass from the wine list of more than 300 Italian labels.
[See also: The Best Restaurants in Miami]
Kampa Park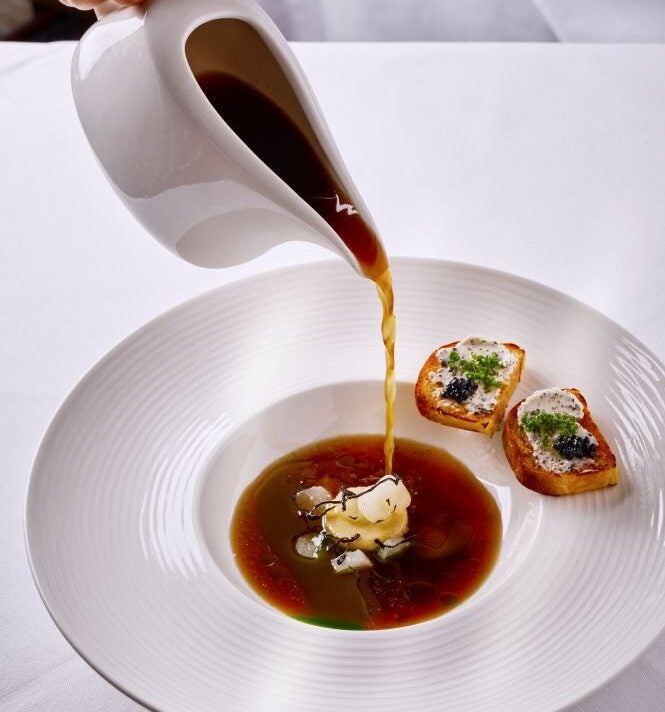 Overlooking the Vitava river, Kampa Park is the perfect place to settle down for an evening meal after a sunset stroll across the medieval Charles Bridge. The menu is novel and bold, designed by the restaurant team under executive chef Marek Raditsch. Alongside a variety of salads, soups, and vegetarian and vegan options, guests can enjoy a five-course degustation menu featuring grilled monkfish with shiitake mushrooms and beurre blanc sauce, and duck breast with pumpkin purée and beluga lentils.
[See also: The 12 Best Alfresco Restaurants in London]
Siddharta Café
Bold, vibrant colors are stunningly applied in the Siddharta Café, an exciting restaurant-bar-lounge located in the Buddha-Bar Hotel. The chef creates cosmopolitan, sophisticated menus offering a range of Euro-Asian dishes that perfectly complement the Pop-Art atmosphere. Turquoise chairs framed in black, warm tangerine walls and dramatic light fixtures are all part of the appeal.
A five-course degustation menu is served with recommended wines, comprising deer loin with ponzu sauce and black lentils, or the pumpkin croquettes with daikon radish and kale, to name a few.
Coda Restaurant
Newly re-opened for visitors, the Aria Hotel's Coda restaurant offers delicious and sumptuous cuisine, and guests can savor innovative international flavors accompanied by a wide selection of wines in an intimate atmosphere. During the summer, rooftop dining is a popular option at the Coda Roof Garden Terrace for views of Prague. Alternatively, the Winter Garden is the perfect setting for a more relaxed setting. The restaurant is decorated with paintings and sculptures and further embraces the arts with live piano performances every evening through the week.
Their menu, courtesy of head chef Jan Kaplan, offers an extensive selection of dining options inspired by Czech cuisine, from veal schnitzel with lemon and gherkin salsa to a cheeseboard that showcases Czech cheesemaking, accompanied by wild cranberries and date bread.
La Rotonde Restaurant
Located at the Radisson Blu Alcron Hotel, La Rotonde is an elegant Art Deco-inspired restaurant serving a delectable choice of international cuisine and traditional local dishes. The items on chef Lukáš Hlaváček's à la carte menu are sourced locally, and there is an emphasis on seasonality. Dishes include local pork with plum and mushrooms, and cauliflower with brown butter and shimeji.
[See also: The 13 Best Restaurants in Dubai]