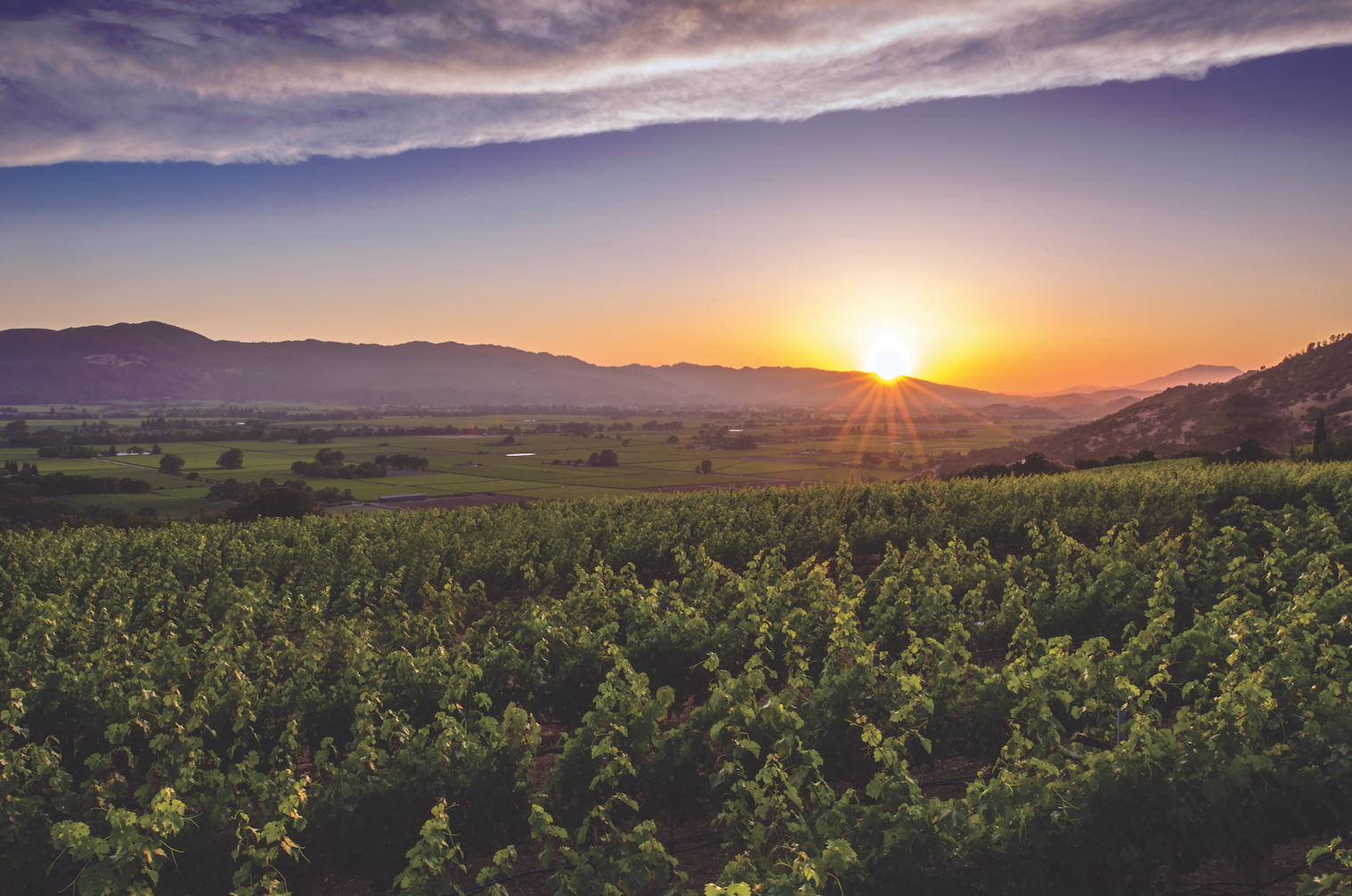 Running longitudinally from the town of Napa through Yountville, Oakville and Rutherford to St Helena in the north, Napa Valley stretches roughly 30 miles, although even the locals have an elastic definition of "the valley."
The global importance of its $34 billion wine industry, however, is indisputable. Drawing world-class chefs, oenophiles and wellness enthusiasts since the 1970s, today this viticulture region is a thriving nature preserve that houses one of the most diverse agricultural communities in the state of California.
For visitors, that translates to alternative winemaking methodologies, innovative spa treatments and wild culinary adventures — some without even leaving the comfort of your hotel room.
While the 2017 wildfires had a definite effect on Napa Valley and its residents, the county is flourishing after what many vintners deemed a near-perfect, post-fire growing season.
What to Do
Napa Valley Bike Tours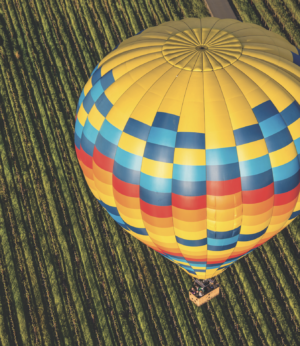 Napa Valley Bike Tours skips clichéd tours through customization, whether it be time (half-day, full-day), distance, included wineries, roads (on-pavement, through vineyards) or the bikes available (electric, road, dirt, self-guided); there's a tour to satisfy everyone. Van support means a designated driver will pick up and deliver any purchased wines along the way — most guides grew up in the region, so local geography and topography won't be an issue.
Napa Valley Balloons
Marvel at the rows of perfectly planted grapes and undulating hillsides from above. Ideal for two passengers, the hour-long balloon flight gives a sense of the expansive and varied Napa Valley landscape. Docking at the Domaine Chandon Winery for a post-flight private breakfast prior to the winery opening to the public, be sure to take a stroll through the terrace and lawn, which are surrounded by indigenous, old-growth oak trees.
Where to Eat
The French Laundry
For over 20 years, chef Thomas Keller's The French Laundry has dazzled pilgrims from around the world. His daily pair of nine-course menus, one tasting and one vegetable-based, highlight French methodologies as well as the finest local ingredients.
Keller's prolific use of quotes around dishes like "bread and butter" (think bitter-cocoa-laminated brioche, for starters) means wonder overflows. Since 2007, The French Laundry has maintained its three-Michelin-star rating.
Housed in a two-story, river-rock and timber cottage, the restaurant has expanded; a contemporary annex features The Board Room, a private dining space with a custom table (suitable for up to 12 guests) made from a 140-year-old tree.
The Charter Oak
With a hearth at its center, the intentions of The Charter Oak are clear: family-style dining, vegetables from its 2.5-acre farm and a charming array of seriously crafty cocktails (we are partial to the margarita with winter citrus and orange-flavored rum).
The brainchild of chef Christopher Kostow of three-Michelin-starred The Restaurant at Meadowood, The Charter Oak offers a duet of distinct, curated-yet-relaxed spaces: an indoor dining room with wide wood-planked floors and a tree-filled brick patio.
Enjoy the elemental, garnish-free dishes like the hearth-roasted ham with fresh horseradish and the rancho gordo lima beans in their own broth.
Sky & Vine Rooftop Bar
Tall buildings are one thing Napa doesn't produce. Head to the sixth-floor rooftop of the Archer Hotel at sunset for a panoramic view of the valley.
Settle around one of the crackling stone fire pits and opt for the superb Bar Bites, like chef Frankie's beef jerky or the lobster corn dogs, indulgent bites in the land of farm freshness. Linger over the 'interesting whites' and 'interesting reds' menus — they're a delight.
Where to Drink
Rudd Oakville Estate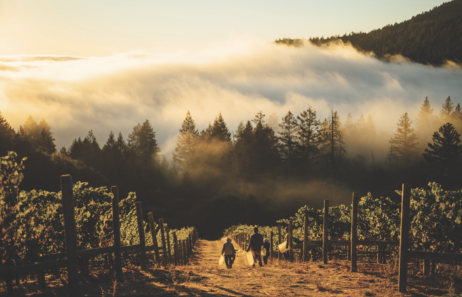 Combining 'French winemaking techniques with American technological innovation,' Rudd Oakville Estate calls itself a workshop instead of a winery. Family-run by vintner Samantha Rudd, it ferments in stainless steel or concrete barrels depending on the lot, and features 20,000 sq ft of underground caves. Picturesque Rudd produces a pair of reds and whites, and visits are by appointment only.
Prisoner Wine Company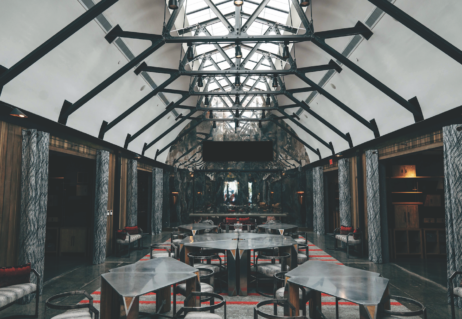 Behold, a modern industrial tasting room! Prisoner Wine Company, a favorite of wine collectors, debuted its 40,000-sq-ft property last winter, splashing onto the scene with a vaulted cathedral glass ceiling, reclaimed wood fixtures from the original Bay Bridge and an immense diesel tank reimagined as a custom chandelier.
Beside the tasting room sits an area called The Makery, a series of five studios where local artisans — from soap makers to metalsmiths — serve three-month residencies. Tastings are by appointment, although guests are encouraged to come and spend a few hours here, whether that's touring the herb gardens or relaxing on the terrace.
Ovid Napa Valley
The little sister to the grand dame Silver Oak Winery, Ovid Napa Valley's 15-acre vineyard sits atop Pritchard Hill at a 1,400-ft elevation. There, its vintners create three varietals in addition to a yearly experimental wine. Named for Roman poet Ovid and inspired by his epic poem Metamorphoses, the winery's lush hilltop vineyards flow into an unexpected find, a fruit and nut orchard.
The vineyard supplies jams and nuts to The French Laundry as well as The Restaurant at Meadowood in an effort to increase its environmental stewardship. Tours and tastings are private, limited and by appointment only.
Where to Stay
The Estates at Meadowood Napa Valley
Four-Bedroom Estate Lodge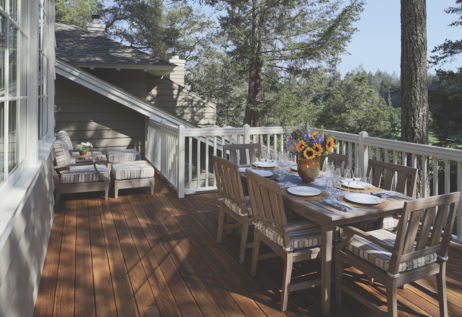 Two-person soaking tubs, thick wool rugs, woodburning fireplaces and a cottage-style decor create an enveloping sense of comfort and warmth throughout the 5,350-sq-ft lodge. Look out over the Meadowood fairways and into the thickets of oak and manzanita trees from the set of expansive terraces. Take up a game of croquet in the gardens or book a slate of private tastings via the personal butler.
Price: Four-bedroom Estate Lodge from $12,000 per night
Contact: Rob Harrison, director of guest relations, rharrison@meadowood.com, +1 707 531 4788, meadowood.com
Calistoga Ranch
Estate Lodge
Nestled amongst moss-covered oaks and soaring pine trees, the two-bedroom Estate Lodge places privacy above all. In a brilliant execution of an indoor/outdoor concept, tree trunks weave through the sitting room of the wood-and-stone accommodation.
An alfresco rain shower, a hot tub and fireplace mean it's never too chilly for stargazing, while the full kitchen and on-call private chef mean you can have meals in the comfort of your own dining area. Calistoga Ranch sits in a private canyon on 157 acres, and is the sole resort in Napa Valley with its own vineyard. Two-bedroom Estate Lodge from
Price: $3,255 per night
Contact: Rowena Tucker, area director of leisure sales, rowena.tucker@aubergeresorts.com, +1 562 253 9532, aubergeresorts.com
The Estate Yountville
The Villa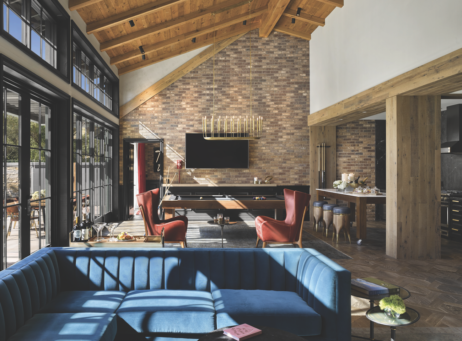 Created with entertaining in mind, The Villa includes a private pool, Jacuzzi and separate gaming area, and its five bedrooms overlook the 22-acre Estate Yountville grounds.
From the La Cornue oven to the Officine Gullo refrigerator and a pair of king-size Hästens 2000T beds, the 3,600-sq-ft Villa was designed for absolute luxury. The Grand Salon features 20-ft ceilings and is the heart of the suite. A stay here comes with its own concierge, and guests can request an Estate chef to create a personalized, multicourse, in-villa menu.
Price: The Villa from $10,000 per night
Contact: Elizabeth Grillos, area director of sales and marketing, reservations@theestateyountville.com, +1 800 351 1133, thevillaestatenapa.com
Where to Relax
Blue Note Napa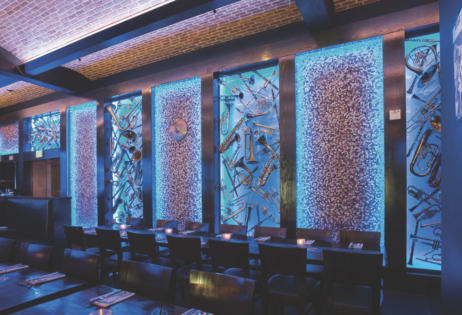 Housed on the first floor of the historic Napa Valley Opera House, Blue Note Napa maintains the same sense of intimacy and attracts several performers from its famed sister venue in New York City's Greenwich Village. With seating for only 150, you can reserve a cabaret-style table or, for larger groups, one of the six booths that runs along the back of the aptly indigo-tinted space. Skip the wine and sip on Choppe Blues, the floral pale ale brewed on-site, while drinking in the sounds of world-class jazz musicians.
Auberge du Soleil Spa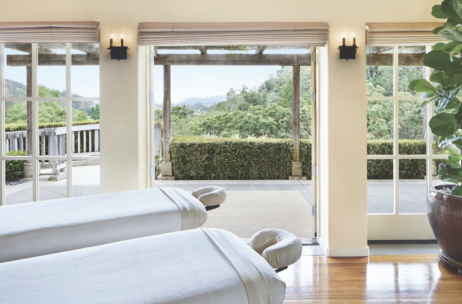 Commit to the mantra: Pleasure is healing. Set among mature olive trees and three stone-basin fountains (in perfect alignment with Mount Veeder on the horizon), the spa is a place to experience red wine in a different way with Vineyard Déjà Vu, a body treatment that combines grape seeds and a local red vintage to buff and rejuvenate the skin. Or opt for the Best of Auberge facial, which applies Vintner's Daughter Botanical Serum, created by former local winemaker April Gargiulo, along with a microcurrent and collagen mask. Lounge in the thermal soaking pools post-treatment for the full pampering experience. The spa is reserved for guests of the charming hotel, and well worth a visit.
The Culinary Institute of America at Copia
Ground zero for all gastronomic endeavors, The Culinary Institute of America at Copia, with the breadth and depth of its offerings, is sure to excite all visitors. Baking and cooking classes abound; the store features custom Amanda Wright pottery pieces, cookery antiques and thoughtful children's gifts. And the Chuck Williams Culinary Arts Museum showcases essential European food history. Frequent guests like chef Alice Waters and farmer Bob Cannard round out Copia's robust conversation series.