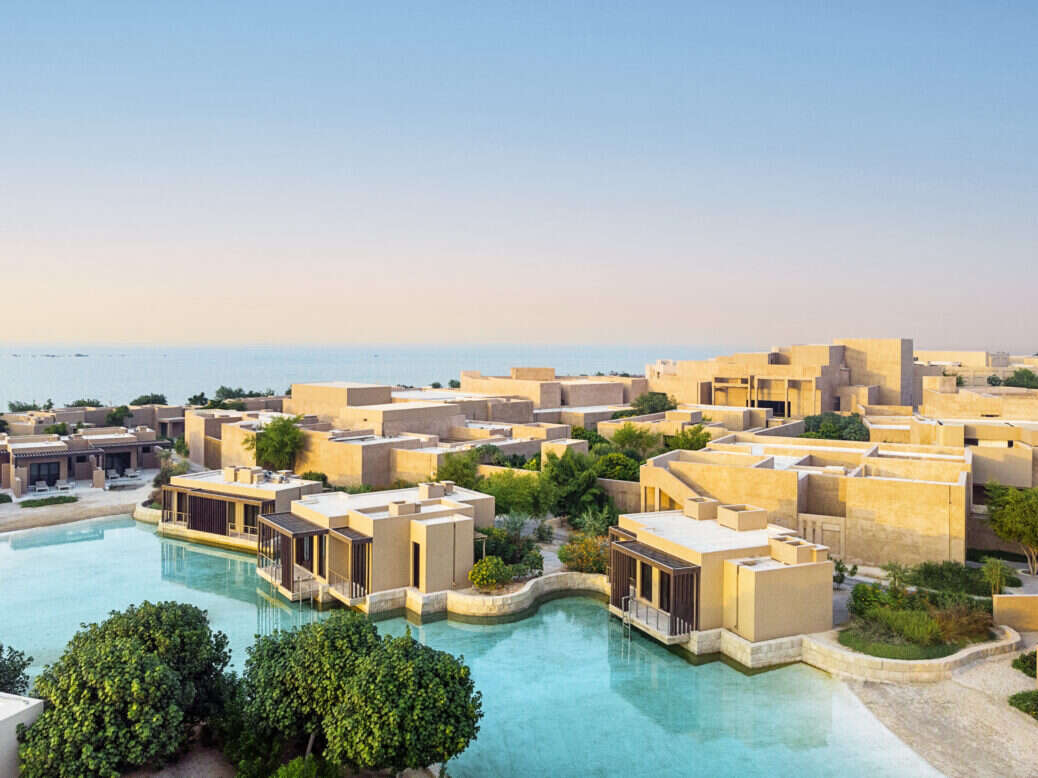 It's all change in Qatar, which this winter will become the first Middle Eastern nation to host the World Cup. In the capital Doha, there's talk of little else. On the Corniche, a countdown clock tallies the remaining hours until it all kicks off; competing countries' flags fly from boulevards; a slew of new hotels and attractions are preparing to welcome a global audience. Naturally, a luxury guide to Qatar has been a long time coming. And yet, despite its superb national airline and airport consistently impressing long-haul passengers in transit, until now so few leisure travelers have considered vacationing here.
It appears that they've been missing out. Opened just before the pandemic and one of the world's most architecturally audacious and beautiful buildings, the National Museum of Qatar is a notable showstopper among a collection of cultural attractions that is unrivaled throughout the region.
The timeless mystery and majesty of the surrounding deserts await adventurers, while the hospitality offering incorporates high-end hotels, restaurants and bars from the world's most reputable brands. Sweeping from the center of ever-evolving Doha to little-known coastal enclaves on the perimeter of the country, here's Elite Traveler's guide to the very best of Qatar.
[See also: Top Private Jet Tips for First-time Fliers]
Where to Stay in Qatar
Mondrian Doha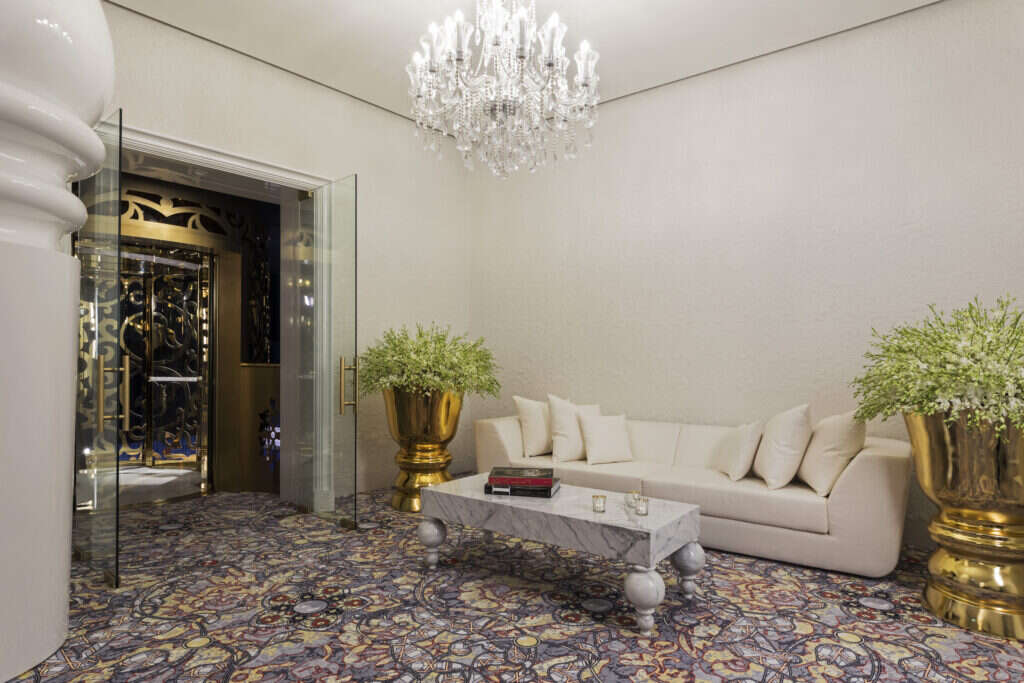 Dutchman Marcel Wanders' brilliantly bonkers imagination was permitted free rein when he was tasked with creating a property that would truly put Doha's luxury hotels on the map. The wonderfully whimsical result is Mondrian Doha, which could well be the most charming hotel in all of the Middle East. Things start playfully immediately, with a forest of cartoonish white trees sprouting from floor to ceiling in the lobby. Way up high, a grassy bridge crosses the rooftop pool, which is crowned by a cascade of flowers — petal patterns etched in luminous stained glass — that tumbles downwards from the building's domed ceiling.
Even the most privileged seen-it-all-before travelers will find further surprises and thoughtful touches around every corner, but this isn't a property where style trumps substance. Service is top-notch, and the sprawling subterranean spa is sublime (its skilled therapists have a lot to do with that, though the handsome hamman offered alongside its expected steam, sauna and relaxation facilities further sets things apart). Decadent dining options include Wolfgang Puck's CUT, arguably the city's preeminent steakhouse, while Black Orchid nightclub is one of the city's most spirited venues. There are other inviting bar and restaurant options besides, though those staying in the hotel's best suites may find themselves ordering room service. It can be hard to leave such fantastical places.
In the Bridal Suite, a bulbous standalone tub is set like a storybook cloud in the center of the mammoth bathroom, while a cylindrical golden elevator descends directly from the suite to the grand ballroom below. Way up, the two-story three-bedroom Penthouse Suite is remarkable. In the cinema room, there's a cherry-red pool table just across from the grand piano; a 12-person dining table stands under treble-height ceilings; and views stretch from the man-made island The Pearl towards Doha's city skyline.
Bridal Suite from $11,000 per night; Penthouse Suite from $13,700 per night. Contact mondriandoha-res@mondrianhotels.com, +974 404 557 77, mondrianhotels.com
Zulal Wellness Retreat
The Middle East's first fully fledged wellness resort — and also billed as the first property of its kind worldwide to offer comprehensive health and wellbeing escapes designed especially for families — Zulal occupies a remote site on the northernmost tip of the country (while still just 90 minutes from the airport). There's something otherworldly about this coastal enclave, where the water's edge ebbs up to a mile away at low tide and scrubby tufts of exposed mangroves break the blue-sky horizon. With its concept developed in collaboration with Thailand's Chiva Som, this is a new property with a proven pedigree, and one that takes its guests' progress seriously.
Photography is frowned upon and all arrivals are encouraged to confine phone usage to their rooms (easily done given it's the only place WiFi is accessible). Bringing alien foods onto the property is problematic too, but that's no hardship. Surprisingly, meals here are endlessly delicious and occasionally ingenious. Crunchy bread rolls are steamed prior to baking; made with bloat-free coconut sugar and all-natural ingredients, dainty desserts and pastries are surely-this-can't-be-allowed indulgent; some 120 different restorative brews can be prepared to order in the tea library.
There are additionally top-of-the-range fitness facilities, complimentary classes ranging from beach volleyball to tai chi, and expansive amenities that include an Arctic ice room, and a glistening Himalayan salt room. Where guests reside will depend on whether they are with or without family: Accommodations and facilities are divided into two adjoining sites, with the former group occupying a section of the resort known as Discovery and adults-only bookings ensconced in Serenity.
From $2,100 per night. Contact Marc Sawaya, director of sales, marc.sawaya@zulal.com, +974 335 692 44, zulal.com
Mandarin Oriental Doha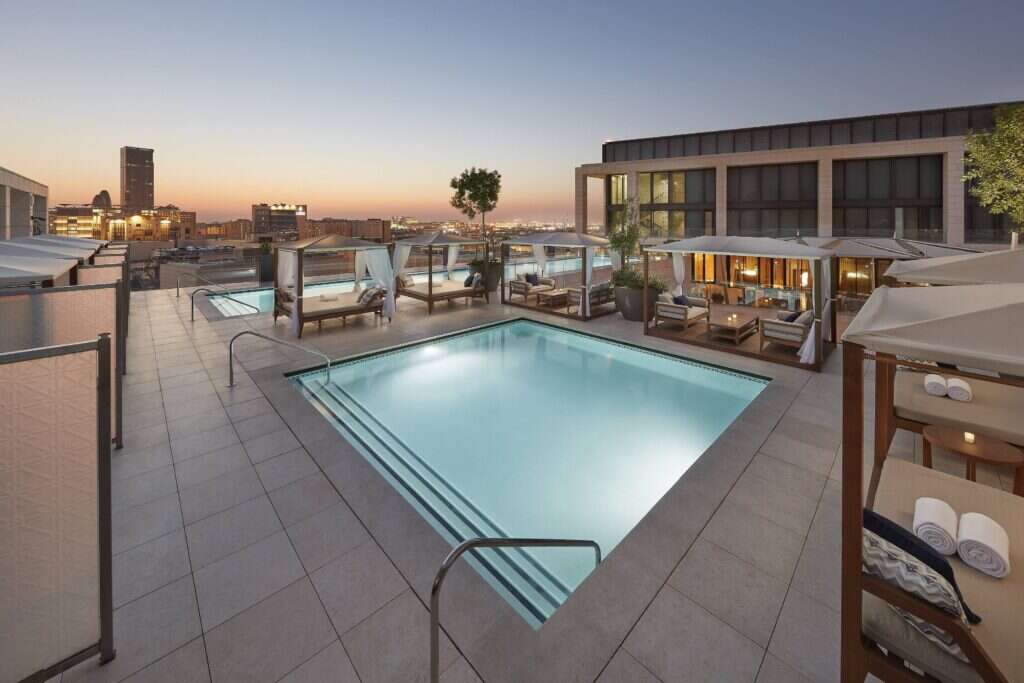 Opened in 2019 as a flagship property within the emerging Msheireb Downtown Doha district, this elegant David Collins Studio-designed MO intersperses ultra-modern features with some subtle traditional Qatari touches referencing the nation's seafaring and pearl-diving past. Dining options abound, from sophisticated Chinese fare at Liang to French-Mediterranean cuisine at Izu and pretty much anything you'd care to think of at Mosaic.
Their design is inspired by woven palm leaves, decorative partitions segregate seating areas and nine distinct cooking stations within that latter restaurant, with their offerings inspired by the flavors and variances found along the Silk Route of old — expect Japanese specialities, Tandoori dishes, homey rotisserie and an extravagance of desserts. There's also a well-equipped gym, alongside two rooftop pools and separate his-and-hers spa facilities. As for accommodation, the most impressive option is the immense Royal Suite. Accessed via its own private elevator, it features a 10-person dining room, open-air courtyard and pool.
Royal Suite from $16,500 per night. Contact Martin Schnider, director of sales, martinjs@mohg.com, +974 400 880 80, mandarinoriental.com
Watch this Space
Set to be Qatar's defining skyscraper, Katara Towers is near completion, and it's hoped this audacious new building will turbo-charge the country's reputation as a global center for high-end hospitality. That's thanks to the two hotels that will occupy either of the bowed building's curved arms (the unusual silhouette mimics the crossed swords that form Qatar's seal). On one side (and opening this summer) will be Fairmont Doha.
Raffles Doha will occupy the other side and will open in early fall. As the management company behind both brands, Accor is, for now, tight-lipped about the delights that await, but rumors have slipped of gargantuan signature suites, Doha's best wellness facilities, and a panoply of exceptional restaurants presided over by globally renowned chefs. All will be revealed in good time for the World Cup, and it's unlikely there'll be a more coveted address in the city come that first kick-off.
What to Do in Qatar
Desert day out
It's only a short drive from the center of Doha before the skyscrapers subside and the sands take over. There's a foreboding beauty to these dramatic desertscapes; tourists would be foolhardy to venture into these shifting sands alone, but experienced tour guides can reveal the secrets of the desert. Departing from the capital, Adventure 365's half- and full-day tours might incorporate invigorating 4×4 dune bashing or journeys west to Qatar's mirror-flat Inland Sea — Saudi Arabia is clearly visible on the other side of the shallow blue-green water. In places, plains between custard-colored mounds are crusted with shimmering white — salt beds left in place after scorching heat evaporated seawater — while elsewhere the dunes dip like rollercoaster tracks directly into the sea. Occasionally emerging in the midst of all this like a mirage, desert camps and beach clubs provide respite and refreshment in the form of welcome chilled drinks and abundant spreads of freshly caught fish and mezze.
Museum masterpiece
Formed naturally in deserts from crystalized clusters of gypsum or baryte, the curious wind-hewn discs and curves that typify prized desert roses inspired architect Jean Nouvel's design for the National Museum of Qatar. Truly distinctive and magnificently beautiful from every angle, this incredible structure also stands out through immersive installations and considered, engaging content that reveals so much about the country's heritage, personality and history. Though such things are always subjective, it's not at all unreasonable to claim that this is the Middle East's most captivating cultural attraction. Inside, galleries galore reveal a succession of surprises that range from Qatar's oldest Quran to ancient ceramics, the priceless Pearl Carpet of Baroda (embedded with around 1.5 million Basra pearls), and traditional attire to a permanent collection of classic cars that includes a semi-transparent 1939 Pontiac 'Ghost Car' with its frame made of plexiglass.
Cultural quarters
Qatar's other cultural attractions also deserve consideration. On its own little peninsula, the jaunty IM Pei-designed Museum of Islamic Art contains one of the world's most complete collections of Islamic artifacts, from Iranian manuscripts to Spanish ceramics. Opened this year, the family-friendly 3-2-1 Qatar Olympic and Sports Museum celebrates the pinnacle of physical achievement with tributes to the world's greatest sporting stars; Olympic-themed displays including a chamber full of replica Olympic torches; and an interactive zone where visitors of every age can try their hand at a range of sports via high-tech installations that track prowess and scores digitally.
Elsewhere, Katara Village is a shaded warren of independent galleries, workshops, cultural centers and ateliers that is bordered by a silver amphitheater that might host sopranos or theater ensembles. Named after the building's original function, the Fire Station houses a modern-art gallery and cafe with a distinctly youthful personality — look out for the skate ramp in its plaza and copious examples of colorful street art swatched across its periphery. In Msheireb Downtown Doha, the heritage quarter includes traditional courtyard houses that contain intimate museums cataloging Qatar's past, while Doha Design District offers another cluster of galleries and eateries.
mia.org.qa; 321qosm.org.qa; visitqatar.qa
East-West/West-East
An incongruous, otherworldly installation embedded in a natural hollow between narrow bands of rock, Richard Serra's East-West/West-East is a succession of steel plates that soar over 13-ft high, each just a hand's width. They're especially captivating at sunrise and sunset, when their long shadows stretch towards the horizon and the surrounding Brouq Nature Reserve is bathed in golden light.
Place Vendome
Eight years in the making, this colossal, brand-new mall in Lusail City is unquestionably Qatar's pre-eminent shopping destination. Inspired by the grandeur and sophistication of Paris, it houses an expansive luxury quarter with flagship stores from the likes of Dior and Fendi. An all-day destination, a vast, diamond-shaped courtyard in its core incorporates a dancing fountain and a sweep of upmarket dining options with indoor and outdoor seating.
Where to Dine in Qatar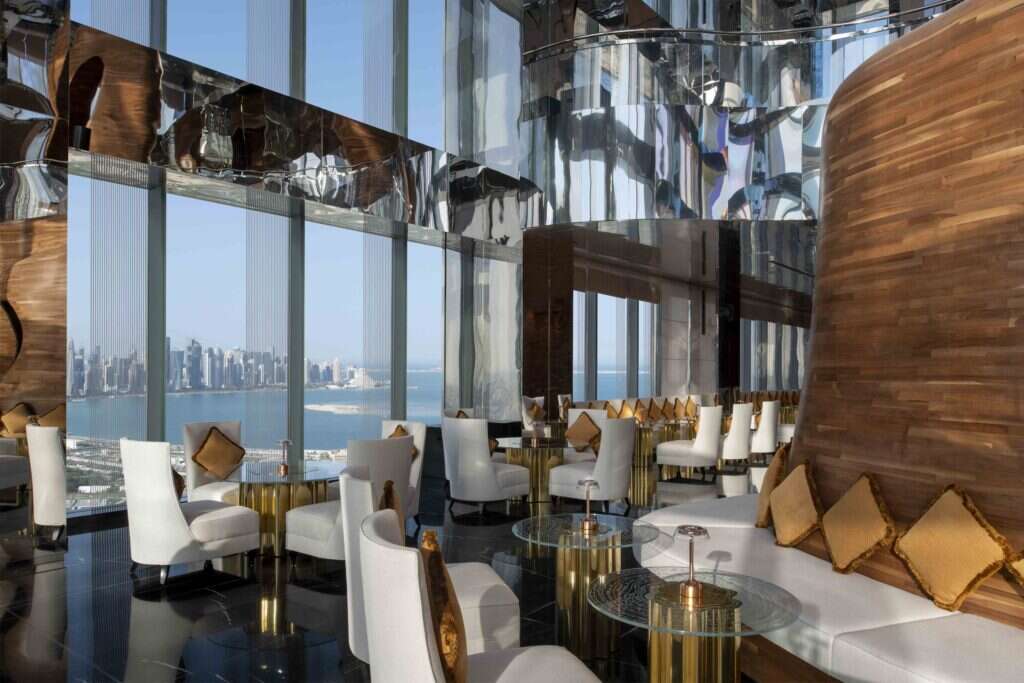 An innocuous doorway within Doha's Souq Waqif leads to the bejeweled beauty of Parisa (ritzcarlton.com). The shimmering Persian restaurant is decorated with colouful hand-painted murals alongside precious antiques and decorative features all sourced in Iran, from original mosaics to grand chandeliers. While the interiors turn heads, the unpretentious menu — kebabs, grilled halloumi — is excellent too.
A casual hilltop restaurant with pretty views of Katara Village from its terrace, Bayt El-Talleh (akh.com.qa) serves exceptionally generous set menus that provide an authentic immersion in Lebanese and Byzantine cuisine.
Part of the Buddha Bar portfolio, B-Lounge Doha (bloungedoha.com) is a buzzy restaurant and bar at the Ritz-Carlton Doha, cantilevered over the water's edge to provide memorable views of the surrounding marina's array of yachts. Regular DJ sets and mixology sessions create excitement inside, while highlights from the extensive pan-Asian menu include a sprightly king crab salad and creamy Thai shrimp red curry.
On the 28th floor of the new Banyan Tree hotel, Vertigo (banyantree.com) is a sky-high bar and restaurant offering sweeping 360-degree views of the central skyline, Corniche and old city. Given the setting, your signature cocktail of choice should be the Above Doha, a moreish blend of vodka, mandarin juice and homemade chocolate bitters.
[See also: The 5 best restaurants in Doha]
This article appears in the 06 Jun 2022 issue of the New Statesman, Summer 2022