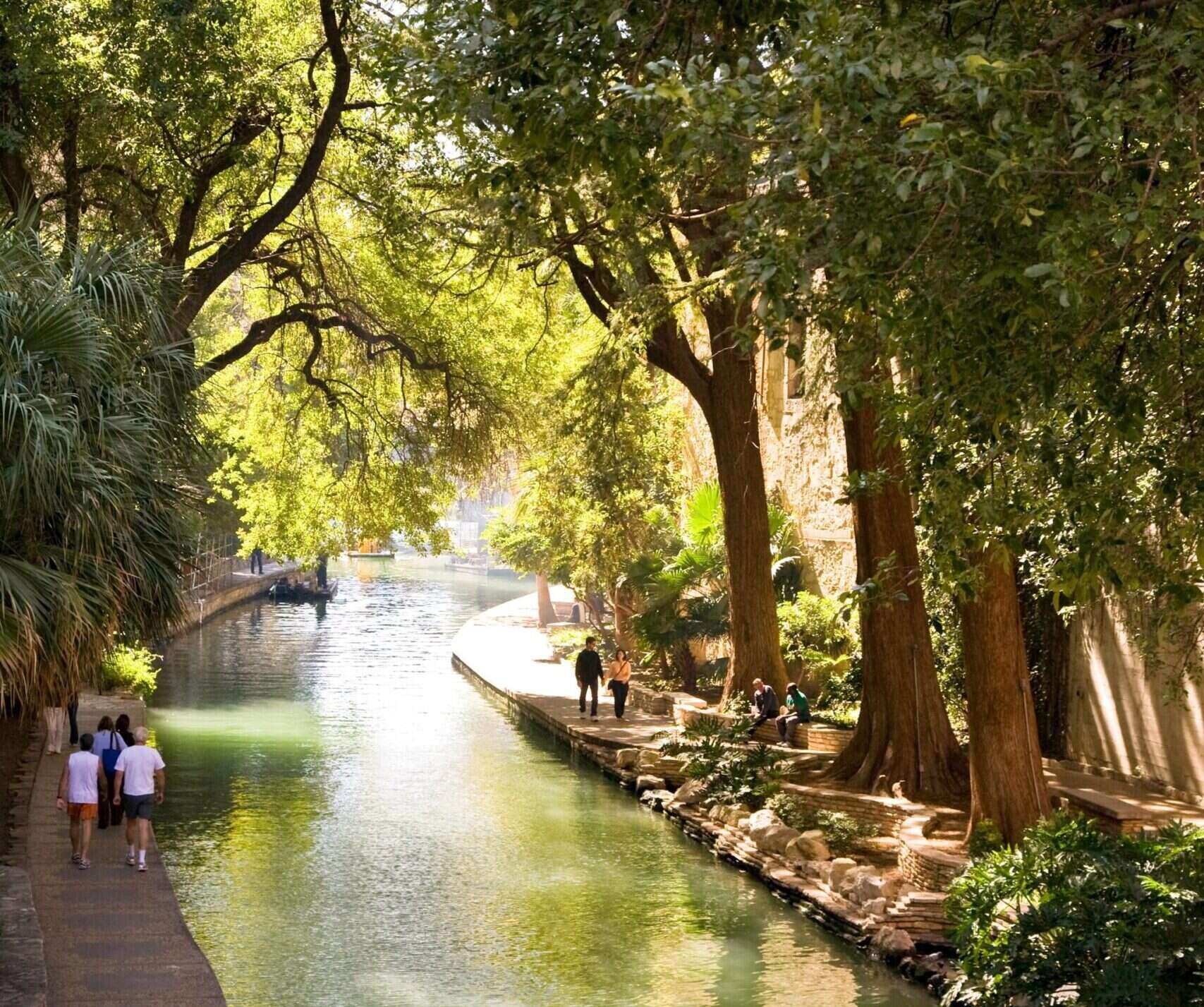 Perhaps not everyone knows that the portion of Texas that includes San Antonio was once part of Spain, Mexico and France in turns, not to mention the realm of Native Americans for thousands of years. Later, cowboys and frontier settlers came, followed by German immigrants with famed beer-making skills (resulting in one 19th-century San Antonio neighborhood earning the name 'Sauerkraut Bend').
Today, this wholly unique American city revels in its fusion of rich cultures that feed its vivid personality. Its undulating Paseo del Rio (River Walk) — a network of walkways along a barge-filled river — corkscrews through the city's downtown. A buzzy social space, the walk provides access to restaurants, hotels, galleries, historical monuments and shops.
[See also: A Luxury Weekend Guide to Santiago, Chile]
With Spanish spoken as commonly as English and a deep regard for history, the Alamo City has excelled at repurposing its architectural treasures. Don't miss the Pearl, a distinctive entertainment district hewed into the sprawling grounds of a bygone brewhouse.
With noteworthy museums, acclaimed chefs, a Unesco-listed set of 18th-century Spanish missions (including the illustrious Alamo), a wine region in the surrounding countryside, and biking and hiking paths galore, San Antonio offers options for every sort of traveler.
Where to stay in San Antonio
Texas is famed for its beautiful wide open spaces, and San Antonio offers a whole host of equally gorgeous and expansive suites for your stay.
La Cantera Resort & Spa, Villa Briscoe Suite
Just a few minutes from downtown on the edge of the Texas Hill Country, La Cantera embodies the Texan passion for ranches and wide open spaces. It occupies 500 acres atop the city's highest hill. Limestone arches, five swimming pools, an immense spa and flowing lawns define the resort.
Choose the 1,600-sq-ft Villa Briscoe Suite, a golf cart ride away from the rest of the resort in the dedicated villa section of the property. Aside from a spacious king room, this suite has a parlor replete with dining area and kitchenette, a terrace with an outdoor shower and fire pit, and a living room complete with a fireplace.
From $1,299 per night. Contact Matt Lauzon, resort manager, +1 855 499 2960, thevillasatlacantera.com
Hotel Emma, Emma Koehler Suite
This LEED-certified aesthetic marvel ensconced in the extant innards of the original Pearl Brewery, circa 1883, cleverly draws from its industrial setting. Factory artifacts and repurposed architectural elements — think beer vats flanking a ballroom, chipped plaster walls and a chandelier made from bottle labelers — contrast with tooled leathers, dark woods, velvets, animal skins and damask to create a Mexican ranch-house vibe.
Book the opulent, bi-level Emma Koehler Suite, named for the brewhouse founder's wife, with a grand piano, clawfoot bathtub, handcrafted custom furniture and a terrace with river views. It also features classic Emma amenities, such as peerless art, etched crystal glasses and seersucker Guayabera robes.
From $7,500 per night. Contact Nathan Griffin, director of revenue management, nathan.griffin@thehotelemma.com, +1 210 448 8331, thehotelemma.com
The Thompson San Antonio, Penthouse Suite
A wealthy city once fed by ranching dynasties, San Antonio has always been an art hub. Celebrating that cultural penchant, the strikingly futuristic, brand-new Thompson San Antonio proudly dominates the Arts District with its curated collection of original contemporary art.
The 20-story hotel captivates with artwork by famed modern artists like Jeff Koons and Koray Akay from its scenic location on the Paseo del Rio. The urbane mood continues in the sleek Penthouse Suite, a 2,100-sq-ft abode featuring a pool table and a private terrace with jaw-dropping views, with ample space for your brood. The suite's spa bathroom is furnished with a luxurious soaking tub and a six-head shower.
From $2,100 per night. Contact Asheli Trevino, concierge, +1 210 942 6051, thompsonhotels.com
St. Anthony, A Luxury Collection Hotel, The Presidential Suite
Three blocks from The Alamo and across the street from Travis Park, the elegant St. Anthony, a 10-story National Register landmark built in 1909, has been nicknamed 'the Waldorf of the Prairie.' With gold-tipped Corinthian columns, a signature emerald accent color and chandeliers fashioned after those on the Titanic, it has hosted princesses, politicos and movie stars.
The three-bedroom Presidential Suite is a cream-colored, 3,012-sq-ft outpost complete with a kitchen. Or enjoy the 1,198-sq-ft John Wayne Suite featuring a masculine decor and stellar city views.
Presidential Suite from $4,500; John Wayne Suite from $3,800. Contact Doreen Patino, director of sales and marketing, dpatino@thestanthonyhotel.com, +1 210 227 4392, marriott.com
Hotel Havana, Penthouse Suite
A noble and whimsically restored Mediterranean Revival Mansion dominates a stellar spot on the Museum Reach portion of the River Walk. Envisioned to be the sort of place you might find Teddy Roosevelt as easily as Willie Nelson hanging out, the intimate hotel has just 27 suites, each distinctive, and cannily designed with a nod to tongue-and-cheek vintage.
SMEG fridges, locally sourced in-room snack bars, original tiles, bright paint, worn velvet upholstery, twinkling chandeliers, and to-die-for beds create a luscious ambiance of subtle luxury, San Antonio chic and mysterious bygone film noire.
Take over the bi-level Penthouse Suite, as ideal as a long term, office during solitary hideaway times as a party room for festive wedding groups. Within 650-stunning-square-feet, the room sports an ample living area with half-bath and a breezy verandah. Upstairs, the loft-like, glamorous master overlooks the bottom floor. It's kitted out with a writing desk, king bed and Mata Hari worthy bathroom. 
Penthouse Suite from $425 per night. Contact info@havanasanantonio.com, +1 210 222 2008, havanasanantonio.com
[See also: Where to Enjoy a Long Weekend in Aspen]
What to do
McNay Art Museum
They called quixotic oil heiress Marion Koogler McNay the Gertrude Stein of San Antonio. But what she truly had was prescience. An art lover, her first purchased painting was by Diego Rivera in 1927; her talent was falling for an artist before they became famous.
Today, in the stunning Italianate mansion she built to hold her vast trove, this little-known gem holds some 20,000 masterpieces, many considered the best of their genre. Look for works by Picasso, Dufy, Monet, de Kooning and Giacometti.
Bike to the Missions
BCycle bikes promise a carefree and athletic way to cruise along San Antonio's Mission Reach Trail, an out-and-back route that leads to the stretch of hinterland that houses the various Unesco-listed old Spanish missions.
Begin at The Alamo, then pedal through the eye-catching King William Historic District with its array of architecturally significant homes and leafy streets. Onward to the mission area, where wildflower-filled meadows, cacti, wildlife and pecan groves connect the 2.5-mile expanse between each historic site. For another way to see the missions, try the San Antonio Missions tour.
Culinary delights
Playing off the Lone Star State's boastful saying that 'everything is bigger in Texas,' the Culinary Institute of America (CIA) offers gastronomes and wannabe chefs a "larger-than-life culinary experience." Located right on the River Walk, the nationally recognized school features hands-on courses and chef demonstrations (with Covid protocols in place) for every level of cookery experience. On another food lover's note, Food Chick Tours offers private VIP foodie forays around town, ensuring gastronomes get to taste the best of the best.
The Pearl
The Pearl's positive impact on the Alamo City boggles the mind. A bold and iconoclastic reuse of what might have been wasted real estate, the entertainment district has left no stone unturned, redefining each tiny space of the city's most famous brewery while keeping history alive.
With modern artistry, tribute has been paid to the space's original craftsmen: coopers, stone masons and brewers. Visit at any hour to find throngs delighting in the on-trend restaurants, shops, businesses and galleries, each housed in repurposed buildings.
Weekend visitors will want to roam the year-round Farmers Market, an alfresco assembly of tasting tents, food artisan demos and farm-to-Pearl produce stands. For a spa reset, there is no better place than Hiatus Spa + Retreat.
Wine tasting
Recently rated the number three wine region in North America by USA Today, the Texas Hill Country unfurls just outside San Antonio's city limits. With rolling orchards and hamlets, and peppered with farm animals and cattle galore — look for Texas' indigenous longhorns with their vainglorious, characteristic rack — the terrain features more than 50 wineries. Leave the driving to Elegant Tours or Majesty Wine Tours so you can tipple at will.
elegantride.us; majestywinetours.com
[See also: The Most Exciting Foodie Cities to Visit in the US]
San Antonio Restaurants
Foodies will delight at the chance to be gastronomic guinea pigs at Savor, located at the Pearl on the campus of The Culinary Institute of America. Highly regarded, Savor puts diners into the classroom for an au courant dining experience, where students have the opportunity to show off their talents — all under the watchful eye of the college's esteemed faculty.
Tender and toothsome carnitas — a braised pork dish and specialty of Mexico's state of Michoacan — is the only thing served at unpretentious, family-owned Carnitas Lonja, a taqueria planted in San Antonio's south side. For their expertise and crowd pleasing 'little meats' (served with fresh tortillas and beans), chef Alex Paredes has been nominated for a James Beard award.
Mixtli began as a kind of culinary laboratory, showing curious and experimental diners the range of food available across Mexico. Meaning 'cloud' in Nahuatl, the Aztec language, the metaphorical name, Mixtli, references a sense of both dreaminess and movement, which happens at this fascinating, 10-course, tasting-menu-driven restaurant. Chefs utilize prehispanic and ancient techniques as well as modern innovation, deeply researching and passionately sharing each thematic menu.
Manhattans are the special libation at Bar Loretta, a new bar and eatery in the King William Historic District. Two-century-old structures comprise the atmospheric hotspot, designed to pay tribute to a less stereotypical Texas and to evoke the state's distinctive gravitas. Porches and a small stage for live music proclaim a cozy elegance. Nibble the chicken liver gratiné (with brandied red pepper, gruyère gratiné and grilled bread) while you sip the Reverse, a Lustau Sweet Vermouth with a Lone Elm Texas Whiskey concoction.
At the casual 2M Smokehouse, the lines for all-night cooked brisket begin at breakfast time. Handmade and handcrafted on every level — from the fence post tables to the sausages — this acclaimed barbecue joint matches the meaty menu by marrying classic sides such as coleslaw with unexpected ones like pickled nopales and chicharoni macaroni. Pitmaster Esaul Ramos began as a backyard griller, and his passion to share his efforts feels like a neighborly invitation for dinner.
Cured At Pearl is a popular brunch and dinner spot nestled in the Pearl and ensconced in a historic building, which seems apropos for James Beard favorite Steve McHugh's whole animal and regional food philosophy and ethics. With a must-sample charcuterie plate (smoked duck ham, jalapeño sausage, apple jalapeño pork rillettes), and dishes such as chicken and doughnuts with jalapeño syrup, the restaurant fills to the brim at all hours. 
Get out of town
El Paso
It takes eight hours to drive to El Paso via artsy Marfa from San Antonio, but in a state that measures nearly 300,000 square miles, that's considered a short jaunt. As long as you've come to South Texas, don't miss the chance to explore the unexpected city.
An artists' haven in the desert, it was made famous by the likes of Donald Judd and is known for its middle-of-nowhere Prada Marfa, a fake storefront and sculptural art installation by Michael Elmgreen and Ingar Dragset. It's also where the movie Giant was filmed, so it oozes James Dean and Liz Taylor sexiness. Equally seductive, culturally vibrant El Paso, on the Mexican border, was one of the Wild West's most provocative boomtowns.
Stay at glamorously restored The Plaza Hotel Pioneer Park, where Liz Taylor lived in the penthouse suite during the filming of Giant in the 1950s. Her abode, now the hotel's speakeasy-style rooftop bar with starlet-worthy animal prints and velvets in abundance, serves special Liz Taylor-inspired cocktails to a reservation-only clientele.
[See also: Exploring the Unexpected on the Road in Arizona]
This article appears in the 04 Mar 2022 issue of the New Statesman, Spring 2022