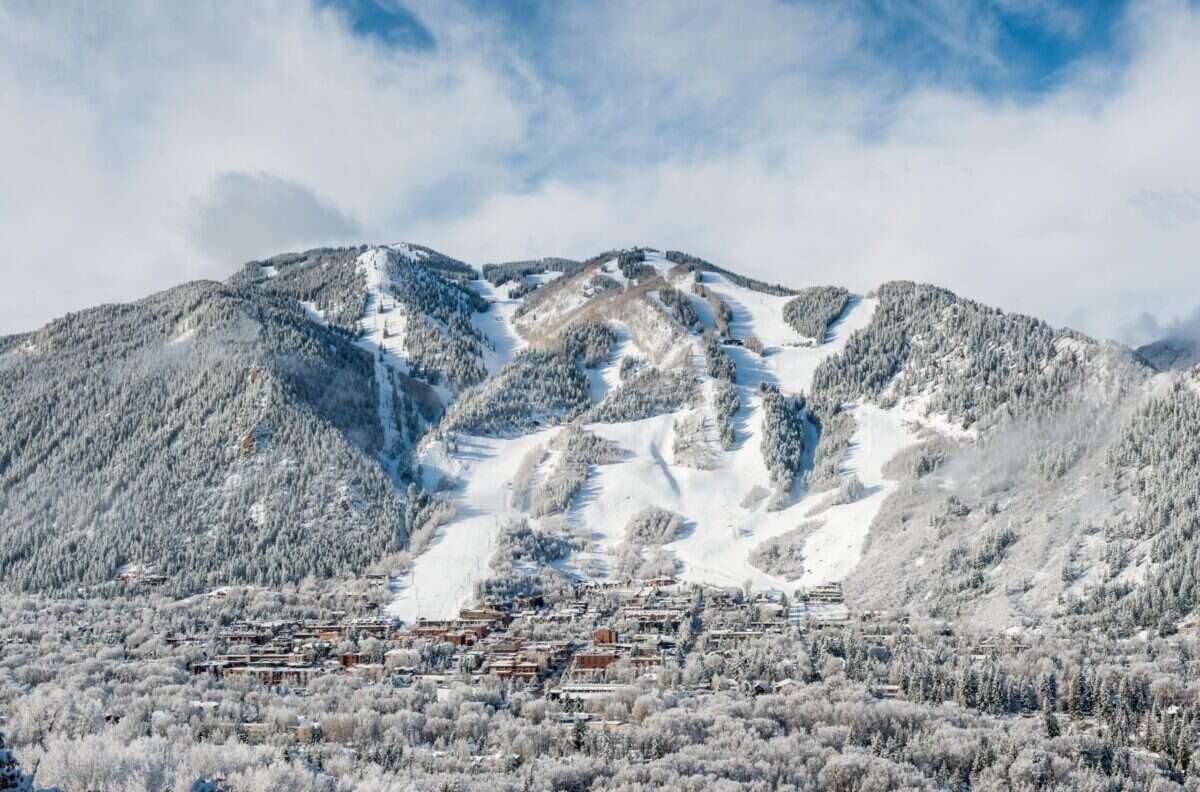 Revel in some Rocky Mountain razzmatazz in Aspen, Colorado, where mountain-shredding skills match up with an après attitude and a sophisticated see-and-be-seen culture. A former 19th-century silver mining town, this top winter (and year-round) sports destination charms with leafy streets lined with restored Victorian architecture. Its showpiece Shigeru Ban-designed art museum, beaucoup restaurants, clever boutiques, happening bars and aesthetic galleries compose an equally appealing contemporary buzz. As backdrop, Aspen Mountain rises from the town's backyard, proving that Aspen's true asset is incomparable nature.
Visit in winter for the region's bounty of diverse ski/snowboard experiences — not to mention the gamut of other indoor pursuits and outdoor adventures. Skilled skiers swoon over Aspen Mountain, its Silver Queen Gondola located just a skate away from downtown suites. Known for its reservation-only, pre-opening-hour First Tracks (a coveted morning ski program), Aspen Mountain also gathers accolades for its town-side, centerpiece setting, which means après-ski festivities are never more than a few S-turns away. Beginner skiers and boarders will thrive at neighboring Buttermilk Mountain, which has ample, gentle slopes and amiable ski school programs.
Drop off trails, a long ridge, groomed cruisers, harrowing fun and jaw-dropping views define adjacent Aspen Highlands, beloved for its off-piste, up-to-48-degree-pitched Highland Bowl, accessible only by snowcat and a half-hour hike. A bit farther flung is the less-crowded Snowmass, blessed with abundant powder and miles of open space, offering runs for every level skier and boarder. It's a must for families.
[ See also: A Weekend in Santa Barbara]
The Best Restaurants in Aspen
Matsuhisa
Nobu does Aspen his way in a classic Victorian house and its basement. Sprinkled with Latin American influences (tiradito, ceviche, tacos), this eatery serves the celebrity chef's signature range of sashimi, sushi, wagyu beef and specialty tempura. A stellar wine and sake list completes the delicious package. matsuhisarestaurants.com
Casa Tua
Italy's Dolomites share a kindred connection with Aspen's portion of the Rocky Mountains. Bringing mountain-inspired Italian dishes to the table, this artful restaurant delivers rib-sticking, soul-stirring fare — think fettuccine with wild mushrooms and black truffles. A date-night favorite, Casa Tua displays rotating art and photography installations. casatualife.com
Catch Steak
Aspen espouses its own homegrown culture but attracts a realm of transplants, too, who love to call the hamlet their second home. Accordingly, with much anticipation, Catch Steak, the famed NYC restaurant, has ferried its carnivore savvy concept to the ski town. Stylish like its sister restaurants in other playground across the globe, this one boasts a rooftop hangout and cellar just steps from Aspen Mountain Gondola. catchrestaurants.com
Ajax Tavern
Strut your stuff at in-demand Ajax Tavern, positioned at the base of Silver Queen Gondola on Aspen Mountain. With slope-side views, this casual hot spot for lunch (and après-ski) offers people (and skier) watching as peerless as its food. Don't leave without sampling the famed truffle fries. thelittlenell.com
Alpin Room
This winter, Snowmass raises the stakes for on-mountain dining when the Alpin Room, a sit-down restaurant, debuts. With à la carte and course-driven options drawn from the great mountain cuisines of Europe, the restaurant will serve classics like French onion soup, tartiflette, duck confit with leek spätzle and carrot cake. aspensnowmass.com
Bosq
With a sought-after deck that faces Paepcke Park, Bosq serves chef/owner Barclay Dodge's globally inspired, gastronomic, course-driven, seasonal menu. Expect savory options, such as lobster grilled on juniper branches or Peking duck with a modern twist. The rose syrup infused hazelnut and dark chocolate dessert gets rave reviews too. bosqaspen.com
The Best Hotels in Aspen
W Aspen, Sky Residence
No one can dispute the W Aspen's majestic location, wedged on the mountain like a magical portal to outdoor fun. Taking the brand's hip reputation up a notch to include a cushion of elegance and ease, this luxurious hotel-with-an-edge evokes history, invites repose, and manages to straddle that balance of trendiness and indulgence that pleases all generations. Sporting a happening rooftop pool scene, a ski shop, ski concierges, fire pits and mining-era-inspired decor, the chalet hotel redefines 'festive hangout.' Round up your nearest and dearest for a multi-generational family getaway and book a three-bedroom, design-centric Sky Residence, gloriously equipped with fantasy kitchen and a party-worthy terrace with excellent views of Aspen Mountain, Independence Pass, Red Mountain and Downtown Aspen. The Sky Residences are also available for shared ownership should you wish to make one a more permanent mountainside address.
From $2,900 per night. Contact Katie Menary, rooms operations manager, katie.menary@whotels.com, +1 970 319 6308, whotels.com
Viceroy Snowmass, Three-bedroom Penthouse
Like a European ski hut on glamorous steroids, the Gold LEED-certified Viceroy Snowmass is located at mid-mountain; it's a beacon of birch and other woods, with interiors by famed designer Jean-Michel Gathy. Just under the Assay Hill Lift, the resort grants immediate access to more than 3,000 acres of skiable paradise, including a 5.3-mile-long run — practically guaranteed to make the legs tremble. Range Rovers (among other luxury cars) and an electric 'luge' stand are at the ready to transport guests to the base village or to nearby eateries. High points include panoramic windows at the hotel's signature restaurant, Toro; a slope-side pool; and a wonderful 7,000-sq-ft spa. Bring your brood to fill the Three-bedroom Penthouse — including your dog, as Viceroy enthusiastically welcomes canine companions. Simultaneously functional and stylish suites have kitchens with much-appreciated ski vacation features such as washers and dryers.
From $8,000 per night. Contact Anna Mattingly, director of sales and marketing, anna.mattingly@viceroysnowmass.com, +1 970 923 8000, viceroysnowmass.com
The Little Nell, The Paepcke Suite
Slope-side on Aspen Mountain, the town's only five-star, five-diamond hotel, The Little Nell, is like a little black dress — it fits (into its environment) perfectly, and manages to be comfortable and sexy simultaneously. Posh, but also infinitely casual, this hotel embodies the tony spirit of Aspen while paying homage to its outdoorsy vibe. In that tone, its foremost suite reigns as second-to-none in Aspen. Enlivened by a collection of fine art, the 2,500-sq-ft Paepcke Suite draws inspiration from its namesake, Walter Paepcke, the enterprising industrialist who founded the Aspen Skiing Company and Aspen Music Festival, among other triumphs. A one-bedroom extravaganza, complete with fireplace and an enormous deck overlooking the ski mountain's hubbub, the suite can be connected to other rooms. A custom-designed game table by Mattaliano with crystal chess and backgammon pieces and a Gem Table by Chai Ming Studios further set a chichi mood.
From $2,929 per night. Contact Jonathan Fillman, general manager, stay@thelittlenell.com, +1 970 920 4600, thelittlenell.com
St. Regis Aspen, The Presidential Suite
Playing off Aspen's Gilded Age success as a mining mecca, the St. Regis evokes a well-heeled mine owner's mansion sanctum. Sandwiched between town and ski runs on the mountain, the hotel provides a comfortable place to rest after a day of play. Its Fountain Courtyard reflects the vastness of the outdoors, and acts as a social playground. Look no further than the Presidential Suite, complete with fireplace and baby grand piano; it's a haven on the resort's highest floor. Expect hi-tech amenities, such as a state-of-the-art Bang & Olufsen sound system, as well as moody, clubby furnishings, including antiqued brown leather club chairs, black and white accents, and mirrors and metallic textures for contemporary flair. A fully functional kitchenette facilitates entertaining. Consider a catered dinner party for eight (you'll have room) and a butler-organized personal musical concert with friends. On call, elevated St. Regis Butler Service also keeps clothing pressed, ski boots shiny and dinner reservations confirmed.
From $3,359 per night. Contact Nicole Genta, director of sales, nicole.genta@stregis.com, +1 970 618 6702, stregis.com
Hotel Jerome, Jerome Wheeler Suite, Aspen Times Residential Suite
If the walls could talk at the historic Hotel Jerome, they'd whisper the stories of miners, stodgy Victorians, cowboys and World War II's cadre of Colorado-trained soldiers — the 10th Mountain Division. A stately hotel, set away from the mountain in town, Jerome has seen hard times (the silver crash, the Depression) and good times (the burgeoning ski industry). Today it continues to stand out as a blue-blood favorite. Tuck into its bygone ambience with a stay in the Jerome Wheeler Suite, an opulently appointed, 1,265-sq-ft bolthole, enhanced with separate bedroom, dining and living areas. Alternatively, those craving more spacious quarters and contemporary motifs may prefer the Aspen Times Residential Suite, located in the renovated Aspen Times building across the garden from the original Jerome. For both, expect noteworthy hotel services and amenities such as champagne and caviar welcomes.
Jerome Wheeler Suite from $2,970 per night, Aspen Times Residential Suite from $4,245 per night. Contact Patrick Davila, general manager, patrick.davila@aubergeresorts.com, +1 970 429 7612, aubergeresorts.com
The Buyout…
Aspen Street Lodge
Love having the whole place to yourself? Take over the lavishly rustic Aspen Street Lodge, which sits steps from 'Restaurant Row,' the Silver Queen Gondola and Lift 1A. It has nine rooms, including a penthouse, and each is fully kitted out. With the air of an exclusive hotel, the lodge's exquisite touches include Hakwood drift-colored floors, Poliform furnishings, a full kitchen, commodious decks, pool and hot tub, pizza oven and grill area, house theater and game room. A private chef awaits to satisfy gastronomic whims, while able support staff stand by to comply to every request. Originally designed for the owners, the lodge captivates as a two- or three-family takeover experience, which sleeps 24 adults or 36 total with children.
From $20,000 per night. Contact Brittany Shami, general manager, brittany@aspenstreetlodge.com, +1 970 989 3090, aspenstreetlodge.com
[See also: The Non-Skiers' Guide to Ski Vacations]
Things to do in Aspen
Mad hatting
Awaken your inner cowboy at Kemo Sabe, where you can design your own Stetson, a Texas-made beaver and rabbit hat. Shaped by a trained consultant, your chosen headgear gets adornment picked by you from the store's 'swagger bar,' a cache of bands, brands, braids and ornamental accessories. kemosabe.com
The Marble Garden at Aspen Meadows Resort
A bucket-list outing for art and architecture buffs, this circa-1950 Bauhaus-style retreat has grounds rich with galleries and works of indoor and outdoor art. Home to the famed Aspen Institute, envisioned by Herbert Bayer, the 40-acre campus encompasses a treasure trove of more than 200 Bayer works — such as The Marble Garden (pictured below). Choose a guided tour, or just meander the grounds on your own. aspenmeadows.com
Sleigh ride
Over the fields and through the woods…on a sleigh. Cuddle beneath blankets on your own horse-drawn vehicle: You'll go from forest and mountain to a meadow edged by the Roaring Fork River, where you'll pause for a hot chocolate break. aspencarriage.com
Winter fly fishing
Leave the slopes behind and cast away — the fish bite all year long in Aspen. To catch a few, hire Aspen Guide Service, which pairs you with a knowledgeable fish whisperer on warmer days in winter. Expect wade fishing through February and floating trips in March and April. aspenguideservice.com
Art crawl
Warm up in the Shigeru Ban-designed Aspen Art Museum, a contemporary marvel downtown. Featuring an exhibit of Andy Warhol's work this winter, the museum has airy galleries and a rooftop cafe. Other not-to-miss art outposts? Baldwin Gallery, Galerie Maximillian and the Almine Rech gallery. aspenartmuseum.org, baldwingallery.com, galeriemax.com, alminerech.com
Marble distillery
In nearby Carbondale, a charming bohemian town in the Roaring Fork Valley, Marble Distillery beckons. With its 'cocktails with a conscience' mantra, the zero-waste, uber-green craft distillery uses Colorado-grown products and filters its spirits though local marble. After your drink, shop the town's unique boutiques and galleries. marbledistilling.com
Après-ski
There's plenty to do at the Little Nell. Besides outdoor Ajax for cocktails, The Wine Bar at The Little Nell (formerly Chair 9) and speakeasy-like The Board Room invite. Huddle in The Wine Bar's refined living room milieu, a must for oenophiles who will appreciate its astonishing wine library and knowledgeable sommeliers. More exclusive and nook-like, The Board Room features a pool table, plush couches, a flat-screen television and bar. With entrance via a bookshelf, it offers buyouts for private fetes.
For under-the-radar seekers looking to decompress amid Mad Men-esque surroundings, Limeslicer's Bar at the Bauhaus-style Aspen Meadows Resort rises to the occasion. Order an eponymous Limeslicer, in which yogurt-washed tequila, Cointreau, lime, agave, mint and cilantro combine for a perky alternative to Aspen's omnipresent hot-rum toddies and bourbon-based libations.
Aspen loves new and trendy, so it's no surprise that pop-up bars draw throngs. New York City-based Dante returns after last year's buzzy debut. Find them in this year's location at the acclaimed Chef's Club at the St. Regis Resort (marriott.com). Go for the negronis and martinis.
Marble Bar Aspen (marbledistilling.com), a tasting room branch of Carbondale's Marble Distilling Company, pleases artisan spirit connoisseurs within the Hyatt Residence Club Grand Aspen, next to the Silver Circle Ice Rink. Lounge fireside with a Marbletini and be serenaded by a live music performance.
[See also: Luxury Ski Resorts For Late Season Trips]