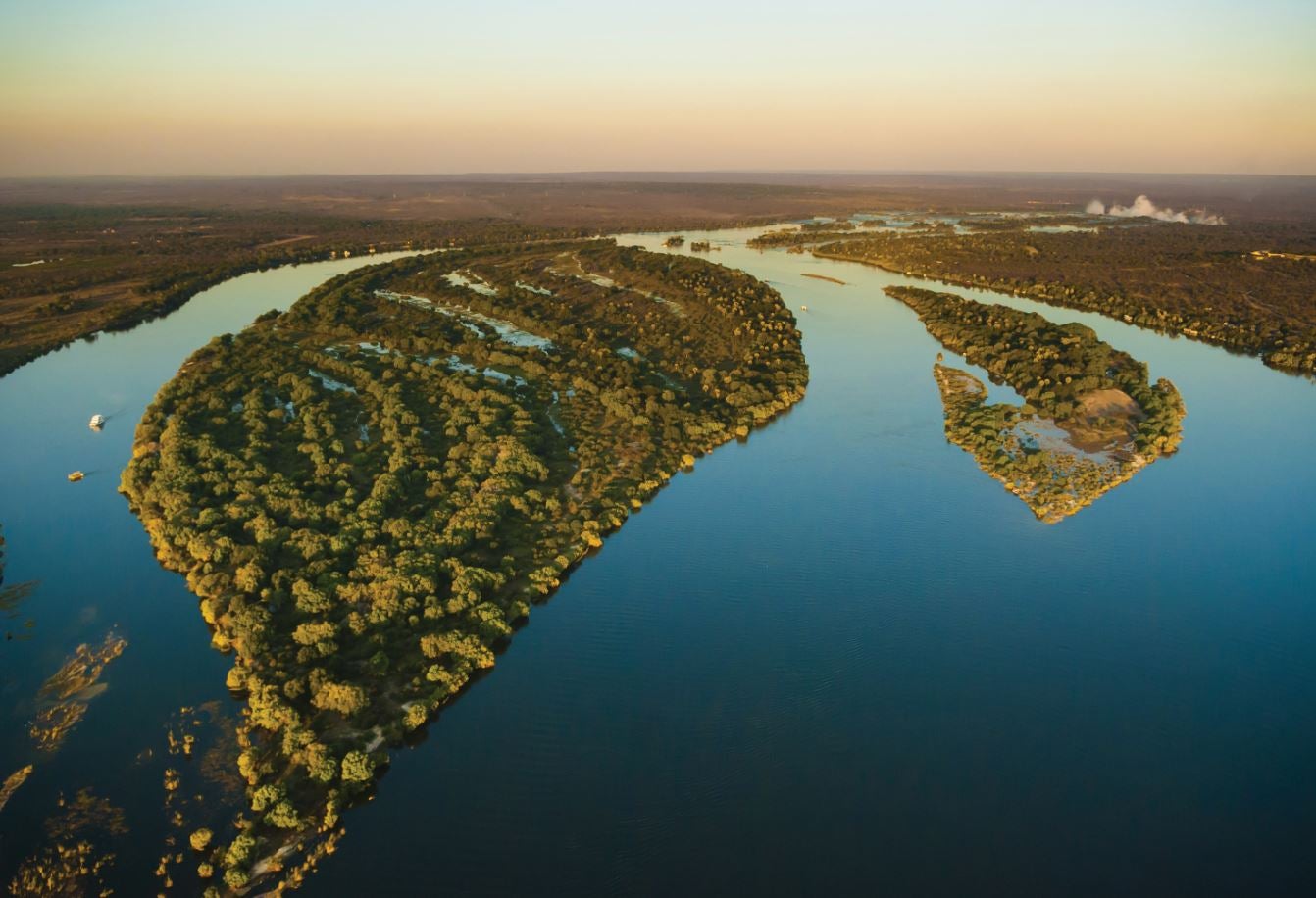 This story originally appeared in the November/December 2018 issue of Elite Traveler.
You can give your loved one an incredible gift, or take them on a wonderful trip to create lasting memories—or you can combine the two with our specially curated traveler's gift guide. Perfect for those who have it all and have seen it all, these exclusive itineraries include a mission to the South Pole, elephant tracking in the Zambezi River region and shutting down one of England's biggest attractions so you and your family have it all to yourselves.
Camping at the South Pole
South Pole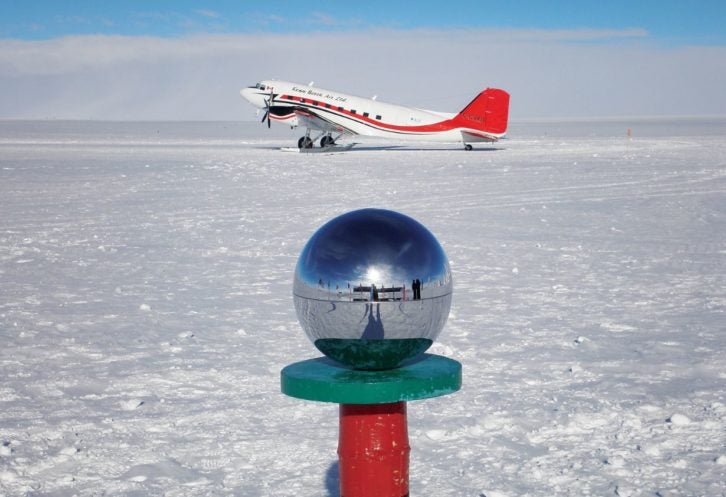 It may seem counterproductive to head to the bottom of the world to feel like you're on top of it, but this itinerary from Steppes Travel will have you feeling just that. On this once-in-a-lifetime excursion for the adventurous traveler, you will truly experience this inimitable landscape by camping right out on the snow. You'll fly out from Punta Arenas, Chile to Antarctica by private jet, landing on a blue-ice runway. You'll spend two nights at the Union Glacier Camp to acclimatize to the Antarctic conditions while exploring the ethereal landscape. Cross-country ski over the frozen fields of sastrugi (wave-like ridges caused by wind on the surface of hard snow), explore ice pools in Elephant Head Valley, climb the ridge of Mount Rossman or, for the fearless, camp out on the polar plateau. On day three of this seven-day itinerary, you'll fly to the South Pole. The altitude is roughly 10,830 ft, so you may feel the effects, but a team of specialists are with you to ensure your safety and well-being. On the fourth day, you'll visit the South Pole markers and the Amundsen-Scott Station before flying back to the Union Glacier Camp for a celebratory dinner. Of course, an adventure this spectacular needs to be documented so there's ample opportunity to photograph the frozen fields, peaks and ridges—your guide will show you the best spots so you can create an album to show off when you return home.
From $57,000 per person for seven days. Contact Sue Grimwood, Antarctica expert, sue@steppestravel.com, +44 128 560 1784, steppestravel.com
Breakfast at Tiffany's
Las Vegas, Nevada, USA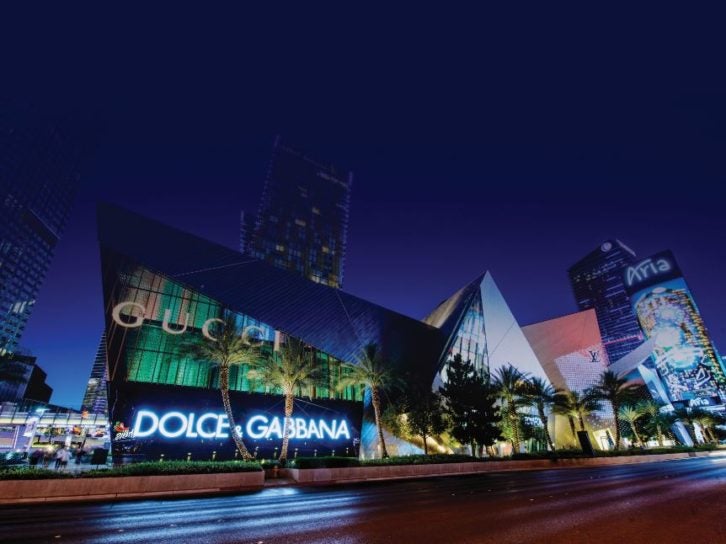 With 25 years of experience in private aviation, Schubach Aviation enables quick and easy access to hard-to-reach locations with an exclusive adventure ready the moment you touch down. The Shops at Crystals in Las Vegas holds a number of flagship stores from the finest luxury retailers in the world, and this trip brings exclusive previews for you to peruse in private. The itinerary can be customized to suit you, but some of the highlights include breakfast at Tiffany's where you'll have private access to the store for a special preview and try on one-of-a-kind pieces from the eminent jeweler; an in-store brunch at Louis Vuitton with a showcase of accessories, fine jewelry and stylish apparel; and a presentation in the penthouse suite of the Waldorf Astoria—Bottega Veneta will present its handbag collection on rolling carts while you sip champagne. You'll also have dinner with the team at Céline in the private room at Mastro's Tree House, and then head to the store for dessert and a private catwalk show of models wearing the latest trends. You can arrange a one-on-one appointment with one of Céline's top stylists and after a whirlwind day in Sin City, you'll leave with a brand-new wardrobe.
From $3,000 per person. Contact Michael Dawson, flight operations manager,
charter@schubachaviation.com, +1 760 929 0307, schubachaviation.com
Join the Herd
Mozambique, Africa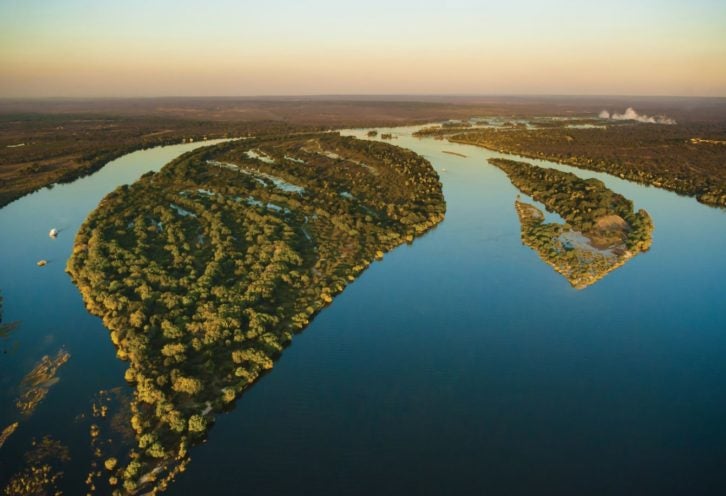 Despite the 30-year ban on ivory trading, poaching is sadly still rife within Africa and has largely contributed to the endangerment of African elephants. While the population has stabilized since the ban, the species is still vulnerable because of poaching and habitat destruction. These complex and majestic creatures can weigh up to six tons, so if you want to meet a herd it is highly recommended to do so with a professional. Adventure specialist organization Pelorus has created an itinerary exclusively for Elite Traveler where a group of up to six can assist with conservation efforts in Mozambique and learn about herd life in the Zambezi delta. Flying by light aircraft from Beira in Mozambique, a specialist vet will accompany you to dart and collar an elephant. You'll then be able to track the elephant's movements from anywhere in the world, even after the trip is over, and understand more about these magnificent animals and how experiences just like this help fight against poaching in
Africa. You'll also explore vast, unspoiled plains, thick forest and the Zambezi delta in amphibious tracked vehicles and 4x4s, where you'll get up close to Cape buffalo, nyala, sable, reedbuck and warthogs. To immerse yourself in the bush further, you'll stay in authentic African canvas tents, but with all the amenities you need, surrounding a firepit for starlit dinners and cocktails.
From $90,000 for a group of six. Contact Jimmy Carroll, co-founder,
jimmy@pelorusx.com, +44 203 848 5425, pelorusx.com
Highland Fling
Scotland, UK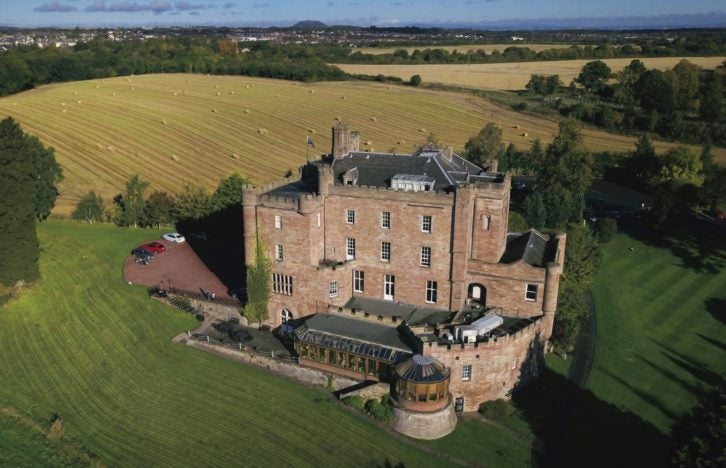 Scotland's haunting landscape is full of jagged mountains, moss-green fields and vast lochs. The best way to explore its eerie beauty is with a road trip, but of course you'll need a vehicle that's up to the job. Niquesa's Highland Fling package journeys through the best of Scotland, all while behind the wheel of the latest Rolls-Royce model. The five-day, four-night trip begins with a helicopter ride from Edinburgh to 13th-century Dalhousie Castle, where you'll be introduced to your chosen Rolls-Royce. Some of the models available are the pinnacle Phantom, the two-door Wraith with the most powerful Rolls-Royce engine ever, and the Dawn, for those who like to feel the wind in their hair. You'll spend the afternoon relaxing in the spa (try the Intense Hydrating Facial) before heading to the castle's dungeon for a delectable hosted dinner. Day two begins with an hour-and-a-half drive through the rugged scenery to Blackford Farms, home of Highland Wagyu, followed by lunch at the new Highland Wagyu restaurant. You'll then drive the short distance to The Gleneagles Hotel (one of Elite Traveler's favorites) for an afternoon of falconry and dining at two-Michelin-starred restaurant Andrew Fairlie. On day three, you'll fish on the famed Gleneagles estate trout lochs where your catch of the day will be prepared for lunch. Then, a helicopter will take you to the shores of the Cromarty Firth, where the Dalmore Distillery has stood for 180 years. You'll have a private tour and tasting session. In the evening, gather around a bonfire with a storyteller at the Gleneages estate grounds. Drive to one of the world's best golf courses, St Andrews Old Course, on day four, and play a round on the Duke's course with a professional. It's here that you'll have a hosted dinner at The Road Hole Restaurant with the director of Rolls-Royce, where, if you've become attached to your four-wheeled steed, you can take it home.
From $11,700 per person for a four-day itinerary, not including purchase of Rolls-Royce. Contact Mark Allvey,managing director, travelteam@niquesa.com,
+44 203 829 8080, niquesatravel.com
Golf with the Pros
Kapalua, Hawaii, USA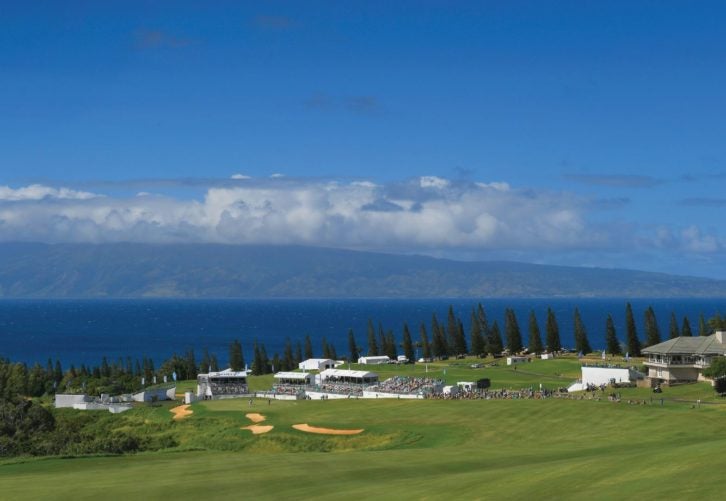 In January 2019, The Sentry Tournament of Champions will be held at The Plantation Course in Kapalua, Maui in Hawaii. The course, set on a former pineapple plantation, is admired for its dramatic ocean views from every hole, wide fairways and challenging greens. Get close to the action with an exclusive fromthe PGA Tour—along with weekly Aloha Club tickets (the best tickets available), you'll receive honorary observer passes, an autographed pin flag of the champion and the chance to have a photograph with the champion on the 18th green. You'll also be granted restricted behind-the-scenes access with a private tour of the tournament, including the opportunity to attend a press conference and check out the ShotLink facilities. If you've ever wanted to play in a pro-am, the Sentry Tournament of Champions Pro-Am is the only one that guarantees you'll play with a winning professional from the previous year. This trip includes entry to 2019's pro-am, also taking placing on the Plantation Course, as well as entry to the All-Amateur Tournament, which will be held at the Bay Course in Kapalua, Hawaii. The Arnold Palmer-designed course has hosted more than 20 major professional tournaments. During the seven-day trip, you'll stay at the outstanding Ritz-Carlton Kapalua. Be sure to visit the Kapalua Spa, where treatments use native Hawaiian flowers, plants and fruits.
From $35,000 per person. Contact Alex Urban, general manager, alexurban@pgatourhq.com, +1 808 665 9160, pgatour.com
Cultural Agenda
Hong Kong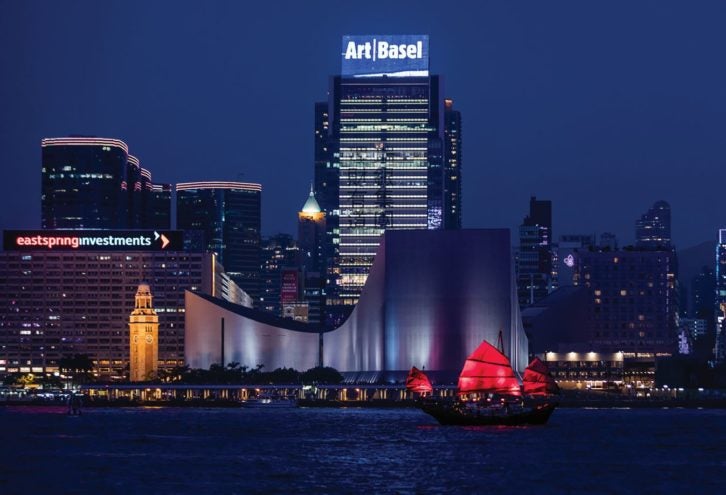 Art Basel Hong Kong is the leading art show in Asia and Asia-Pacific, and a platform for galleries to showcase work from all over the globe. With a plethora of the highest quality artwork from both well-established and up-and-coming artists, 2019's March show is not to be missed. There will be a selection of first-time participants at the show in the Hong Kong Convention and Exhibition Center, including Don Gallery from Shanghai who will present works by Chinese artist Zhang Ruyi. Curagenda, a
boutique travel company based in New York, has an excellent package to see the best of Hong Kong during art week, as well as exploring the local heritage and culinary delights of the city. The 10-night journey includes access to a private art club partner in the center of Hong Kong, vernissage of Art Basel, as well as invitations to attend private art week VIP events and after-parties, curator's tour of private art collections at local institutions and artist's studio visits. You have the opportunity to purchase works from the fair before anyone else has attended, as well as buy direct from galleries or from artists' studios. Curagenda partners with various hotels in the region so you can choose exactly where you'd like to stay—revisit an old favorite or discover a new love.
From $8,000 per person, not including accommodations. Contact Helen Homan Wu, founder, hw@curagenda.com, +1 917 727 1972, curagenda.com
A Lego Legacy
London, UK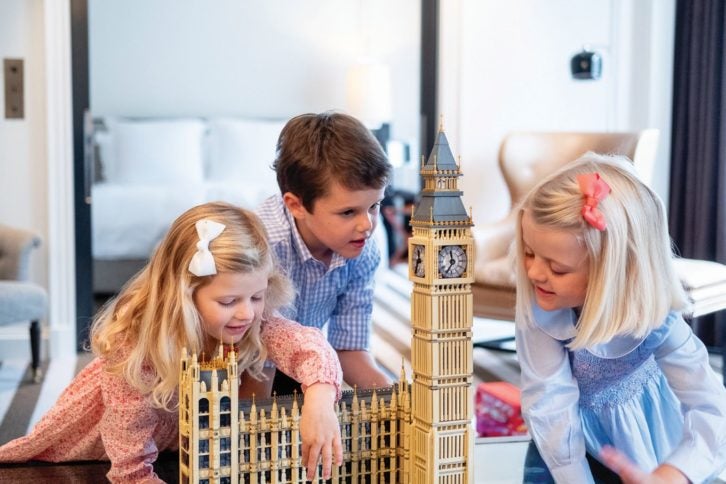 A quintessentially British experience at Rosewood London brings the whole family together. The hotel is located in London's High Holborn neighborhood and housed in a 1914 Edwardian, Grade-II listed building. Upon arrival, two Queen's Guards dressed in traditional attire will greet you and your family, and escort you to your grand two-bedroom suite. Children will be delighted to discover London's iconic landmarks recreated entirely out of Lego pieces—a spinning London Eye, Big Ben tower that chimes on the hour, a functioning Tower Bridge, and Buckingham Palace complete with a waving flag on the roof. There will be further surprises as children enter the living area and are greeted with a custom, life-size Lego statue of themselves, as well as a statue of the hotel's mascot, Pearl the golden retriever, which they can take home as mementos of their experience. In the evening, executive chef Mark Hill will create a fun and delicious banquet with all courses handcrafted in the shape of various Lego characters. The following morning, enjoy a leisurely breakfast in bed before a private helicopter whisks you and your family to Legoland in Windsor. You'll have run of the entire park as it's been exclusively opened just for you.
From $110,000 per family, available until December 2019. Contact Marie La Vavasseur, marie.levavasseur@rosewoodhotels.com, +44 203 747 8702, rosewoodhotels.com
Image ©James Bedford
The New Wine Country
Santa Barbara, California, USA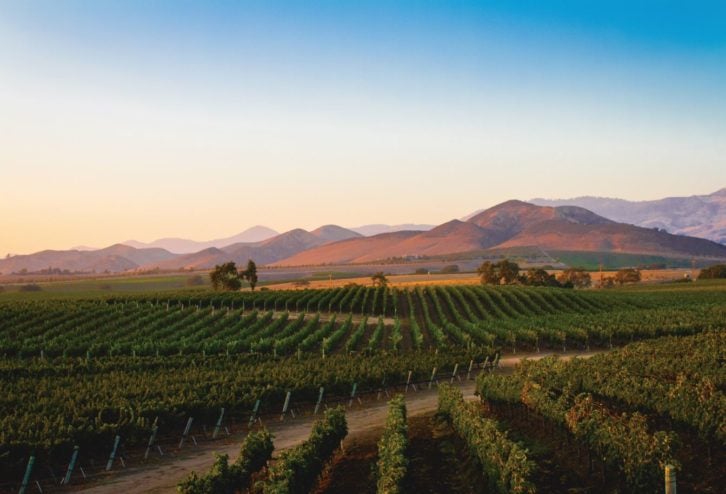 If you've visited Napa more times than you can remember (we've found it's rather easy to forget things in wine country), then take a visit to Santa Barbara. A more under-the-radar choice with 60 different varieties of grape (Napa has 20), the Californian city is home to the Santa Ynez Valley Wine Trail, which has the largest
concentration of wineries in Santa Barbara. Four Seasons Resort The Biltmore Santa Barbara has a charming package where you can experience the best of this beautiful region while creating something truly special to leave with. Setting off from the resort, a luxury vehicle will take you along the Santa Ynez Valley Wine Trail so you can soak
up the quaint vineyard scenery. You'll arrive at the Sunstone Vineyards & Winery Estate to meet with Bion Rice, CEO and winemaker, who will lead you on a tour of the vineyards and 8,500-sq-ft villa. Built from reclaimed French limestone and surrounded by fragrant gardens of rosemary and lavender, it's a hint of things to come—the tasting rooms and wine caves are classic Provençal style, and the location for your private wine tasting. The Rice family produces Merlot, Cabernet Franc, Cabernet Sauvignon, Syrah, Mourvedre and Viognier grapes on their organic vineyard, which they transformed from a former horse ranch. The land is ideal for excellent grape growing thanks to the micro-climate of early morning fog, warm afternoons and cool evenings. You'll discover this when you create your very own custom blend of wine. Rice will share his expertise with you as you create your wine. It will then be barrelled, bottled, corked, labeled and sent to you after your visit.
Winemaking tour from $22,000; Ty Warner Bungalow from $7,000 per night. Contact Aaron Ide, resort manager, reservations.sab@fourseasons.com, +1 805 969 2261, fourseasons.com
Joie de Vivre
France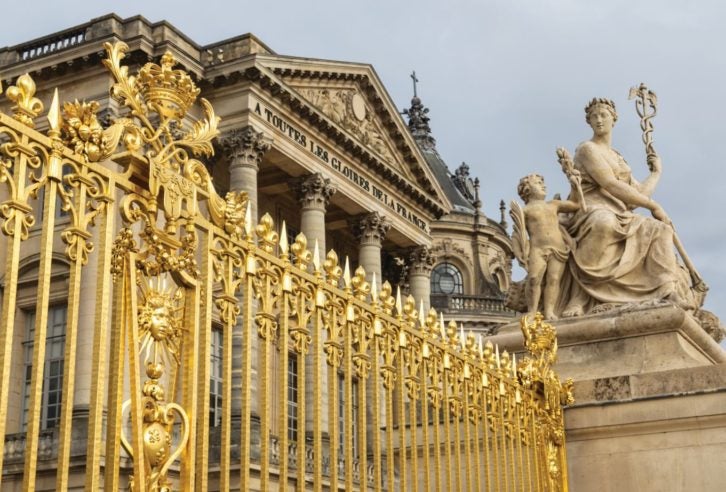 Enjoy l'art de vivre with this 16-day itinerary from Luxury Gold. The journey begins in Paris where you'll board the Uniworld SS Joie de Vivre ship, before heading on to La Roche-Guyon and Monet's Giverny to visit grand châteaux and gardens. You'll see the landscapes that inspired Monet and visit his home and gardens, as well as Château La Roche-Guyon. Spend the next few days discovering the history of Normandy, from the infamous D-Day beaches to the medieval city of Rouen. If you've ever wanted to see how the French royals lived, day six includes a tour of Château de Versailles (including visiting the secret rooms and royal apartments)—many of the rooms look the same as when Louis XVI and Marie Antoinette fled in 1789. For the second half of the odyssey, you'll head to the City of Light to see all its sights (Arc de Triomphe, Champs-Élysées, Place de la Concorde, Opera Garnier, Eiffel Tower and the Latin Quarter) with a local expert who will share insider knowledge. You'll also head on a small-group gourmet tour, led by a food connoisseur, to visit independent patisseries, boulangeries, chocolatiers and cheese shops, and curate your own divine picnic. On day nine, you'll have a VIP tour of the largest privately owned chateau in France, Vaux-Le-Vicomte, which dates back to the 17th century. Take a walk through 100 acres of pristine flower beds, trickling fountains and classic statues, then learn the subtleties of French high society with a dining etiquette class hosted by a professional butler. From Paris, you'll journey on to Provence to follow in the steps of Van Gogh, to the Rhone Valley for wine tasting, Les Baux-de-Provence for a visit to a family-owned olive mill and for olive tasting, before heading to the French Riviera for the final few days of the journey. You'll see the best of Monaco, including a visit to Villa Ephrussi de Rothschild to see the divine works of art collected by Baroness Ephrussi de Rothschild.
From $7,750 per person. Contact Claire Hanney, head of travel experiences, +44 808 149 9444, luxurygoldvacations.com